Let us start by asking you a question — what do you use to manage the files and other digital assets of your organization? Dropbox? Google Drive? Or OneDrive?
Well, that's how most businesses save and share their digital assets between team members. But is it the most optimum way to do this thing?
The answer is: No! Today technology offers much better digital asset management (DAM) tools and software that can not only improve the way your digital assets are stored and shared but also how they are kept secure.
If you don't know about them, don't worry. In this article, we'll take a look at the top 7 digital asset management tools that can be used by businesses of any size, scale, or industry. We'll also see the major benefits of switching from general-purpose file-sharing platforms like Google Drive to dedicated DAM software. Let's start!
What is Digital Asset Management?
Digital Asset Management (also known as DAM) refers to the management of an organization's digital assets through software that's designed specifically for this job. The assets managed by DAM software may range from simple images and text files to sophisticated presentations, excel sheets, or even encrypted files that contain sensitive organization data.
DAM software provides comprehensive features to categorize, organize, store, protect and even share these digital assets within the organization (or even outside the organization to the intended contractors and stakeholders).
Who uses DAM software?
Businesses of all shapes and sizes use DAM software. However, within businesses, they're more commonly used by marketing teams and operation teams to share digital resources and content in an easy and more streamlined manner. And sometimes, they are also used by product development teams when up-to-date data is required to build the product.
Benefits of using DAM software
There are many advantages of using DAM software to manage your organization's digital assets and resources, but the chief ones among them are given below:
1. Centralized management
DAM makes possible both centralized as well as hierarchy-based management of digital assets. This helps you or your team leaders revoke access to any of your assets for anyone with just a few clicks, rather than having to retrieve the asset from their device.
2. Better organization of assets
DAM software allows multiple ways of organizing the assets stored in them. Categories, tags, folders, and subfolders are just a few of them. These features help in storing and organizing the assets in a much better way than you can organize in a traditional file-sharing system.
3. Freedom from replication or recreation
Research suggests that marketers and content creators waste a lot of time replicating or recreating assets that don't need to be created more than once. DAM software eliminates the need of doing that, as an asset created once can be easily shared with everyone who needs it. That way, it saves a lot of time that can be used productively in other activities.
4. Secure and responsible asset sharing
DAM software enables sharing of digital assets with proper history and better access controls.
In case your system gets breached, you can easily revoke access of everyone to all the assets until you've discovered the source of the breach.
You can also identify the source of the breach easily as detailed logs and a history of user behavior are maintained in DAM software.
Finally, you can also put as many layers of security as you wish in place to protect the assets stored in your DAM. Since it's yours, you are not bound by the rules of any other entity and do whatever you want to do to secure your assets.
5. Automation
Last, but certainly not least, DAM software allows for the automated sharing of digital assets when certain conditions are met or when an event triggers the same. For instance, a graphic designer can automate the sharing of images created by him/her with all the relevant teams as soon as (s)he uploads them to the system.
In a nutshell, all the features of digital asset management software help in saving time, enhancing security, and improving clarity about ownership and access to assets.
Top 7 Digital Asset Management Tools
Now it's time to take a look at some of the top DAM tools available in the market. Here we go:

One of the most well-known names in the industry of digital asset management, Bynder does a lot more than just manage your digital assets. It allows you to create brand guidelines and rules and link them to your digital assets, so whenever your team members use a brand asset they get notified of the rules and guidelines associated with its usage.
It also has an in-built content approval system, which you can use to approve or disapprove the content created by your marketing team or other teams. Heck, it has also got in-built AI-based content generation tools that can automate content creation for you to some extent.
Bynder is used by some of the most reputed brands around the world, which include Puma, TED, Spotify, Omron, Siemens, and Five Guys. This speaks a lot about their reliability.
Pros and Cons of using Bynder:
Pros:
Logical asset organization
Simple-yet-intuitive UI
Easier onboarding, file discovery, and file sharing
Cons:
Complex file upload and tagging functionality
Plug-in functionality could have been designed better.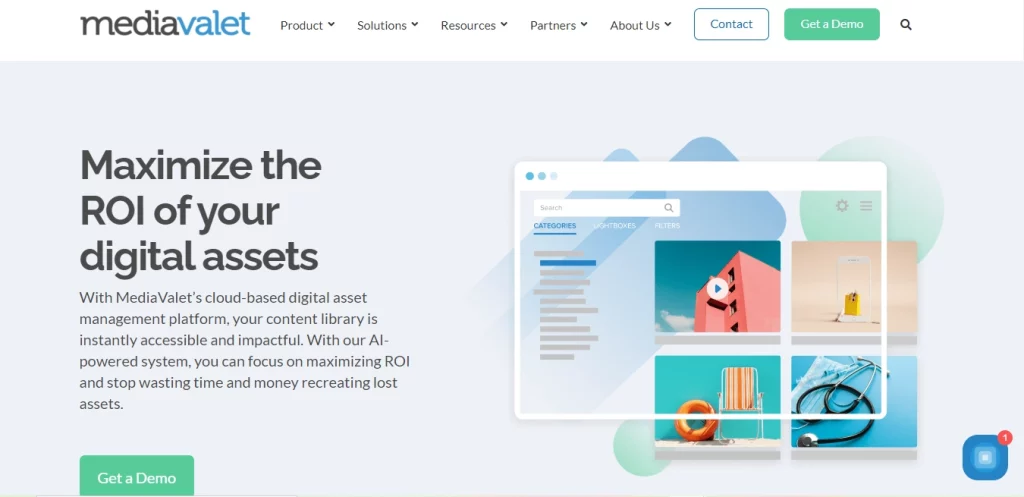 Another popular DAM on our list is MediaValet, which is used by brands like Experian, Razer, Hard Rock Hotels, and OSF Healthcare. The main highlight of this DAM software is its advanced search and auto-tagging functionality that helps organize the content in a very streamlined manner. It also has many out-of-the-box integrations that can be used to connect it with 3rd party applications, and a robust API that can be used to build your own custom integrations.
Media Valet is also known for its guided onboarding process, which leaves little room for error and confusion. However, they don't reveal their pricing. You get to know that only if you contact them and book a demo.
Pros and Cons of using Media Valet:
Pros:
Robust organization features
Guided onboarding
Excellent customer service
Cons:
Secretive pricing — they don't disclose the pricing on their website, and you need to book a demo for that
Problematic to upload large files.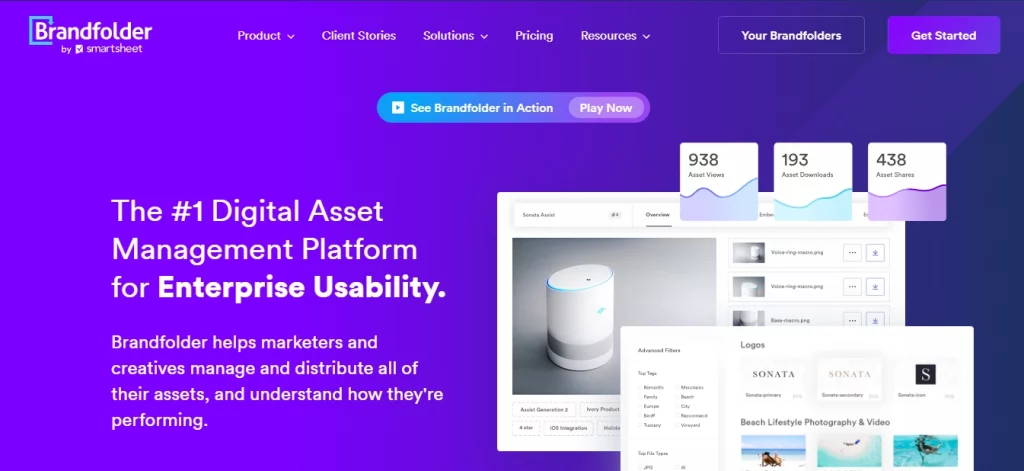 Brandfolder is a product from the Smart Sheet project management platform, which is basically a smarter version of Excel sheets with more automated project management and collaboration features. Needless to say, Brandfolder integrates well with Smart Sheets, which makes it a useful tool for project management too.
But even if we look only at its digital asset management features, it doesn't disappoint us. It offers one of the most professional and intuitive user experiences among DAMs, and its search functionality is also more robust than many of the other DAMs on our list. However, some users have complained that occasionally its auto-tagging functionality can be off the mark and confusing.
But that hasn't stopped the brands like Slack, Lyft, Roku, Stripe, and Octa from using it, so you too can consider it as a good option.
Pros and Cons of using Brandfolder:
Pros:
Search functionality and file organization is quite good
Very easy to use, even when managing assets of multiple brands
File uploading is also quite easy.
Cons:
Auto-tagging is inaccurate and confusing
Plug-in functionality could also have been better.
Among all the DAM tools on our list, Filecamp has been the DAM software of choice for the highest number of high-profile brands. Suzuki, BMW, Brooks, HBO, Unilever, Bank of Montreal, Heineken, and even the United Nations have used it for managing their digital assets and sharing them.
It is quite special in its own way because it allows you to white-label and customize the whole software as per your design preferences and brand identity. In addition to that, customer support is also highly reliable, which explains why they have such a large portfolio of well-known clients.
However, that doesn't mean there are no shortcomings in it. Some of its users have complained that creating custom thumbnails for your digital assets is not easy. Also, there is no preview functionality for the documents — you must download them in order to see what's inside them!
Pros and Cons of using Filecamp:
Pros:
Highly professional and easy-to-navigate UI
Fast and reliable customer support
Ability to white label with your brand identity
Cons:
Creating custom thumbnails is complicated
No preview functionality for documents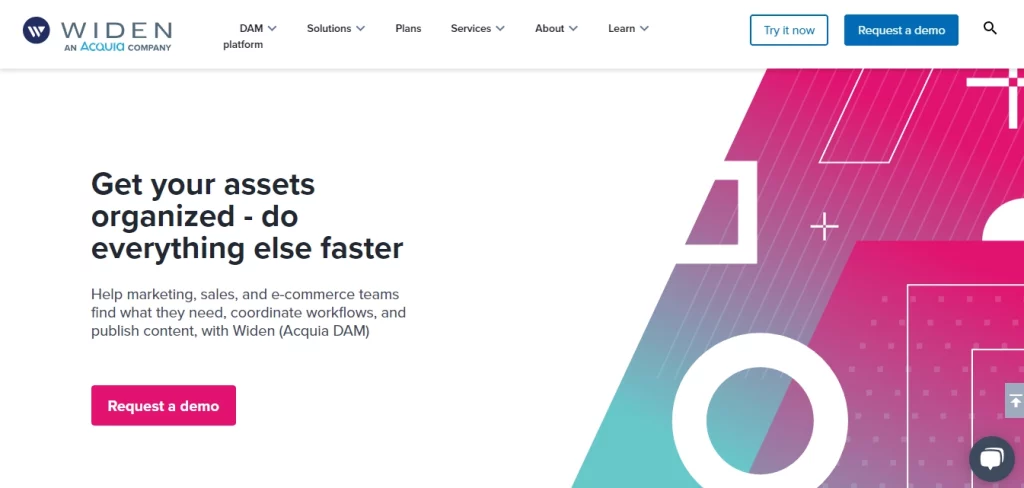 If your website uses Drupal CMS, that is a very good reason to choose Widen Collective as your DAM software instead of other platforms on our list. That is because Widen Collective DAM software is a product of the Acquia company, which provides managed Drupal hosting and other Drupal experience management tools. Therefore, it's not surprising that their DAM tool Widen Collective also integrates more deeply with Drupal than any of the other DAM systems.
But Drupal is neither the only reason to choose Widen Collective, nor a limitation. It can work with any tech stack, and its robust file organization and retrieval methods can help you access your files anyhow, anywhere. It has been chosen by brands like Energizer, Hootsuite, Autodesk, and Dyson, which speaks volumes about its capabilities.
Pros and Cons of using Widen Collective:
Pros:
Files can be accessed and retrieved in many formats, (i.e. downloads, email attachments, etc.)
Reliable and professional support team.
Cons:
Images need to be converted to a specific format for saving
Assigning templates to files can be a bit troublesome
Adding features to your existing subscription is difficult.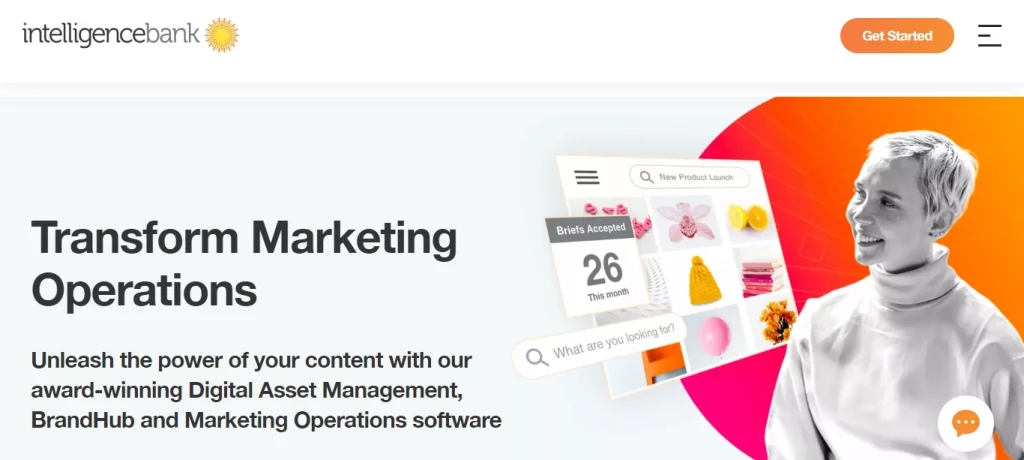 Used by over 500 brands in 55+ countries, Intelligence Bank offers DAM functionality more tailored towards the needs of marketers than any other department. It's used by brands like Hyatt Hotels, KFC, Westpack, CSL, JetStar, and the Torrens University of Australia.
In addition to the traditional DAM features, it includes a BrandHub that can be used as a portal within the organization to educate and inspire the team members to work within your brand's compliance requirements (i.e. style guides, branded templates, content approvals — things like that).
The major shortcomings of this DAM are related to implementation and performance. Both of them can be slow and sluggish, especially if you have a large set of assets to be managed.
Pros and Cons of using Intelligence Bank:
Pros:
Bulk uploads and tagging right at the time of uploading
Accurate auto-tagging, unlike some other items on our list
Integrates with Adobe Creative Cloud, so you can access many of your creative assets directly from there
Cons:
Implementation process is not as smooth as it is in others
Can be slow and sluggish — especially if you have a large number of assets.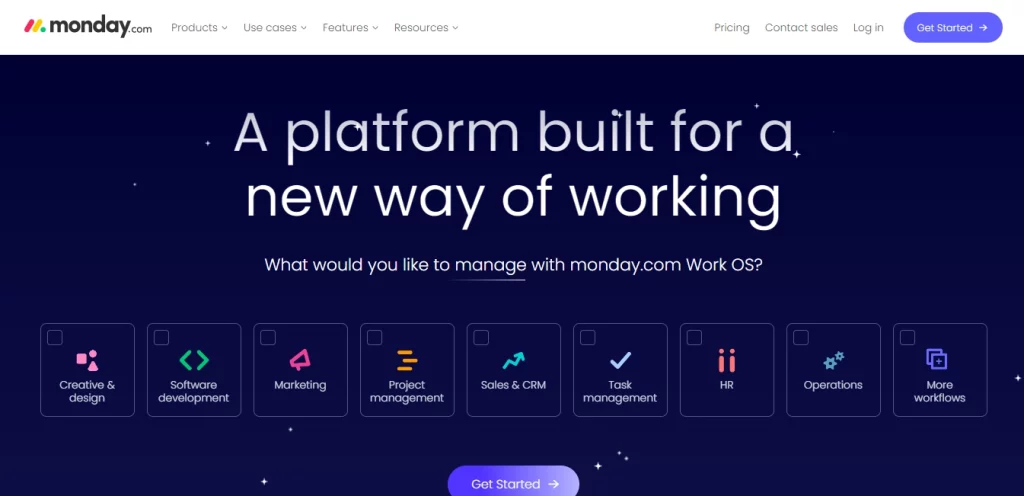 This is not a digital asset management system alone — it's much more than that. It's a project manager, digital asset manager, product information manager, task manager, to-do list, and calendar all combined into one! That means an altogether different level of possibilities for your digital assets. There's no end to all that can be done with your digital assets using this tool. Seems mind-blowing, doesn't it?
However, those possibilities come with challenges of their own. So much functionality in one tool means a steep learning curve. It may take some time before you and your team get comfortable with this software. But once you're comfortable with it, you won't want to use anything else!
Pros and Cons of using monday.com:
Pros:
Highly professional design and UI
Includes a task manager, to-do list, and calendar
Also includes a PIM system
Extremely well-designed sharing and collaboration tools.
Cons:
The learning curve is a bit steep.
Conclusion
Digital asset management is not just the present but also the future of work at all modern workplaces. If you want your organization's asset management processes to be reliable, scalable, and professional then you should definitely opt for a digital asset management tool. After going through our list given above you're also well equipped now with the knowledge about top DAM tools in the industry, so you can make your choice and thank us later!