In this article, we will discuss some of the best project management software available in the market. These software tools help in planning our projects with greater efficiency.
Using these tools avoids our confusion and chaos about the work and promotes clarity of work. It also helps break down complex tasks and assign them to the team members.
These platforms promote transparency and integration of projects among all stakeholders. It is an efficient tool that ensures high satisfaction and strategic alignment of our goals.
It assists in reducing the risk and threats that are assigned to any project. It aids in understanding, identifying, controlling, and managing the quality of the project that is to be delivered.
This article will help you choose the perfect software which will enhance productivity, and profitability and optimize the resources available. It will make project management very easy.
What is project management?
Project management means organizing and managing all the resources that are very important for the project's completion. The most common fields that make regular use of project management are construction, telecommunication, and IT industries. But other sectors such as sales, retailing, pharmacy, FMCG, and all other sectors use project management to gain success. There are five stages of project management:
This stage is marked as the starting point of the project. Here the project is defined, and the requirements of the project are taken into consideration. The feasibility and value of the project are calculated along the cost and time required for completion.
This is a roadmap that is created by the project manager to be followed to complete the project. The time, manpower, and material required are calculated with SMART and CLEAR techniques to ensure proper planning.
Execution is the most critical of all the phases and is mostly associated with project management. In this stage, the project manager develops the team, allocates tasks, and executes the plan as it was decided in the planning stage. Here, the project manager is responsible for making the necessary adjustments and updating the schedule regularly.
Here, the project is monitored and controlled by the project manager. He ensures that the goals and requirements of the project are achieved. He tracks the cost and efforts required to ensure proper completion and good quality of the project.
This is the last stage in project management. The project is completed and delivered to the customer or company. In this stage, the pros and cons of the project are evaluated and noted for future reference. All the project documentation is stored by the project manager. This is a vital step in the project lifecycle as people learn from their previous mistakes and ensure not to make the same mistake in the next project.
What is Project Management Software/Tool?
Project management software helps in controlling, planning, implementing, and monitoring the project work. It is the art and science of leading and planning a project successfully to satisfy your customer. The process of planning and allocating tasks to each individual is very complex, but with the project management tool's help, this task becomes easy.
Project management involves gathering all the requirements, such as labor, resources, etc., at the best possible cost. It also involves risk management, monitoring, and controlling the progress of the project.
There are many benefits of using Project Management Tools. Some of the benefits are as follows:
Better Understand The Objectives Of Project
Using Project Management Software helps us to clearly understand the objectives and motive behind the project. It assists us in staying on track with the project deliverables. It aids in understanding the aim with which the company or customer has undertaken this project and helps fulfill the customer's needs.
Optimize The Resources Used
Project Management tools are known for their optimum use of the resources available to the company. It ensures proper use of all the resources in such a way to attain appropriate use of the resources at the best cost. This software helps to do more work in less time, with fewer people, and at a low cost.
A large amount of our time is invested in planning any project. With the help of this software, planning becomes very easy. This automated planning saves a lot of time, which then can be invested in the proper execution of the project. Proper planning gives all the team members a sense of direction and helps to stay focused.
Ensures Better Quality and Profitability
Proper planning and appropriate execution lead to good quality of work that is delivered to the customer. This quality work impresses the customer and helps to attain customer satisfaction. Once the customer is satisfied with your work, he would become your loyal customers. This will in turn help to increase the profitability of the project. It aids to strategically align the company goals and customer goals.
Proper Control Over Change
The changes which the organizations face during the tenure of the project can be many. The project management software gives us timely updates and suggestions to ensure efficient control over the changes. It assists us in making decisions that will help us in the long run. By readjusting the projects' requirements regularly, it helps to achieve the desired results for the project.
Related Video
It can all sound complicated, but you can watch this quick video to get an introduction to its characteristics, benefits, and importance in managing projects.
The list of 7 project management software tools in 2023 that helps us to efficiently complete our project are as follows:
1. Asana
2. ProofHub
3. Trello
4. Workzone
5. Wrike
6. ClickUp
7. Zoho Projects
These tools help in good team collaboration, enhanced communication, and organized tasks for each team member. In short, this software helps to streamline the entire project management journey of an individual.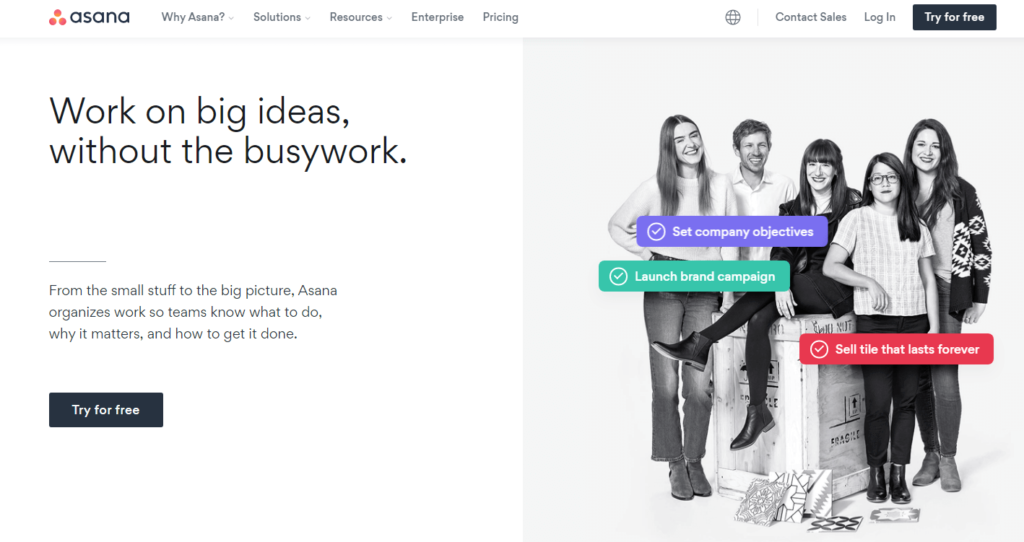 This all-rounder software is suitable for big as well as small projects. This is a powerful project management tool that has 3 layer options. It involves a board, list, and calendar. This flexible software helps us to keep an eye on all the initiatives, tasks, and projects that are going on.
This software has both free and paid versions. While the free version is more than enough, the paid version comes with some additional benefits. Asana helps to better coordinate the tasks and collaborate with the team efficiently. This software is a delight for people who prefer list view over visual representation.
The high level of organized data makes it easy to view the tasks of projects and their comments. It also has above 100 integrated apps that work in line with Asana. The mobile apps are also straightforward to use, and anyone can efficiently operate them.
This software helps complete the project and communicate with the team members directly through this software. Asana is very efficient in delegating the work to different people of the team. It also helps to assign different tasks in case of a large project.
Various aspects make Asana an ideal software for project management. Some significant advantages are as follows:
Organize your work by breaking the tasks and allocating them to team members efficiently.
Get your project updates notified on time and enhanced communication with the team members.
An attractive dashboard that displays easy-to-read information in the list format.
Create a roadmap to achieve desired results on time by creating structured tasks in multiple forms.
Check the progress of your team and take timely actions to ensure better performance.
Enhance the productivity of the resources available and increase profitability.
Check Out: 25 Asana Alternatives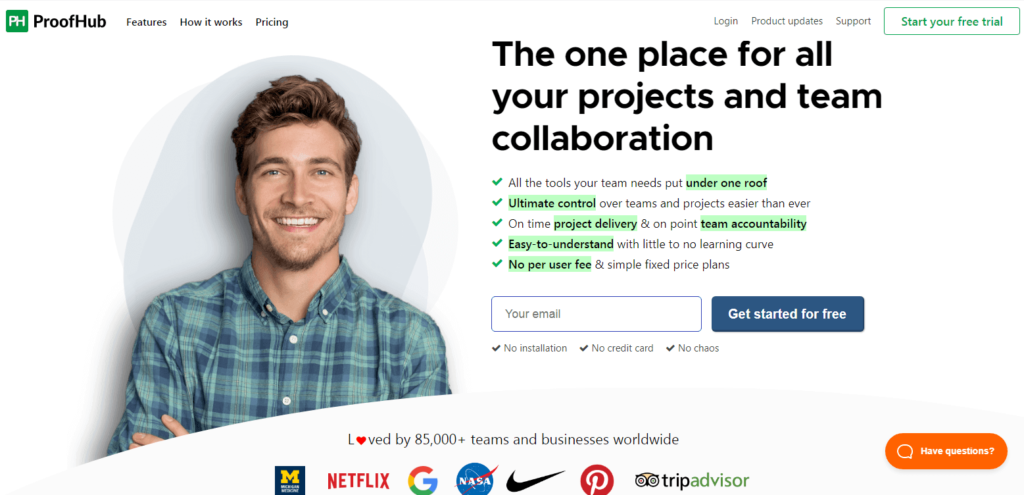 ProofHub is the most popular project management tool in the market. This centralized software helps to better coordinate with the team. People using Proofhub often praise the software for its productivity, flexibility, and all-in-one tool support.
This software offers interesting tools for better communication, enhanced productivity, higher efficiency, and faster delivery time of the project. It helps to strategically align your projects and ensures higher satisfaction among the team members and the customers. The real-time reporting tool helps to access the information needed anytime and anywhere.
The sharing of documents and files becomes easy in ProofHub. It also has some enhanced features such as time-tracking and proofing. This software helps to make custom reports that can be modified according to your taste. This is a powerful software with a large storage system to store information and data.
The need for meeting in person is eliminated with the automated advanced communication features. Online communication can be done by simply dragging and dropping the image or comments. The clear and continuous workflow helps to avoid confusion and clarifies the work to team members. ProofHub is thus known to be an affordable solution for both simple and complex problems.
ProofHub has numerous benefits and advantages. Some of the advantages are:
All the tools required for project completion are found under one roof.
It streamlines the process of project management and assigns the respective task to the team members.
This software helps to get notifications about the tasks and other activities in no time.
ProofHub assists in planning, collaborating and controlling the project to deliver it on time.
Any company of any industry, irrespective of its size and complexity, can manage projects in ProofHub.
It helps to identify the risk associated with the project and suggests measures to reduce the risk.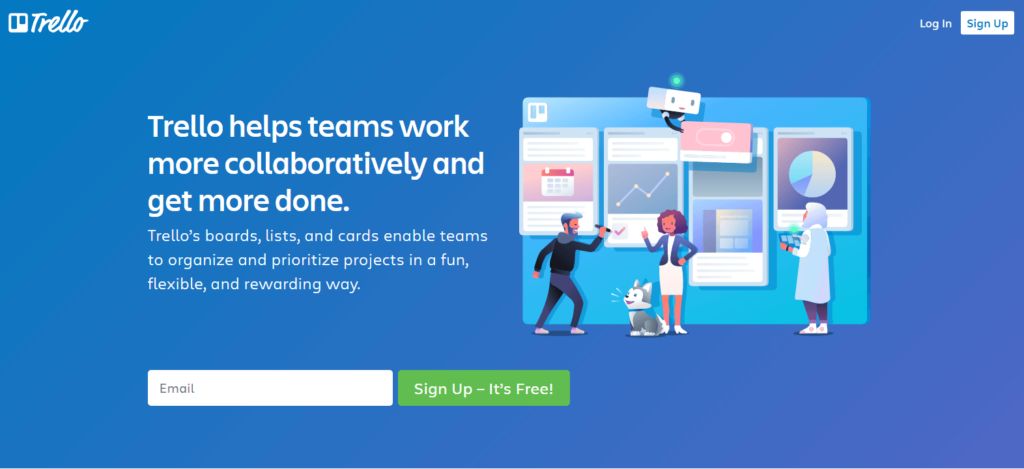 Trello is a project management tool that helps us to efficiently plan a project. This collaborative software tool assists us in prioritizing our projects in a flexible and fun way. Trello's unlimited boards, cards, and lists help in organizing and managing the projects efficiently.
With the variety of functions and features available, the team finds it very easy to make amendments whenever necessary. Project Members can glance at all the pieces of information such as comments, due dates, attachments, etc. at a glance.
Trello also enhances productivity by removing tedious tasks and automating tasks across the team. It allows you to make custom cards and board buttons along with calendar commands and due dates reminders.
Trello is extremely easy to operate. The apps integrated with the software are directly connected to the workflow. This saves our time and makes our work easy. The mobile app of Trello available on the iOS and Android platform helps us to view our work on the go.
Trello helps to minimize confusion and makes the task easy with simple tools. You can do any big or small projects with Trello. You can even plan a trip with the help of tools available in Trello.
There are numerous advantages of using Trello. Some of the benefits are:
This software is ideal for small business enterprises that have basic Project Management Requirements.
Trello helps the teams to work more collaboratively and get more things done in a day.
Trello provides a visual workflow experience that helps us to get information in one glance.
This free Project Management tool provides unlimited boards, cards, and lists for free.
Trello allows 10 team members per project to access these boards, cards, and lists for project use.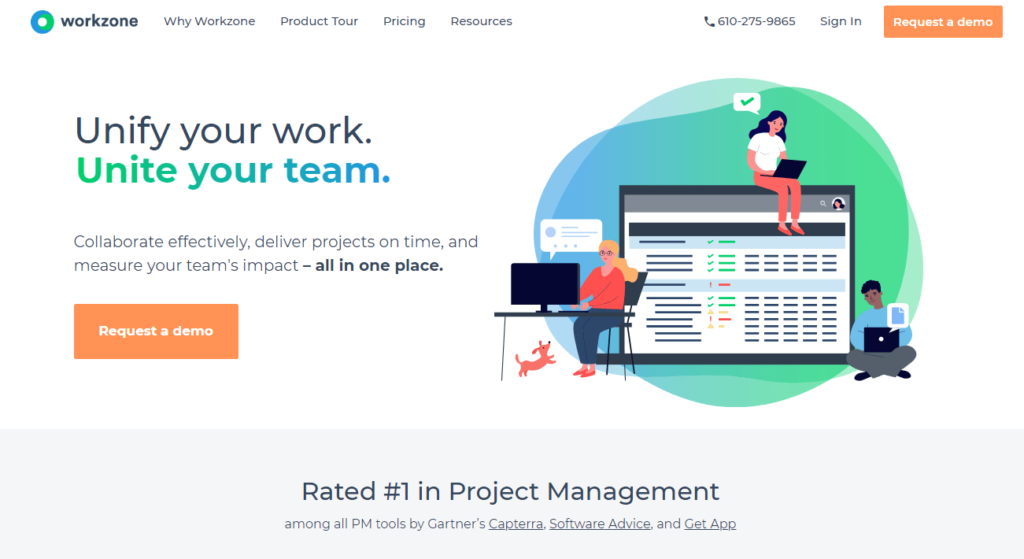 Workzone is a very efficient tool that helps to manage our projects, tasks, and files. This software has a combination of features to make better marketing decisions and better handle the project. This software keeps us on track with the project and its schedule to ensure timely submissions.
This robust and integrated software assists in proper splitting and better assigning of the tasks to increase productivity. WorkZone helps make a customized list of things to do and guides team members by updating the list. It informs the stakeholders about real-time updates about the project.
This software helps in making a list of tasks and projects that are due. It also mentions people responsible for the completion of a particular work.
The right set of tools can be used to its full potential because of its intimidating and easy operating software.
Workzone can be used by entrepreneurs, small businesses, and freelancers. This extremely interactive software can boost your potential business and increase profits for the company. This software enables its project manager to monitor the projects and make necessary changes to optimize the resources available.
Among the various advantages of Workzone, some highlight features are as follows:
This is a secured platform to handle sensitive data and information of projects as well as individuals.
Workzone is very easy to set up and get started with a very user-friendly interface.
It has an extremely trained customer support team who are very responsive and open to help their clients.
This tool assists us in knowing the projects which are due and make them a priority.
It helps us manage the projects and tasks according to their priorities and with greater efficiency by suggesting quick measures and techniques.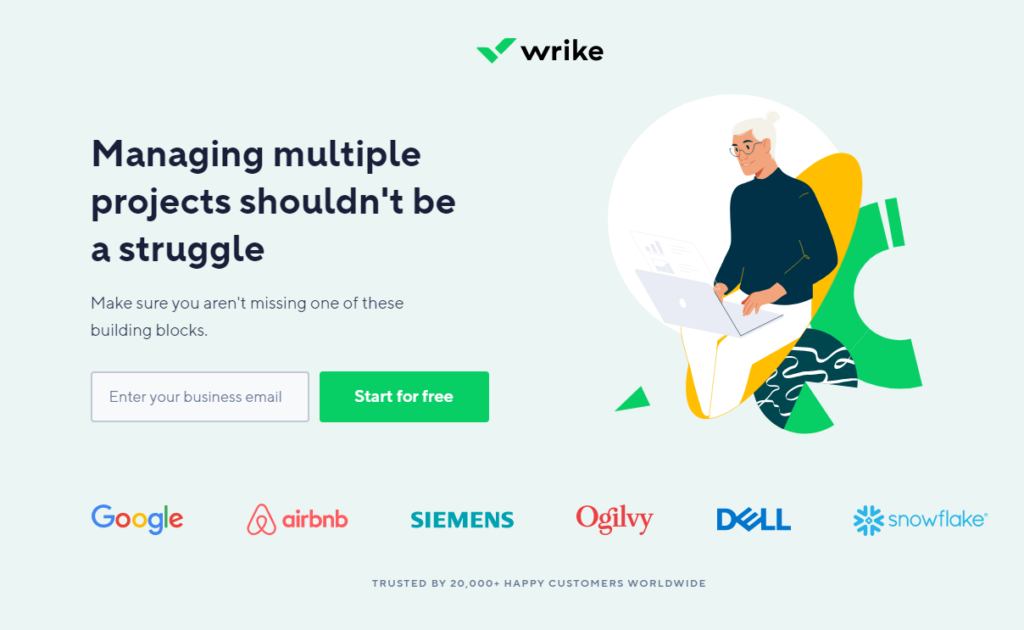 Wrike is a collaborative work management tool that builds trust among the team members and enhances innovation. This software brings people together to work together towards progress and success. It helps to eliminate redundant and unnecessary activities such as meetings to save time.
This time then can be used to make better decisions and ensure the profitability of the project. This software also helps collaborate and integrate various features necessary for project completion. It provides centralized communication for all the team members.
Wrike is also used for the proofing process. It helps in generating efficient feedback on the workflow and tasks of the project. This responding software helps to track and reschedule our tasks on Gantt charts. Wrike helps us to get more things done at low costs and with fewer resources.
Wrike also provides personalized Kanban boards that prioritize your work and to-do list by pinning it on that board. This software also generates advanced reports to calculate the progress of projects immediately. Sharing of the files and editing it becomes easy using this software.
Some of the features of Wrike are as follows:
Wrike is a robust software that helps in collaboration from anywhere and at any time.
This software keeps track of the project and informs the same to the stakeholders.
It helps to increase transparency and visibility of the projects, increasing accountability among the team members.
This tool enhances the productivity of the project and helps to cope with the changes effectively.
This software saves a lot of time by automating various tasks and eliminating the need for meetings.
It provides a culture of collaboration and communication that inspires innovation across the team.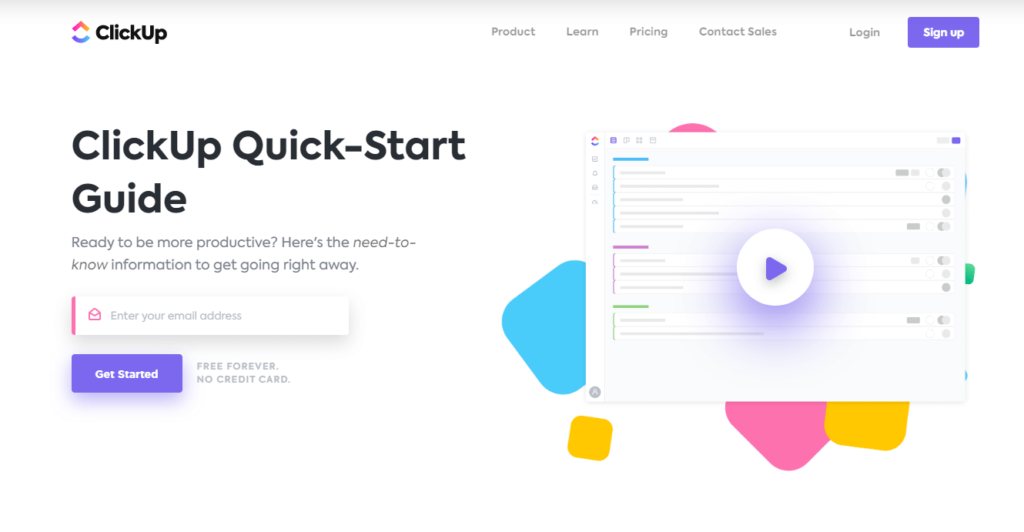 ClickUp helps us to keep all our projects in one place and organize all the projects efficiently. This software tracks the progress of the project and helps in achieving the desired goals. It can easily collaborate with your team and ensures smooth communication amongst the team members. It assists to properly distribute the team's workload and ensures progress.
This software builds the best workflow portfolio from the startup until the very end. It tracks your entire project in such a manner that it makes the planning process easy. It also provides a customizable list, box, and calendar view, where you can view and edit them in one click.
The efficient dashboard helps to view key project indicators, add different types of widgets for members, and track the time required for completion. The time tracking feature assists us in smarter planning and saves time by eliminating unrequired tasks and work. It helps in agile project management and ensures the proper use of all the resources available.
There are a lot of templates available in the software for you to get started. you can also customize your own templates according to your requirements. This software can help sync and integrate various software and applications in just one click.
Project Managers fall in love with ClickUp because of the reasons mentioned below:
It helps to enhance productivity by promoting a collaborative and open environment where people work together.
This software helps in flexible time tracking, setting estimates, viewing reports, and adding notes from anywhere.
ClickUp provides automation to create a consistent process so that the team members can concentrate on other essential tasks.
A robust 24 hours customer support, who are willing to help in any way possible.
Reduce bottlenecks in the workflow by better planning, tracking, and accessing your projects.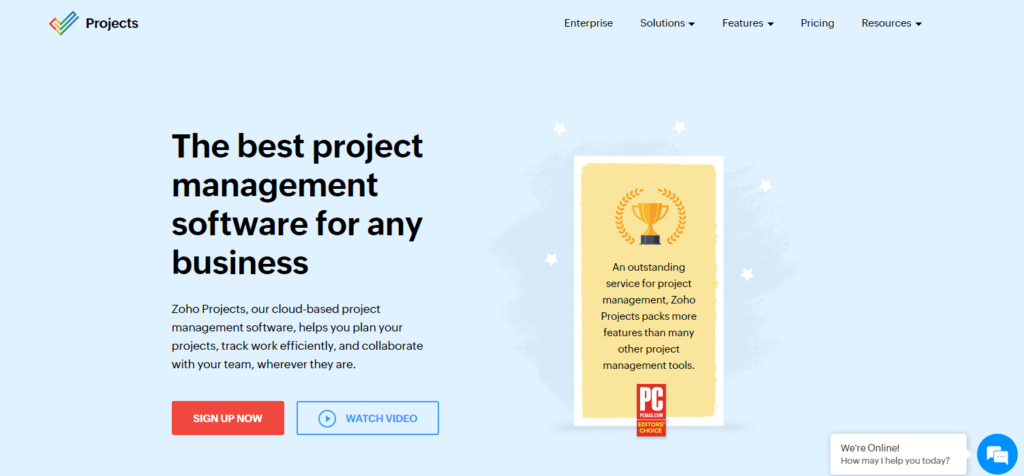 Zoho Projects is integrated software that can be used for big as well as small scale projects. This is one of the best online project management software that helps plan your work according to the schedule. It also collaborates with the team efficiently by promoting good communication tools.
Zoho uses Gantt charts to organize and customize your task schedules easily. This software updates you about the critical tasks in a project and notifies us in case of delays. It helps to increase efficiency by using the available resources optimally.
Zoho assists in the completion of the projects on time by assigning the work and monitoring the team to work collaboratively. This software provides a drag and drop facility that makes editing easy in a visual interface. It helps save a lot of time by automating the complex workflow into a simple, easy-to-understand format.
You can monitor each minute of your hard work spent on particular tasks manually or with the timers in your timesheet. Zoho helps create personalized status, layouts, and invoices. This easy software also provides different color themes and light modes to suit your taste.
Zoho helps in seamless integration across different Zoho apps and other third-party apps.
There are various prominent features of the Zoho Projects. Some of the features are:
The function of billing and tracking time allows keeping track of every minute spent on a particular task.
Zoho promotes easy communication and effective information sharing between the team members.
This software has a very responsive customer support system that answers all your queries in real-time.
It provides no restrictions on the number of projects and allows a smooth switch between different projects on the same interface.
The robust automation in workflow and practical pricing has made Zoho favorable for project managers.
This cloud-based software helps to refer to the documentation and files in no time and from anywhere.
Conclusion
All the tools mentioned above can help you in better managing your projects and resources. All these software have an easy interface that anyone can use without any prior knowledge. You can do big complex projects as well as plan your daily activities with these tools. This software can help satisfy our customers by planning, organizing, and collaborating work in the right manner.
Some other famous project management tools that are not mentioned in the list are Jira, GanttPro, Teamwork, Nifty, and Smartsheet. All this software will definitely make your project manager happy.
Comment and tell me which, according to you, is the best project management software?