When you decide to accept crypto payments on your business, the first need you encounter is that of a crypto payments processor. And when you embark on the journey to find a crypto payments processor, BitPay is a name you'll probably hear about. It's quite well-known in the crypto circles, and many people deem it as PayPal or Stripe of the crypto space.
But is that hype justified? Or is it just another unreliable payment processor waiting to eat into your profits? We'll try to find the answer to these questions in this review of BitPay. Bear with us till the end of this review, and you'll know everything about it. Let's start!
What does the BitPay app do: An Introduction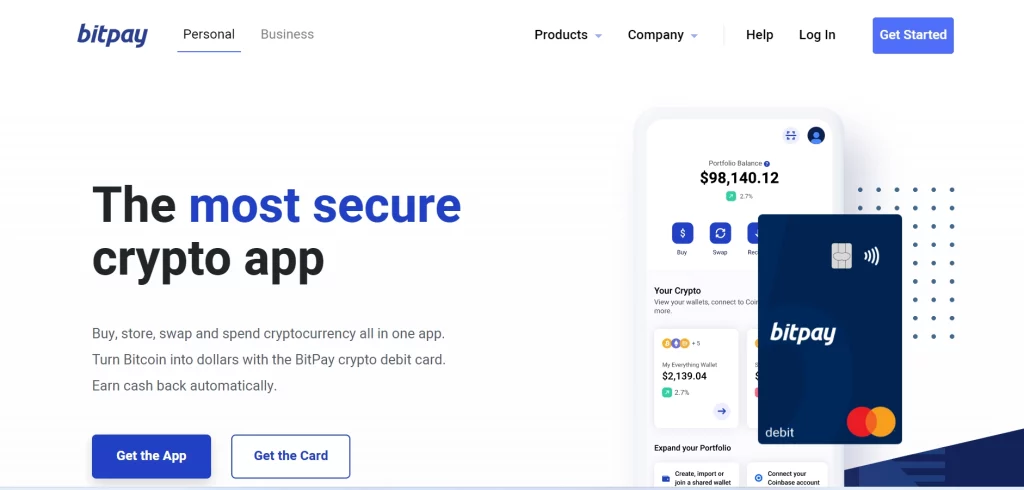 BitPay is a payments processor dealing in crypto payments. It's the Stripe equivalent of Crypto. Just as Stripe helps businesses process payments through credit cards, BitPay enables them to accept and process payments in crypto. It supports 16 cryptocurrencies, including Ether, Litecoin, Dogecoin, Bitcoin Cash, Tether, XRP, Circle Coin, Binance Coin, and of course, our favorite, Bitcoin.
Besides allowing businesses to accept crypto payments, people can buy and sell cryptocurrencies. It also offers a crypto debit card, which can be used to pay for purchases directly in crypto instead of requiring the users to convert between fiat money and cryptocurrencies for transactions.
Some Top Features of Bitpay account
Here are the major features offered by this payment processor cum crypto wallet:
Crypto prepaid debit card in partnership with Visa and Mastercard
Cryptocurrency Wallet
A payment gateway for your website to generate a bitpay invoice
In-built Coinbase integration to buy/sell crypto
Support for 16 popular cryptocurrencies
100+ wallets supported
Useful 3rd party integrations
Convert Bitcoin and other crypto assets to fiat
Buy, Spend, and Manage Crypto Funds
Supports purchases from several well-known brands.
BitPay Review: Pros and Cons
If you don't want to dive into the full review, you can get a fairly good idea of what's ahead by going through the Pros and Cons listed below:
| Pros | Cons |
| --- | --- |
| | |
| Easy to sign up and set up | Slow to respond customer support |
| Crypto debit card to spend your crypto without withdrawal | Refunds can be painfully slow in case of transaction failure |
| Intuitive UI | Non-usage fee of $5 for debit card users |
| Automatic withdrawal to bank account/wallet of your choice | No anonymity – you're required to go through a facial scan and document verification process for accepting payments |
| Coinbase integration for buying/selling cryptocurrency | |
| Integration with popular merchants so you can spend your crypto | |
| Supports 16+ cryptocurrencies | |
| Supports 100+ wallets | |
| Third-party integrations to connect with other services and apps | |
pros and cons comparison table for bitpay
That's a brief overview of our BitPay review. Read the full review to be in a much better condition to take a decision about whether to use it or not.
BitPay Detailed Review
A modern payment processing software – no matter whether crypto-based or fiat-based – should be evaluated on five different criteria. These criteria are ease of use and setup, payment processing and withdrawal time, reliability, fees, and third-party integrations. For crypto-based payment processors, a sixth criterion also becomes important: the ability to buy/sell crypto.
We've tried to evaluate BitPay on all these six criteria in this review. Let's find out how it fared in comparison to the hype and expectations!
#1. Ease of Use and Setup
There are multiple factors that go into defining the ease of use and setup offered by a payment processor. This includes the signup process, UI of application(s), website integration, dashboards, etc. We'll try to evaluate BitPay on each of these criteria before concluding whether it's really easy to use and set up or not. Let's start with the signup process first.
#1.1. Signup process
Getting started with BitPay is easy with a catch.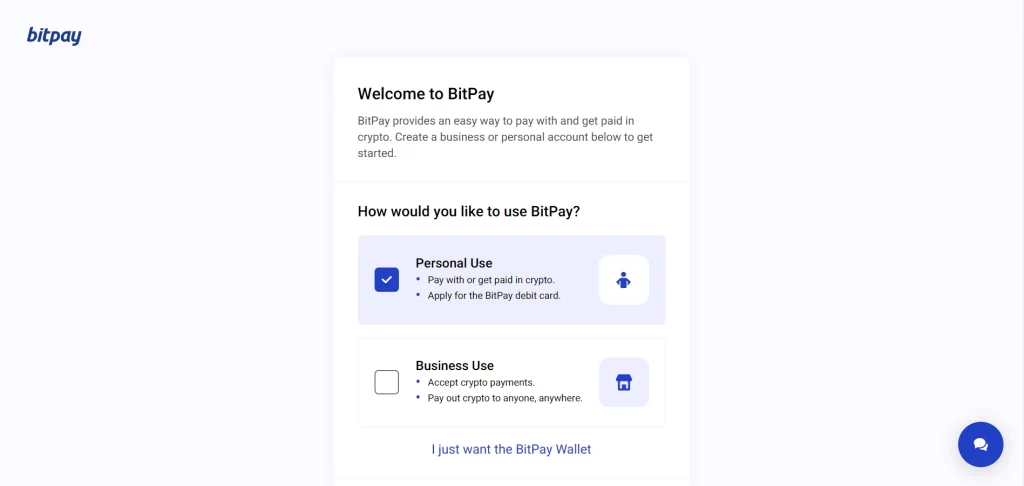 Individual users who just want to use the app for purchases and pay/get paid in crypto can sign up for a Personal account, while business users who want to accept payments on their website and "pay out crypto to anyone, anywhere" can sign up as Business users.
For users who just want to use BitPay's wallet and don't want features like BitPay card, payment gateway, etc., there's also a 3rd option to sign up only for BitPay wallet. Those users are directly taken to the company's wallet download page and don't need to complete any signup process for that!
Once you've chosen your preferred account type, you can scroll down to complete the signup process. The process is simpler for Personal accounts as it requires minimum information, and a little more complex than that for Business accounts as they must tell in detail about their business. You can see the signup forms for both types of accounts below: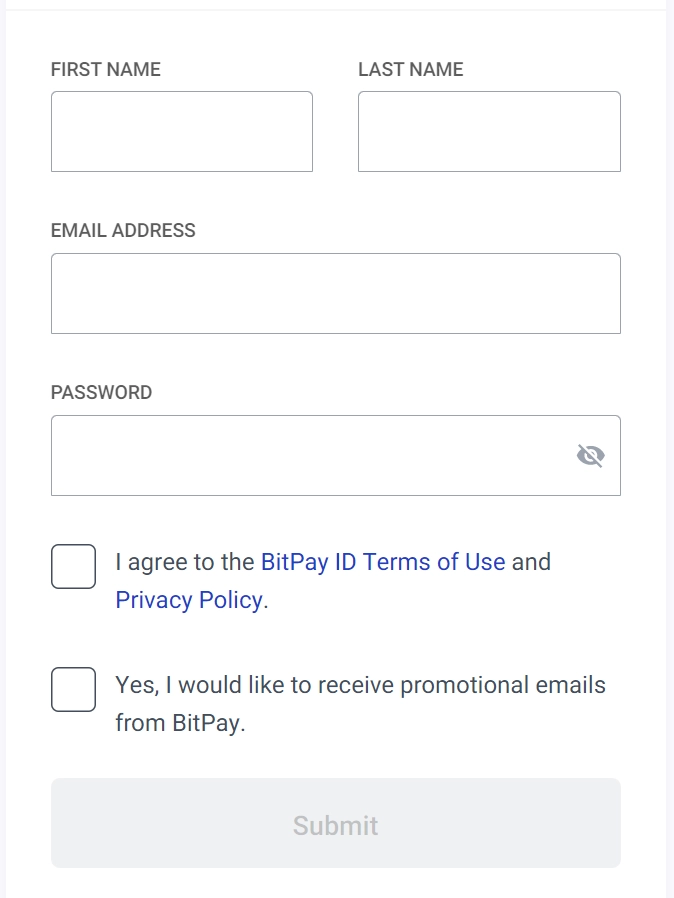 Once you signup as a personal user, you can download their wallet app to store and download crypto through their network. Or you can also get your BitPay card if it's available for your location. If it's not, you'll have the option to join their waitlist, as shown below.

They offer a minimalist integration method to integrate the payment gateway with your website or app, and detailed documentation is also available to help you with that.
The things after signing up with a Business account are slightly different, as you're taken to a home screen that asks you to complete 3 steps before you can start accepting payments in crypto: email verification, business verification by submitting documents and adding of bank accounts/wallets for settlement.
Email verification is plain and simple, while the business verification form (second step) looks like this: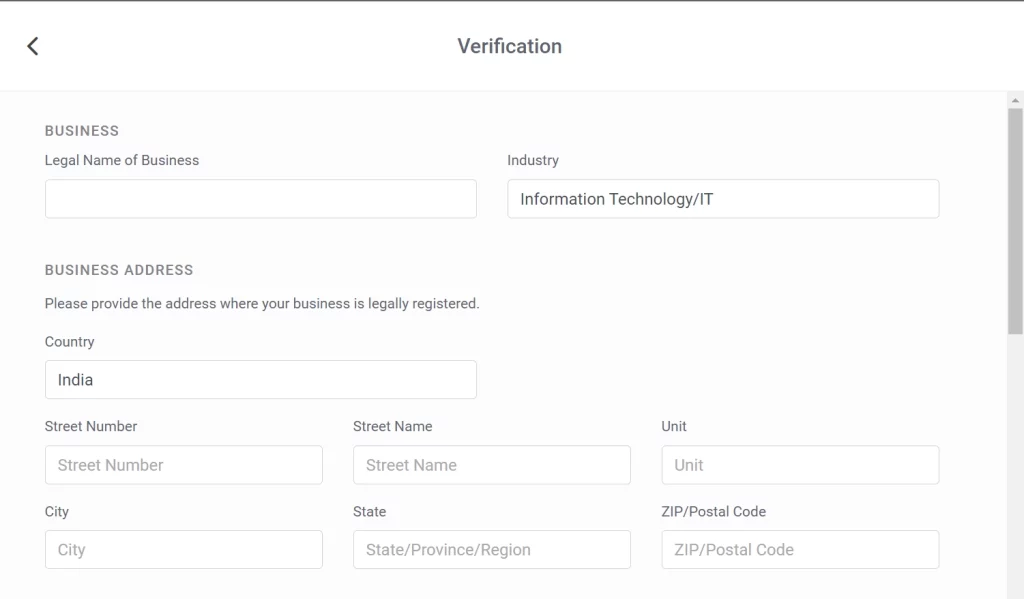 On this page, you need to enter all of your business information like the Legal name of the business, name of the beneficial owner, business address, website, etc. Once you fill up all these details and submit your form, the information is verified by the support team of BitPay. In some cases, they may also require you to submit a few documents to verify your identity.
Now, that's where certain issues may arise with the sign-up process. When you must go through a facial scan and document verification process to get your account approved, it usually works out within 1-2 working days. But some users have said in their reviews that it took a whole week! And for some users, the signup email for account verification didn't arrive for up to two days, again wasting a lot of time during the signup phase itself.
#1.2. Bitpay Wallet app
The BitPay wallet app tries to keep things as simple as possible. When you open their app, you're asked whether you'd like to create a new key for your wallet or import a key, but you can also skip it and do it later.
Inside the wallet, you're shown all your cryptocurrency portfolio balance. These balances may be acquired by receiving payments from others or purchasing crypto using your credit/debit card.
The app can also be used to purchase gift cards from various companies, including Amazon, Walmart, Uber, Flipkart, Cleartrip, KFC, Costa, BookMyShow, Allen Solly, Croma, Fabindia, FBB, Lakme, Levi's, PVR Cinemas, Starbucks, Taj Hotels, Urban Ladder, and many others. The gift cards can then be used to purchase anything of your choice from these brands.
Or else you can purchase various types of jewelry, gifts, watches, games, electronics, and much more directly using your crypto balances from within the app. There's a separate tab for these things inside the wallet app next to the Home tab.
The wallet also includes a dedicated tab for its Crypto debit card (more on that in a minute).
Overall, it's an amazingly useful app that has been made with an intuitive and easy-to-navigate UI. However, it can still be a bit tricky to use it for the first time. But once you figure it out, you'll love it!
#1.3. Crypto debit card
If you're lucky enough to be in a jurisdiction where they are offering their debit card, you don't always need to withdraw your wallet balances to a bank account. You can also withdraw your balance from any Visa or MasterCard-supporting ATM machine worldwide.
However, the Visa debit card is not offered in all countries, making this option unavailable to many users worldwide. In addition to that, there's a fee on ATM withdrawals too, and there are no partner/free ATMs to withdraw cash without this fee anywhere in the world.
#1.4. Payment gateway
The Bitpay payment gateway integration with the website is quite simple for most websites, thanks to its WooCommerce plugin. Since most e-commerce websites are built on the back of WordPress and WooCommerce, BitPay can be integrated with them easily. Just install the plugin, generate an API token from your BitPay merchant account dashboard, add the token to your installed plugin on your site, and you're good to go!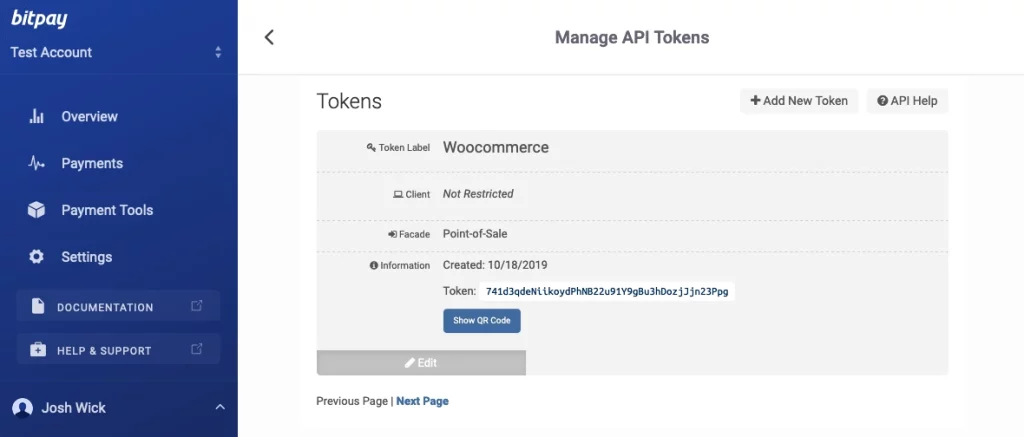 Same goes for Wix, Shopify, and Magento-based websites too, because plugins are available for them as well. You can generate the API token for them and add them through their respective plugins.
The functionality of the payment gateway makes crypto payments quite simple for your customers. They just need to select the "Pay with BitPay" option on the checkout page, select the cryptocurrency they want to pay, and then they can make the payment by scanning a QR code through their wallet app (no matter which wallet it is).
The 4-step payment process of the BitPay payment gateway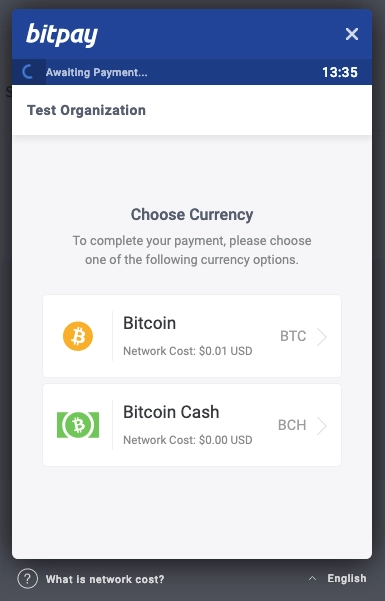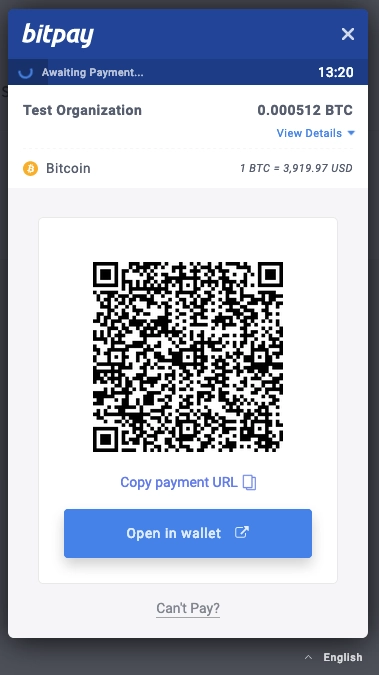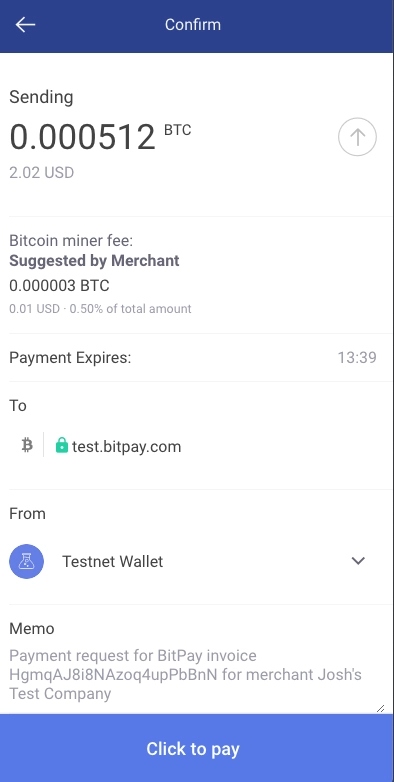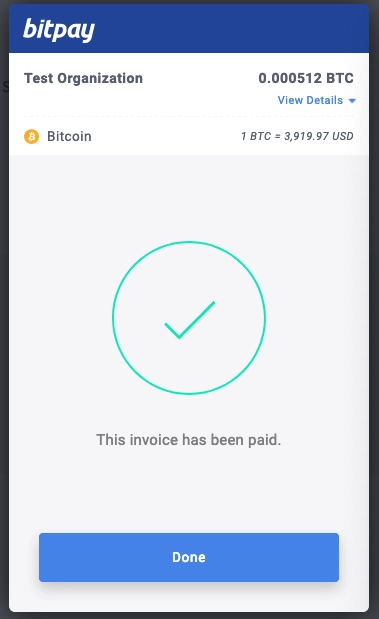 In a nutshell, not only it's quite easy to integrate the BitPay payment gateway with your website, but also it's quite easy for your customers to make payments with it.
#1.5. Merchant dashboard
The Merchant dashboard of BitPay provides a complete overview of all your payments under the Payments section. The payments are sorted by "All", "Paid" and "Unresolved" in three tabs so you can filter them easily based on whether they need attention or not. If any of your payments have failed, you also see a 4th tab termed "Invalid" where such failed payments are shown.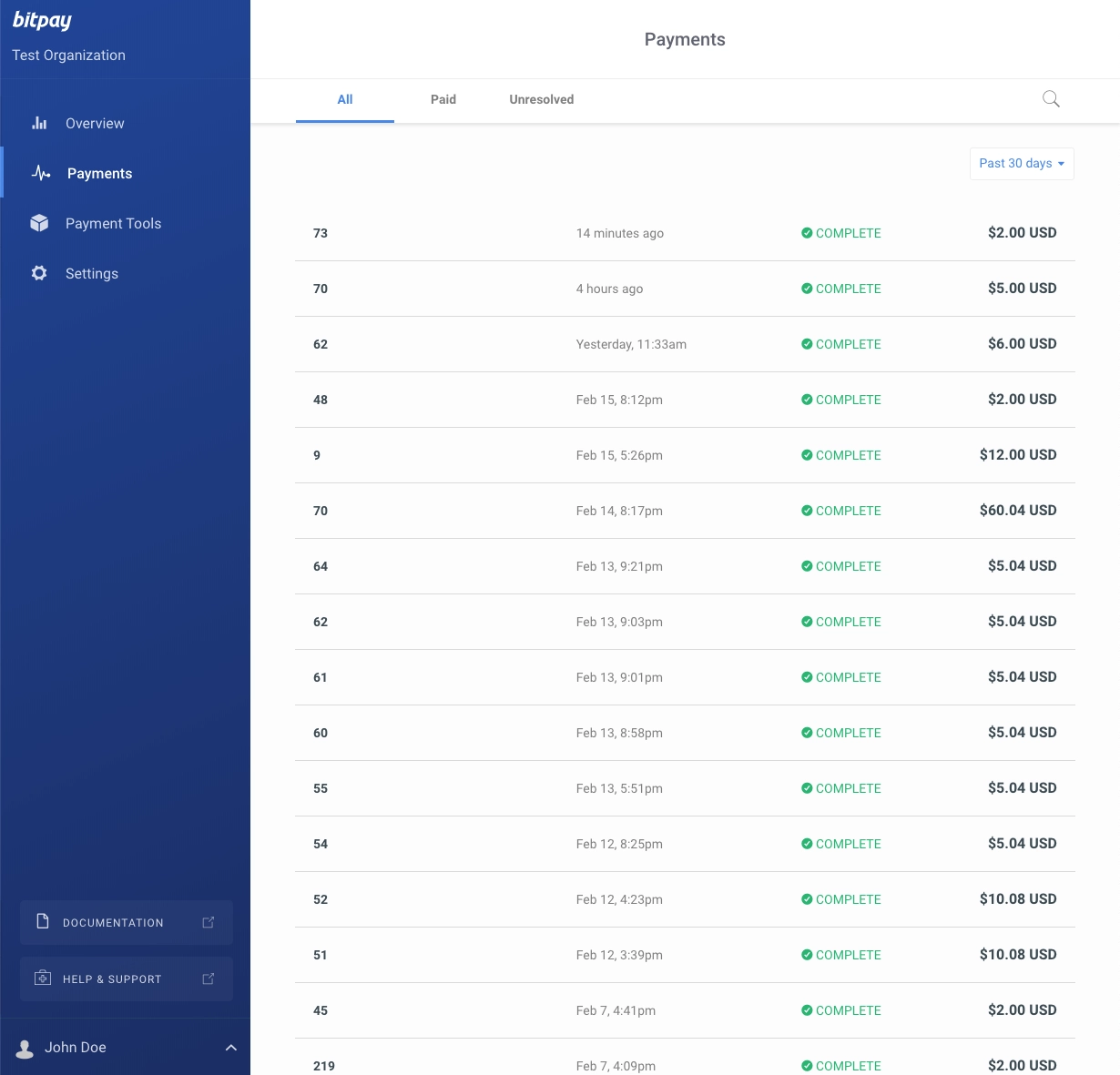 When you click on any of the payments, you can see all details of that payment including order ID, blockchain confirmations, exchange rate, time, etc. Here's what it looks like: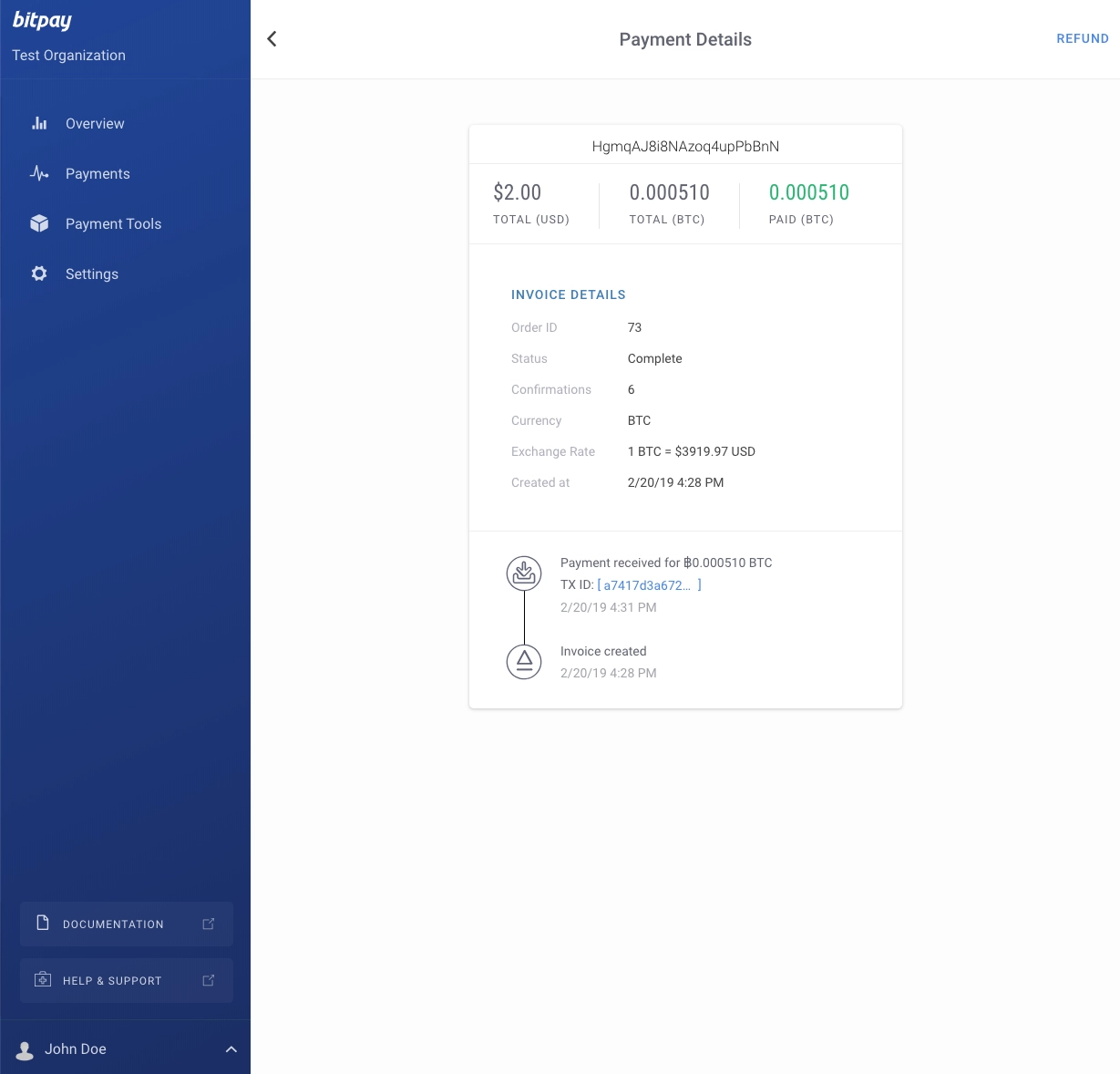 You can also choose to refund a customer from this screen if you want to by clicking the "Refund" button in the top right corner. The refund screen provides two options: full or partial, per your preferences.
You can also choose the customer email address to which you want to send the refund claim link, as they can claim the refund only by clicking the link you send through your dashboard.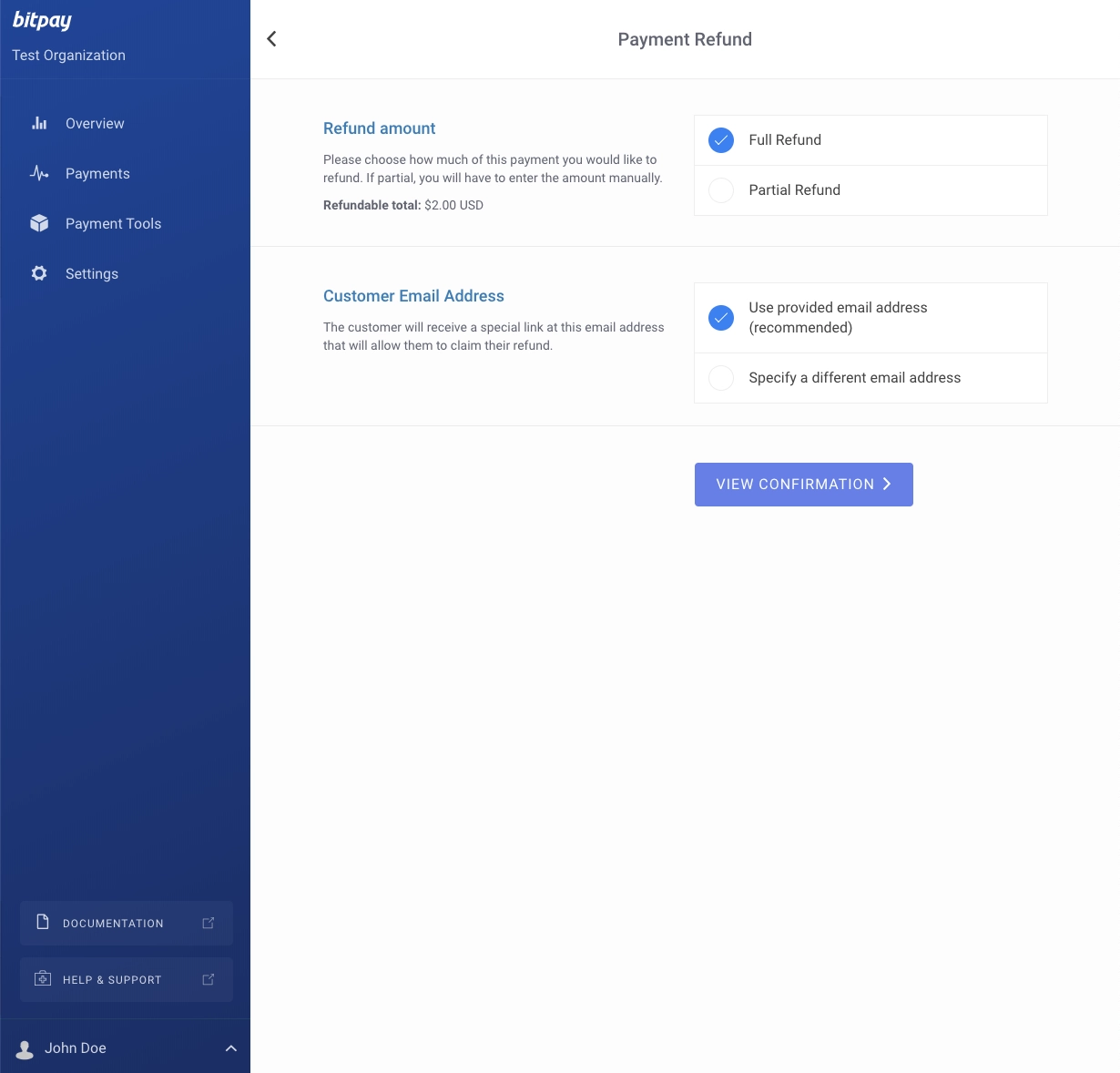 Overall ease of use and setup
Overall, we can say that it's easy to sign up and get started with BitPay, regardless of whether you want to use it for your personal transactions or for your business transactions. Once you've signed up, using the wallet, the payment gateway, and the merchant dashboard is also quite an easy and simple affair, though with a little bit of a learning curve for the first-time crypto user.
However, in some cases, users (especially business users) have also faced extensive delays in signing up and approval of their accounts. So the sign-up and setup process is not free from faults.
#2. Buying cryptocurrency
BitPay integrates with Coinbase exchange to allow you to buy cryptocurrency from within its app. You can integrate your Coinbase account with your BitPay wallet to seamlessly withdraw cryptocurrency purchased on the exchange into your wallet.
While this sounds amazing, it's worth noting that this is not a very good option for buying your cryptocurrency because you'll incur not only the Coinbase exchange fee but also BitPay network fees, which can collectively make your purchase much costlier.
#3. Payment Withdrawal and Processing Time
Payments received by business users are automatically withdrawn to their preferred wallet or bank account daily. As a business user, you can convert your crypto balance into the currency of your choice at any point to avoid losses due to rate fluctuations.
Regarding payment processing time, most crypto payments — both Send and Receive transactions — are processed pretty quickly on the BitPay network, as long as you have a priority setting higher than Normal. However, as everything else described till now, this part is also not without glitches. There are reviews of users who say that their transactions took longer than expected, and in some cases, the money they sent never reached the destination wallet.
These sorts of things create a trust deficit. And unfortunately, the trust deficit increases even more when people try to work with their support team to fix these issues, as you'll discover in the sections below.
#4. Bitpay Support and Reliability
When we speak of a payment processor's reliability, 3-4 major areas matter: customer support, settlements, refund processing, and security.
Let's see how BitPay fares in each of these criteria.
#4.1. Customer support
The reviews of users who have used BitPay show that their customer support is not the best in class. There are several reviews on TrustPilot and Capterra in which users have complained about the delays they faced while seeking help from the BitPay team regarding their transactions.
There are several issues that users have flagged with their support system. First of all, support channels are extremely limited — no chat, no phone number, and no email address. They only have their ticketing system through which you can raise a request, and when you use it to write to their support team, expect at least a few days to even get a reply. Then you need even more time to get them to fix your issue.
In recent days after a slew of complaints and bad reviews on Google Play they have set up an email account ([email protected]) on which users can write directly to them, but we've not yet tried contacting them on this email ID for any support-related issues so can't say how quick they are at resolving complaints through this new support channel.
#4.2. Settlement system
BitPay allows you to settle the payments you receive either in a bitcoin wallet of your choice or in a bank account. You can add your trusted wallets and bank accounts from your BitPay settings screen by navigating to the Settlements tab, as shown below. You can also see the percent-wise breakup of how much of your payments have been settled to which channel.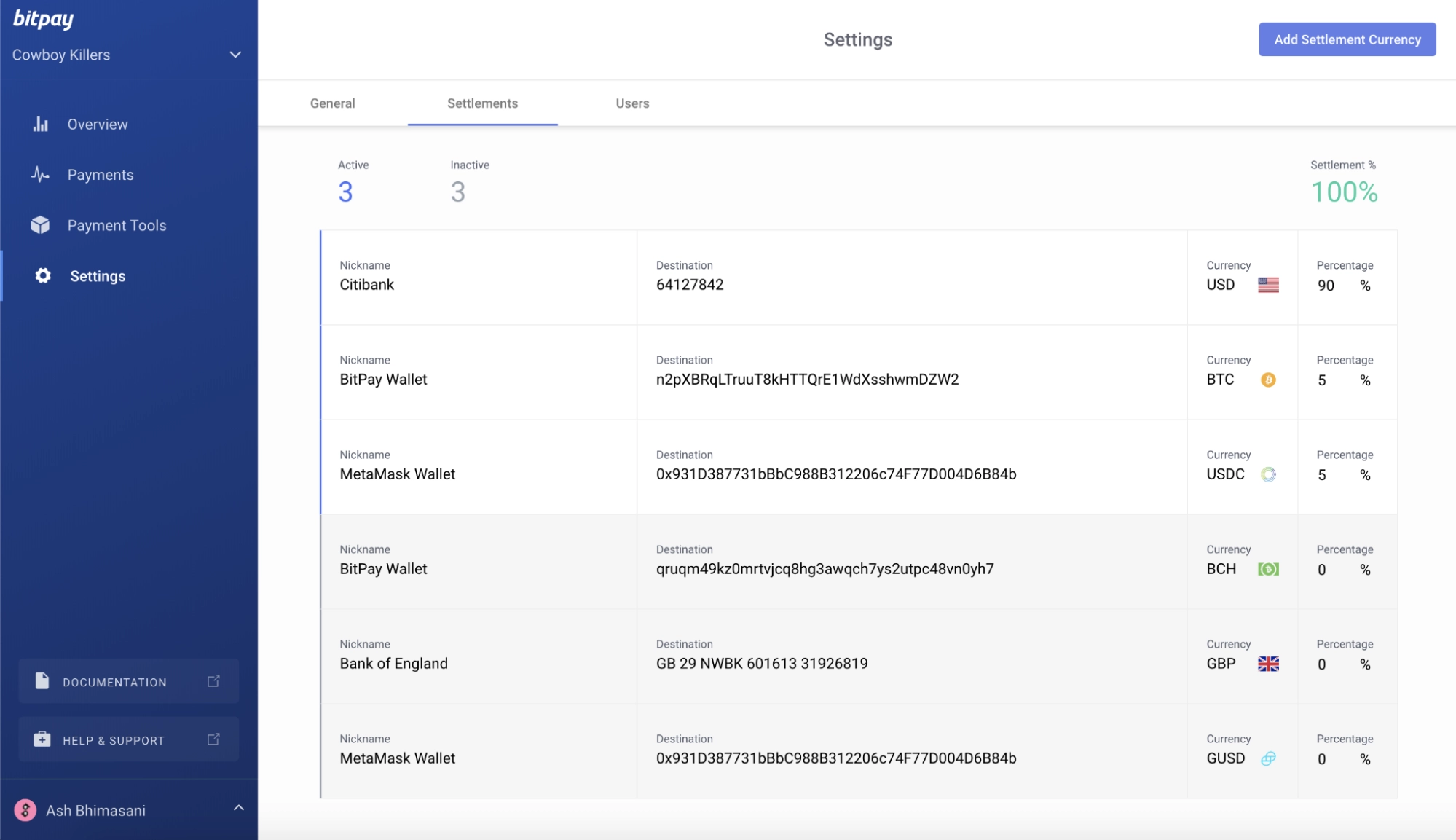 As we explained above, payments are settled automatically within a day of you receiving them. That way, you never have to touch the crypto, and an exchange rate is also guaranteed for all your settlements regardless of whether you are available to immediately convert them or not.
So far, so good. But not everything is hunky-dory about the settlement system of BitPay. Many users have flagged the issues with their settlement system as well in their reviews. For instance, if you underpay an invoice even by a penny, the transaction fails, and it can take multiple days to get your crypto refunded! In markets like crypto that are always fluctuating, this sort of refund delay can significantly increase your costs.
In addition to that, you also have to be very careful whenever sending payments. Because if you make a double payment to any address, it can be tough to recover it because, first of all, their customer support will take days to respond, and second, unlike PayPal or Stripe, crypto payments are irreversible.
#4.3. Refund processing
While our experience with BitPay has been mostly fine when it comes to refunds, there are numerous instances in which merchants either got the refunds very late or didn't get them at all. Several reviews explain both situations on TrustPilot, which is not a very good sign for any company dealing in payments.
#4.4. Security
BitPay offers two major features for customer security — the traditional backup method and the ability to lock your app. The backup method requires you to note down a 12-word secret seed phrase that you need to store somewhere secretly. This phrase can be entered to recover your wallet if you lose access to it. That's the standard method for backing up wallets in the crypto industry.
The second method is to lock your app either using a four-digit pin or your phone's lock pattern/fingerprint sensor. We'd advise that you lock it with a pin because that can add additional protection to it for the scenario when someone steals your phone in an unlocked condition.
Besides wallet protection, they also offer intuitive multi-signature security that allows you to authenticate any transaction with multiple signatures (minimum of two people) via a shared wallet.
Overall reliability
Now, when you read all of that, it may seem like BitPay is a pretty irresponsible kind of payment processor. However, we don't think that's entirely true because the company has still built a robust base of 250+ merchants who use its payment gateways to accept crypto payments. Many of those 250+ merchants are also well-known brands like Microsoft, Twitch, WeWork, Shopify, Namecheap, Express VPN, The Home Depot, Newegg, AMC Theaters, airBaltic Airlines, and DishTV.

Needless to say, if BitPay had been totally as irresponsible as its various negative reviews suggest, it wouldn't have been able to build this robust network of merchants who rely on its services to accept crypto payments. So it doesn't seem to be a completely unreliable payments processor – it's a good one, but with a slightly unimpressive track record.
#5. Fees
BitPay doesn't charge anything for loading your crypto debit card. It also doesn't charge for converting crypto to your desired fiat currency. They charge only for business transactions, roughly 1% of the transaction amount. That's not cheap, but compared to what's charged by many other crypto payment gateways, it also doesn't seem too much.
However, sometimes the network fees may be high when you're buying the crypto from within the app through the exchange integration we explained above. The network fee is also not adjustable for sending the crypto from within the Send section, but it can be adjusted from the app's Settings by choosing a lower priority for your transaction.
Coming to priority fees, there are five different options, including Urgent, Priority, Normal, Economy, and Super Economy. These priorities put your transactions through various processing speeds over the blockchain that range from 341 – 691 sat/byte at the time of writing this review.
However, not all their fees can be justified. For instance, they charge their cardholders a non-activity fee (also known as dormancy fee) of $5.00 if they don't do any transactions for 90 days. So basically, if you've their debit card and you're not using it, it may turn out to be your costliest debit card!
#6. Third-Party Integrations
BitPay integrates with many useful apps and third-party services, but not all of those integrations are deep enough to provide a seamless experience. In addition to that, the number of integrations is still quite limited.
For instance, It has an integration plugin for WordPress, Drupal, Magento, Wix, and Shopify. But it doesn't integrate with many other CMS and LMS platforms like Moodle, Hubspot CMS, Joomla, Blackboard, etc.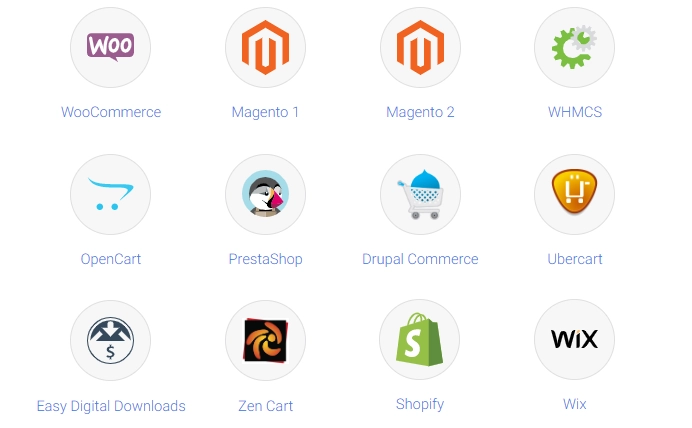 The platform is also integrated with Skrill and PayPal, which means that you can withdraw your balances to those services as well and then either use them for online purchases or for withdrawal to your bank accounts anywhere in the world.
Lastly, BitPay also integrates with QuickBooks accounting software, so you can import your Bitcoin sales into your account books. QuickBooks users will find this extremely beneficial and relieving.
Fortunately, it has a BitPay API and maintains code libraries in PHP, Python, Ruby, C#, Java, and Node.js, so you can create custom integrations if you know how to code or if you can afford to hire a developer.
Final Thoughts
Overall, we can say that BitPay is a crypto payments processor with its own fair share of pain points. It can serve well for your business during the initial phase when it's small, but you should not be counting on it if you're a big business that can afford to pay for premium quality services. There are much more reliable crypto payment processors available in the market that can provide more reliability than it, although at a higher price.