Startups and small businesses are often a one-man show where a single person or few people are responsible for running the entire business. Hence, the responsibility of ERP software plays a very vital role. Best ERP software makes your work easy and becomes a backbone for budding startups. 
What is ERP?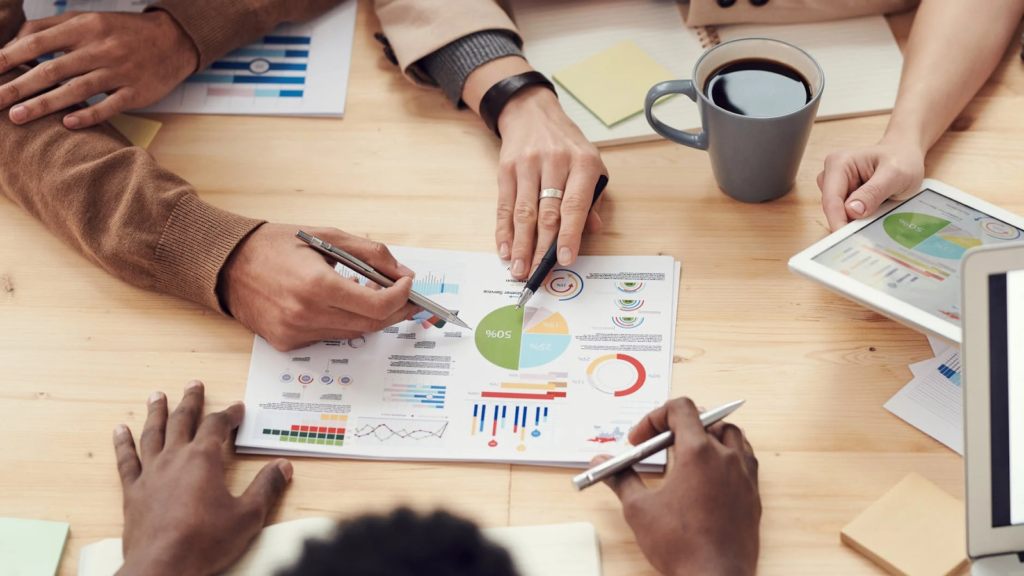 The digitalized era has given rise to powerful technologies such as Enterprise Resource Planning, more commonly known as ERP software. Best ERP Software is a combination of unified and diverse tools that make your business easy. It assists you in tasks like data collection, organization, analysis, forecast, and communication. 
Best ERP solution also supports your daily business activities, supply chain management, inventory management, manufacturing and distribution, financial and account management, risk management, CRM, and many more such activities. Other wide ranges of features include business intelligence, real-time collaboration, automated analytic tools, visual statistics, graphs, etc. ERP System is a unified software solution that helps to satisfy diverse business needs. 
Why should a Startup use an ERP solution?
ERP solutions are designed to serve businesses of all vertices and sizes, whether startups, small businesses, or large organizations. People who use this software have had a positive impact on business. Various small or big, mid-sized or startups have praised ERP System and credited them for the growth and development of their business.
ERP platform brings together the whole business under one roof through an integrated and unified system. Such software can provide you with information in real-time, which helps you take decisions wisely. Some ERP systems are industry-specific, and now many of them are also designed for startups and small businesses because they have the potential to become bigger and more successful but need help in reaching that stage.
Some Reasons for Startups to use ERP:
Safe documentation
Important files, documentations, reports, invoices, and bills are significant for startups. ERP software provides a safe platform to store all these documents securely. Mishaps or loss of such documents can be disastrous, and hence ERP is essential. Startups usually have few members involved in the business. Best ERP solutions also provide seamless collaboration and communication of documents within members and teams.
Scalability and growth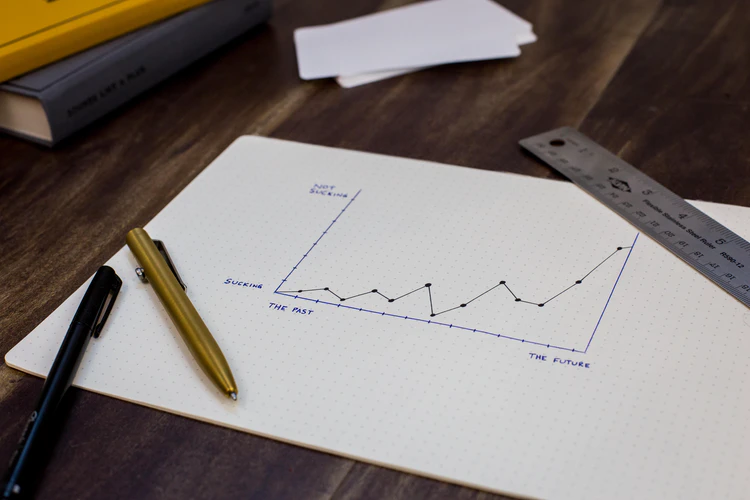 ERP software can grow and expand with the business. As a startup, you can buy the basic version of ERP system and then upgrade your version to satisfy the growing business needs. The software reduces confusion and infuses expansion and growth.
Reduction in cost
Enterprise Resource Planning software helps startups to cut down unnecessary expenses and costs. Startups are critical business models that strive to maintain finances and reputation. ERP helps to cut the excess of operational cost, replaces faulty supply chain networks, poorly managed payroll with powerful automation and timely planning.
Diminishes the Risk factor
Startups are a risky affair that can either succeed or fail badly. ERP solutions can reduce uncertainty by giving reliable backing to the business. The dynamic planning, overall organization, systematic scheduling, and intelligent reporting of ERP make it one of the best open-source ERP solution software. With the help of ERP, you can always be prepared for business challenges.
Forms an integral part of a startup structure
Startups are sometimes unaware and unprepared when it comes to managing human resources and financial status. ERP is also capable of providing startups with easy-to-understand reports that can help you to assess your company's fundamentals and position in the market. Hence, ERP serves as a pivot point for a successful startup operation.
An innovation towards the betterment
ERP software helps you analyze your business process along with being flexible in terms of growth and scaling up at an affordable cost. Startups are often about growth and innovation, and you can surely expect a lot from this software. Business management system with ERP helps you to overcome all odds, which makes it one of the best available enterprise solutions for startups.
7 Best ERP software are as follows: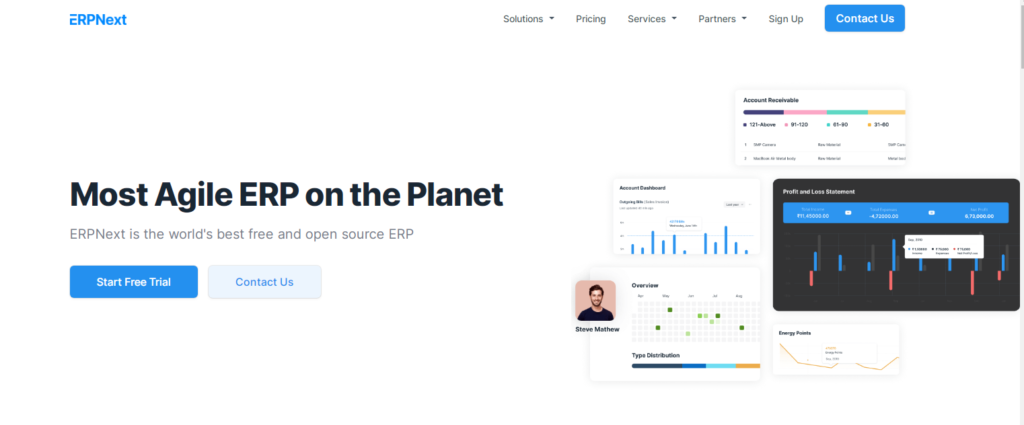 ERPNext is a marvelous tool for businesses of any size as it helps carry out all business transactions with ease. With the most agile features, ERPNext is the best open-source software that can be modified as per the user's requirements. You enjoy an interface design that is simple and guides you to get your work done quickly. Various solutions of ERPNext guide you with accounting, manufacturing, HR, enrollment, sales, purchase, CRM, projects, asset management, etc.
ERPNext provides tools to manage our finances better, record transactions, analyze reports and summarize financial details. A configured tree-like structure better organizes the ledgers as you desire. The crisp ledger books track our income and expenses and notify us about the closing period. You can easily track all the employee records such as attendance, payroll, expense claims with this software. It guides you through the various manufacturing and distribution cycles, sales, and purchases to increase productivity and reduce costs. Track better leads, new opportunities and maintain customer relations with ERPNext.
Features
Generates real-time reports 
ERPNext helps to produce all the required reports to increase sales and boost productivity. The one glance view to the KPI (Key Performance Indicator) on the dashboard makes it easy to make vital business decisions. You can also customize the dashboard and analyze significant components of your business in one place. Also, track all the serial numbers of inventory to know the available stock and trending products.
Smart manufacturing
Use this open-sourced software with a modern cloud manufacturing interface to simplify the production cycles and manufacturing process. ERPNext assists you in analyzing the material consumption, capacity planning accurately, and manage subcontracts with ease. You can also make real-time coordination with customer relationship management, sales, inventory, accounting, purchases, etc., and get accurate information.
Assets
Track and maintain your assets' value, inventory, lifecycle, and depreciation, all in a centralized platform.
Use tools to schedule, organize, track, and plan all the tasks and complete projects within the boundaries of time, quality, and costs.
Drive more sales, boost productivity and automate various tasks to save time.
Liabilities
The technical and theoretical aspects of this software are difficult to understand and learn.
An amateur and learner can face difficulties while operating the software.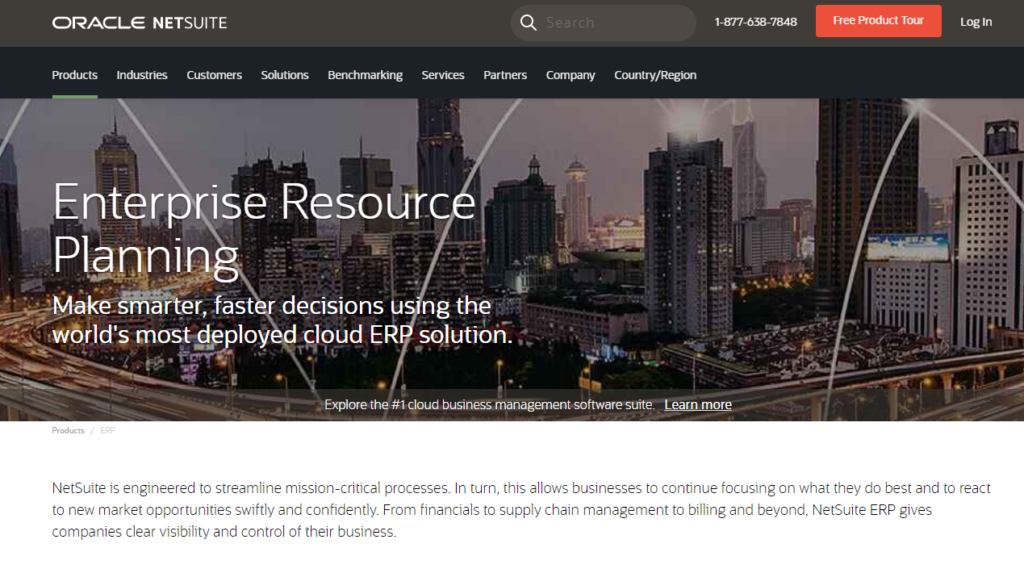 Next on the list is Oracle NetSuite. This software suits the needs of every type of business model, whether big or small. This cloud-based erp software helps you adapt to changes by ensuring clear visibility to make the right business decisions. NetSuite guides you as your business processes, enables you to quickly upgrade, and seamlessly configure other integrations. For a small business, sales, finances, and customers are of utmost importance. NetSuite is a core business system that perfectly blends all these and becomes a robust customer-facing commerce system.
Oracle NetSuite builds confidence to tackle new business opportunities with confidence. This software is an all-in-one package that includes financial management, order management, financial planning, production management, supply chain management, procurement, and warehousing. NetSuite's billing system supports and integrates sales, improves billing accuracy, eliminates manual errors, and increases revenue recognition. The omnichannel experience of this ERP solution helps you to get orders and track them from anywhere.
Features
Financial Planning
NetSuite integrates budgeting, planning, and forecasting to ensure better control of the company's financial data. It helps finance teams to collaboratively find solutions and clarity to the companies financial and operational efficiency. Budgeting with this powerful tool enables synchronization, collaboration, and scalable solutions to the company's problems.
Supply chain management
Today's dynamic world requires competency in work. The supply chain network should not be stagnant to the place and physical location. NetSuite lets you manage your supply chain irrespective of your physical location. It helps decrease the supply chain costs and increases service level by efficient planning, execution, and collaboration.
Assets
A single platform of data for inventory, sales, orders, returns, and payments allows faster communication, greater visibility, and better consistency.
NetSuite automates various sales, operation, and finance functions that help to increase accuracy, satisfactory order fulfillment, and reducing bill errors.
This robust ERP solution has built-in intelligence and powerful analytical tools that help promote the growth of the company.
Liabilities
The subscription cost of NetSuite can be costly. You have to pay more if you want advanced modules. 
If you want to customize the software, you have to consult a specialized expert or consultant. This process is costly as well as complex.
Click here to check NetSuite ERP Alternatives.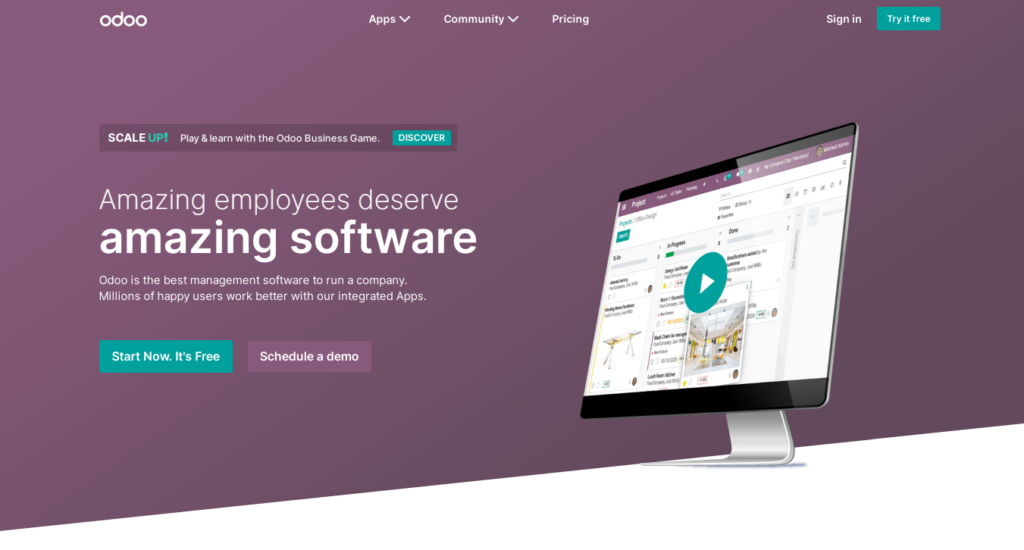 Odoo is a comprehensive ERP tool for small businesses as well as large enterprises. This open-sourced software allows customization for better usability. With fully integrated apps, Odoo helps to achieve top-notch success and business scope. Various modules of Odoo such as CRM, sales, inventory, purchase, accounting, project management, e-commerce, website builder, and more help in overall company development. The forecast of Odoo allows you to make actionable decisions based on the insights and accurate data. The flow charts, custom dashboards, and statistics aids in getting deeper real-time reports. 
Real-time collaboration and messages enhance communication with customers. It also strengthens the internal communications of the company. You can also organize, schedule, plan, track, and analyze project performance. It helps to break the project into small tasks that can be allocated to employees according to their availability and skills. Odoo also helps to integrate beautiful custom design products into your e-commerce website. Automation of various sales and inventory transactions of e-commerce platforms helps in maintenance and reporting.
Features
Communication
Odoo has some integrated inbuilt tools that ensure seamless communication with customers and employees. It helps to collaborate efficiently with the team members and assures you that all members are on the same page. You can also attach small messages or notes on the sales order, purchases, invoices to communicate directly and ensure clarity.
Seamless integrations
Odoo is known for its seamless and clean integrations. You can integrate your e-commerce platforms or website to Odoo. It helps to draft a cleaner interface of your website along with your cart. The powerful e-commerce tool ensures better productivity and sales. Many other such integrations also help your company to grow efficiently.
Assets
Odoo provides above 35 multiple modules that are essential for a company to prosper.
This one in all ERP system integrates sales, accounting, human resources, logistics, and manufacturing.
Odoo can be customized to suit your needs without any principal source-code modifications or structural changes.
Liabilities
The customer service of this software can be slow, and you may not solve your problem in the first instance.
To operate and maintain a community version of Odoo, you need advanced IT support.
4. Crest ERP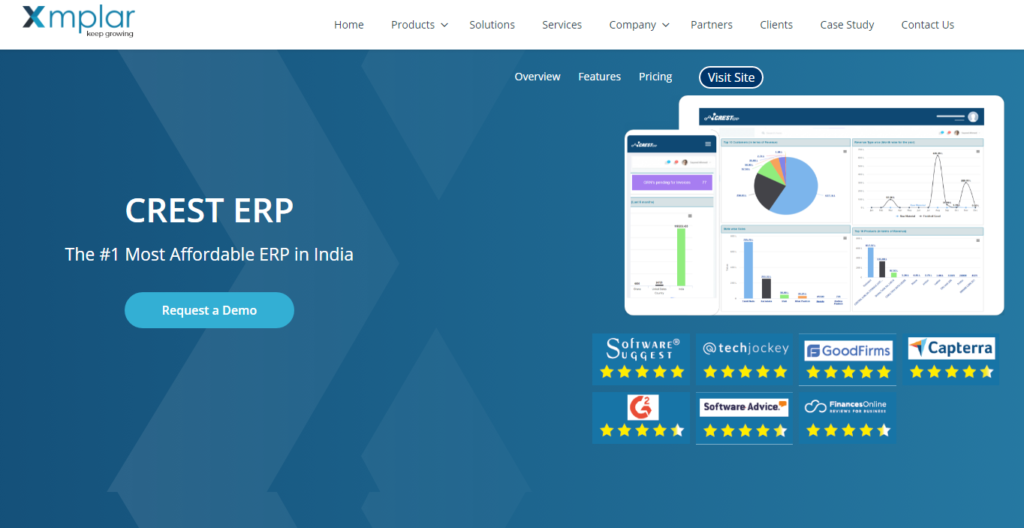 Crest ERP is a platform that can help startups, mid-sized businesses, and enterprises o seamlessly manage their businesses. The seamless integration of this software into your platform ensures increased CRM, inventory management, HR and payroll, project management, supply and purchase order management, sales quotes, time tracking, multi-currency transactions, and many more such activities. This is a cloud-based software that secures all your documents at a convenient and easy to access location.
Crest ERP is an ERP software that grows with your business and guides you to better business processes and features. This is an easy-to-use software that can be learned comfortably. The centralized data system promotes better and active collaboration through your network with chats, tickets, phone calls, training, and emails. You can also have add ons functionalities to your business as your company grows. This innovative and automated system increases business operational efficiency and productivity.
Features
Inventory management
Crest ERP helps you to track inventory in real-time and enhances the operational efficiency of work. This cloud ERP software optimizes warehouse transactions and helps to save time. You can also categorize different items, which helps in recording and tracking the inventories. You can ensure better control over the inventory movement. This includes issues, receipts, and returns to track them in their transit efficiently.
Sales management
Increase the efficiency in inquiry, order fulfillment, packaging, shipment, and sales. Crest also eliminates duplication errors and reduces the overall sales and cash cycle. It is a solid field force management that guides us throughout the sales process, from order placement to fulfillment. The robust forecasting and reporting tools ensure better control and solutions to business problems.
Assets
Crest helps to centralize control by reducing redundancies in the accounts. The use of the Automatic Accounting Schedule (AAS) clarifies and simplifies the accounting system.
It also promotes integrated project tracking and planning to enable greater visibility in operations and finances.
You get to access real-time process order updates with the cloud ERP. Also, financial accounts and inventory balances are up to date.
Liabilities
The dashboard can sometimes feel very dull. Some dashboard improvements can attract more clients.
Crest ERP is not suitable for freelancers and agencies.
5. Sage ERP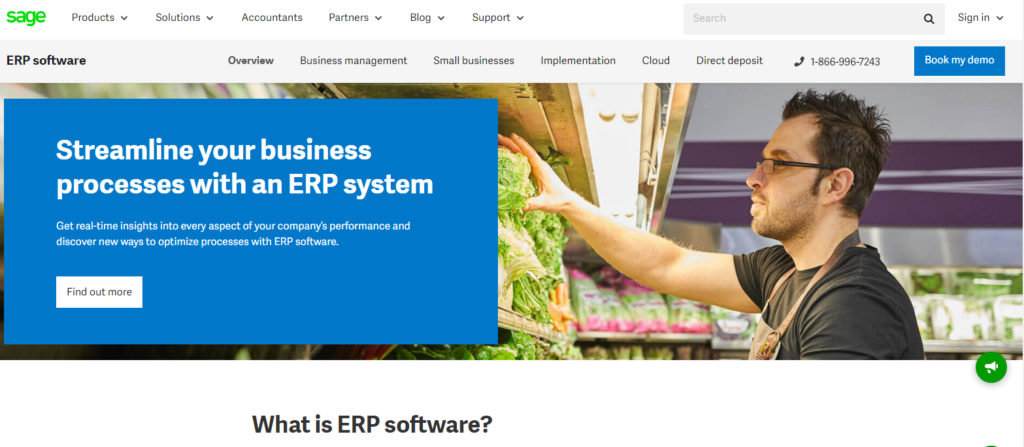 Sage ERP is one of the best enterprise resource planning software that manages all the daily business activities. The highlight of this software is that it combines all the data to provide accurate business insights. The pool of features includes anything and everything from inventory management to accounting, from HR to CRM, and more. This ERP software allows seamless transfer of information throughout the platform through a secured database system. 
Sage ERP caters to the needs of all types of business, whether big or small, startups, manufacturing or distribution sectors, retailing, etc. Sage proves its efficiency in finance management, accounting, tax compliance, project management, and inventory management. Sage marketplace allows you to integrate your platform with various other applications and software. One of the specialties endeavors of Sage is that it also renders services for people who have multiple businesses.
Features
Streamline key process
Sage cloud is a traditional ERP solution that offers an abundance of features to suit various business needs. It provides tools that help streamline diverse operational processes and maximize the efficiency of work done. The provision of real-time data about improvement areas helps to increase productivity. It also ensures financial compliance.
Productivity
This is a cloud-based ERP software, and hence the flow of information is very smooth and undisturbed. Further, the collaboration tools also help ensure that every employee knows what they are doing and why they are doing it. This increases the productivity and profitability of the business. It also boosts employee morale by streamlining operations and enhancing efficiency.
Assets
Sage provides in-depth insights that help you define better, organize your goals, identify business opportunities, and identify new market expansion.
It also provides powerful and smooth integrations to various third-party applications.
This software helps identify weak areas and suggests quality solutions that can help reduce cost and increase efficiency.
Liabilities
The bugs in the system may be annoying to some users. You can face problems with debugging as some of them are not documented efficiently.
Sage needs an expert who can install and set up the program. Otherwise, it is a complex and time-consuming process.
6. Epicor ERP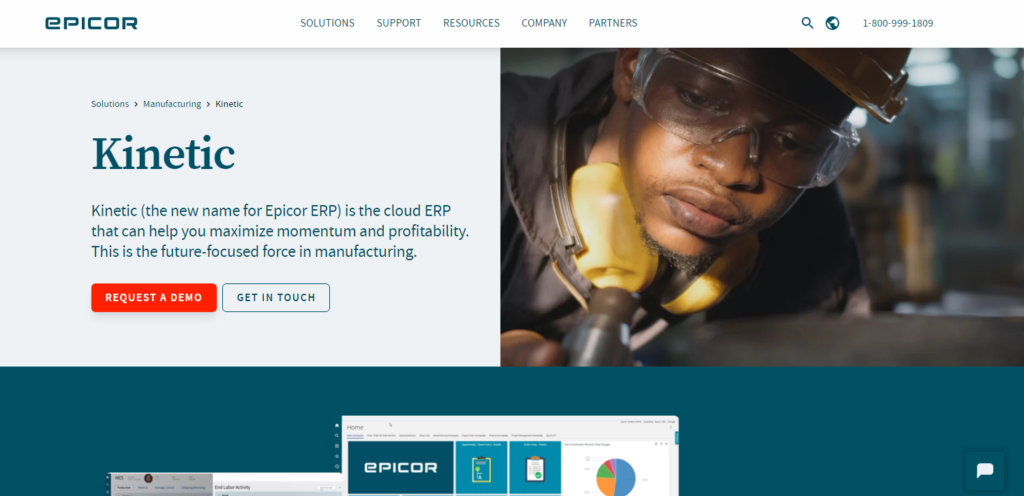 Epicor ERP, also known as Kinetic, is the top erp platform that helps businesses gain momentum and profitability. Though the main focus of this software is the manufacturing sector, it works wonders for startups, small businesses, and medium-sized businesses. This platform capitalizes your data and invests in innovation that accelerates the growth and development of the company. It provides access to wide avenues such as CRM, CPQ, and APS. The interface of the software is intuitive, guided, and configurable, with easy customizations to applications. 
This is a cloud-based software solutions that any modern workforce expects. It also increases employee engagement and productivity. Some highlights of Epicor are integrated communication similar to social networking communications, voice recognition for streamlining routine tasks, and master content flow. The wide range of benefits includes financial management, general ledger, asset management, currencies, CRM, service management, job management, planning, and scheduling. It also helps with invoicing, billing, and routing the inventories.
Features
Customer-focused
Epicor ERP is a very flexible and scalable ERP solution that helps you to get a positive customer experience at every sales point. It is a famous management platform that gives B2B clients an excellent B2C encounter. The users can manage the sales team, territories, and forecasts with any device. It also helps in lead generation, contract management, and customer service from a centralized place.
Manufacturing operations
Manufacturing experts designed Epicor to garner greater profitability, advanced project outputs, and production efficiency. You can track real-time work in progress to ensure everything is in line with your goals. This software generates accurate and reliable data processing methods that guide you with better forecasts and insights.
Assets
The visual CPR of this software configures and organizes complex business products with speedy efficiency.
The use of advanced EDI software creates speedy transactions and greater visibility.
Epicor guides your business with good business intelligence and analytic tools that help turn the available data into actionable plans to achieve better decision-making capability.
Liabilities
The software does not have any trial period, and hence you have to pay to check the suitability and functionality of this platform.
It sometimes lacks integrations with other software or third-party applications.
7. Acumatica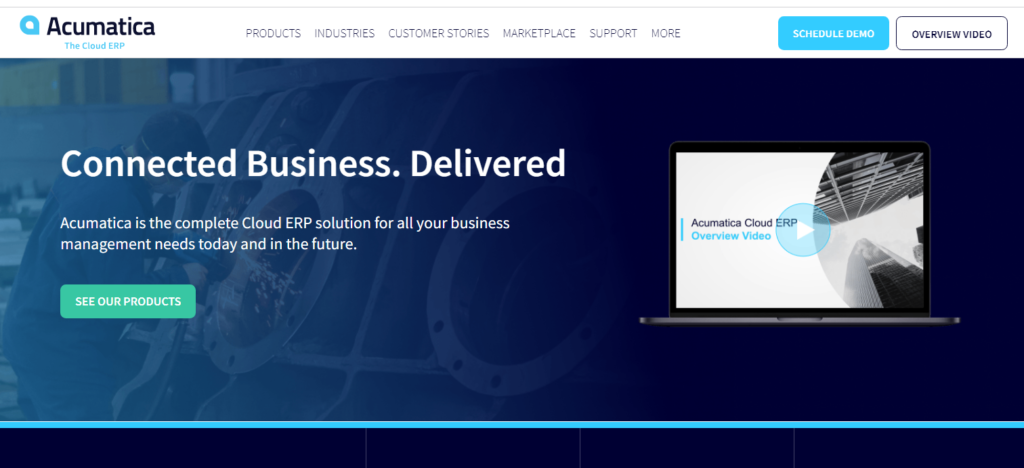 Acumatica is one of the most reliable ERP software solutions designed for small business and startups. This software provides flexibility, efficiency, and business continuity to small and mid-sized enterprises. Further, it also engages in a collaborative environment, strong communication networks, frequent backups, and multi-purpose data storage. Greater productivity, security, and decision-making ability for business is the main aim of Acumatica. Several editions are available in Acumatica, for example, distribution edition, manufacturing edition, construction, retail-commerce edition, and general business edition. 
It provides features to suit every business model. Acumatica has an abundance of features that involve inventory control, enhanced productivity, better adjustments to changing markets, better cash flow, customer service, easy connection to data from anywhere, and many more. It guides SMBs (Small and mid-sized businesses) and other organizations to adapt to changing market conditions and achieve growth in such uncertain times. Plan your future endeavours with real-time visual dashboards and automate various front-end and back-end tasks. Acumatica strives to put customer satisfaction at the core while helping entrepreneurs transform the business to achieve growth.
Features
Business growth
As a Startup, you won't need many features and functionalities of Acumatica. Some of the initially used modules will be of finance. But as your business grows, you would need other facilities to cope with the growing enterprise. Automatica helps to easily add various other functionalities such as inventory management, human resource management, CRM, etc. All these modules are interconnected, which further helps in integrating the business.
Easy interface
Acumatica is built to look the same for any device you use, whether mobile, computer, tablets, etc. It reduces the steep learning curve of training and acquainting one of the different platforms. The intuitive GUI menus and attractive dashboards make it easy for you to navigate and operate various business transactions. You can use Acumatica in several forms, such as SaaS, setting up the system on your device, or finding a hosting partner.
Assets
The use of .NET and C#, which are some tools for development, enables the customization of software without any exclusive intelligence.
The up-gradation of any software can be bothersome and time-consuming. Acumatica provides flexible schedules of up-gradation that users can upgrade according to their convenience.
Though a bit complex, the pricing of Automatica is very cost-effective as you pay only for the features and modules that you use.
Liabilities
Acumatica is relatively new in the ERP industry, which can be a disadvantage compared to other competitive software that has years of experience in this field.
The pricing structure of this software can be confusing and complex for users to understand. However, partners and resellers can help you know it.
Conclusion
Though startups are a risky affair due to the uncertainty attached to the success of the business. Enterprise resource planning or ERP software is a power-packed solution that can help your startups to prosper. ERP maintains business finances, helps with proactive planning, scheduling different tasks, handles customers, assists in sales, and forecasts the future at one central platform.
ERP solutions have proved their potential in making a startup successful and profitable in the long run. They also increase efficiency, productivity, engagement, and communication within the business network. So, if you have a startup or are planning to start one, try these or any ERP Software and comment to tell me which software was beneficial to you.