If you're looking for customer service software, you may already be familiar with Zendesk, as it's touted as the best help desk software available today. However, many times what's most popular or touted as "best" is not the best choice for our needs, so we look for other options available that might better suit the requirements of our business. So it's quite natural that people search for a Zendesk alternative too.
That's why in this blog post, we'll explore the top 25 alternatives to Zendesk, so you can find the best option for your company. Let's see!
What is Zendesk?
If you are looking for a way to provide your customers with the best possible customer service experience, you need help desk software for that. And when it comes to help desk software, Zendesk is arguably the most popular one among them.
Throughout its 15 years long existence, Zendesk has helped hundreds of thousands of businesses in providing their customers with superior customer service and support. Its ability to integrate with all popular communication channels (i.e. IM apps, social media, email, etc.) and flexibility to be customized for the needs of almost any industry made it the tool of choice for customer support needs of some of the largest, most respected corporations around the world.
Reasons to Choose A Zendesk Alternative
As it happens usually, no single software is useful for the needs of all businesses. And also, no software is completely free from drawbacks. Same applies to Zendesk too. It's robust, but it also has some shortcomings. For instance:
It's expensive;
Working with multiple support executives on a ticket is not easy;
No way to mark a ticket as Priority;
No filters for support agents to see only those tickets assigned that are assigned to them;
3rd party integrations are not as good as some users expect them to be.
These shortcomings, among others, force people to look for an alternative to Zendesk. And fortunately, there are a lot of them available in the market.
Top 25 Zendesk Alternatives
As we just said, there are dozens of Zendesk alternatives available in the market. In this article we'll take a look at 25 of them, so let's get started!
1. Zoho Desk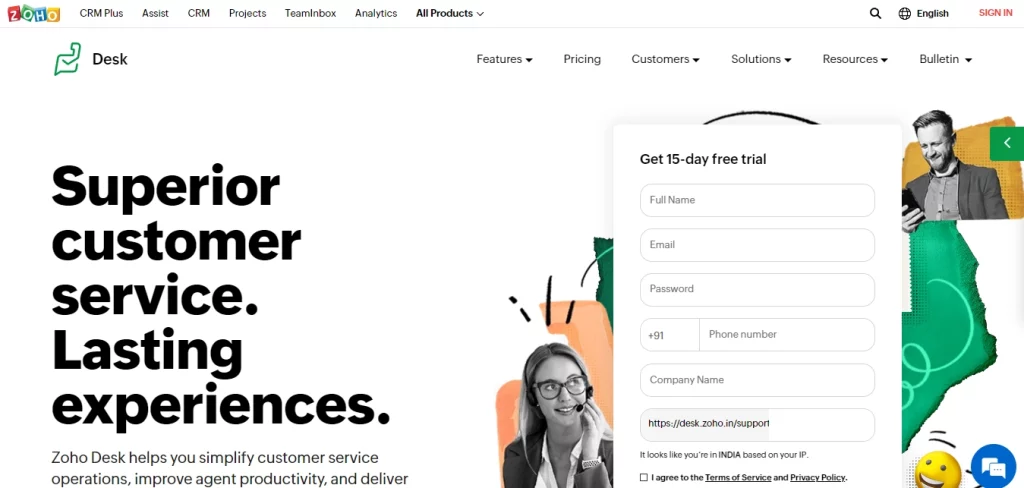 Zoho is a company that offers both customer relationship management software and Help desk software. Their help desk offering, called Zoho Desk, includes features like a shared inbox, phone integration, and chat, although some of these features, such as chat, are only available in the most expensive subscription plan. 
Zoho Desk also offers a host of other features, which include:
Wide range of 3rd-party integrations
Team management features
Time tracking
Artificial intelligence-powered self-service options (only available on the most expensive subscription plan).
2. ServiceNow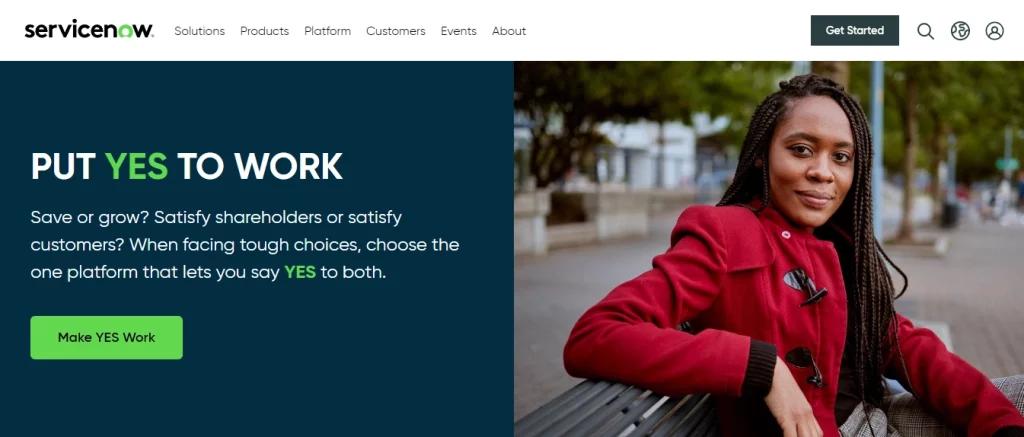 Zendesk is often used as a customer service tool, but it can also be used to manage internal IT requests. Another option for this purpose is ServiceNow, which is an IT ticketing system specifically designed for managing internal support tickets. ServiceNow includes features such as:
AI-assisted assignment of tickets;
Self-service options and virtual assistants to help employees get quick answers;
Reports to track performance and identify areas for improvement.
3. Freshdesk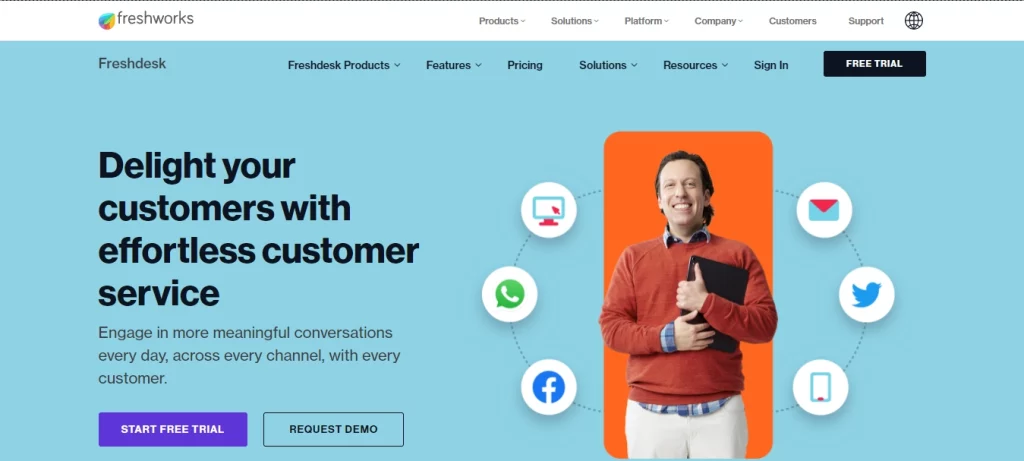 Freshdesk is an offering from the team behind Freshworks CRM. It's the software of choice for the customer service needs of some of the largest brands in the world (i.e. Decthalon, Bridgestone, Aramex, Pearson, Hamleys, etc).
It offers all the features of a modern help desk tool such as a shared inbox, knowledge base builder, integration with other services using apps in its marketplace, and omnichannel routing. But in addition to that, it also has the following advantages:
Automation capabilities to improve efficiency;
Advanced Reporting;
Option to send customer satisfaction surveys when a ticket is closed.
4. Help Scout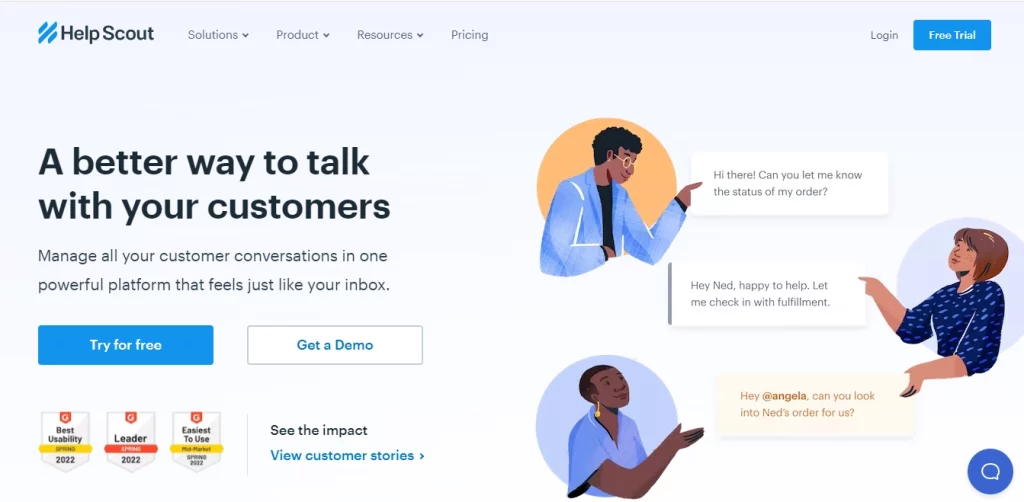 Help Scout is one of the best Zendesk alternatives available in the market nowadays. It offers a range of features that focus on improving communication and customer experience. The best part is that all of this functionality is so easy to navigate that you can learn to use it within a week even with no prior experience using any other help desk tool. It also provides the following features:
Quieres sent through email turn into tickets automatically;
Tools for tracking customer engagement;
Self-service portals to help your customers find answers on their own.
5. Oracle Fusion Service (also known as Oracle Service)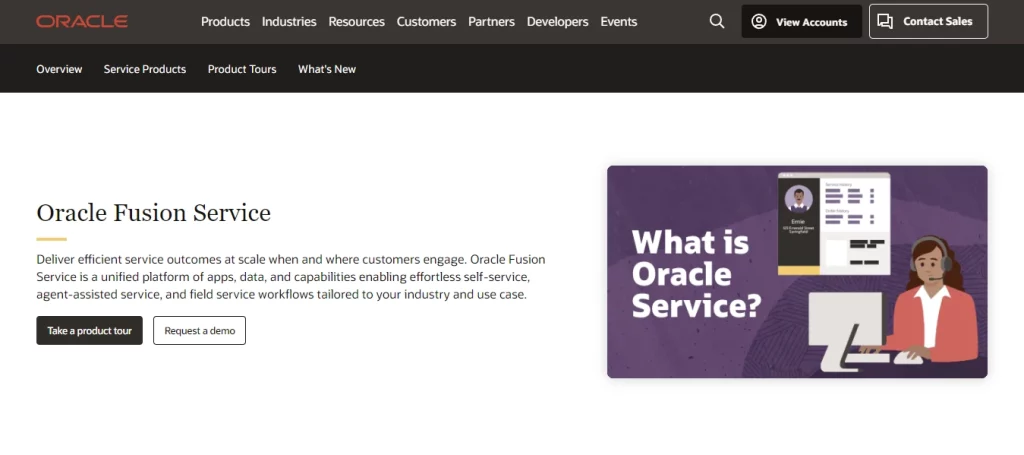 Oracle Fusion Service is a highly customizable customer service software that offers a wide range of capabilities. It is easy to use, with a high level of flexibility for customizing workflows and workspaces to fit your business processes, user needs, and customer experiences. Customer support is always available to assist, and the platform is regularly updated with new features.
It also offers the following advantages:
Easy to administer and track users;
Superior self-reporting features;
AI-based suggestions to help customers find relevant information.
6. Salesforce Service Cloud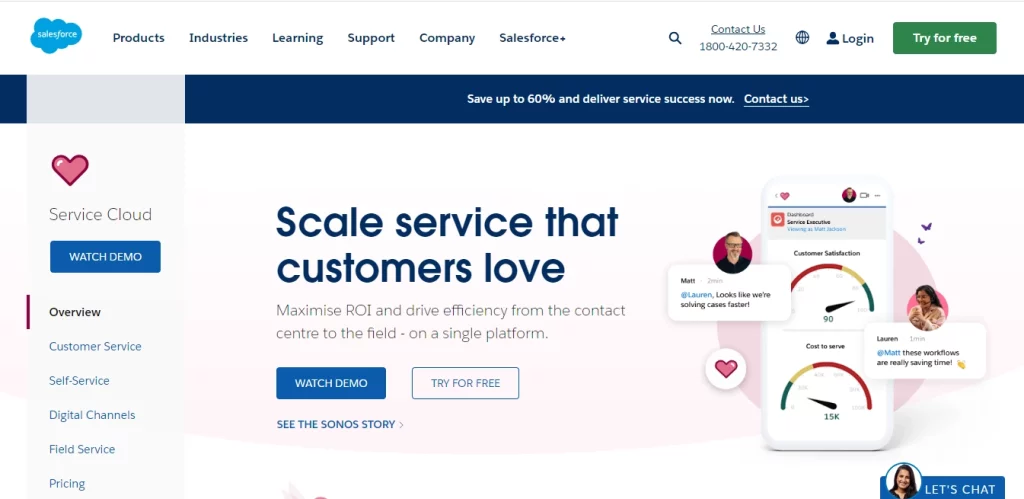 Salesforce Service Cloud, as you can expect from its name, is an offering of Salesforce CRM. It's a customer service platform that is highly customizable and easy to use for both end users and support engineers. It offers a range of features such as the service console, which allows for the management of multiple cases at once and provides a comprehensive view of the customer, and entitlement, which helps with customer service.
It also has a robust support team and a strong community of users who can help you if something goes wrong. Other major advantages include:
Regular updates to add new features and innovations;
Sharing of cases with other team members;
Automation capabilities;
Omnichannel routing.
7. HubSpot Service Hub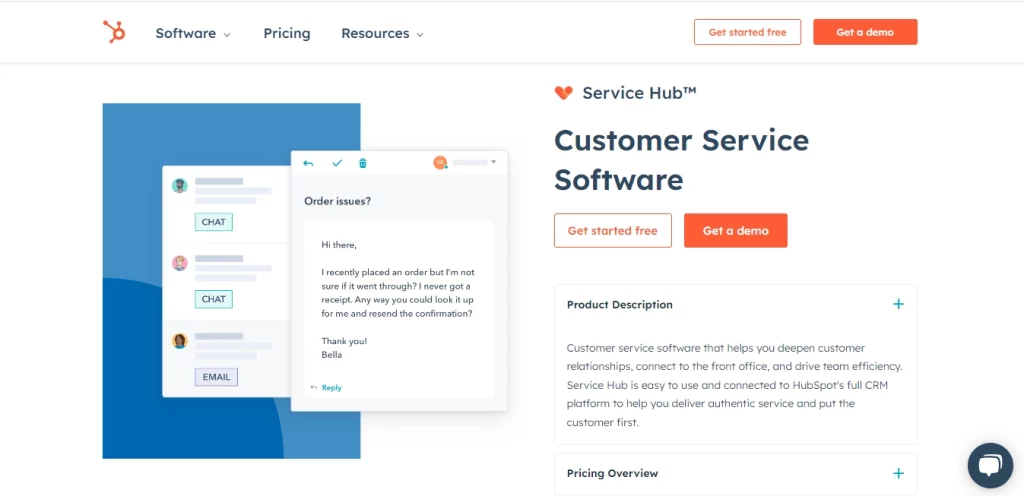 Hubspot is unarguably the most popular CRM software, so it's obvious that they too offer a customer service platform like their competitor. Hubspot Service Hub is a help desk tool that offers tons of features at a price that's more budget-friendly than Salesforce Service and Zendesk both.
If you use HubSpot's customer relationship management tool, you can connect customer profiles to Service Hub easily to give your customer support teams more information about your customers. Major features of the platform include:
A shared inbox for all team members;
Reporting capabilities;
Satisfaction surveys to understand your customer satisfaction better;
Automation tools;
Functionality to create a knowledge base.
8. Microsoft Dynamics 365 Customer Service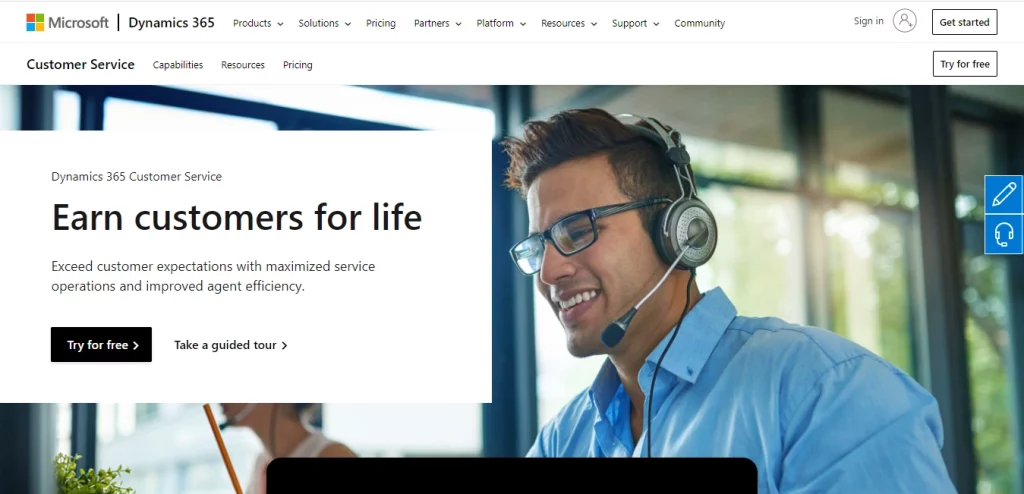 Unlike other platforms (i.e. Salesforce) that are designed primarily for the needs of enterprise businesses, Dynamics 365 is well-suited for small to mid-sized businesses. And the fact that it is from Microsoft makes it even more promising. It is well integrated with other Microsoft products and services and is kept up-to-date with twice-yearly updates. Besides common features like call routing, omnichannel capabilities, and responsive UI, some of its other key features include:
Integration with the Power Platform;
ADA compliance;
Multi-session tabs;
Insights for both support agents as well as the quality of customer service.
9. Kustomer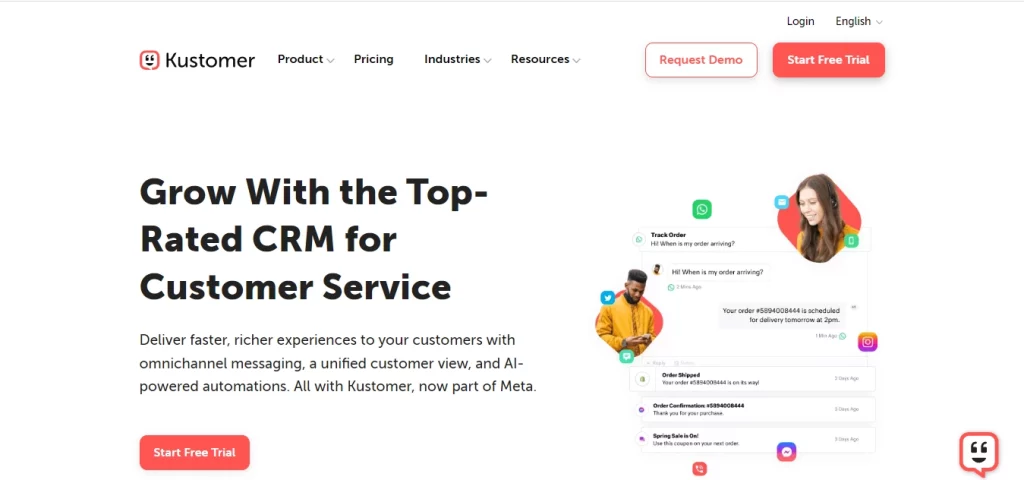 Kustomer is a CRM and help desk software solution that allows you to view a complete profile of each customer and update multiple systems simultaneously. It provides multi-channel support features including, chat, phone, social media, and email.
However, Kustomer can be a bit expensive and the pricing structure can be confusing, with many features offered as add-ons. Nevertheless, here are some of its major advantages:
No-code chatbots to redirect support requests to self-service options;
AI-based features to aid customers in self-servicing;
Advanced reporting features with things like heatmaps and custom reporting;
Ability to re-assign tickets in real-time.
10. Front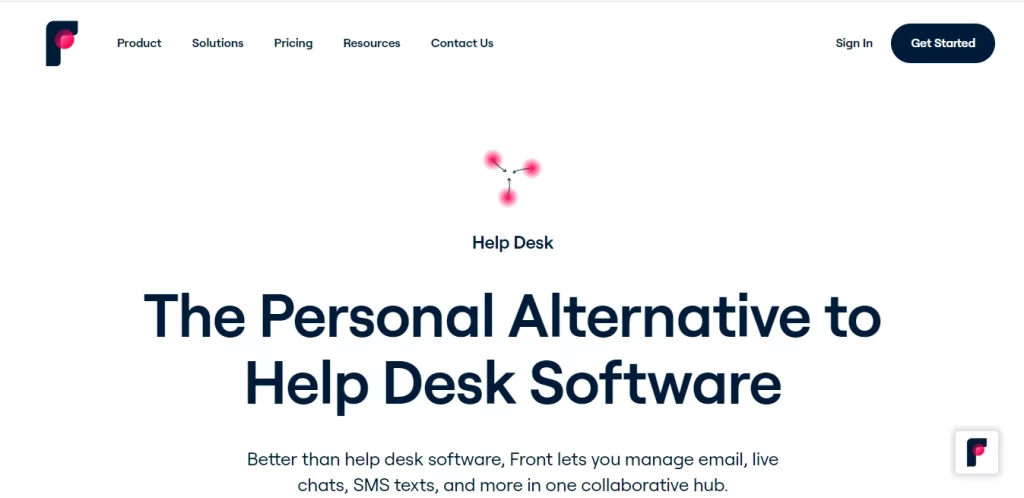 Front is a help desk software that allows customer support teams to manage a group email account and individual email addresses. In addition to shared inbox capabilities, it also has some basic collaboration and automation features. However, some more advanced features such as analytics are only available on higher-priced plans. Here are the major advantages of choosing this tool:
A unique approach that focuses on providing customer support solutions without ticketing;
Email-like UI, that makes employee training far easier;
Automations based on rules, SLA alerts, and templates to help your support teams respond to customer requests faster.
11. TeamSupport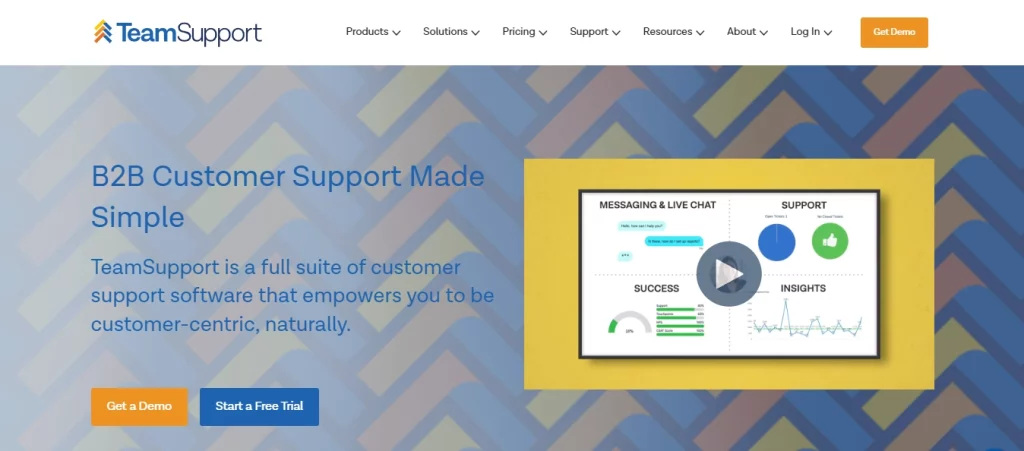 TeamSupport is a B2B customer support solution that includes all the features you may need such as a shared inbox, knowledge base builder, live chat, and automation to save time and effort. It also allows you to assign tasks and track their status. Here are the major areas in which it excels:
Ability to easily check the previous tickets opened by a customer;
Outstanding search capabilities;
Advanced reporting features like trends, custom reporting dashboards, etc.
12. Gorgias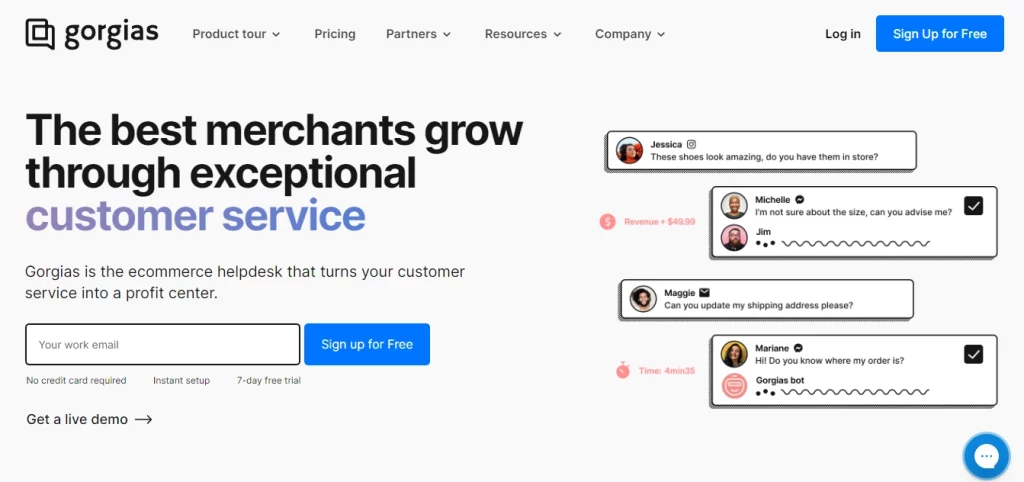 Gorgias is a help desk offering designed for small e-commerce businesses. It provides a shared inbox, and live chat, as well as integrations with popular e-commerce platforms such as Shopify, Magento, and BigCommerce (though the Magento integration is only available on higher-tier plans). Here are the major advantages offered by this tool:
E-commerce integrations and social media integrations to view and edit orders, process refunds, and track conversions from Instagram, Twitter, and Facebook;
Easy and straightforward training process;
Create rules and macros to streamline and automate your workflow.
13. Sugar Serve by Sugar CRM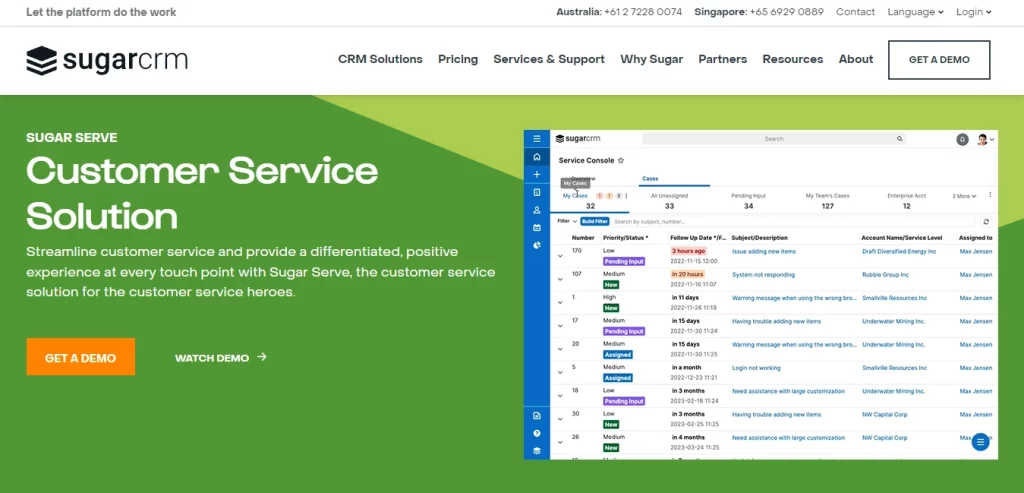 SugarCRM is a well-known CRM software brand (although not as well known as bigwigs like Zoho, Salesforce, and Hubspot), so it's not surprising that their customer service software called SugarServe is a promising alternative to Zendesk. It provides the following major advantages:
Swiftly prioritize and manage your service delivery against complex service-level agreements (SLAs) involving multiple geographical regions and work hours;
Allows your customer support agents to see the full picture of a customer's journey seeking help through a bird's eye view of all communication channels;
Smart routing and escalation features ensure that every ticket is resolved on time;
Automated reports with detailed insights help you learn more about the nature of your service requests.
14. Vtiger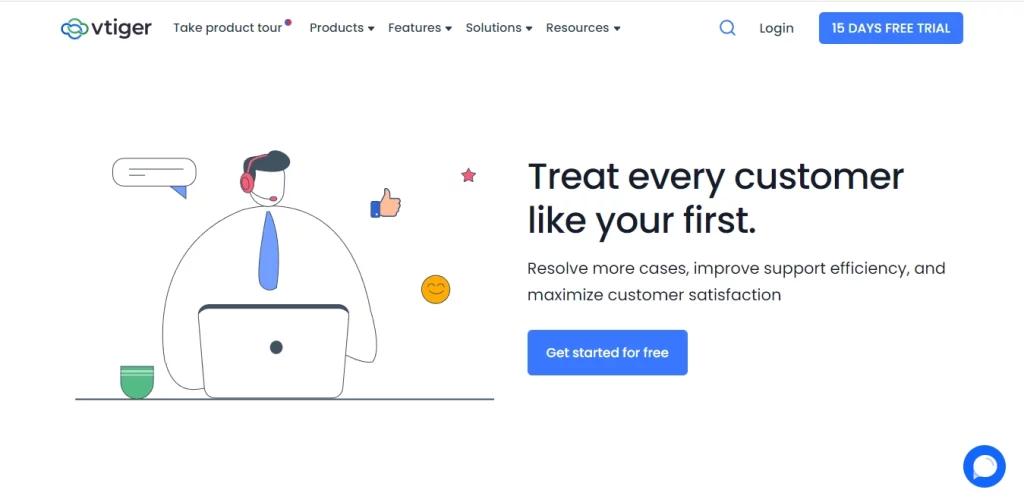 If you want to provide customer support along with self-service capabilities, there can be nothing better than Vtiger Help Desk. The customer portal feature of this system allows clients to log in and create cases for issues they are experiencing, such as transportation or lost-and-found problems. The platform has strong report generation, statistical representation, and dashboard capabilities, but it also allows you to:
Track the status of your client issues and see how long it actually takes for your support team to resolve them;
Help Desk Support Insights to get detailed information about the cases that have been created;
Easy to track tickets and search for previous ones based on their status;
Assign projects to different agents in real time.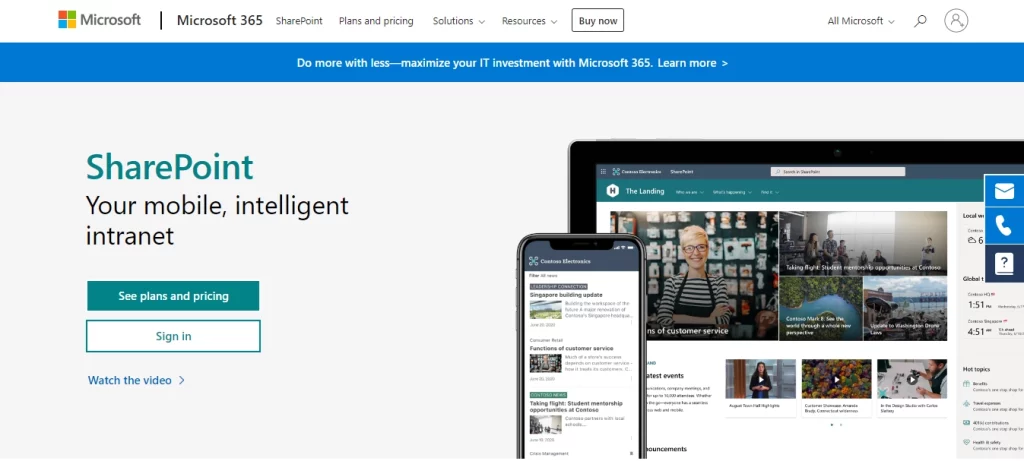 Another one from Microsoft after its Dynamics 365 platform is Sharepoint. And yes, it's not strictly a help desk solution. Instead, it's a tool offered by Microsoft that enables users to manage and store documents and integrate them with Microsoft Office programs. However, it can still be used to build websites for internal teams, customer portals, and knowledge bases. It provides the following advantages:
Secure collaboration on documents and other materials that may be shared internally or with external parties;
Integration with other Microsoft tools as well as third-party tools, allowing users to easily transfer data between Sharepoint and other apps;
High customizability to meet the specific needs of an organization makes it a suitable choice for creating an internal website for any purpose.
16. HelpJuice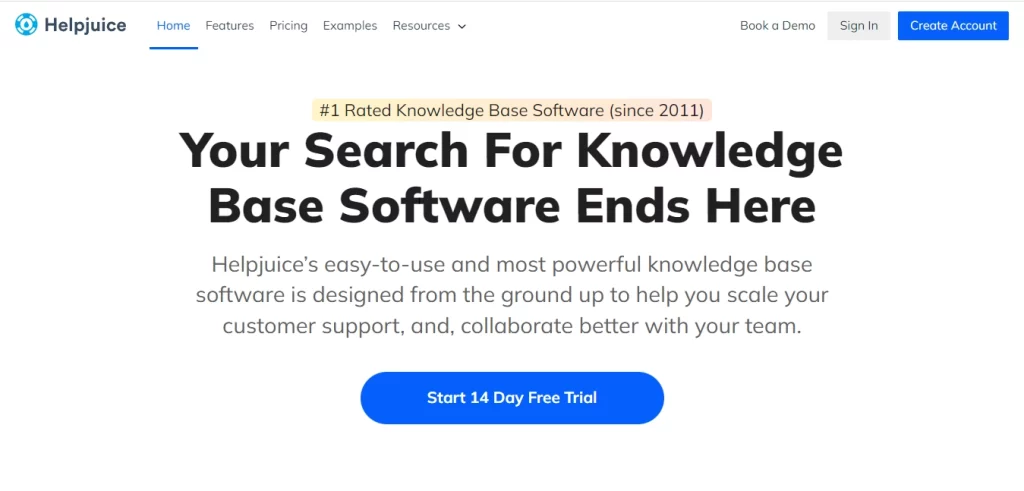 Helpjuice is a tool that allows users to create and customize a knowledge base for both internal employees and customers. It allows for simultaneous editing of articles by multiple agents and has features for categorizing and tagging documents to make them easily searchable by customers. It also provides the following benefits:
Detailed reports and analytics on customer inquiries to help users improve the value of their knowledge base;
Unmatched customization capabilities — use custom themes, and even code to customize the appearance of your help desk solution;
Robust Google-like search functionality that can scan through text in PDFs and even images to find what you're looking for.
17. Intercom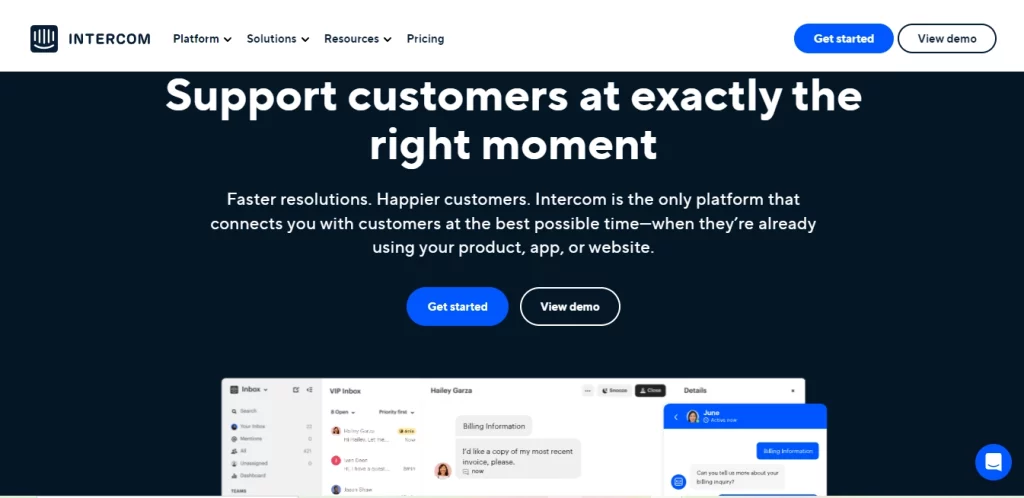 Intercom allows you to establish long-term relationships with your customers through email, live chat, push notifications, and a variety of other communication channels. It also includes the functionality to create a knowledge base for clients so they can find answers on their own. It can generate reports on client issues, allowing companies to make changes to their communication strategy and knowledge base as needed.
Other major advantages offered by it include:
Quite easy to get started with it — reviewers who have used it claim that they got their teams playing with it within a few hours;
UI that's easy to understand and navigate;
Highly collaborative customer support platform, with users reporting improved communication within their organization after adopting the tool.
18. Hiver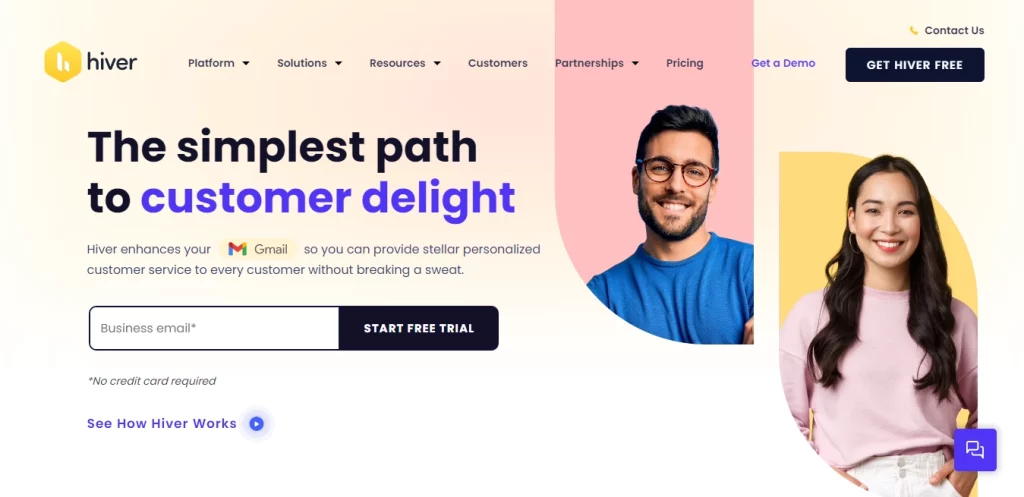 Hiver is a customer service platform designed for small teams that operate within Google Workspace or Gmail. It allows team members to collaborate and manage customer inquiries, as well as track project progress and workload.
Hiver's chat feature and personalized email tagging system are highly rated by users. While it is popular with small businesses, it is also used by larger enterprises such as Upwork, Harvard University, and Oxford Business Group. Other major advantages offered by the platform are as follows:
Integration with Gmail means that it is easy for new users to learn and use;
Useful for companies where multiple team members are working on the same account;
More efficient collaboration and organization.
19. LiveAgent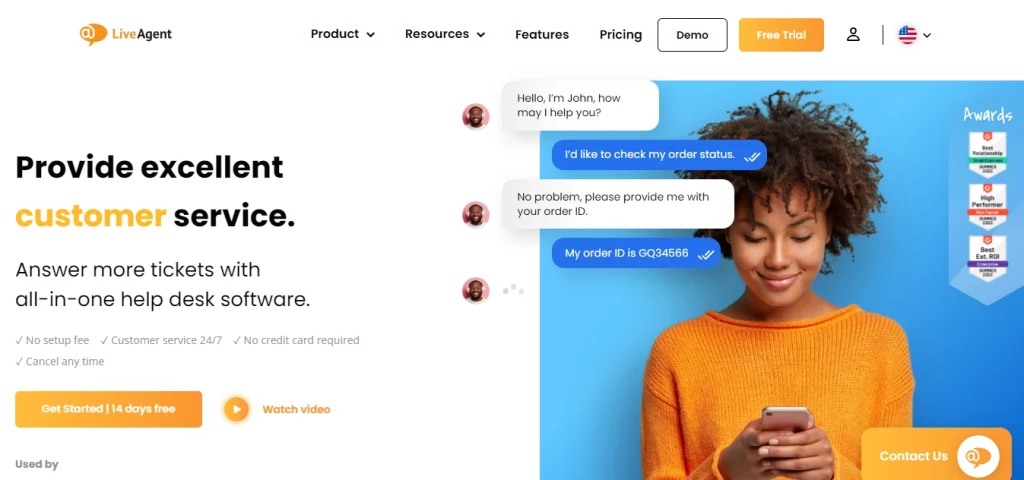 LiveAgent is a customer service platform that offers a variety of communication channels for support teams to use, including live chat, email, telephone, and video chat. It also provides customizable customer portals and integrates with a variety of messaging platforms such as Slack, Facebook Messenger, and Twitter. It is trusted by companies such as Forbes, NASCAR, and the University of Southern California. Major features of the platform that are better than the others include:
Universal inbox for easier team collaboration;
Automated ticket distribution;
Time tracking to help you better analyze the performance of your agents and the actual time required by a type of query to be resolved;
Knowledge base builder.
20. Kayako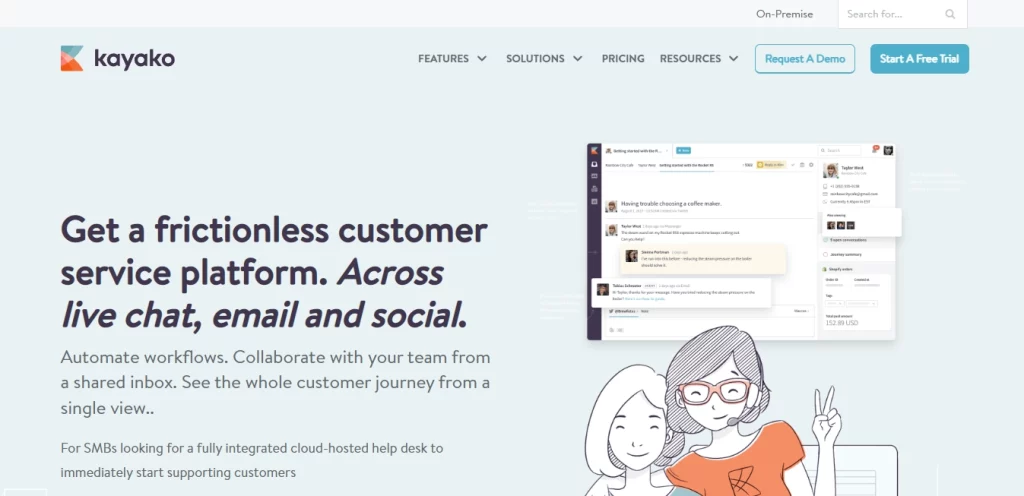 Kayako is a customer service platform that offers omnichannel communication and real-time messaging for support teams. It also provides advanced ticketing workflows, automatic escalations, and a knowledge base. Kayako's self-service portal and Help Center enable customers to find answers to their questions independently. It offers the following major benefits:
Mobile apps for iOS and Android;
Kayako can integrate with Zapier, Salesforce, Slack, and over 500 other business apps;
Teams can collaborate easily on Kayako, sharing internal notes and inviting team members to contribute.
21. JitBit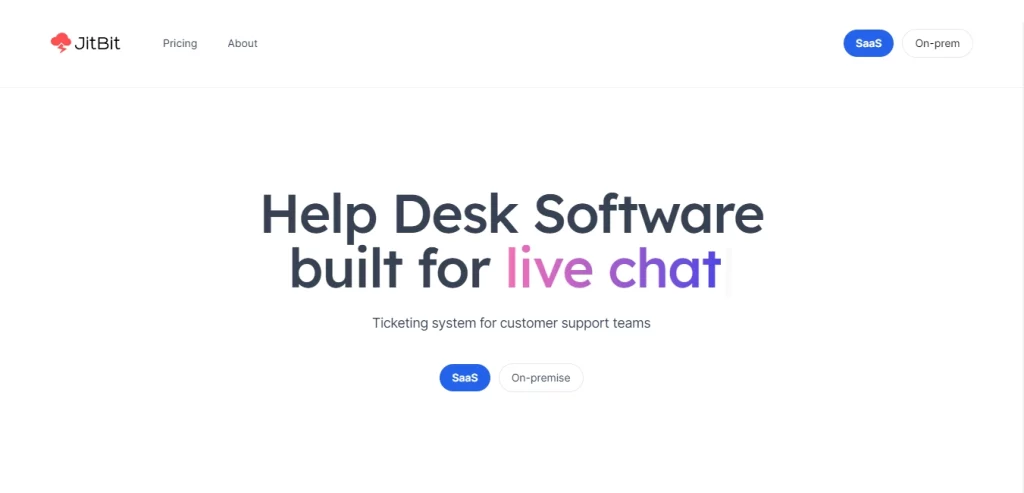 Jitbit is quite special in itself, as it allows you to host both self-hosted and cloud-based versions of your help desk software. It is a cheaper alternative to Zendesk but still offers a whole lot more than that, which is why it is used by some of the most well-recognized brands around the world, such as Philips, Vodafone, Siemens, HP, ESPN, Oracle, Xerox, Adobe, General Electric (GE), and VMware.
Besides common features like automation, a shared inbox, a knowledge base, and canned replies the other features provided by it include:
Higher limit on how many tickets your customers can raise;
The file attachment size limit is also more generous;
Greater flexibility in agent assignment options;
The number of allowed API requests is also higher than Zendesk;
Support for various email protocols;
Integrations with other tools such as JIRA and Slack, iOS, and Android applications.
22. Groove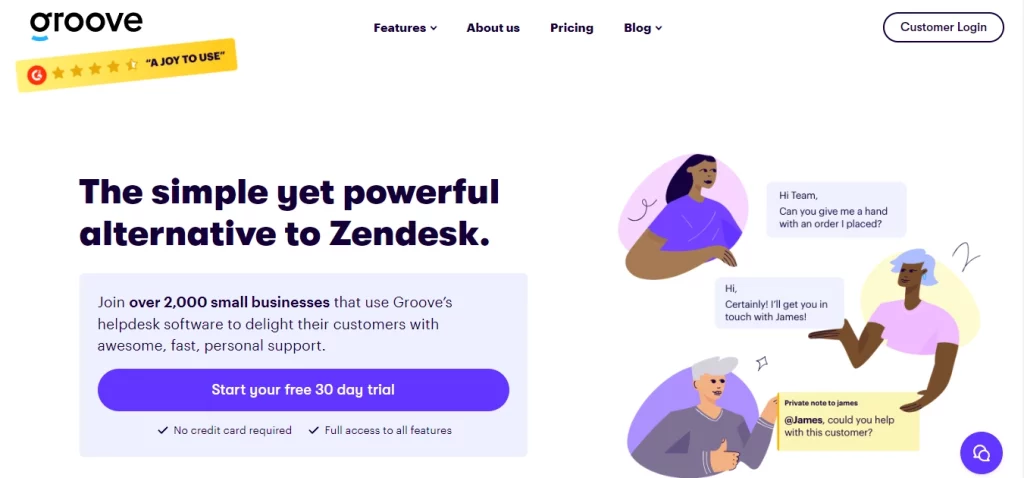 Multi-channel support is an important part of any help desk platform's functionality today, and Groove has realized this fact quite well. That's why it has almost a dozen ways to provide customer support. Besides common features like omnichannel communications, Slack integration, live chat, reporting, ticketing, and tagging, etc. it also offers the following advantages:
23. HappyFox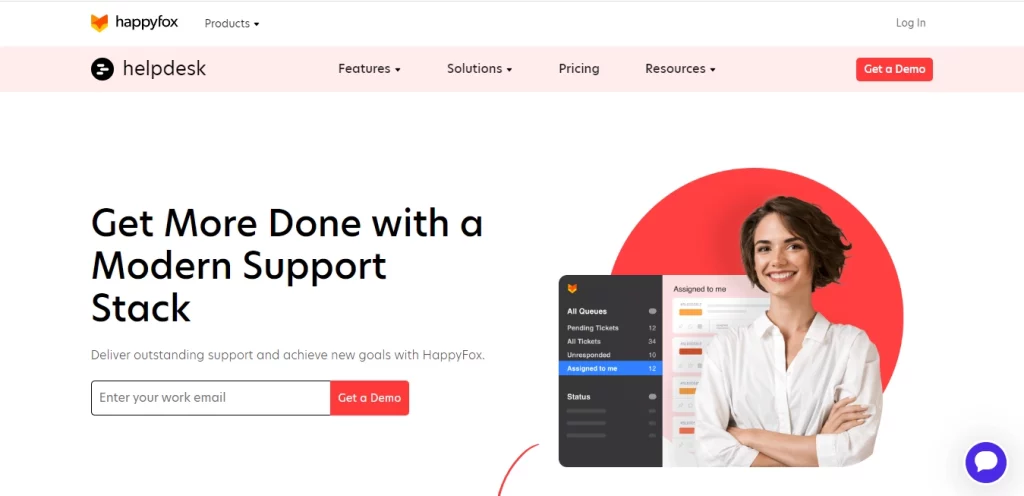 HappyFox allows organizations to provide customer support through live chat, social media, email, and phone calls. It also allows companies to create a knowledge base integrated with a self-service portal, which provides information about customer inquiries and their ticket status and history. Here are its major advantages:
The ticketing system is quite amazing, as it tracks and documents all information collected from customers while providing support to them;
Information collected from the ticketing system can be used to update the documentation and self-service functionality of your business, and also identify the need for further staff training;
A helpful and knowledgeable support team that is available during onboarding and beyond.
24. Emplifi Service Cloud
Emplifi, in its own words, is a unified customer experience platform that combines the elements of marketing, customer care, and commerce in one platform. It was created by the merger of two companies: Astute Agent, which was a help desk platform, and SocialBakers, which was a very famous digital marketing company. The Emplifi Service Cloud offers the following major benefits:
Makes it easy to capture and share customer information within your team;
The search feature allows for quick access, data sharing, and notes;
The reporting feature allows you to see the reasons behind customer calls and identify problems that can be addressed.
25. Pega Customer Service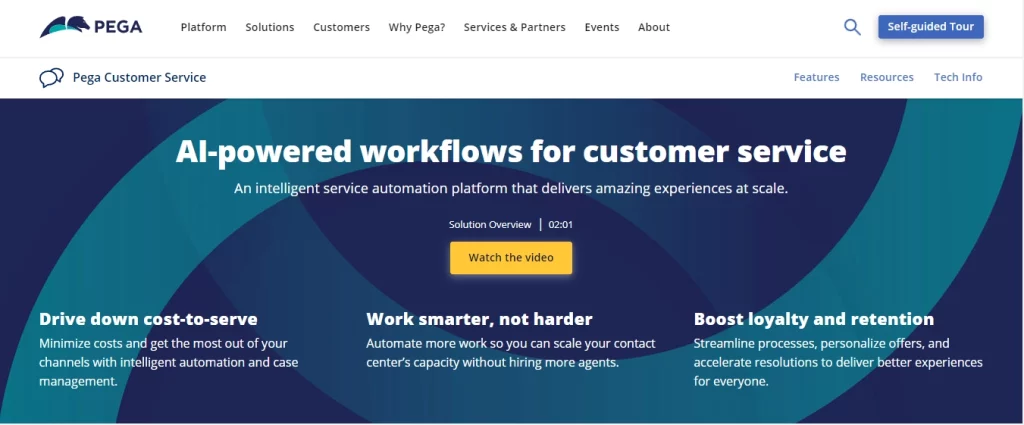 The Pega Customer Service platform is very solid in areas like case management and workflow, and it can allow you to execute complex processes easily. With capabilities like unified messaging, automation, social & digital channel integrations, and assisted workflows for call center agents it makes customer service a smooth experience for everyone.
In addition to that, you also get the following advantages:
Regular updates that keep your customer support software up-to-date;
Excellent documentation makes implementation quite easy;
Omnichannel integration with the ability to embed AI capabilities;
Dashboards included for various user groups and roles are also quite user-friendly and well-designed.
Conclusion
So this was our list of the top 25 Zendesk alternatives. Among these platforms, the ones that are offered by popular CRM vendors work best only with their own CRM platforms. For example:
Salesforce Service works best with Salesforce CRM
Oracle Fusion Service works best with Oracle Fusion ERP
Hubspot Service Hub with Hubspot CRM
Zoho Desk with Zoho CRM
Freshdesk with Freshworks CRM
SugarServe with SugarCRM
And so on.
However, it doesn't mean that they don't work without their respective CRM tools — they definitely do, it's just that the integration with their CRMs is much tighter so it makes everything in your business processes much more streamlined and easier.
So if you are using a CRM from any of these vendors, we'd suggest that you choose your customer support software solution too from the same company. But if that's not the case, you can choose any of them. Also, it's just a suggestion — not a mandatory requirement. If you feel you can create a better system by combining CRM and Help Desk solutions of different companies, go for it.

We hope this list will help you choose the right help desk platform for your needs. Do share your thoughts about it in the comments, and if you like it, also share it on your social media channels (because that's what encourages us to create more such content).