As we step into the era of digitization, it is essential to be updated on almost any business-related function. Before this era, each organization had an independent working department. Still, when they came together to work cohesively, there was significant data collision rather than seamless operation, resulting in chaotic situations. This is where ERP stepped in from the arsenal of software to render integrity into the business. 
What makes any sized enterprise fall in love with ERP is that it collates all the different processes to create one fluid system.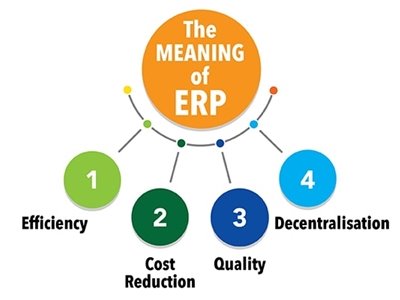 What is ERP?
It is an acronym for Enterprise Resources Planning. ERP is a consolidated tool required to manage key business operations using innovative software and modernized technology as a meditative tool. 
But to explain in a broader sense, A unified process of gathering and organizing business data through an integrated software suite. This software contains tools for automating business functions like productions, sales, risk management, supply chain operation, procurement, accounting, and so on. ERP offers real-time software-driven solutions to an organization into a unified system. 
Every organization has a different definition of ERP because each one has different needs and other types of experience from the software.
History of ERP
All the established companies have tasted the waters of ERP systems back then. Yes, you heard it right. You can find the roots of  ERP dated back to the 1960s. Only then was it not known as ERP.
The evolution of ERP is arguably akin to the emergence of industries. A saga of success and failures, old system vs. new system, etc., are part of the new revolution. Thus, ERP and industry development are closely knitted together. 
In the last few decades, when the software was at its native stage, business management or industrial development indeed spread its wings afar and wide. Therefore the term for the management of business or industries was called Manufacturing Resource Planning (MRP).
Later on, everybody started adopting the MRP system, which became more sophisticated in its appearance and character with advanced features, better capabilities, and expansion in production processes. The term ERP was coined in the late '90s where it more or less replaced MRP and became Enterprise Resources Planning. It expanded beyond primary inventory control and manufacturing processes of previous iterations. 
The idea was similar, although the technology was different.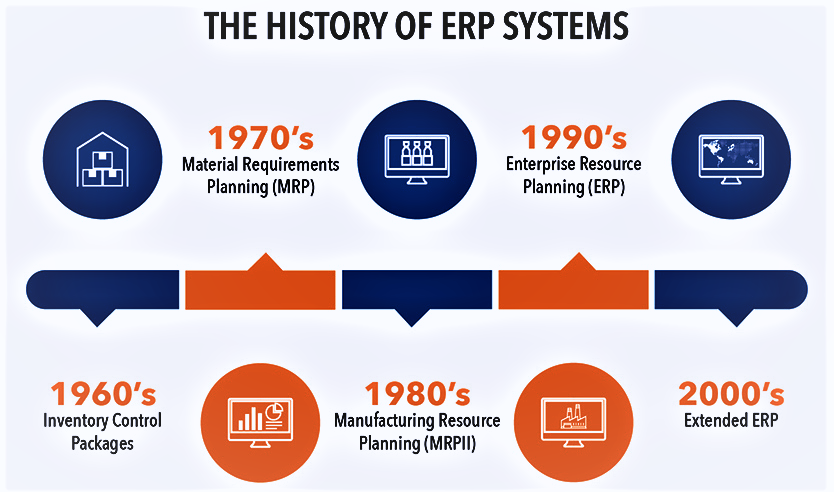 Fundamentals of ERP
ERP has a shared database because it is schematically designed with a definite data structure. These structures are interconnected with the business processes driven by workflow across various departments( finance, HR, procurement, operations, marketing). 
For example, consider a pharmaceutical company manufacturing a drug by procuring an API(Active Pharmaceutical Ingredient) from a vendor. It could use the ERP system to track the requisition and purchase of these goods and ensure that it uses a workflow on every step, i.e., from procurement to payment. Suppose this pharmaceutical company is using ERP, a material called API. In that case, Active Pharmaceutical Ingredient is uniformly identified by its name, size, color, formulation, texture, cost, along with an array of other descriptive and data-driven items. Since data is as indispensable as electricity for any organization, EPI makes it easier to collect, analyze, and distribute this information to each person catering to the API specifications.  
ERP helps in attributing these data fields to the correct account of the company ledger, ensuring proper tracking and representation. If the API was called "Pharmaceutical Ingredient" in one record or only "Active Ingredient" in the third book, it would be tough for an organization to figure out how much is spent annually on API they should switch the supplier or negotiate for better pricing.
Thus, the mainstay of ERP is the central collection of data for wide distribution. Instead of standalone databases with an endless inventory of spreadsheets, ERP seems to bring out a uniformity by streamlining the data through standard processes. It puts an end to the chaos birthed by all users- from CEOs to accounts payable clerks. 
ERP can create, store, and use the same data with a sense of security and centralized repository performed throughout the organization. This ensures that data integrity is assured for every task performed throughout the organization without relying on error-prone spreadsheets. 
In simple terms, ERP is a vehicle for integrating people, processes, and technologies across a modern enterprise to enrich the user experience. 
How does ERP work?
The main aim of ERP is to increase the efficiency of any organization by utilizing the company resources effectively. 
Of Course, it also brings a structural uniformity to the functional approach. 
ERP covers all the aspects of business operation and provides
An integrated system
Common database
Real-time operation
Robust support for all applications
Standard user interface across applications
ERP collates the data across all the departments and compares the metrics of different reports based on users' roles and preferences. 
The data collected is faster, gives a broader view of business performance, and provides complete resource utilization insights.
ERP rules out the need for separate databases and manually merging of spreadsheets required to generate reports. It synchronizes the reporting system, and other processes are also automated. 
The data archived and reports generated provide pearls of insights, such as cost-cutting, streamlining the process, and making real-time business decisions. 
Types of ERP according to its Implementation 
ERP is considered as one of the vital enterprise applications in the legacy of software. It is designed to ensure that an organization's needs are fulfilled, and simultaneously the business performance is enriched. 
Also, improving and managing an organization's resources without compromising the quality and performance are essential steps to enhance business growth and profitability.
Different types of ERP systems are based on their Implementation. Each ERP type is bespoke to align the business goals and also to meet business requirements.
ERP for Big enterprises vs. Small enterprises
ERP system used for large and established companies, often called as big business ERP. They use ERP solutions that help analyze, customize, upgrade, deploy software solutions, and have an abundance of resources allocated for IT establishments.
Small Business ERP is commonly referred to as an ERP software system with applications typically created to meet the small or medium-sized business's specific needs.
Today these small business ERP or big business ERP has become obsolete as the primary purpose of ERP application is to effectively address current and future requirements irrespective of an enterprise's size. It is a prerequisite that the organization selects ERP that eliminates the need for high cost customized applications, is adaptable to the rapid changes in the business's environs, and addresses the future technologies and other requirements.
There are 4 different types of ERP systems that function with other deployment model options.
On-premise ERP software
This on-premise software is deployed on-site and maintained in physical office space within an organization; it is hosted on the company's computer and takes charge of full control of server, ownership, and support of the entire system once implemented. This is mostly preferred by small or medium-scale enterprises.
Cloud-based ERP software
It is a web-based solution known as SaaS, where organizations access and store data on the device connected to the internet, usually through an online subscription. This option lets you access real-time data as long as you have an internet connection. You get continuous support, timely updates, flexible options for customizations supported by the software provider. This is generally suited for large enterprises.
Open Source
 It is accessible software that lets you inspect, modify, and enhance your ERP source code. Using open-source software enables you to customize your applications to suit your workplace.
Hybrid ERP
It refers to a combined form of cloud and on-premise system solutions. The combination of hosting and deployment services vary following the providers. These models can provide ERP users with the flexibility to switch between the delivery models or integrate benefits not available in existing Implementations.
Benefits of ERP 
Being an entrepreneur is one of the boldest initiatives you can take in life. Dedication, innovation, and consistency all morphed into one, and to fuel your business, you require technology. However, the key here is to keep up with technology and innovation that drives your business without wasting any precious capital by investing in the wrong technology. 
So now, if you ask me, is it worth investing in ERP? 
You may get your answer below while we share the benefits of ERP for your businesses.
Productivity 
When you have ERP doing all the work, your employers will have less burden on their shoulders, which will increase their productivity in turn. How? 
When redundant processes are automated, users have more time to look for time-sensitive projects or tasks that require manual scrutinization. Thus increasing your productivity. When a tedious task takes a lot of time, your work process becomes slow, and your customer services are impacted, resulting in an additional cost and tainted reputation. 
All this has only one solution using ERP. 
Efficiency
Every company has a single goal, to improve their businesses' efficiency; thus, ERP imparts better efficiency by eliminating duplication and deducing manually entering information. ERP's significant benefits are streamlining the process and collating information into a central repository, which makes a company procure data irrespective of their departments. Think ERP as an extra head and an extra limb that makes your work efficient.  
Competitive Advantage
ERP is a long-term investment, and if you fail to invest in the software, you are in the FOMO (Fear Of Missing Out) zone. As every business in the universe is aiming to reap benefits with the use of technology. If your organization is lagging behind, it's your loss. And you will be out of the market soon. ERP will allow you to be ahead of competitors because the user can see improvements in businesses and avoid costly business mistakes.
Mobility 
Mobility in ERP helps in conducting business anywhere, anytime on any device. With seamless integration, mobility provides an opportunity to turn your mobile phones into business phones. This means the industry is not tethered to the desk, thereby increasing employee productivity, readily available for customers; therefore, customer satisfaction and modifying certain features like offline usage or in-app notification enriches the user experience.
Flexibility
Generating flexibility and creating customization specific to your business needs can be a challenge given that one size fits all approach to your company process. However, leveraging a broad range of tailor-made suiting to your company needs can augment your company portfolio. Thus flexibility or adaptability can help when the business environment is changing at a fast-paced rate. Robust, flexible, configurable ERP software can help your business grow. The flexibility is not only for customization but can be rendered to the type of software, either on-premise or cloud-based.
Cost elimination
When software development is a necessity and the cost to maintain skyrockets, it becomes optional. Taking a rare peek in today's scenario, software development is more a necessity than an option; therefore, using ERP is highly recommended. It makes room for additional expenses. It also allows manufacturers to manage operations, prevent delays, and help users to make decisions quickly. If you utilize the secret sauce of ERP, you are bound to get a robust ROI. ERP allows you to become smarter and a cherry-picker for spending expenses. 
Integration information
The multidimensional nature of any industry is always sharpened on both ends. Risk assessment and decision making. Inventory management, operational, production, finance, and marketing are interconnected to form a complete set of business. Understanding every operating system is necessary to guarantee the welfare and long term sustenance of any business. Therefore, adopting an updated technology has given a fruitful experience and has become vital to house all these operations in one toolbox. Integrating information or databases of all the different systems in a central hub also helps in real-time operations, ultimately resulting in inaccuracy. This accurate information then hinders any potential business mistake with false data and analytics.
Collaboration
All organizations have different departments, and each department caters to another aspect of the particular product or service, thus creating chaos and confusion among the organization itself. To eliminate this confusion, ERP software is built to touch every aspect of a business, naturally encouraging collaborations and dwindling the intradepartmental wars. The beauty of ERP is that it will update in real-time, therefore communication and sharing data from any part of the world and at any period is always accessible to accurate data.
Scalability
Scalability is an integral part of ERP, and it is not a bonus feature but a quality of ERP which saves time and money both in the long run because your business landscape may change sooner or later in the coming years. What if your customer base increases? Having a scalable operation leaves no room for changing priorities and perfectly describes the ever-changing world of business. It also protects your initial Technological investments.  
Prioritization of any system leads to lower cost, better user experience, and higher agility. Therefore when ERP is scalable, it can adapt to the changing business environment and embrace emerging technologies guilt-free. 
Forecasting
You cannot predict anything in life, but you can forecast and be prepared for the challenges life throws at you. Similarly, businesses' use of technology and various Software like ERP helps create more accurate forecasting. The tools used for predicting, like planning an inventory to analyze sales and engaging with customers, help businesses. Precise forecasting is directly proportional to cost savings; thus, an organization can be more productive. With accurate and error-free information, updates in real-time, realistic estimation, all these lead to more robust forecasting.
Difference between ERP and CRM?
ERP and CRM are the two cornerstones of automation, integration, and revenue generation systems. But they are as different as chalk and cheese when it comes to their scope and methodologies. It is best for businesses to first look at them as a separate entity; then, you can gauge the possibility of whether ERP or CRM could be used for improving sales and efficiency for your business. 
What is CRM?
CRM is an acronym for Customer Relationship Management. It is all about customers. It caters to customers' needs, converting potential customers to increase sales and engage loyal customers to gain the upper hand with competitors. 
Within a few years, CRM has evolved enormously because it uses standardization for streamlining the data. To accept that Customer is a King is the only option to survive in the cut-throat competition. 
CRM houses all the customer-related information in a single toolbox by using an integrated approach.
What is ERP?
ERP stands for Enterprise resources planning. It does not cater directly to customers. It is concerned more with improving the efficiency of business processes. 
ERP works as a pace builder in the chaotic world of data by integrating the work process into a central hub. 
Although some ERP systems may have a CRM application that depends upon the software used. Like CRM, ERP uses standardization to streamline business processes like production, marketing, inventory, etc. 
The key difference between CRM and ERP?
CRM caters to the customers. ERP focuses on reducing overhead and cost-cutting, different approaches to achieve a single goal – to increase profitability. ERP makes the business efficient by reducing the capital spent on the process, while CRM works to increase profit by generating greater sales volume. 
Should I use standalone CRM or integrated ERP?
Choosing between the two depends upon how strong your lead management and sales tracking needs are. ERP with an integrated CRM may not have robust customer-related feature than that of standalone CRM 
If your concern is more about your customers and a small set of departments across the organization and streamlining business operation is not required, you can opt for standalone CRM. Additionally, if you have complex CRM needs that cannot be fulfilled by ERP, then CRM is the best solution. Although ERP has improvised a lot, its CRM features are not explicitly designed to meet customer-related needs, then standalone CRM is a viable option for you. 
Takeaways
ERP is a complete system that centralizes front-and back-office processes, whereas CRM mainly deals with sales, marketing, and customer relationships. ERP and CRM are both the most adequate tools used to optimize revenue. The purpose of their task varies greatly; thus, whatever is best for you depends upon your needs and the amount of investment you are willing to make. 
Is it apt to invest in ERP systems amid the COVID-19 pandemic?
Due to the Covid-19 pandemic, the global economy has been tanked, with many businesses going bankrupt and shutting down permanently, whereas, few of them are barely surviving. This is not an ideal situation to make any significant investment like an ERP system. Still, the software's proven benefits like streamlining the operation and improving efficiency make ERP a worthy investment. As we live the new normal, the financial impacts are recovering, providing business prioritization, the need for uniformity, minimizing the cost implication, and thinking from the long term point of view, ERP seems to be an ideal choice amidst the pandemic.