The essential step in the production process is managing a video for production. It is crucial to use production management systems to manage the tasks involved in producing the final version successfully and efficiently.
Efficiency, automation, and system integration are just a few benefits of production management software over manual solutions. If you've ever produced a video, you know that a lot of little things need to be done to make it work. You can monitor the tasks and track them with effective project management. If you are looking to end the tireless days and nights of managing your video production, go through this guide to get an overview of different project management software that makes video production an effortless task.
You may wonder why a creative individual needs project management knowledge for video production. It means you are particularly interested in determining what needs to be done, in what order, and when they should be completed. Using the software, you can assign each task to a task owner accountable for completing it.
Production is the stage when the final video version is generated and ready to be sent to the customer or distributed. Suppose you're a project manager in the film industry. In that case, you will undoubtedly want some helpful project management tools for video production to organize the process better and eliminate the daunting processes.
What is Video Production?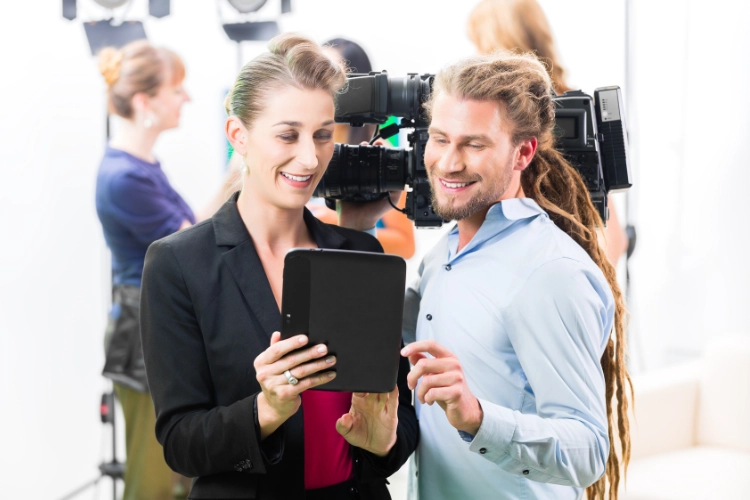 The process of creating video material for video is known as video production. It is the same as producing a movie. Instead of using film material, the video is captured as digital or analog signals on videotape, as computer data on optical discs, hard drives, SSDs, magnetic tape, or memory cards, or as analog signals on VHS. Pre-production, production (sometimes referred to as primary photography), and post-production are the three phases of video production.
Video production entails various intricate tasks, such as writing, site scouting, obtaining permits, renting equipment, donning makeup, shooting, editing, test-screening, casting, and setting up IT infrastructure. It is a well-connected web that demonstrates that no one can keep the demands for resources, labor, and persons off-hand. Project management comes in handy in these situations.
Movie, TV, and film producers may handle all facets of production with video production management software, including scheduling, shot lists, storyboards, call sheets, scripting, budgeting, screenplay breakdowns, managing the film crew, getting client approvals, and more.
Most of the time, the procedure is monotonous and time-consuming for each video production. This explains why keeping these things in a common location that allows you to track them easily is vital and reasonable.
The solution to make all these hassle-free is video production management software.
What is Video Production Management Software?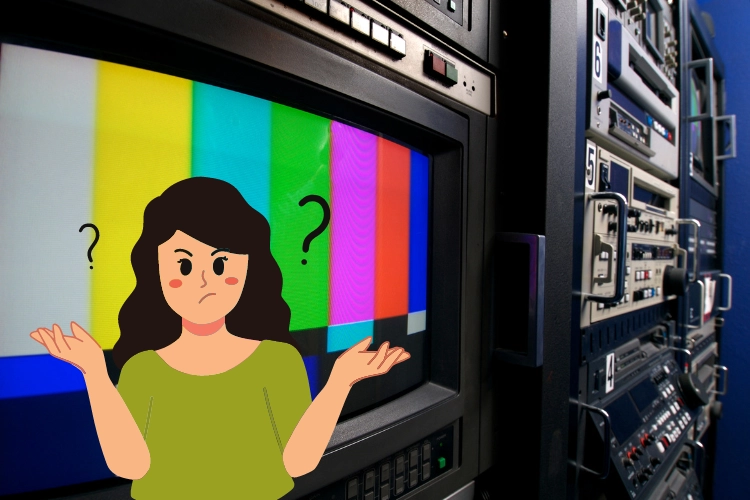 Video production management software is a form of business management software. Production management software, commonly referred to as project management software aids businesses in managing their production and other activities. Software for production management assists managers in planning projects, keeping track of a company's budget, and tracking the development of each stage of the production process.
You may use the system to keep track of any adjustments to projected completion dates or cost estimates.
A production manager oversees the finances for a video. They collaborate closely with producers, line producers, and other department leaders to assist in managing the production workflow. They could also oversee the production coordinators the movie hired.
Production of videos is a labor-intensive process with numerous moving elements such as scripting, casting, location scouting, insurance, permits, equipment rentals, hair, clothing, makeup, structuring, shooting, editing, IT, and accountancy. One individual cannot keep up with the expectations and resource needs. This is why effective project management and planning for video production are crucial.
The good news is that many of the same procedures are used across different video campaigns in the three main stages of production, including pre-production and post-production. As a result, procedures for planning video production are essentially reproducible. You'll enter every production well-prepared for success after you've built a reliable methodology for video production.
What does Video Production Management Software do?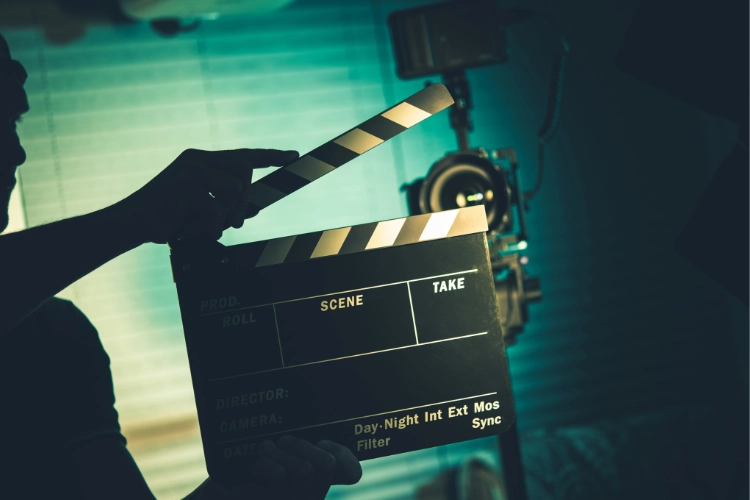 Many different platforms offer video production software, from those that can handle individual projects to those that can handle a studio. Most software will be administrative, focusing on the funding and the final product. Most also offer artistic elements that enable you to deconstruct your script, produce a storyboard, and guarantee continuity during production.
A video production management software offers the following features for the production team:
1. Various requirements for a single objective
From managing film clips and incidental music to sound elements and software applications like Adobe Premier Elements or Apple Final Cut Pro, every seasoned video producer & team relies on an array of specialized tools.
However, the production process goes much further than the chosen video editing programs. While camera crews need to plan regular periods for motion tracking testing, network operators are in charge of scheduling delivery schedules for supplies, including green screens and food.
To select the ideal trailer tune, music supervisors trawl through hours of both paid and royalty-free audio songs. The capacity of a video production team to provide high-quality, on-time material may be made or broken by its ability to sync all of these many demands and schedules successfully.
2. Edit films and include your preferred tools
Many free versions of video production management software are available; however, they often only cover a small portion of your needs. Here are a few examples of how a video project management tool might enhance your video production workflow:
3. Centralized dashboard for multiple projects.
Using a video project management tool, you may organize and allocate any project or function for your video projects. You can choose whether to create columns and groups based on the production phases or dates. Then convert your board data into valuable insights about your projects' status, spending, or content's nature.
4. Visualize your progress.
Teams and individuals may visualize their work precisely as they want without distracting others, thanks to the multiple view choices available. The status section of video management software is one of its strongest features since it makes it simple for everyone to know where each project is at any given time. Reduce or eliminate standups and email threads for status updates; with custom-colored statuses and labels, the solution is evident at a look.
Importance of Project Management Software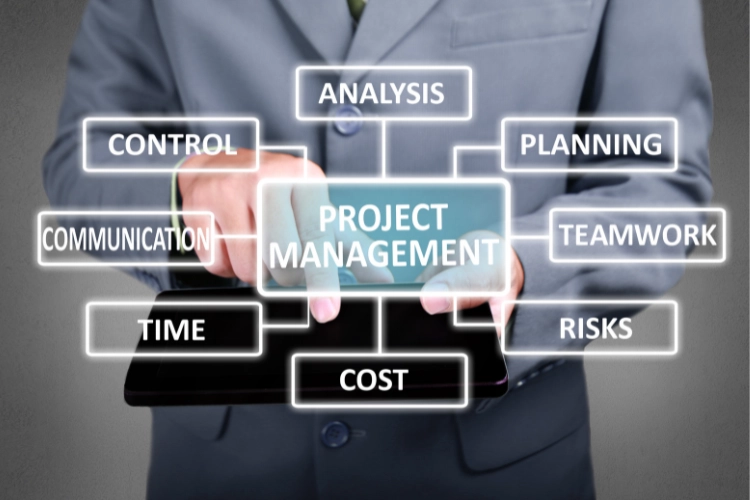 Software or tools for project management in video production support producers in organizing and properly completing their projects on time and to the appropriate standard.
Similar to video production, filmmaking may be divided into smaller activities using project management software. It is also evident that you will need a helping hand, which project management software may provide, considering the complexity of project management for video.
Having the correct equipment sets the tone for the organization and efficiency you should expect throughout your shoot because film and video productions are frenetic. The importance of video project management software can be understood in the following points:
Being capable of readily planning initiatives while taking past performance into account.
Monitoring the project progress in terms of completion, time, and expenses; alert the appropriate parties when things start to go off course.
Planning and time management – Be able to quickly track time spent on tasks and take into consideration people's work schedules.
Making sure that individuals are working on the appropriate tasks at the appropriate times is known as resource allocation.
Project budgets, including labor expenses, are monitored in real time, as are both time and budget allocations.
Collaboration and communication – Easily publish comments and issues, talk to other stakeholders, and preserve a complete historical record of all activities.
Easily document specifications and requirements using files or directly in the documentation.
Simple to use – The software should facilitate work rather than get in the way.
No requirement for a particular approach – Support the company's preferred way of organizing projects, setting up schedules, assigning workers, and controlling project budgets.
Best Video Production Management Software
| | | | |
| --- | --- | --- | --- |
| Softwares | Best for | Free trial | Rating |
| – TBD | – | – | – |
| Yamdu | Freelancers and Enterprises | 14 days | 9.4/10 |
| – TBA | – | – | – |
| Celtx | Freelancers | 14 days | 8.4/10 |
| Studio binder experience | Freelancers and Enterprises | Lifetime | 8.0/10 |
| – TBD | | | |
| Filmustage | Enterprises | 7 days | 9.2/10 |
1. -TBD
2. Yamdu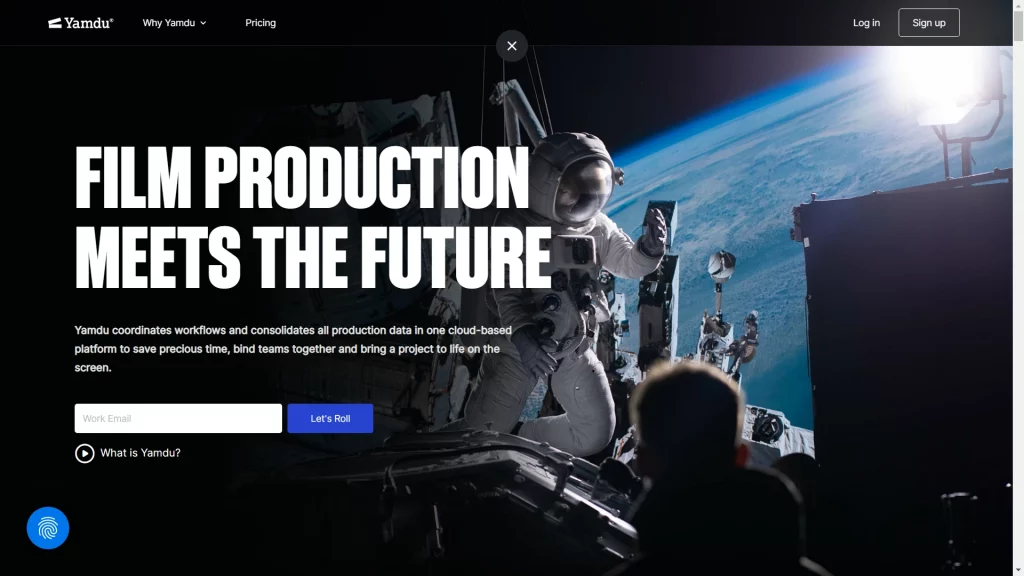 Yamdu is a tool for managing projects in the creative industry. Yamdu, like Studio Binder Enterprise, strives to support all facets of production, from the script stage to the finalized movie cut.
Yamdu can function consistently in various browsers and devices, making it familiar to all users regardless of their platform. Yamdu eliminates duplication of effort and speeds up work by making communication and teamwork for a specific output more accessible. The assistance of a built-in communication system is used to accomplish this.
The program includes a lone file-sharing center as well. As a result, everyone participating in the production may always access the most recent information that has been updated. Due to the numerous rewrites that were integrated during production, that is something that would be incredibly helpful for programs like WandaVision.
Features
The following is a list of some of Yamdu's standard features.
Managing the set members and crew.
Scheduling the shooting of a scene.
Import from Movie Magic.
Breakdowns of scripts at work.
Import from Final Draft capability.
Creating storyboards.
Users can make comments and remarks.
Pricing
$33 per month for the Spark plan.
$120 monthly Rise plan.
$350 monthly for the Star plan.
Pros
It has much more features than what is already stated.
User-made plans are possible.
Paid subscriptions unlock more sophisticated functions.
For the cost of one program, the complete team may work.
Cons
Accessible only through the internet.
Doesn't have a messaging element.
3. – TBA
4. Celtx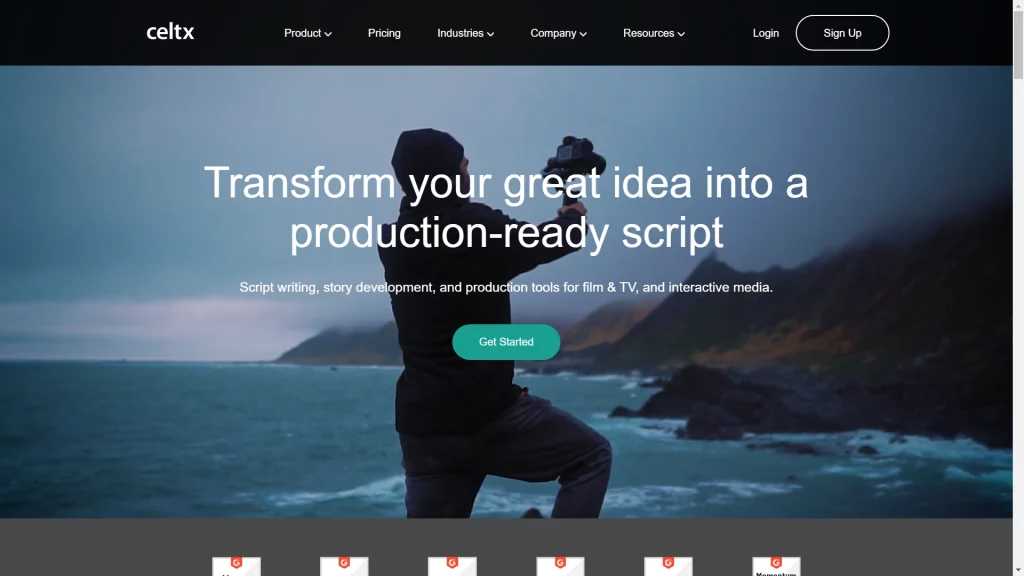 Similar functionality to the software for managing video production is available in Celtx. It was once a downloadable offline software but has now changed to a cloud-based tool that needs internet connectivity.
Although Celtx has an offline mode, it is only accessible to paid-for premium subscribers. Like Yamdu, Celtx updates data in real time, so everyone knows the most recent manufacturing advancements. The extraordinarily user-friendly and simple-to-use UI is advantageous for Celtx. Even for those without prior experience with this software, it is reportedly relatively easy to get the hang of.
Features
Script editor suitable for standardized industry.
Support from experts for storyboard creation
The shooting script may be incorporated using index cards.
Script breakdowns in-line.
Catalogue of projects in order.
Templates for industry-standard budget planning.
Pricing
For the first year, the scriptwriting plan offers help for ten projects at $7.50 per month.
Supports up to 10 projects for the first year at $13.50 per project
Pros
To work offline and export documents.
Enables straightforward cooperation.
UI that is simple to use.
Cons
Users must store all documents in the ".celtx" format.
Functioning hiccups from time to time.
5. Studio Binder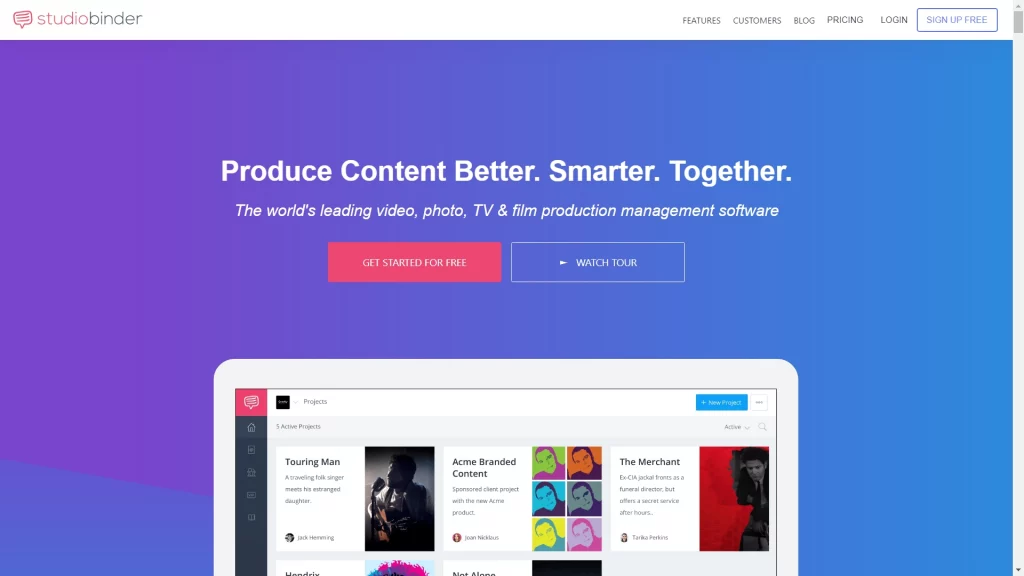 StudioBinder Enterprise intends to integrate all the aspects of managing video film production into a single piece of software for a more efficient production process. The website shows Studio Binder Enterprise functions as a production command center.
It may help a project from the screenplay stage through production by providing capabilities for scheduling, call sheets, and other documents. StudioBinder Enterprise stresses IP protection by putting various security measures in place. A secure server is used to store all of the data. The program enables one to limit how much and when people may access and use the system so that it only has an impact on their department.
NBC Universal, Legendary Entertainment, and Buzzfeed are a few businesses that employ it. Despite this, everyone may use the free edition of StudioBinder Enterprise. It is comparable to Asana, a project management tool.
Features
The Free plan's fundamental features are listed below:
The capacity to focus on one project at once.
Add as many contacts as you like to the project.
Make call papers and distribute them.
Make as many as ten storyboard images.
Plan a shoot for each half of the screenplay.
Work with ten elements maximum to decompose a scenario.
Make a production schedule with no more than five events.
Worked with many revisions of the script.
Pricing
$29 monthly for the independent plan.
Plan for professionals at $49 per month.
Studio package for $99 monthly.
Plan through an agency for $249 monthly.
Ideal for the Production Company for $399 per month.
Enterprise package with a monthly cost of $1499.
Pros
One of the production management platforms with the broadest accessibility.
Regardless of the user's ability level, very useful for scheduling and organizing work.
Various plans to accommodate different project requirements.
Programs are available from Studio Binder Enterprise for both individuals and businesses.
Cons
With time, specific plans may become pricey.
Lacks tools for creating storyboards and budgets.
6. – TBD
7. Filmustage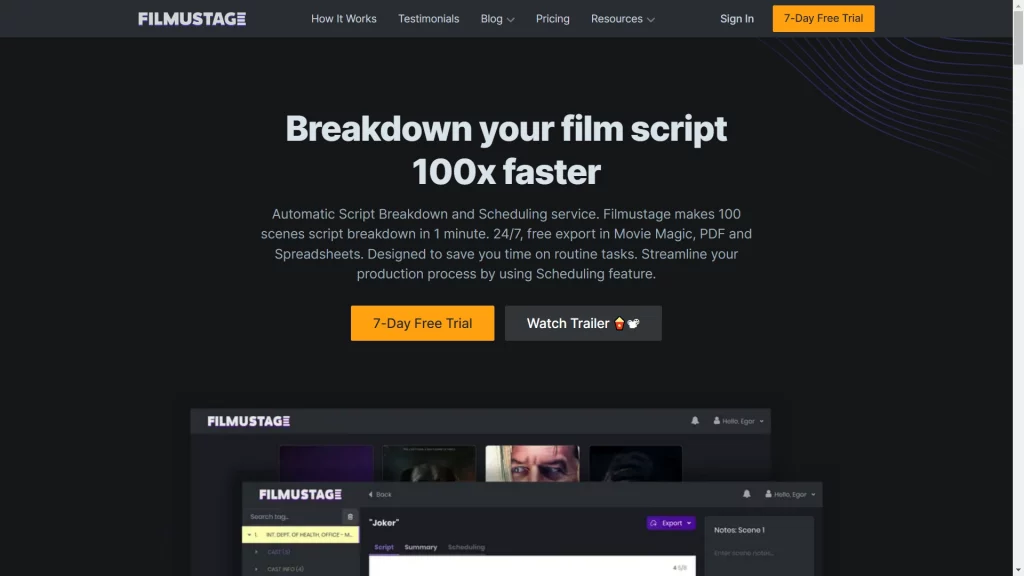 A new US business, Filmustage Inc., was established in 2020. It provides artificial intelligence-powered production management software for film and television. They provide an automated script breakdown driven by artificial intelligence that can be completed in a matter of minutes and has an accuracy rate of up to 86%.
The only program on the market that can automatically break down scripts also gives users the option to work on their breakdown manually, giving them a great deal of freedom. Any film professional may utilize actual geographical tags from Google Maps, export to Movie Magic, Excel sheets, and PDF, adjust the text and color on strips, access the scene text, and toggle the summary field on and off.
Currently, Filmustage scheduling combines an intuitive user interface accessible to both new and experienced filmmakers and adheres to all industry requirements. In a flash, script summary reports are created depending on the data from your script. All production workflows may easily incorporate the tool. Filmustage gives location and props managers access to reference data that might influence your movie's vision. Although they are relatively new to the market, they have already worked with PGGB and Crafty Apes and are a member of the Nvidia Inception program.
Features
Enables export to MMS, pdf, fdx, and CSV and works with scripts in both pdf and fdx formats.
Clients may export the breakdown summary to programs like Movie Magic, Gorilla Budgeting, Spreadsheets, and PDF.
It offers a variety of licenses to meet the needs of individuals and businesses, as well as an outstanding support team available around the clock to answer any concerns you may have.
Anyone may register for a free 7-day trial and try it out. Customers who purchase a yearly membership will receive a 20% discount.
Pricing
Individual plan: $49/month for an award-winning program.
Unique Studios Plan for $149 per month is the Studios Plan.
Enterprise strategy upon demand.
Pros
You may discover, add, alter, or remove any tag or category, select your colors for a title, highlight certain parts in the headers or remark on scenes using the platform's easy-to-use customization features.
Automated script breakdown Filmustage provides simple semi-automatic scheduling with all the features that producers, first ADs, and other members of the film business are used to.
Clients may choose locations, calculate prep and shooting times, drag and drop scene stripes to reorganize, and automatically sort scenes by scene number, int/ext, shooting location, day/night, and more without losing any original settings.
Cons
Pricing is higher than the competition.
Joint accounts are not available.
Conclusion
No one tool can do everything. This explains why the best video creators or producers have developed certain project management abilities over time using tools that cater to their particular demands.
Without project management, video production cannot be successful. Video production may be hectic; therefore, every producer requires a good project strategy. For this reason, you need to get your workflow in order, whether you are a creative individual providing services to customers or an employee working in-house on video creation.

You may do tasks more quickly and efficiently using the listed tools. Therefore, if you have an effective project management application for your creative endeavors, managing a video production project need not be difficult or laborious. Of course, there are various inventive tools that animators and video creatives may employ to boost their productivity.