Automation is the key to many business problems, and the same goes for your customer relationship management. If you are looking to expand your loyal customer base, customer relationship management software is the best way to go.
Customer relationship management software allows you to better manage your customer relationships & interactions through established processes and reliable systems. It also helps you to integrate organization processes across marketing, sales, and customer service.
Benefits of Using CRM
Customer Relationship Management Software is based on the importance of customers and their satisfaction for a service-provider. Focusing on the 'R' of CRM, relationships between customers and service providers must be established and maintained consistently. This is to bridge the gap between customers and suppliers.
47% of businesses believe that customer satisfaction and customer retention have been positively impacted due to CRM. CRM majorly impacts customer service and the quality of conversations between a company and its customers. Here are some benefits of using a CRM:
Better access to customer data: Centralized storage of all customer data makes communication and access easier. Crucial information such as name, contact detail, email, alternate contact details, even birthday is stored in one place and accessible to a business through CRM. CRM even stores all email exchanges, live chat data, orders, invoices, and customer service requests.

Segmentation: With information overload, segmentation of data means working smarter than harder. Segmenting customers' information into the target audience makes customer marketing campaigns content; its distribution is more manageable and profitable. Tailored content always performs better than generalized content.

Better customer retention: There are a handful of features of CRM that aids in customer retention. Building relationships with customers is the first step but maintaining them comes next. A CRM reminds you about appointments, follow-up emails, contacting customers who haven't been approached in a while, etc., via alerts.

Better communication: Speedy responses and low response time has become a sign of professionalism. According to CMO Council, customers believe that fast response time is an essential aspect of a good customer experience. CRM offers pre-made templates for email campaigns that are customizable and offer proposals, quotes, documents, invitations, newsletters, etc. These are great ways of communicating with customers effectively.

Automated and personalized outreach: Even after collecting and segmenting data, if it isn't properly utilized, what would be its use? Personalized outreach and messaging campaigns are one of the best advantages of CRM. These are automated as per the target audience's segmentation, and thus customers receive only relevant information.
How to choose a CRM?
Choosing the right CRM can have a direct connection with the productivity of your company. However, when selecting CRM, it is essential to look into your company's essential needs and requirements. Choosing the right CRM can be a bit of a tricky task.
However, we are here to guide you step-by-step to help you make the right decision. There are four essential things that you must keep in mind when choosing a CRM software system. These are as follows:-
Focus on the End Goal
When choosing a CRM system, your first task is to analyze and recount your end goals. You have to focus on what problem you want to solve by introducing a company's CRM system. You can set SMART goals for yourself – Specific, Measurable, Achievable, Relevant, and Timely.
This will give structure to your goals and enable you to shortlist some CRM systems before finalizing one. Set goals that can help you in closing the gaps in marketing, support system, and sales. According to your end goals, you can come up with a plan and purchase a system accordingly.
Identify Your Company's Requirement
You need to note down the features you will utilize in its day-to-day work. Rather than focusing on the flashy features promised by several vendors, it is crucial to focus on the essential ones. This is essential to cut down unnecessary expenditure on packages that would not fulfill all your requirements.
You must also decide whether you want a Cloud CRM or On-Premise CRM. Have clarity on the type of CRM system that will help you meet all your requirements by considering all the pros and cons. The integration and customization features are important and must be thoroughly reviewed before purchasing any CRM software system.
Shortlist and Compare
After identifying your primary goals and the company's requirements, you must shortlist some CRM systems. Once you have shortlisted, you must compare them and then choose one system. You must evaluate the services they offer and the support/help network of the CRM system.
Make sure you refer to different websites that offer reviews about CRMs and compare them. These reviews are unbiased and can help you in decision-making according to your budget. Some such helpful websites are G2Crowd, Software Advice, FitSmallBusiness, and Capterra.
Take the Final Decision
An important factor before making the purchase is to understand your vendor. Transparency between the vendor and you as a representative of a business is very important. This ensures the safety of the customer data, better growth dynamics, and genuine features.
It may seem like a burdening task in the beginning, but it is necessary. The vendor should be treated as an important business partner because his contributions will make a big difference in your customer relationship management. Go through the case studies, sale probes, and marketing statistics, and customer references properly.
Best Customer Relationship Management Software Tools
Here, we have compiled a list of the top 7 CRM software solutions for you. Have a look: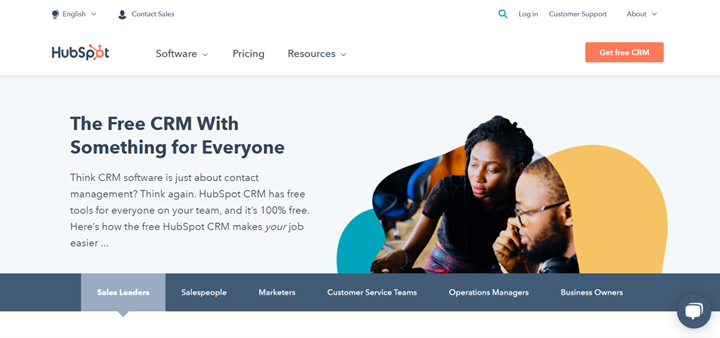 HubSpot is a cloud-based Customer Relationship Management tool. HubSpot comes with multiple features and with the specialty to accommodate all kinds of businesses, with any team size. Since growth is the end goal of any business and you aim to scale big in the future – HubSpot is the right choice for you.
With its complete CRM toolkit, HubSpot has proven to make its place in the market as one of the top contenders. The Free CRM includes some features for the different kinds of needs of the buyer. For salespeople, contact management, company insights, deals, and tasks, pipeline management is available in a free plan.
It also offers an updated view of your company's sales funnels with a visual dashboard. Sales Pipeline Management is an essential task. It lets you break the way you sell into different stages of opportunity. You can manage all your appointments, follow-ups, track your performance, and compare it with set quotas.
The CRM automatically logs all the customer interactions, synced with Gmail or outlook easily. It also works seamlessly with G-suite & Office 365. HubSpot also offers a timeline view which makes it easy to follow up with any leads.
You can send them personalized emails that can be set on a schedule along with actionable insights. The CRM also offers mobile apps for both Android and iOS. For marketers, ad management; forms; live chat and bot builder; landing pages; email marketing; contact management; reporting dashboard; it offers an analysis of customer movement.
With its wide range of services that come in plans for fulfilling its customers' different needs, HubSpot has recently launched a new Content Management Service (CMS). HubSpot offers great comprehensibility and usability. Individuals in sales can easily print the CSV files, which helps one share beneficial prospects with its staff.
An important feature is that private companies can use this for generating revenue data. It helps organize the leads systematically to ensure that the data fits the sales criteria of the company. It offers saved templates that help the companies save time by not retyping all the content.
Pros of HubSpot
CRM features are available separately for different departments such as sales management, support hub, marketing, etc.
Easy to use and efficient for building a website.
Efficient tools and features.
Tracking available for the complete sales pipeline.
Log activity helps in increasing the customer database.
Cons of HubSpot
Limited features in free versions.
Contracts for 6 to 12 months are rigid.
High-level difficulty in the template modification.
Lack of A/B testing in lower plans.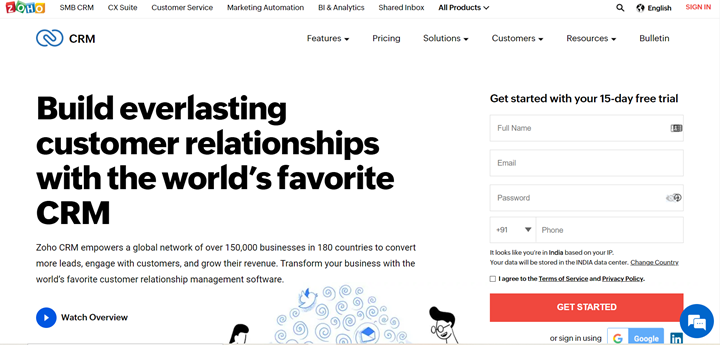 With a clientele network of over 150,000 businesses across 180 nations, Zoho CRM has enabled their customers to increase sales and leads. Zoho is trusted by elite brands such as Ola, Hotstar, Amazon, etc., for the fulfillment of their requirements. Zoho makes collaboration ten times easier.
From large-scale sales meetings on online platforms to keeping track of every sale, Zoho covers all under efficient selling. The most important use of CRM is communication between customers and businesses. It is easier to connect with customers wherever and whenever through different channels such as email, telephone, chat, and social media from one device.
An added advantage is being able to utilize different data regarding these conversations. Automated live chat support; better follow-up for efficient workflow; streamlining leads; availability of real-time insights and reports; conversational AI. Zoho as a service provider keeps businesses at the top of their game.
Zoho has a comprehensive omnichannel support system that makes it highly flexible as far as integration is concerned. Zoho's noteworthy features are in-built gamification, lead scoring options, workflow automation, and lead scoring. It supports several languages, including English, French, Arabic, Hindi, Italian, Chinese, Spanish, Russian, Hebrew, Hungarian, Swedish, Turkish, Korean, etc.
Zoho is a cloud-based CRM system, and it caters to the requirements of businesses of all nature and sizes. The sales and marketing tools can help functions like analytics, customer support, and helpdesk functions. Zoho can be accessed using email, mobile phones and documentations, and other online mediums and facilities.
Zoho stores lead and prospects without having to do a lot of work. One can feed in minimal information, and once it is stored, you can search it later. It saves time by not having to hunt for the information through all the existing files.
Pros of Zoho CRM
Availability of training programs to make use easier.
Easy import of data.
Flexible monthly contracts.
Secure, reliable, easier mobile accessibility.
Cons of Zoho CRM
Lack of availability of some features in other languages.
Lack of efficiency in customer support.
Social integrations aren't always very effective.
Clunky navigation.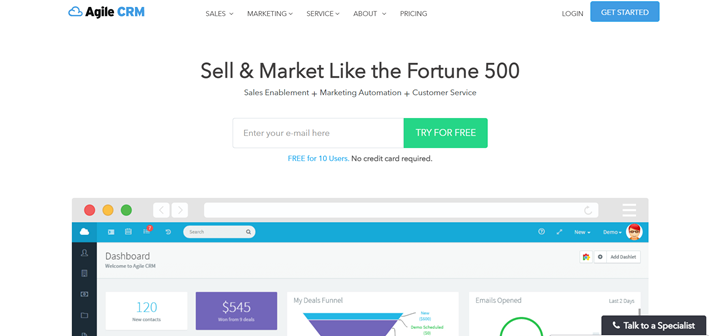 Agile CRM, established in 2013, is a software company. Trusted by 15,000+ companies, their clientele list includes Fortune 500 companies. The different CRM features for different departments such as sales, marketing, integrations, and service are available, making it an all-in-one CRM service provider.
Management of contacts, customer details, orders, and projects is a one-click process with Agile CRM for sales. Scheduling appointments and the availability of phone transcripts make it easier for businesses to track customers' needs.
Marketing automation, landing page creation, integration of social media platforms, email marketing and tracking, analysis, mobile marketing, etc., are some more advantageous features available specifically for marketers.
Smart views, canned responses, availability, access to the knowledge base, ticketing, helpdesk, etc., are also some of Agile's features. A notable feature is that it alerts a company's employees to send notifications when they have to take action. These are automated notifications that are sent based on the schedule that is fed in the system by the administrators of the company.
By using Agile, international business transactions can be conducted because it allows transactions in multiple currencies. It can be customized according to business requirements and grants access to particular features, objects, and data according to the department roles by applying filters. Agile allows the administrators of the company to consume, publish and edit content from a central interface.
Companies can develop specific tests and change them according to deployment features. After the changes are finalized, these can be sent to the production environment of the company. The customization features allow the employees to change chats and text colors and transform the brandings and logos.
Pros of using Agile CRM
All-in-one CRM service provider.
Modern features and integration are affordable and light on the pocket.
Mobile-friendly, reliable, and fast.
● Best streamlining feature to track new prospects and funnel them into the proper categories.
Easy and straightforward configuration.
Easy third-party integrations.
Cons of using Agile CRM
Lack of knowledge base on the site to understand the utilization of different features.
Lack of filtering option in contact details.
Lack of efficiency in the android software.
Difficulty in viewing a complete list of contacts beyond 10,000.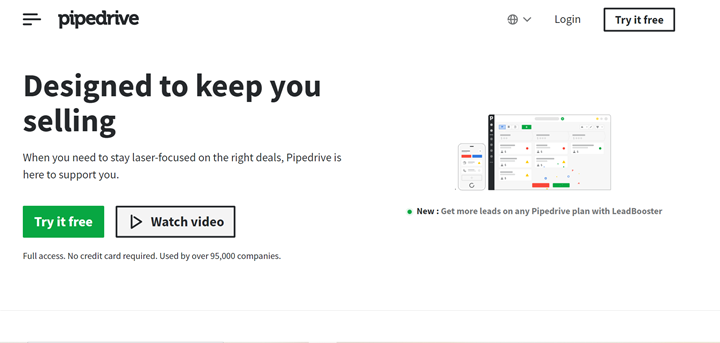 PipeDrive has been highly reviewed and recommended by elite brand names such as Capterra and Google Play Store. 'PipeDrive is the first CRM platform made for salespeople, by salespeople.' Founded in 2010, PipeDrive is now used and trusted by 95,000 companies across 150 nations.
The unique thing about PipeDrive is the functioning of its features. PipeDrive functions according to the business' sales pipeline model. After setting up the pipeline stages, you need to focus on your activity as per your business model's functioning.
Scheduling meets and closing deals are followed by progress tracking and finally optimization. Management of leads, automation of messages and alerts, track of communication, insights, reports, and mobile app integrations are features to help a business focus on work and achieve end goals. PipeDrive is a CRM software solution system that is especially very useful for small businesses.
PipeDrive offers an in-built forecasting system and allows integration with software such as Zapier, MailChimp, Google Apps, and more. It supports various languages such as English, German, French, Portuguese, Italian, Estonian, Spanish, Norwegian, etc. This CRM system's primary function is to increase sales and, in turn, contribute to profits.
PipeDrive also includes documents, presentations, images, and other such electronic files and graphics to better understand and present the data. PipeDrive provides companies with a partner portal. This portal helps them collaborate on and with different channels for sales opportunities, sharing products, and related commercial activities.
The task management is very efficient as administrators can set due dates and integrate them with calendars to manage priority tasks and daily tasks. The sales pipelines can be controlled using quotas and territories and individual representatives, teams, and regions. It has a Customer Contract Management system that helps negotiate terms in the contract. It ensures the compliance of the conditions by both parties.
Pros of PipeDrive CRM
Simple to use drag and drop features.
Efficient automation of email and other communication tools.
Access to every record, even voice recordings, for later analysis.
Easy funnel setup, cost-effective.
Cons of PipeDrive CRM
A requirement of better reporting tools.
Lack of good training options.
It does not enable one to link multiple emails to one account.
Lack of filters for detailed reports.
Lack of integrations for social media platforms.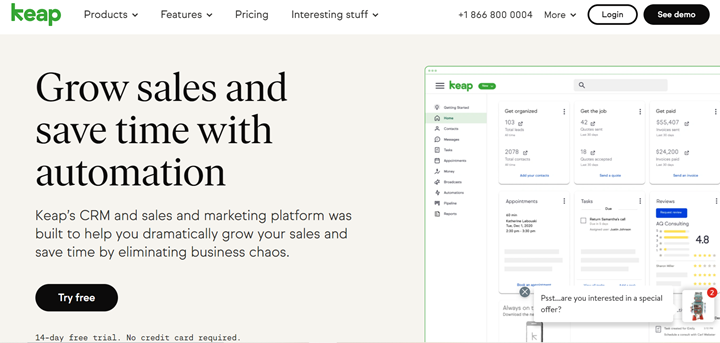 Keap is an email marketing company based in Arizona, United States, and was founded in 2001. They have been voted as the 'Best CRM for ease of use' by Business News Daily. The availability of custom forms makes it easier for the collection of data.
They also create the most efficient landing page that fetches high-rate conversion of leads. The working model is centralized and keeps everything available in one system. Their CRM services for marketing help businesses with email and SMS marketing campaigns, automation of follow-up questions, and availability of features of creating several pipelines.
Keap allows greater client contact data, and the automation processes are implemented quickly and with ease. The CRM system ensures that the repetitive tasks are minimal and designed to facilitate the business's growth. To date, Keep has been the provider of automation services and the leading software solution behind the success of more than 200,000 users and small businesses globally.
It saves a lot of energy and time for the users by automating several actions. Some such actions are thanking customers for orders, delivering certificates or receipts in reply to emails, etc., which previously was done manually. However, the search system can be a little typical to use.
The customization feature of Keap is one of the most noteworthy features. It allows the users to develop fields, views, rules, custom objects, and calculations. The automation segments are robust and complete processes that may contain many steps and require manual intervention.
Keap allows businesses to carry out international transactions by allowing conversations to flow in multiple languages and use different currencies. Content management can be performed from a central interface. The necessary information can be sent to all the systems in the live-action area. It notifies users when and what gas to be done according to the administrators' rules set up and allotted duties.
Pros of Keap
Efficient customer and campaign management.
Large-scale tracking opportunities.
Robust in terms of communication and contact, especially email builder.
Simple to use interface.
Feature of trickle/drip marketing.
Cons of Keap
Email inbox deliverability needs improvement; important emails are constantly received in spam.
Less customization is available.
Ineffective form builder.
Spotty lead source tracking.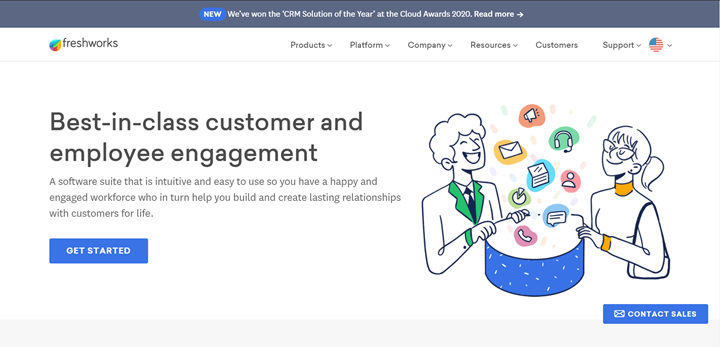 FreshWorks is a comprehensive CRM tool that functions centrally to aid businesses. It has been awarded as the 'G2D Crowd CRM Software Leader 2020'. They are trusted by elite brands such as Lenskart, the University of Sydney, etc.
It provides its clientele a unified view of customers (social profiles and contact details in one place). It gives an AI-powered assistant to work through complexities and automates to make things time-efficient. From tracking events and deals to having access to a bird-eye view of everything, mobile integration, advanced response; automated and personalized emails; a built-in chat system are a few of the primary and yet unique features.
FreshWorks supports multiple languages Arabic, Italian, French, Latvian, Hungarian, Hebrew, English, Danish, German, Spanish, Russian, Chinese, Polish, Turkish, etc. FreshWorks is AI-powered, which helps the company's marketing sector to strike better deals and build better customer relations. It is an all-in-one software solution that includes marketing automation, Salesforce automation, telephony, and chat in one place.
FreshWorks facilitates improved partnership between marketing and sales using the FreshWorks CRM Customer-for-Life Cloud. You can generate productive leads and improve engagement using the campaign analytics of the Marketing Cloud. To do this, you can store information and integrate it to instructions like open by simple clicks and view responses regularly.
The Sales Cloud of FreshWorks has an in-built phone, email, chat, and telephony system that contributes to the team's daily work productivity. FreshWorks gives you valuable insight into the buying activities and behaviors of potential clients and audiences. With these insights, businesses can develop unique and engaging ideas to improve sales and buyer experiences.
Pros of FreshWorks CRM
Efficient project management.
Effective field service management.
Easy to use interface.
Multiple channels of communication.
Rich in valuable features.
Cons of FreshWorks
Lacks basic functions of reporting.
Inefficient phone integration.
Hard time with formatting forms through the phone app.
With over 25,000 customers, Insightly has made its place as a reputable service provider in the global arena. Insightly was founded in 2009 and is based in San Francisco. They believe in 'going beyond transactions.'
They keep track of all web activity and provide businesses with relevant lead information. They aid businesses in marketing campaigns and the distribution of pertinent material to correct target audiences. Automated workflow makes business operations simpler and more efficient.
Sending and tracking emails, relationship linking; delivering projects time-efficiently; streamlined business processes are features provided Insightly to make businesses thrive. There are innumerable services offered by Insightly that make it a rather holistic CRM software solution. These include professional services, manufacturing services, education, health, media, wealth, construction, retail, etc.
For users of Google and Office, Insightly has emerged as the most sought-after CRM software solution. It has over 1.5 million individual users globally. The business and sales data can be managed under a central interface. It can be changed according to growth trends and business requirements.
The customization features are extremely flexible and allow you to manage leads, emails, quotes, contacts, projects, etc., in one go. The PPQ or the Products, Price Books, and Quotes capabilities help increase transparency between two parties and boost sales. It helps establish a connection between the individuals and the products and services through automation. It cuts down inconsistencies and possible human error.
The integration in Insightly is straightforward, and it can be integrated with tools like messaging platforms, email, file management, and accounting. Insightly CRM integrations include Gmail, Google Docs, Sheets and Slides, G-Suite and Google Apps, Box, Xero, MailChimp, Zapier, Slack, etc. Insightly also helps in the management of things in mobile applications on both i-OS and Android.
Pros of using Insightly
Excellent project management tool.
Provides clear vision and tracking of sales.
Suitable for tracking email and sales.
Easy to use.
Efficient organization.
Cons of Insightly
Integration with different platforms is hard to understand.
The Mobile version of the same lacks many important features.
Availability of data in a public cloud is a significant security risk.
Lack of going back to previous plans after upgrading.
Frequently Asked Questions
1. What is a customer relationship management tool? What is it used for?
A customer relationship management tool is the technology used by service providers to interact with customers and prospects. It is defined as a strategy that companies use to manage their relationships with existing and new customers. The tool helps in the profitability of a company by retaining existing customers and generating new leads.
The tool is most commonly used for customer management, customer retention; automation of workflow; sales management. CRM is used for the following core purposes:
Business management: Allows businesses and their different departments (sales, marketing, and customer support) to work collaboratively.
Customer tracking: To sell something, businesses need to know what is demanded by their customers. CRM helps companies to track the web activity of their customers to provide relevant services to their customers.
Targeted marketing: The next step after customer tracking is utilizing this customer data to personalize messages, carry out marketing campaigns, etc. It lets you segment your audience into different target groups to provide relevant services and searches.
Integrations: To empower inbound and outbound marketing, integration with Google, social media platforms is one of the most important steps. CRM aids you in that as well.
Customer feedback: Customers are always happy to provide feedback, but due to complications, mostly they hesitate. CRM makes it easier for customers to give feedback and for businesses to analyze this feedback and utilize it in the future.
Predictive analysis: This is by far the most advanced use of CRM. Artificial Intelligence does predictive analysis. AI interprets previous actions of internet users and analyzes the same to predict their current and future activities, needs, and demands.
Sales tracking: When there is an overflow of sales (which means business is good), it is relevant for companies to track sales. CRM aids businesses in this task. This helps businesses not to let anything slip away from their fingers, be efficient, and provide the best customer service they can.
Mobility: CRM is a definitive factor that helps businesses in their mobility and remote working. Integration with mobile systems or apps makes it easier for on-field operators and in-office employees to stay in the loop.
2. Who uses CRMs?
Nearly seven large-scale industries use CRMs. The retail sector, which sells goods and services, uses CRM by collecting feedback through email and SMS marketing. The Banking sector companies providing financial services, etc., i.e., most service-providing sectors also use CRM.
3. Is CRM worth it?
The worth of CRM depends on the benefits it reaps your business and firm. CRM has its set of services and has been proven to be effective. Customers in the digital era still crave human connection, even with the businesses they buy from.
Customer relationship management tools give the customers just that. Especially for small businesses, CRM attracts customers and builds long-lasting relationships. It may be technically non-essentially, but it aids companies in the core task of building a loyal customer base.