Marketing is more than attracting leads. A business requires an effective marketing strategy to engage, nurture and retain prospects into our business.
Marketing may help you attract your customer and buy your product once. But an effective marketing strategy will keep the same customer in the loop and motivate them to repeatedly return to your services or products.
Modern technology lacks a traditional business individualistic approach. The conventional business had the individualistic attention and recognition that modern technology lacks.
People know the traditional small shop down the corner of their house. They know the owner, and the owner knows them. This enhances personalized communication, which leads to sales and repeated sales.
What is Marketing CRM
So the question arises is marketing CRM any different from our daily CRM? The answer is yes. Marketing CRM is different because it is specialized to target specific audiences to generate more leads.
Customer relationship management tools are used by the business to enhance communication, centralize customer data, and collaborate with different departments under a single roof. Marketing CRM solutions help businesses in marketing automation, generate targeted leads, e-mail marketing campaigns, and integrate all the information from sales and other departments.
These marketing tools can help you run successful marketing campaigns that bring in more deals and engage customers in the business for the long term. This personalized segmentation and targeting that marketing automation tools provide help achieve the individualistic conversation most modern companies miss.
In conclusion, marketing CRM tools enhance marketing efforts with less work and a more automated approach to saving time.
Who Should Use MARKETING CRM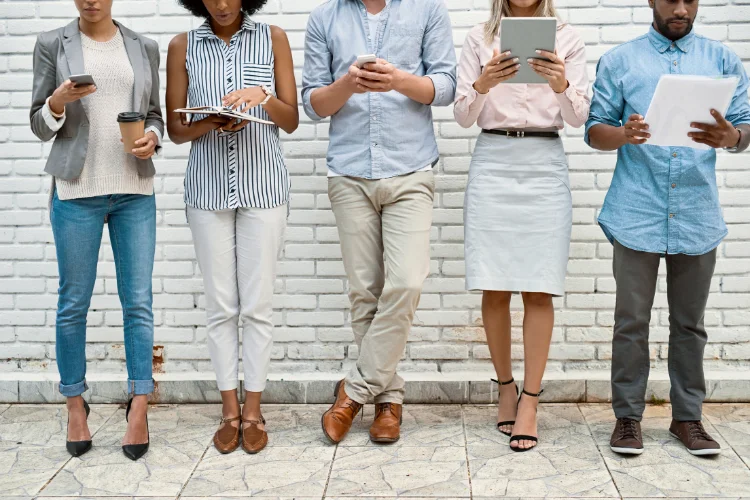 The world today is changing. Hybrid and remote work models are becoming popular. The need for efficient communication, collaboration, and management tools is therefore increasing rapidly.
Digital communication has taken over the traditional methods, and there is no going back. Businesses must adopt specialized marketing and management tools to stay ahead of their competition. Hence, now is the most promising time for you to adopt a CRM system.
The Unique feature of any marketing CRM solution is that it adapts to your business processes and size. You don't have to worry, even if you are a small business or start-up. A proper marketing CRM will quicken your work with less effort and time.
A reliable CRM solution and marketing tools will also help marketing and sales teams enhance their work efforts and bring in more sales. All this will, in turn, lead to the rapid growth of your business.
If you are already using a CRM solution and not seeing the results, it may be time to upgrade your CRM tool or switch to a more efficient one. As your business grows, you need to evaluate your CRM tool and update it if necessary.
Some Unique Features of Marketing CRM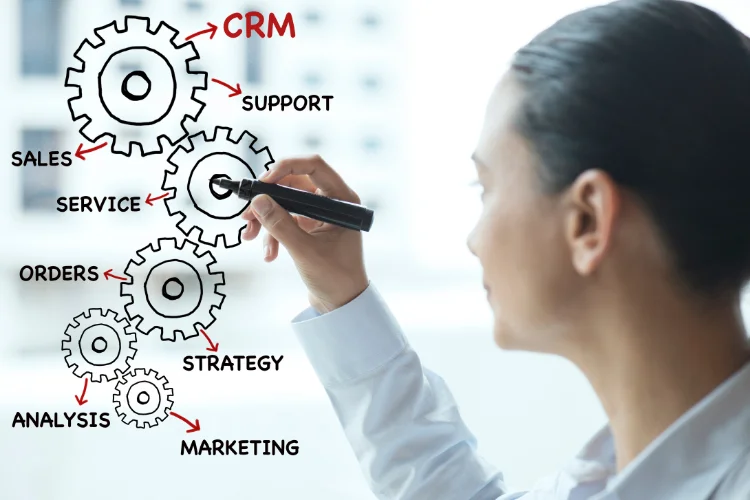 Marketing CRM software provides various unique benefits of marketing automation tools to businesses. There are different touch points that customers come across while doing online transactions. Today's sales process has quickly become complex, and customers have become increasingly picky.
Apart from products or services, a highly customized customer journey is also the main component of online transactions.
CRM marketing automation tools help you achieve that by providing the right features at the right touchpoints. Those features are as follows:
Landing pages are created to attract new leads. These pages are different from homepages and are built to attract specific needs. Landing pages are designed for the audience to reach specific touchpoints after clicking a particular button. This can be searched by the customers on the internet or leads triggered by ads.
The landing pages are customized to suit the needs of the targeted audience. A CRM solution can help you to easily customize different designs for your landing pages. Without CRM marketing tools, you would need coding and core designing to make the landing page attractive. This can be costly and time-consuming.
Marketing tools provide templates that can be customized by easy drag and drop functions so that you can whip as many landing pages as you want at less cost.
Though traditional, e-mails are one of the most efficient forms of personalized communication. E-mails help you keep in touch with your customer before, after, and when the customer makes any purchases.
Lead generation is a lengthy process. It starts with attracting the leads into your sales funnel and continuously nurturing them until their conversion. Even after the sales, e-mails help take feedback, ask for referrals, and promote other related products.
CRM marketing tools automatically connect your landing pages to your inbox. This helps you collect all the related e-mails into a list. You can send bulk e-mails and personalize them according to your target all at once, enhancing your communication.
Data is fundamental while converting a prospect into a customer. Many customers react to e-mails differently. Some open the e-mails, some never open them, and some open them but do not bother to respond.
At such time tracking the customer behavior and gathering data can bring clarity about what is working and what is not. Marketing CRM platforms collect all the relevant data such as click-through rates, opened mails, subscribers, and landing pages getting the highest conversion rate. This will help you understand what to do in your next marketing campaign.
Further, advanced features such as A/B testing can help duplicate similar campaigns that have bought the highest engagement and sales.
Segmentation and filtering
Leads come to your website or landing page and fill out the forms with precise details. These customers are not simply going to make purchases from you. You have to nurture these warm leads so that they convert into hot leads.
Marketing CRM software helps you to classify the list of prospects according to their likings, geographical location, time spent on your site, links clicked, etc. This filtering and classification help to personalize the communication and stay on top of the trends.
Sending e-mails that align with the prospect's requirements increases the chances of them opening your e-mails and making transactions. You can develop marketing campaigns based on the segmentation that directly impacts the customer.
A small company may be able to interact with each and every customer separately. As the company grows and the number of customers rises, personalized communication becomes difficult. But customized communication is essential for the reputation and development of the business. 

Marketing CRM tools can assist in automating various communication at suggested touchpoints. The e-mails are triggered when the customer reaches a certain point or clicks a specific link. Automate the follow-up e-mails, feedback, and queries to make the entire sales process smooth and efficient for your sales teams.
Optimizing the website's key points is essential for your business's long-term growth and improvement. Ads are an indispensable source of revenue and lead generation. Websites can earn a lot of passive income through ads.
SEO (search engine optimization) is another aspect of a website that helps you rank your website on a search engine like google. So when people search for aspects related to your keyword, your website pops on the first page where there is more traffic.
Marketing CRM tools assist you in writing SEO-optimized ad copies and content. It will also guide you in using hot keywords that are related to your field and are ranking well.
The 7 Best Marketing CRM are as follows:
1. Engagebay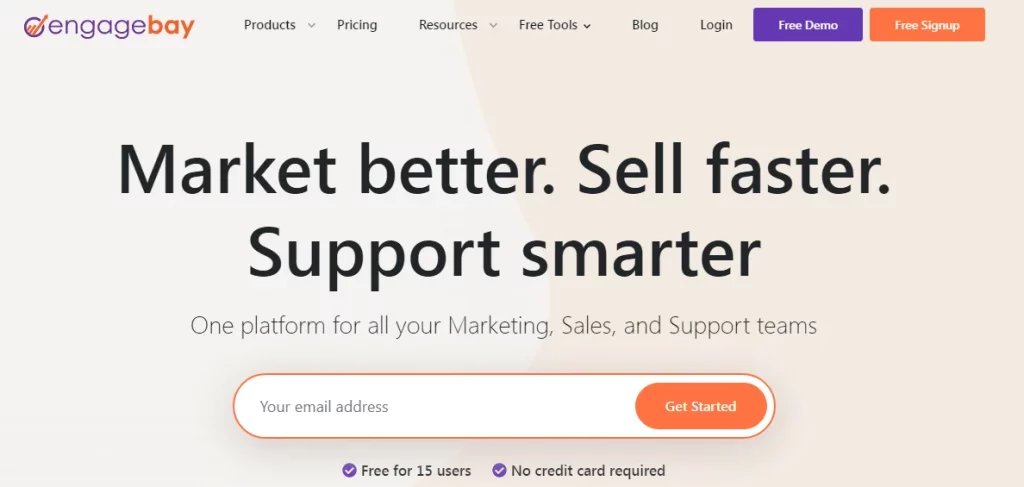 EngageBay is an all-in-one marketing automation CRM system for a business to get started. If you are a business that is just getting started and want to have more functionality at a cheaper cost, then EngageBay is the best for you. The free plan provides more than enough functionalities, such as lead scoring, e-mail sequencing, and e-mail broadcasts. Though the free plan only allows 1,000 contacts and 15 users, it is an ideal platform for small companies and start-ups.
The features of EngageBay spread in various wings, such as e-mail marketing, sales, customer service, and CRM systems. Other features include landing page builder, live chats, help desk services, automated responses to queries, task management, tag management, social media scheduling, and reporting dashboards. The free plan offers 26 out of 42 listed functionality. These features are rich and in-depth.
Features
E-mail marketing, services, and sales must be integrated closely for a business to work efficiently. Engagebay marketing automation is an ideal solution for those seeking maximum growth, increased ROI, and a streamlined process. With EngageBay, you can set advanced automation rules to bring maximum return on marketing campaigns. Use sales automation, live chats, and help desk to work more tightly with this software.
Customer relationship management
EngageBay provides a clear 360-degree view of your customers. Track all the customer interactions from the time they were prospects till the time they become your customers. Automated updates of customers in various stages can help sales teams enhance their communication according to their stage. Sales teams can use other features such as multiple deal pipelines, direct customer contact, real-time proposal analysis, and account-based marketing.
E-mails are an important part of any business activity. You can design your own engaging e-mails to attract customers, or you can even use the beautiful predesigned templates. Customize the templates to suit your business needs. Optimize the templates and run e-mail campaigns to get enhanced click-through rates and ROI. You can also automate e-mail drip sequences that send e-mails within the allocated time interval.
Assets
Automated A/B split testing that reduces bounce rates and accelerates conversion to give better results.
Efficient e-mail builder with premade templates. You can easily customize the content, logos, image, videos, and footers with drag and drop.
The features of the free version of engageBay are more than enough for you to get started without spending anything. You have to upgrade to premium as your business and customers grow, which is affordable.
Liabilities
The learning curve for EngageBay may seem steep, but you may not find any alternative at such a cheap rate.
There is room for simple up-gradation.
2. Hubspot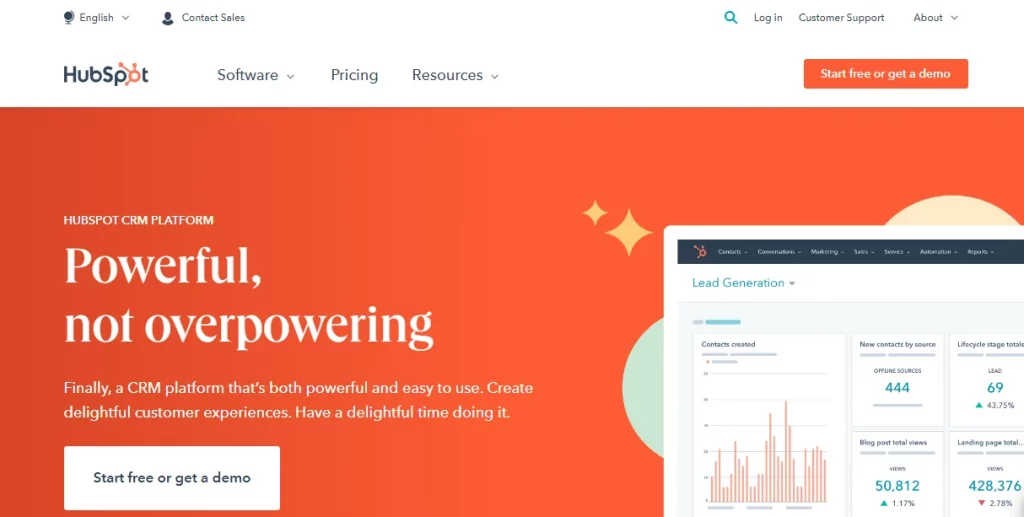 Hubspot is an excellent CRM software that provides one of the best marketing automation. The unique selling proposition of Hubspot is that it is free forever. Though the free plan does not provide all the functionalities, it is a good marketing CRM platform. Some advanced features, such as marketing automation, e-mail marketing, sequencing, etc., are not available in the free version. You have to get all these features from elsewhere. Hubspot supports all the vital third-party integrations you can use to import and export customer data.  
Hubspot also provides the Marketing Hub, Sales Hub, Service Hub, and CMS (content management system) Hub. All these Hubs come at a cost, but you can initially use the free version with limited functionality to get started. This is the best option for those searching for one platform capable of handling businesses without complex integrations and high monthly expenses.
Features
Hubspot provides an intelligent e-mail tracker that sends you the notification the instant a prospect opens your e-mails. This helps in sending timely push-ups or follow-up messages. With Hubspot's efficient e-mail tracking tool, you will spend less time on cold leads. Automate the e-mail outreach and personalize them to reach more customers.
Hubspot is a customer relationship management CRM that helps discover key trends in your database over time and uses them to understand customer behavior. Further, it helps you track actions that trigger response and conversion. You can create detailed reports from multiple marketing channels and add them to the dashboard for other team members to view. Using these data, sales, marketing, and customer service teams can understand critical metrics that work for the team.
Hubspot also provides tools to run successful and optimized ad campaigns. You can attract specific customers with highly targeted campaigns, keywords, and content. Know if the ad is working or not. Generate reports on ads that are converting more conversions. Enhance your ROI, impression, clicks, sales, and marketing.
Assets
Start designing your first landing pages that attract leads and are visible on any device without coding or the designer's help.
Manage your customers and leads by creating, storing, tracking, and managing deals across your sales pipeline and funnel.
Ensure your customers can communicate in real-time as and when the customer wants with live chats.
Liabilities
The pricing strategy of Hubspot is the pain point. It significantly charges more than any other service provider in the market. But we can not forget that it provides a forever free plan.
3. Zoho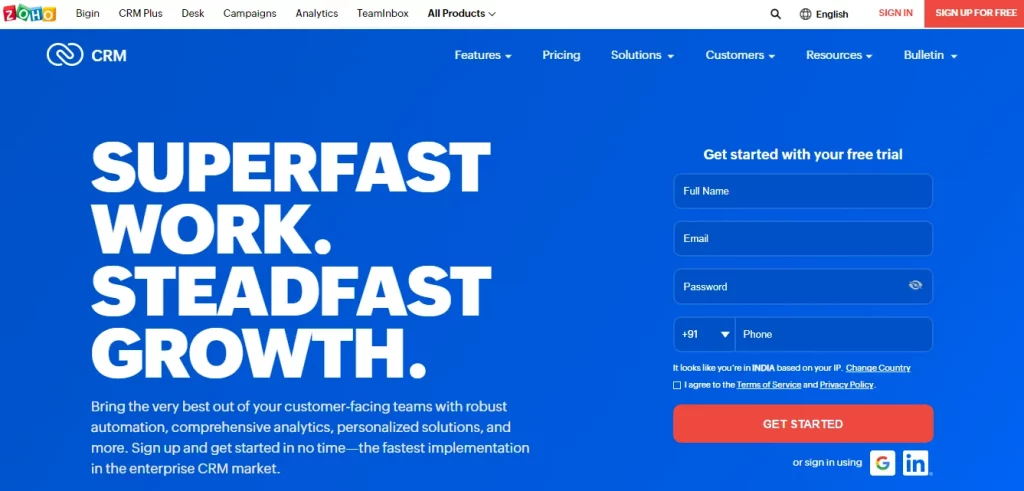 Zoho CRM is one of the best marketing automation platforms that has been in the market for a very long time. It has proved its efficiency and productivity for start-ups and small and medium-sized businesses. Zoho easily integrates with essential apps and integration across all the platforms. This all-in-one vertical solution helps to customize designs and increase ROI, along with faster implementation and adoption.
Zoho's simple, easy-to-use interface also ensures smooth data import from various other apps and spreadsheets. This app's Android and iOS deployments ensure you get access to important data at the right time with just a click of a finger. Additionally, Zoho provides in-depth analytics with artificial intelligence, lead management, workflow automation, task management, e-mail marketing, and more.
Features
Zoho has a marketing automation tool to accelerate the performance of sales teams. The accurate forecasts, potential revenue calculations, multiple currency transactions, and AI predictions are commendable. Further, you can reward sales reps exceeding their quotas with badges and trophies to motivate them and other team members.
All your marketing and sales teams must be on the same page while making sales. Do everything from customer segmentation, lead nurturing, ad campaigns, and event management to improve engagements and customer relationships to close more deals. Create an accurate funnel and track the customer movements within the funnel to help complete the sales cycle.
Real-time communication and collaboration are vital for the development and growth of the business. If there is a lag in communication, you may miss out on a potential customer and sales. Zoho provides omnichannel management, immediately notifying you when a customer interacts with your brand. Omnichannel includes e-mails, chats, social media, telephones, customer portals, and more.
Assets
Zoho is fully customizable with Canvas. You can simply design where the button, lists, and fields go without any coding knowledge.
Empower your marketing and sales team and prep them with tools for online meetings, group calls, and streamlined communication to assist in remote working.
Monitor all your sales and marketing cycles and make impactful decisions with multi-dimensional reports, lead analytics, sales statistics, and e-mail insights.
Liabilities
Advanced features of Zoho CRM are available for premium accounts only.
4. Insightly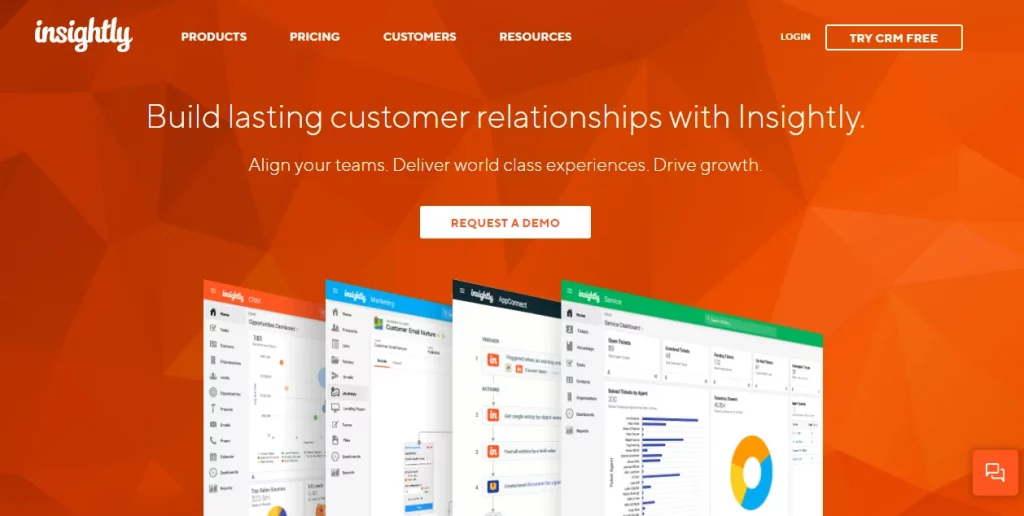 Insightly is a solid marketing CRM that helps your business with marketing, sales, customer relationship, and services. Further, the smooth integration with multiple apps horizontally and vertically makes it easy to use.
Other features of Insightly CRM also include project management, deal management, data transformation, reports, marketing automation, workflow management, e-mail marketing, and task management.
Features
Insightly helps to collect all the customer data like contact information, filter them, and present it to you in an easy-to-understand database. Lead routing further assists in automatically routing prospects until the end of your sales pipeline. Use relationship linking and streamlined communication to build strong customer relations.
Insightly uses strong security measures to keep all customer data safe and secured. It continuously updates its system and software to meet the exceeding standards of market security. Some security measures include SOC compliance, two-factor authorization, encryption, GDPR compliance, and single sign-in methods.
Assets
Insightly offers sophisticated integrations with hundreds of external apps and other insightly apps for effective sales and marketing.
The interface is very straightforward and highly customizable.
Smooth data transformations from external sources and easy sharing.
Liabilities
It lacks some advanced features like customized workflow, which can be improved.
5. Mailchimp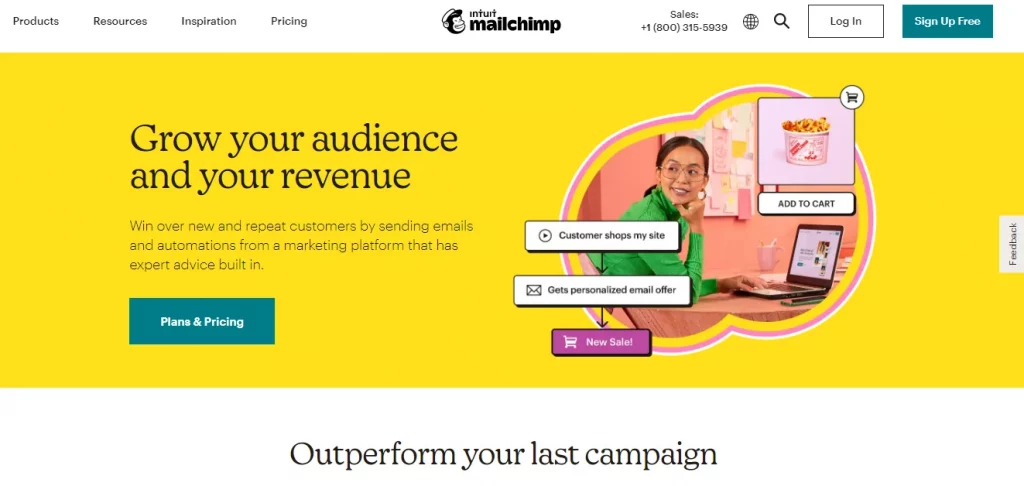 MailChimp has a humble start with e-mail subscription software. Today, it has become one of the most efficient CRM systems that can provide a CRM solution using various marketing tools. Other functionalities include sales force automation, lead segmentation, workflow management, and customer relationship management. It provides many creative tools that help in e-mail marketing and marketing campaigns.
Features
MailChimp gets you started with creating e-mails, landing pages, ads, and more with ease. It assists you in getting your ads and content to reach more people with multichannel campaigns. Use the expert marketing tips that MailChimp offers to reach your goals.
Just running marketing campaigns is not enough. You have to recover data about content that is working. Get smart recommendations with easy A/B testing and content optimizer to enhance your campaign. Get actionable insights that can be put to use immediately.
Assets
Reliable marketing automation tools
Easy to use interface that anyone can learn
Advanced Drip marketing
Liabilities
Limited integrations and lack of advanced automation.
6. ActiveCampaign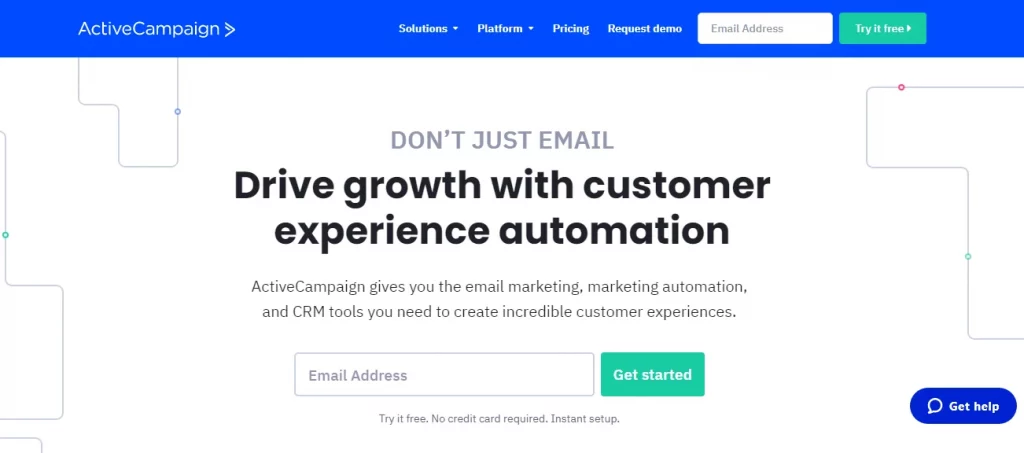 ActiveCampaign is a comprehensive all-in-one marketing CRM software for you. Suitable for all business types, it exceeds e-mail marketing, marketing automation, and workflow management functionalities. It also helps you to keep a close look at customers and track them by giving engagement scores to quickly convert hot leads. Sadly, there is no free plan available. But you can try the software for free by taking the 14-day free trial.
Features
Right out of the box, automation tools are the true strength of this CRM software. No other CRM software can compete with ActiveCampaign in terms of marketing automation. You can customize and automate marketing campaigns and e-mails to deliver the right message to the customers.
The easy drag and drop builder can help you create and automate visual workflow for various aspects such as e-mails, drip sequences, automated messages, and more. Design unique pipelines for different workflows. You can also track customers within the stages of their sales journey.
Assets
You can increase customer interaction via unlimited e-mails.
Use the drag and drop option to optimize your workflow.
Track user behavior and understand actions that trigger purchases.
Liabilities
The learning curve for ActiveCampaign is steep, but there are tons of documentation and videos to guide you through it.
7. Sugar CRM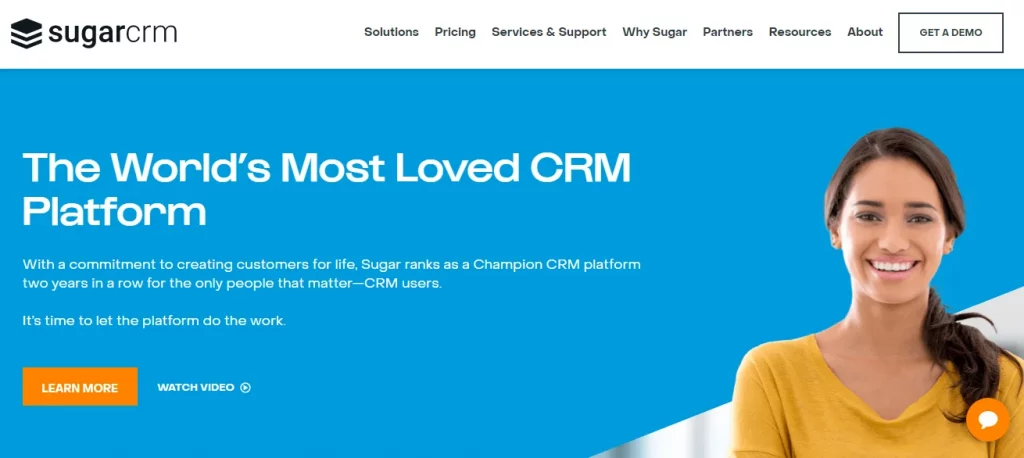 Sugar CRM is an efficient customer relationship management software. It is an extremely capable marketing CRM software, but it is built to cater to experienced users. It can be challenging if you are an amateur and are using Sugar CRM for the first time. But once you get used to this CRM, it can be very beneficial.
Sugar CRM is a power-pack tool that helps you in various aspects, from sales to marketing, to customer service. This powerful marketing tool helps in marketing automation, data management, e-mail campaigns, intelligent analytics, sales cycle, and more.
Features
Sugar CRM uses artificial intelligence to uncover unique highlights that can help business growth. Even if the data is incomplete or limited, the clever AI technology can analyze multiple factors and help focus your attention on the highest priority sales.
Sales is a tough job. Sales teams need a proper system to track each lead and convert them. Sugar CRM provides sales automation and marketing tools to the sales team that help in your sales pipeline management, create quotas, engage prospects at any time, and close more deals.
Assets
Enhances team engagement and communication with real-time editing, chats, and notes.
Deep marketing automation with customized landing pages, conversion forms, and bulk e-mails.
Creative sales funnel that accelerates sales and conversion.
Liabilities
This solution is designed for experienced users; hence, new users can find the software overwhelming.
Conclusion

Every company has its own demands, needs, and requirements for the marketing CRM they prefer.
Some want the best marketing automation software, while others want e-mail marketing software.
Some want excellent analytics features, while others want intelligent marketing campaigns.
Whichever marketing CRM you choose, it should be reliable, efficient, secured, budget-friendly, and feature-rich.