Project management is innovative planning, organizing, scheduling, monitoring, and executing a project. The process of the project includes various stages such as initiation, planning, execution, and closure. Project management is a roadmap to get the project running and accomplish satisfactory project completion within the boundaries of the triple constraints. 
Project management software is the tool used to plan and organize various projects from beginning to end. From resource planning to better control to collaboration to report generation, project management software does everything to ensure quality and timely project completion. The software provides an environment where project managers and members report progress and resolve issues, stay aware of the triple constraints (time, cost, and quality) and take timely actions.
MS Project
Microsoft project or MS project is a collaborative all-in-one project management software that helps you centralize all the tasks with various project views. In-built reports for resource planning, portfolio, workflow optimization, and more. Evaluate checklists, activities, and project ideas and build roadmaps for interactive and graphical Microsoft projects further helps to manage your resources and projects with cloud-based and on-premises solutions.
Why would you choose some other alternative to Microsoft Project Management:
For a start many people look blindly goes towards the best marketed project management tools like Microsoft, it's an old tool; without a doubt with many advanced functionalities that can become expensive to small industries. There are alternatives to Microsoft project that have less learning curve, cheap and even open-source ones that one can look to implement in their business.
Before that, why do you want Microsoft project alternatives?
A bit pricey.
No real-time support.
Not a good option if your team is not very familiar with MS office applications like Excel, Word, etc.
3rd party add on's are required to get more advanced features.
Project management software is a critical component in business nowadays; it helps businesses manage their resources better and increase productivity.
These 25 tools will help small and mid-sized teams get work done efficiently.
1. Wrike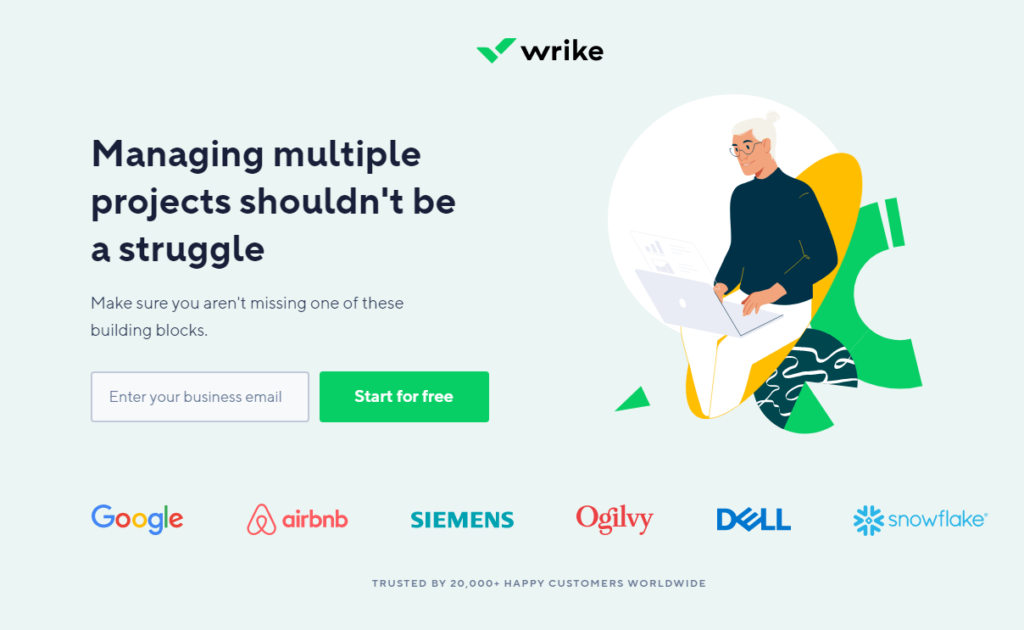 Wrike is an all-rounder project management software that assists you in various activities such as task allotment, team management, project tracking, reports, communication, and more. It reduces team burnouts and provides resources for better workload management, and reduces employee stress. Take advantage of this cloud-based platform to ensure the security, communication, and accessibility of your data. It is one of the best Microsoft project alternatives.
Wrike uses an intelligent algorithm to schedule tasks based on resource availability across various assigned projects. The tool also allows users to track milestones and deadlines in various projects simultaneously. Connecting with other groups like Slack makes it even easier for project managers to communicate.
Some Wrike Features as a Microsoft Project Alternative
Wrike enables seamless integrations across various apps that enhance productivity and automation.
Achieve full transparency and visibility of your project with multiple views and dynamic reports.
Use customized dashboards, Gnatt charts, calendars, kanban boards to set up Wrike and guarantee a perfect fit to suit your entire team's requirements.
Why would you choose Wrike:
Wrike is an all-rounder project management software. So, it's not only good for small businesses but also suitable for large enterprises.
Work out tasks across projects with ease using automated, intelligent algorithms that assign the right resources to the right task at the right time.
Boost collaboration and communication within the team with apps like Slack.
Automate project management processes to save time and increase productivity.
Wrike is available across platforms (Windows, macOS, Linux).
It offers 15 days trial for free which is rare for other Project Management Software companies.
2. Asana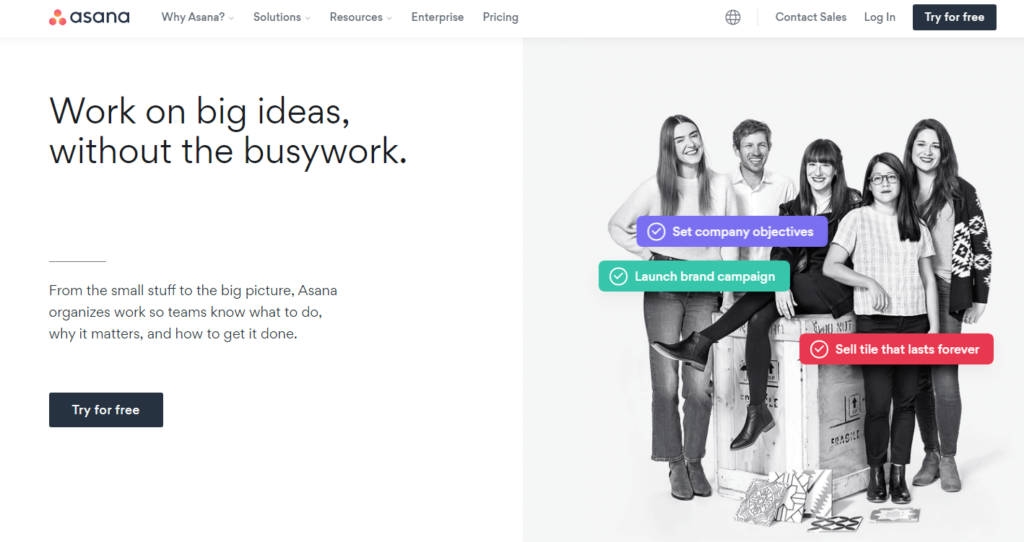 Asana is one of the best Microsoft project alternatives. This project management software helps you to integrate all your project-related activities like viewing the project plan, checking the flow, and reviewing the work in one place. Get a big picture view and ensure real-time updates, automated workflow, inbuilt templates, workspace management, and schedule work according to their deadline.
Asana allows you to integrate all your project-related activities in one place. It provides a huge picture of the progress with real-time updates
Features of Asana
Asana helps to plan and control all the project variables to ensure nothing is out of line. 
The layout option of the board, list, and calendar provides powerful organization and tracking of the project.
Various workflow automation reduces manual work and enhances productivity.
3. Trello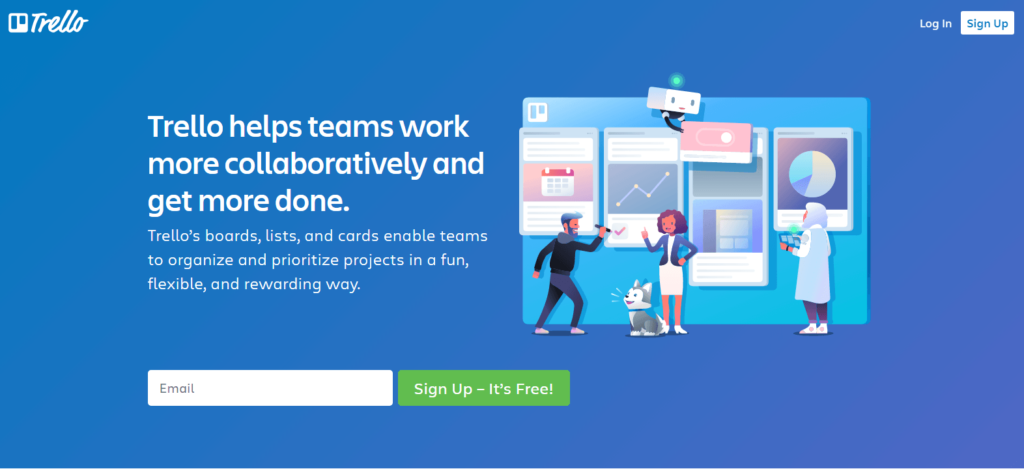 Trello is another Microsoft project alternative that provides various project management features to increase profitability. From goal setting to workflow customization, Trello can do all. Its intuitive interface allows users no-code automation, integration with top apps, organized cards, checklists, boards, calendars, reminders, and everything you need for managing a project. 
Features
Trello helps teams get more work done by increasing collaboration and communication.
The mobile apps are suitable for both iOS and Android users, and they allow visual representation of the workflow for better understanding.
This software is suitable for both small as well as big teams. It provides all the basic as well as advanced resources needed.
4. Scoro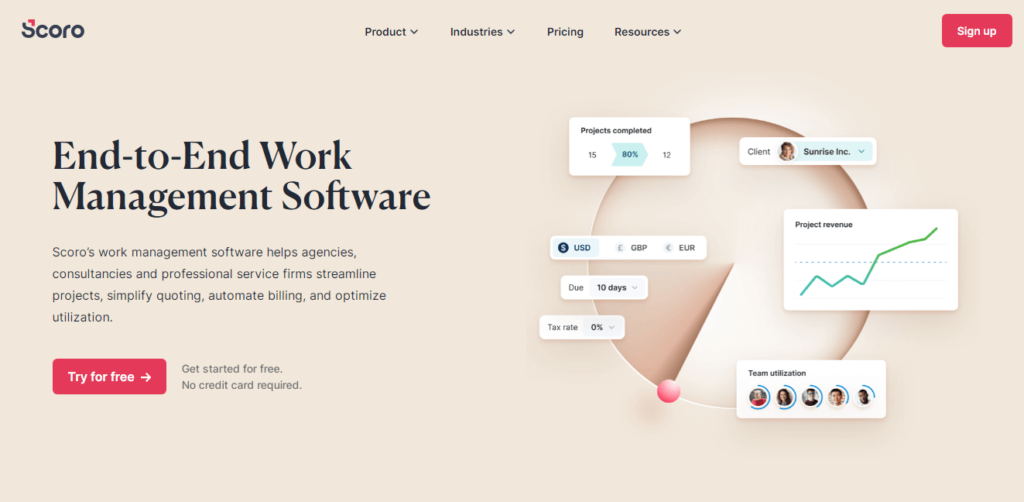 Scoro is a collaborative all-in-one software that comes in the list of best Microsoft project alternatives and helps you manage your daily work, streamlines projects, billing, resource allocation, quoting, finances, and more. The efficient control it offers allows you to work from one software and assists you in your sales, productivity, time management, team collaboration, cost planning, etc. Real-time Gnatt charts tracks project progress, events, dependencies and ensures clear visibility of the project.
Scoro Features
Scoro is suitable for agencies, small startups, Mid-sized companies, professional services, and consultancies.
It efficiently manages your time and meets deadlines by creating ad hoc tasks and gives real-time updates.
Track your project to guarantee all the activity's completion within the time frame, costs, available resources, and quality.
5. WorkZone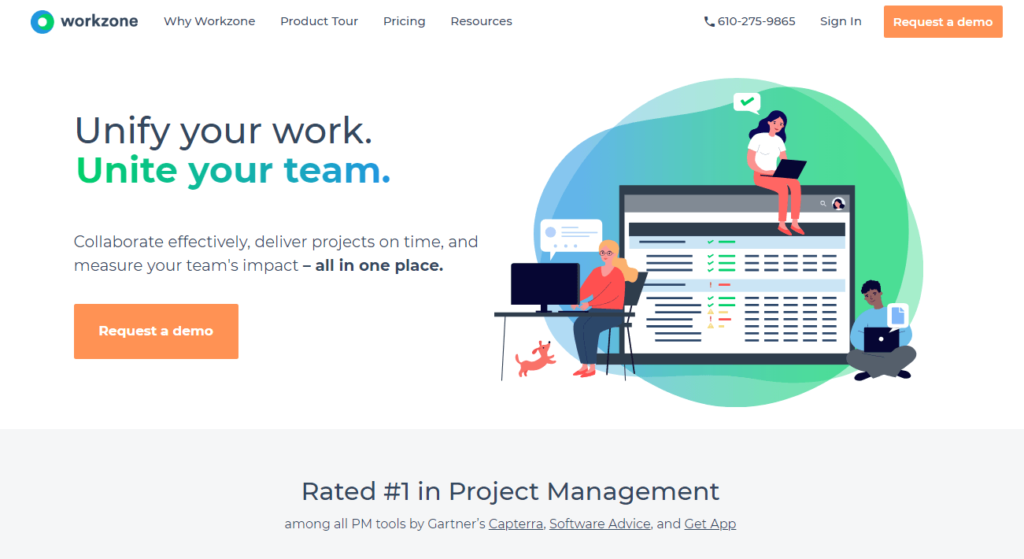 Workzone is an easy-to-use project management software that ensures effective collaboration, project delivery, time management, and team productivity. As an alternative to Ms project management software, it provides a top-ranked project management solution with an easy interface that anyone can use. Communicate effectively by requesting, sharing, and reviewing the documents with this cloud-based tool.
Features of WorkZone
Microsoft project alternative, Workzone, has an intuitive dashboard that allows you to glance at the big picture, including meetings, status updates, reviews of various projects, clients, departments, and campaigns.
The automated to-do list, emails, and workflow allow you to concentrate on important projects and ensure you stay on track with the project.
You can identify the human and other resources, their accurate utilization, workload management, and increased productivity with workload reports.
6. Teamwork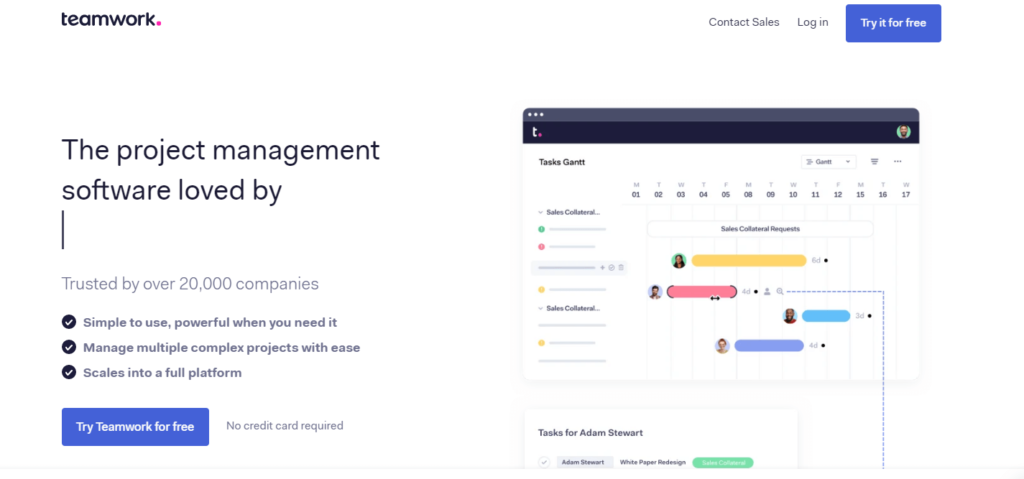 Next on the list of best Microsoft projects alternatives is Teamwork. This feature-rich software provides all the tools required for collaboration, communication, and project management. From task allocation to security, file sharing, time tracking, messaging, and more. It integrates easily with all your current apps and enables mobile phones, windows, and websites access. Use high-quality features such as board view, dashboards, Gnatt charts, lists to reduce project bottlenecks.
Features
Teamwork is suitable for both big as well as small projects. It also allows you to manage multiple complex projects at one time.
Gnatt tasks allow you to view and analyze all the activities and their progress in a visual representation of a chart.
It provides all the enterprise-level features in an easy, feature-enriched, and flexible interface.
7. ProofHub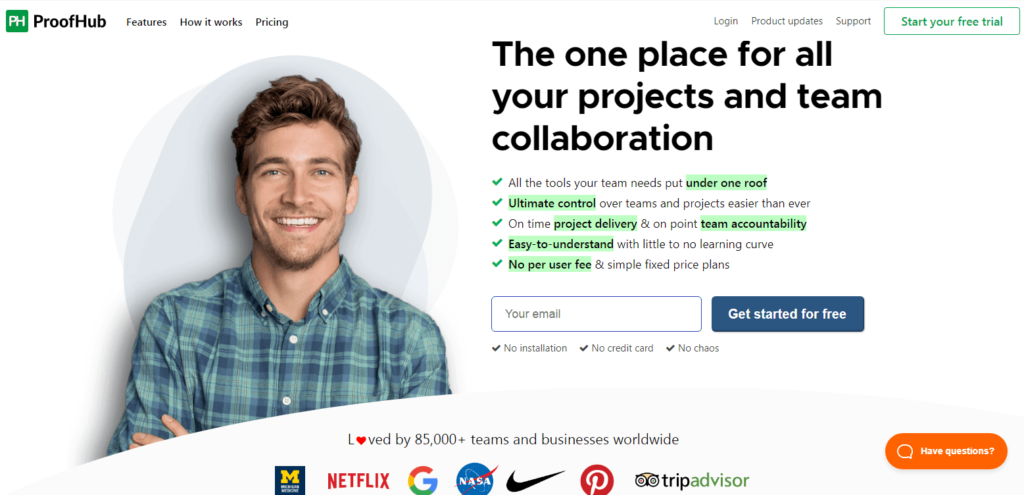 ProofHub is an efficient project management and team collaboration tool that provides all the needed tools for project management under one roof. It assists in controlling, accurate tracking of projects, ensuring on-time project delivery, and team accountability. As an alternative to the Ms project, it helps in easy planning, collaboration, organization, managing big and small projects with all the right tools. The table view, Kanban boards, Gnatt charts, task prioritization, workflow management, and various meaningful integrations enhance collaboration.
Features
Proofhub, as a Microsoft project alternative, helps to self-manage the entire team and move tasks to ensure visual workflow with attractive Kanban Boards.
Customize the workflow and automate it. Also, get the notifications of each workflow stage and exact information about who is doing what.
The fixed cost of ProofHub reduces confusion and efficiency as it doesn't have any per-user charges but is unlimited users with multiple projects per month.
8. Activecollab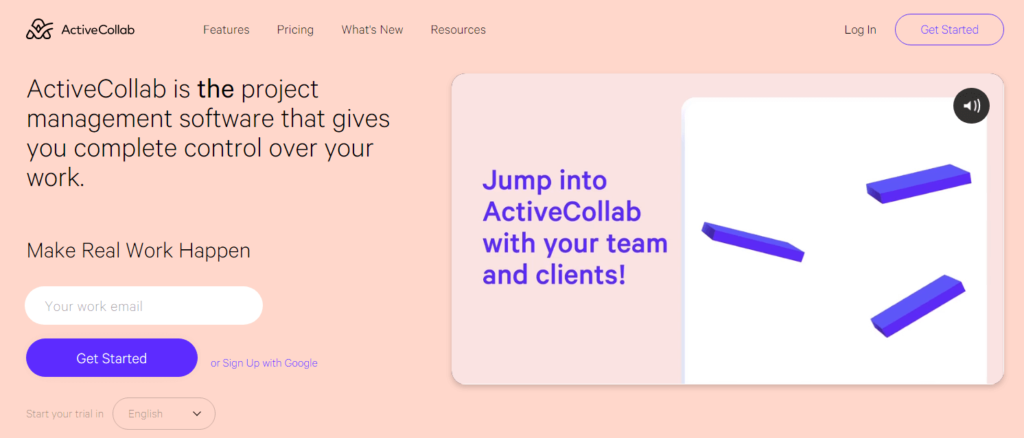 Activecollab is also an effective alternative to ms projects. It allows you to plan and organize schedules for the entire project from start to end. Communicate with your team member and collaborate in real-time with your team mates, clients, and employers. With Activecollab, ensure budget planning, measure the impact of your work, and evaluate your project progress. This software also helps in workflow management, customized reports, client management, profitability analysis, and more. 
Features
Activecollab helps in work management by categorizing and sub-categorizing various tasks, automation, and effective allocation.
This Microsoft project alternative enhances communication by collaborating various notes, chats, messages, real-time notifications, and project discussions.
Inbuilt and customized project templates can save your time on similar projects, and you can also move or copy duplicate tasks.
9. Basecamp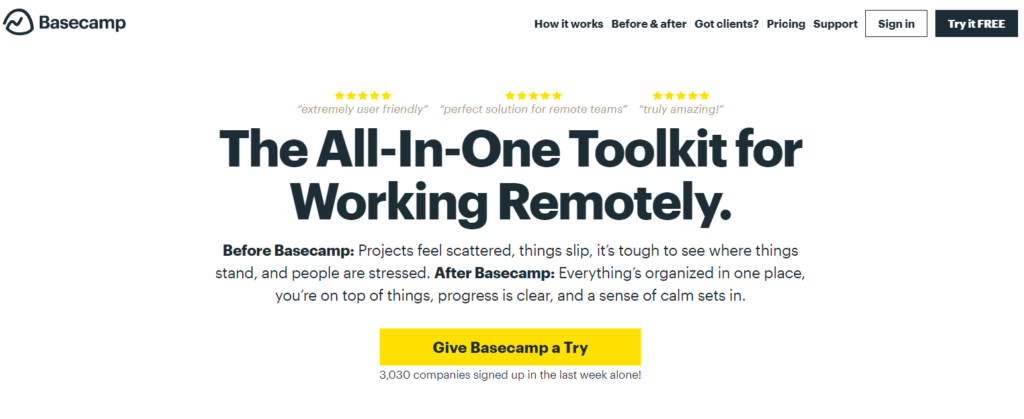 Basecamp is another Microsoft project alternatives that is more than project management software. It improves your working style and organization skills by breaking the project and storing the details of each task for references. You are regularly updated with the project developments with to-do lists, message boards, group chats, file storage, and automation. Decrease the number of meetings and increase the efficiency with the automated check-in question to team members.  
Features
Ideal software for remote workers that help in managing tasks, spreadsheets, scheduling meetings, checking emails, etc.
This modern software is the new way of work that helps you access Basecamp from any device such as the web, Android, or iOS.
It increases productivity, planning, and organization with better communication and fewer but efficient meetings.
10. Clarizen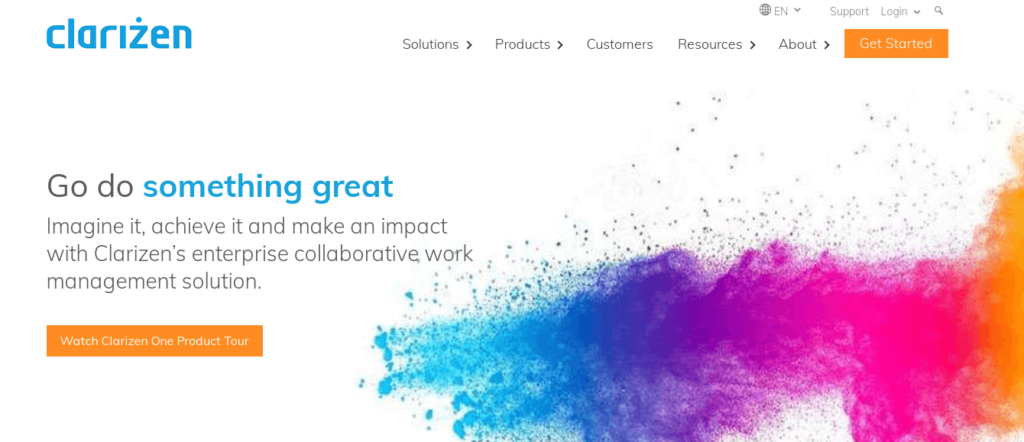 Clarizen is a team collaboration tool that ensures higher ROI on timelines and empowers your team. It helps in finding faster project management solutions with the best tools to adapt to changes. Get real-time insights about tasks, resources, and schedules in full text to ensure transparency. This cloud computing software helps centralize the data, align goals, and assure faster results. It is one of the best Microsoft project alternatives.
Features
Clarizen provides automation and empowerment through different project styles and hybrid systems.
It helps to bring transparency and context by eliminating inefficiency, accurate reporting, and reducing confusion.
Focus on your clients, team, and customers by aligning the resources, strategies, and communication with them.
11. Toggl Plan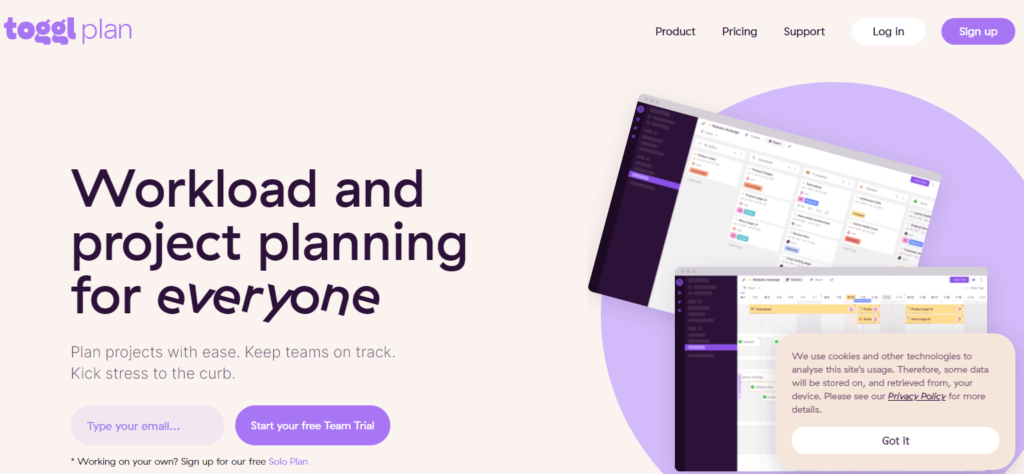 Toggl plan, which can be referred to as Microsoft project alternatives, is a hassle-free project management software that plans, allows timely completion, and prioritizes work without overburdening the team. The colorful and color-coded interface of the Toggl Plan helps users to grasp information at a glance. Other features include workload management, multiple task management, project timeline, drag and drop option to create multiple tasks, etc. This flexible app also provides 14 days free trial for your team before you buy a subscription.
Features
Toggl Planas, an alternative to the Ms project, helps simplify the scheduling and planning process by easy checklists, memos, milestones, multiple assignments, and a clear overview.
The visual bird eye view arranges all the assigned tasks in chronological timeline with color codes for maximum visibility.
Harmonize and collaborate with your team with email notifications, comments, and file attachments and get all the information at a glance
12. Team Gantt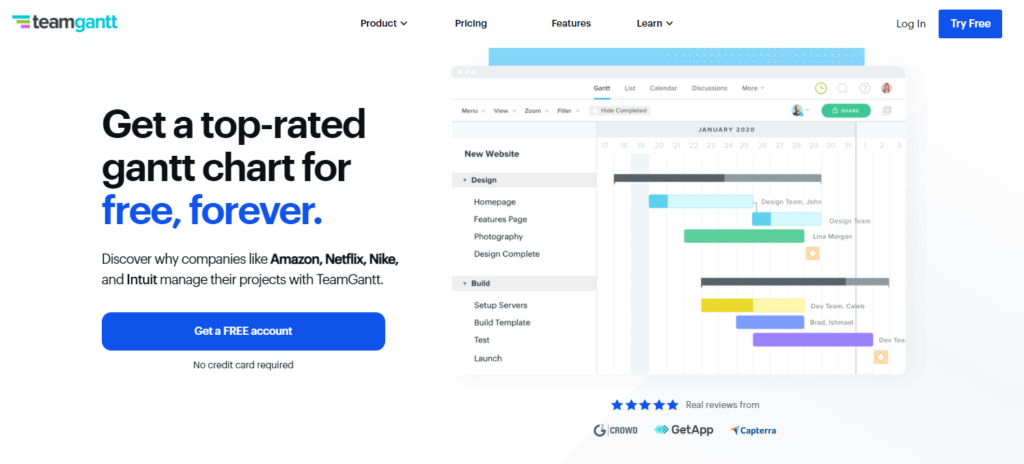 Team Gantt is a project planning and managing software that serves as an alternative to MS Project with a free Gantt chart creator. It Various an efficient Microsoft project alternative that collaborates with your team and clients by inviting them. Different views such as Kanban boards, calendar views help increase project visibility. You can start making Gantt charts within minutes without any training. Other than this, it also provides workload forecasts, team communication, centralized documentation, and more. 
Features
Teamgantt provides easy switching from Gannt charts to Kanban boards or calendar view with a click.
Easy task creation and editing of Gantt charts with drag and drop task schedules.
Track your time spent on the project and manage the entire project without disrupting the workflow using this ms project alternative.
13. ClickUp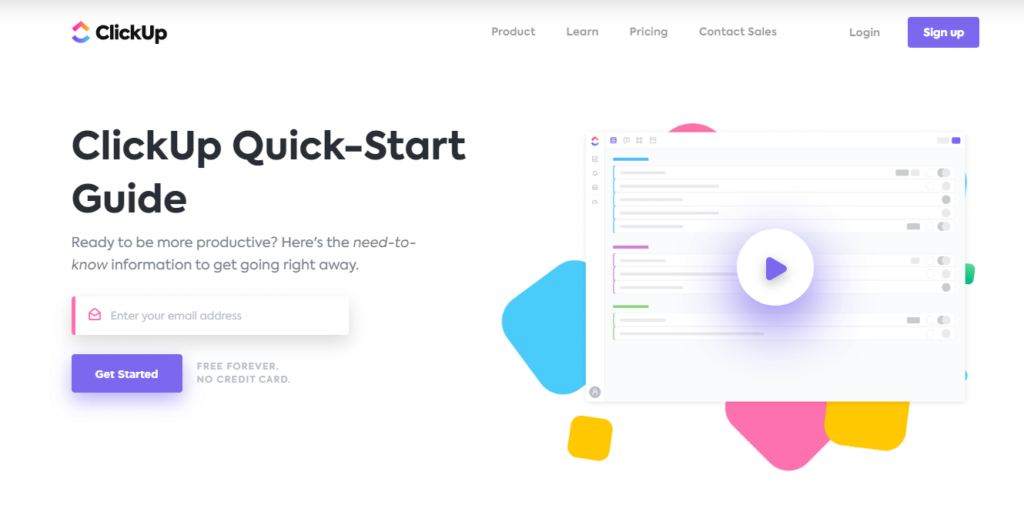 ClickUp is a collaborative software that ensures simple as well as complex project management tools. Multiple views allow you to set priority, track time, assign multiple assignees, add custom fields, and more. This Ms project alternative provides 1000 plus easy integrations with other apps, cloud storage, and mobile apps, making it easy to operate this software. Some advanced features of ClickUp include a task checklist, multitask toolbar, customized notification, filter and search function, collaboration, easy recurring tasks, and more. 
Features
A variety of views are available in ClickUp for easy task management, such as calendar view, box view, Kanban board view, form view, Gantt chart view, etc.
Enhance team collaboration and communication with customizable ClickUp spaces.
The bird's eye view over all the project tasks helps to sort, manage, assign and filter them.
14. Open Projects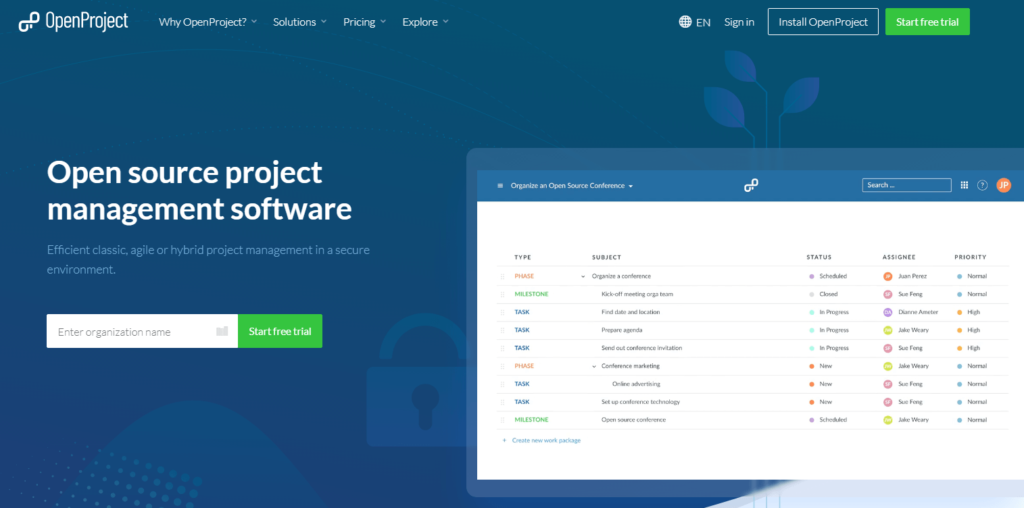 Open projects is an open-sourced project management tool that helps manage agile and hybrid projects. This Microsoft project alternative provides high-level security to all your data and ensures total data ownership. With open projects, you can organize, assign, and communicate different tasks in one place. It also offers shared timelines, visual charts, faster iterations, time tracking, cost reporting features, budgeting, bug tracking, and more. 
Features
Use agile project management strategies such as kanban and scrum for better and faster project delivery.
It provides an efficient bug tracking feature to track and fix bugs and develop great products.
Use Gantt charts and timeline views for real-time updates, integrated task management, and scheduling.
15. ProjectLibre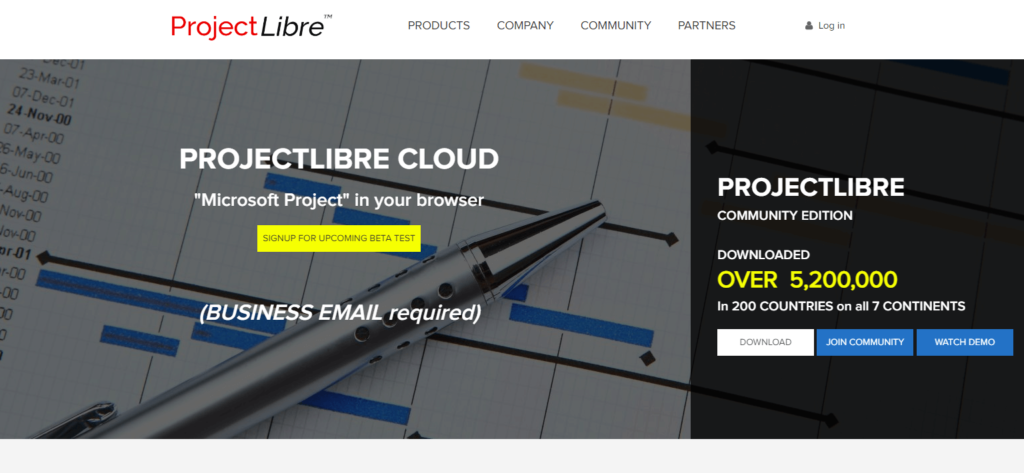 ProjectLibre, an alternative to the Ms project, is an open-sourced and cloud-based project management software. This software provides comprehensive project management tools that help in project planning, resource allocation, task assignment, communication, document sharing, and more. Other advanced features include network diagrams, earned value costing, resource histogram, Gantt charts, WBS, and RBS charts.
Features
ProjectLibre is available on desktop, windows, Mac, and Linux.
This MS project alternatives software is free for life and can be customizable according to your team's requirements.
It is compatible with all your Microsoft files and provides easy access to them.
16. Bitrix24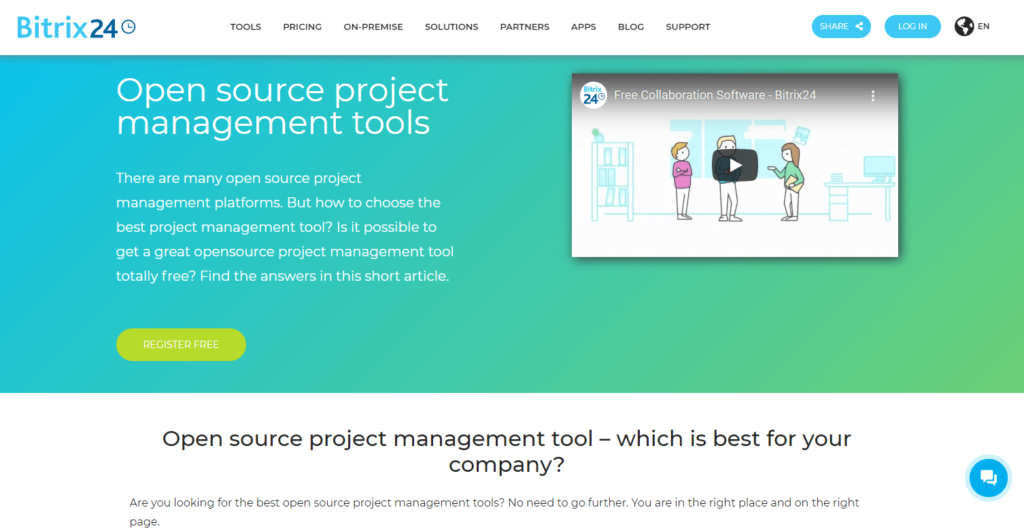 Bitrix24 is a collaborative project management tool that manages projects and tasks within the boundaries of costs, time, and quality. It provides an attractive visual representation of data with kanban boards, Gantt charts, and calendars. Bitrix24 ensures effective communication, scheduling, customization, client management, on-premises as well as cloud storage. This ms project alternative automates your daily chores and recurring tasks with automated checklists and inbuilt templates.
Features
Bitrix24 uses Kanban boards for agile project management with cards, calendars, and lists.
It provides modified Gantt charts that help to view and assign tasks, subtasks, status, deadlines, responsible person, etc.
Prioritize the tasks projects with task counters and simplify role management with graphs and charts.
17. Redmine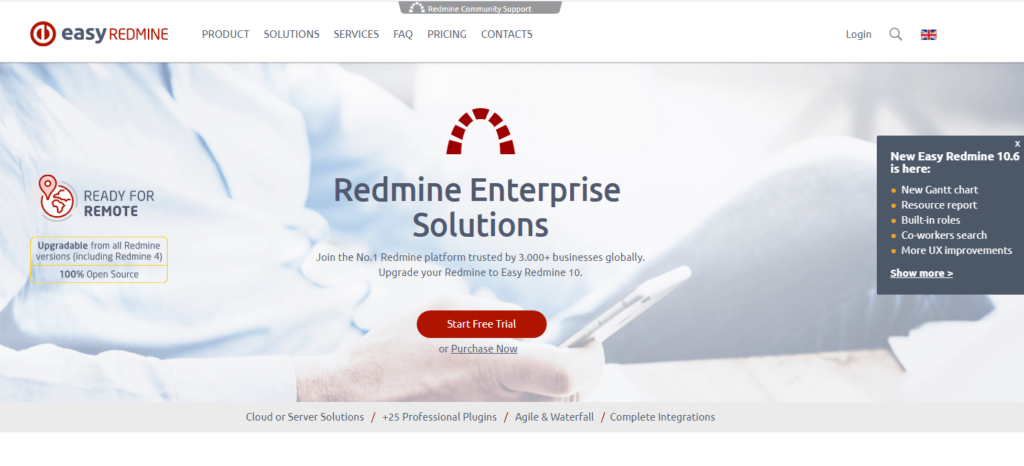 Next on the list of Microsoft project alternatives is Redmine. Plan and organize various project tasks and assign them to employees according to their capabilities. Ensure role-based control, efficient bug tracking system, workflow management, classic and agile project management solutions. The stable and easy dashboards visualize the entire project and meet the requirements of active sprints in the project. It is a leading project management tool in the list of best Microsoft project alternatives.
Features
Create projects, tasks, activities easily in this MS project alternatives. Also, add users by their role description such as manager, reporter, developer, etc.
Redmine plugins also offer elaborated scrum and kanban boards for agile management.
Use Gantt charts and calendars to ensure deadlines completion and better task management.
18. Monday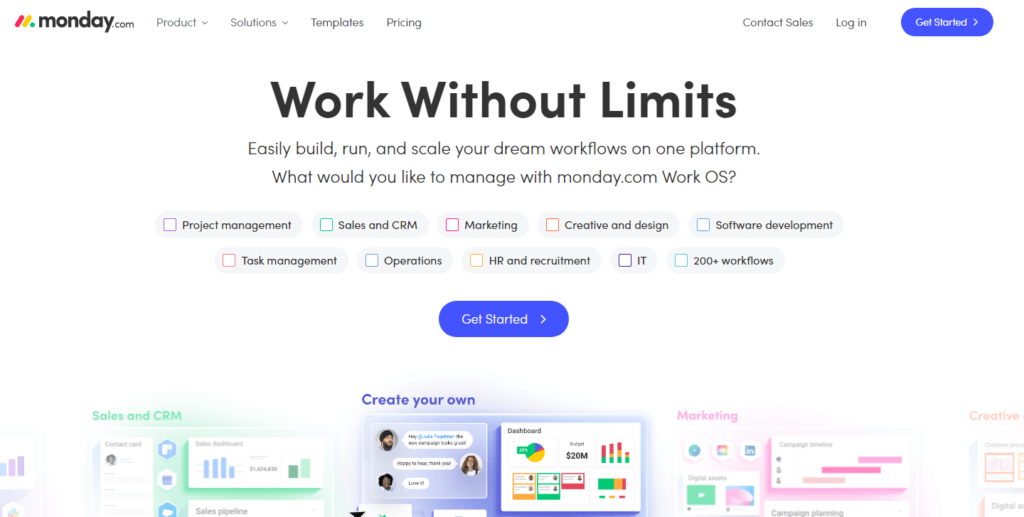 Monday is another valuable alternative to ms projects. This data-driven, transparent, inclusive, and collaborative tool does everything from project management to workflow, portfolio, Microsoft, and deadline management. Customize your project and workflow with calendars, kanban boards, timelines, forms, dashboards, etc. Get real-time notification, guests permission, workload tracking, time management, file sharing, and more.   
Features
Centralize your communication, workflow and control your teams from anywhere in the world.
Make smarter decisions for increasing productivity with visual reports, graphs, dashboards, and charts.
Expand your business capabilities by integrating Monday marketplace apps and other third-party applications.
19. Zoho Projects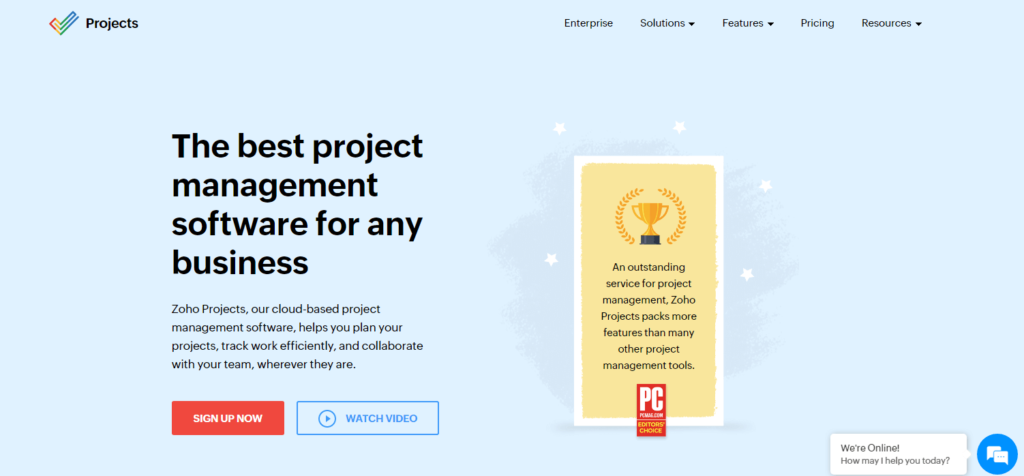 Zoho project is the best project management software on the Microsoft project alternatives list. It is cloud-based software that enhances communication and collaboration in a team. This software helps to track your project, plan work, schedule them from anywhere in the world. The innovative Gantt charts help evaluate distractions and provide solutions to avoid them. Simplified workflow automation, drag and drop dashboard interface, invoicing, accounting for each hour of work, customized layouts, and intuitive interface are some advanced features of Zoho.
Features
Track all your bills and time to efficiently account for every minute spent on a task or project.
Make use of enhanced communication tools and enable information, files, message sharing between team members.
Use Gantt charts to plan the project, dependencies, critical task evolution, and milestones.
20. Jira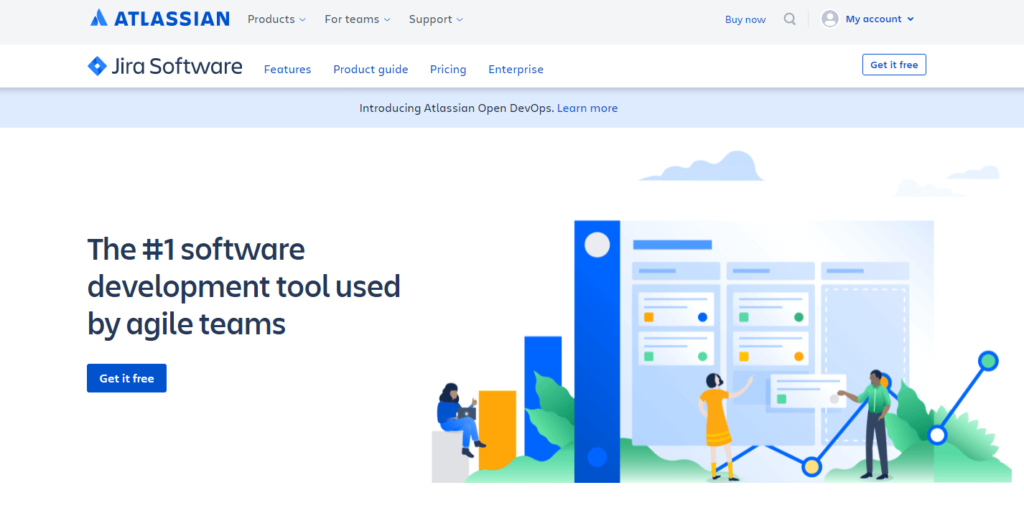 Jira is an agile project management software that enables flexible planning, accurate estimations, work prioritization, transparent execution, and more. Started as bug tracking software, Jira has evolved to become one of the finest project management tools. As a Microsoft project alternative, it supports kanban, scrum, and lean project approaches. 
Features
Efficient bug tracking system
Easy integration with multiple apps you already use.
Work smarter and streamline your work process with powerful automation.
21. Liquid Planner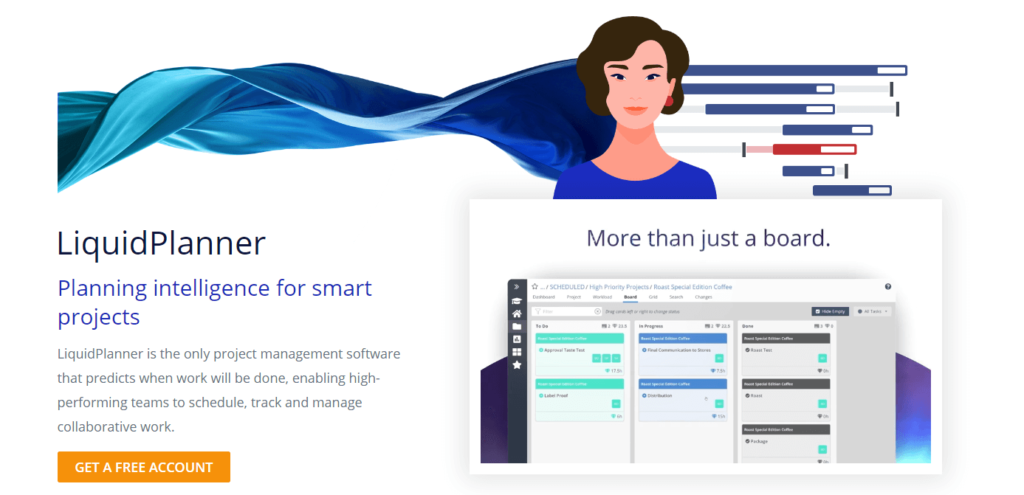 Liquidplanner is another reliable and best Microsoft project alternative. It intelligently plans your project to smartly predict work completion, collaboration work, and high-quality work. The planning intelligence of this software grasps to changing work environments and assure project automation. Other advanced features include automated scheduling, aligned project management, estimation and reports, actionable insights, project prioritization, and real-time tracking.
Features
Use the drag and drop option to schedule tasks automatically.
Visualize risk, workload, and opportunities to ensure accurate estimations.
Align people, projects, and priorities to organize automated resource levels and ensure no one is overloaded.
22. Streamtime
With 16 creative project performance awards, 51 countries using this software, and 19 years of experience, Streamtime is the best alternative to Ms project. It assists in strong pipeline management, prioritization, tasks schedules, invoicing, kanban boards, powerful report generation, and more. Create innovative job quotes and enable job plan transformation to sections with just a click. Seamlessly integrate with Google, Xero, Jira, Outlook, Microsoft 365, Slack, and more. 
Features
Streamtime allows customized filters to create various reports.
The kanban boards in this MS project alternatives software help prioritize the work, list, notes, checklist, item cards, etc.
The iOS streamlined mobile application reduces bloating and ensures steady information flow.
23. Hive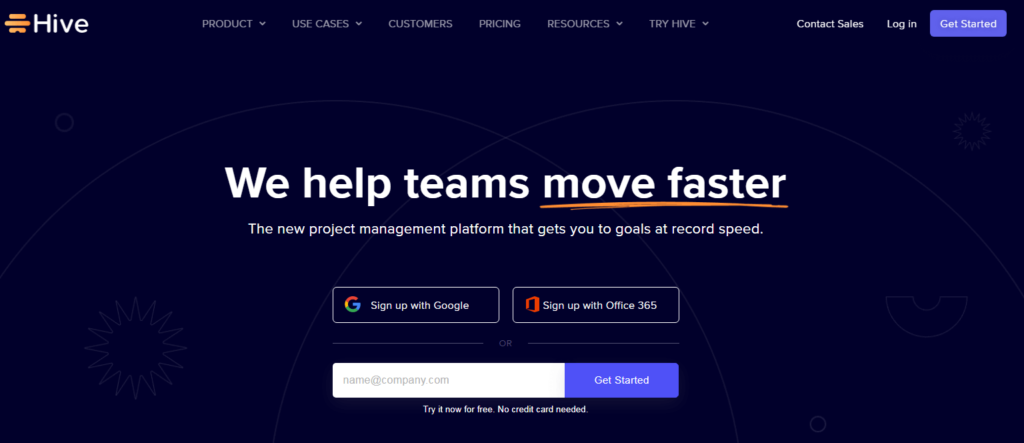 Next on the list of most effective Microsoft project alternatives is Hive. It helps your team move faster and achieve project goals at a remarkable speed. Create an action plan that helps turn the ideas into reality by collaborative notes, interactive meeting engagement, task tracking, and hive notes for the next project steps. Other features of Hive include workflow approval, project templates, proofing, timesheets, and project tracking. You can get your project started using Gantt, table, kanban, and calendar view to glance at the project summary in a nutshell.
Features
Ensure real-time communication with Hive mails, notes, shared inbox, proofing, and approvals.
Create easy templates with automation and include due dates, assignees, dependencies, and subaction.
Stay updated with project progress by efficient task management, native chat, action lists, and upcoming deadline reminders.
24. Orangescrum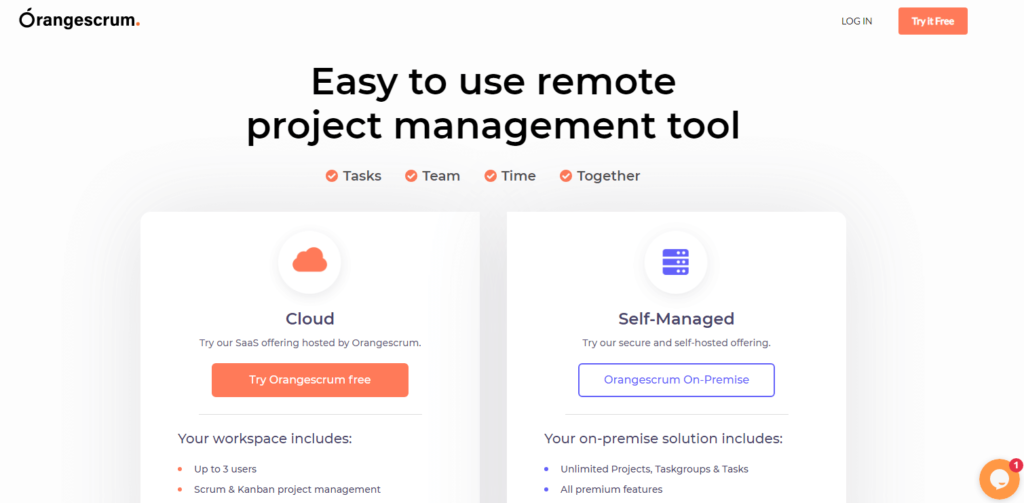 Orangescrum is a simple and easy-to-operate project management tool that combines people, processes, projects, and productivity. This all-in-one software helps you manage your team, tasks, communication, and timeline all under one roof. One of the best Microsoft Project alternatives provides an agile project management approach with reliable scrum and kanban boards, sprints and burndowns analysis, and custom status for real-time management. Other features include project portfolio management, task management, and resource management. Take the 14-day free trial before committing yourself to this software.
Features
Orangescrum provides kanban boards to view project status from start to end and align the team towards project completion.
Enhance project visibility by downloading the reports, eliminating bottlenecks, and improving the project timeline to better control.
Interactive Gantt charts that create dependencies between tasks and visualize the task progress at a glance.
25. Smartsheet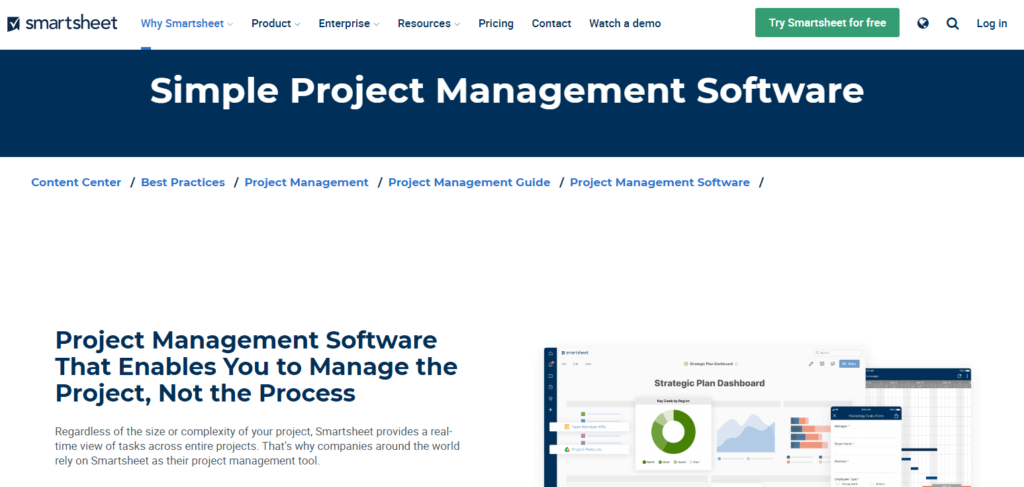 Regardless of project type, complexity or size, Smartsheet helps you manage projects with real-time task management. A Microsoft project alternative increases accountability, transparency, speed, and agility in managing projects. This cloud-based tool helps to collaborate with your remote teams. The easy import option to import various Excel, Microsoft, Google spreadsheet files makes the interface intuitive and easy to use. Easy portfolio performance analysis and informative dashboards keep the team and employer motivated.  
Features
Smartsheet provides scaled work for marketing, product development, sales, and IT. It is suitable for organizations of all sizes and complexity.
Gantt charts, timelines, calendars, cards, online kanban boards provide multiple project views to organize tasks.
Easy task scheduling with Gantt charts that includes critical paths, dependencies tracking, and deadlines notifications
Conclusion
Project management software choice requires users to consider various aspects such as cost, simplicity of use, intuitive interface, easy collaborations with different apps, team requirements, and more. If you are switching from Microsoft projects and are looking for the best Microsoft project alternative, list the reasons and choose an alternative that helps solve the problem and increase productivity for your business. Here is our selection of top 7 project management tools.

It makes no sense to get out of one complex software and invest yourself, company resources, and team's time in other complicated software. While choosing ms project alternative, evaluate all business and team's needs, compare them, and use the free trials to choose an apt fit for your business.