What is Creative Project Management?
Creative projects management stresses more on the management of creative teams. It requires a high level of empathy, engagement, communication, planning, and execution. Creative projects are different from traditional projects as creativity can't be measured. They do not always follow the ideal process of the timeline. There would be tweaks and changes to make the project and team more efficient. The choice of the team also matters a lot in such projects
Creativity management can be defined as: 'Managing creative teams with good leadership'. The key focus would be on managing the team and processes for an efficient workflow. Not following the traditional process makes it all about imagination, creativity, and efficient problem-solving.
Why is it important?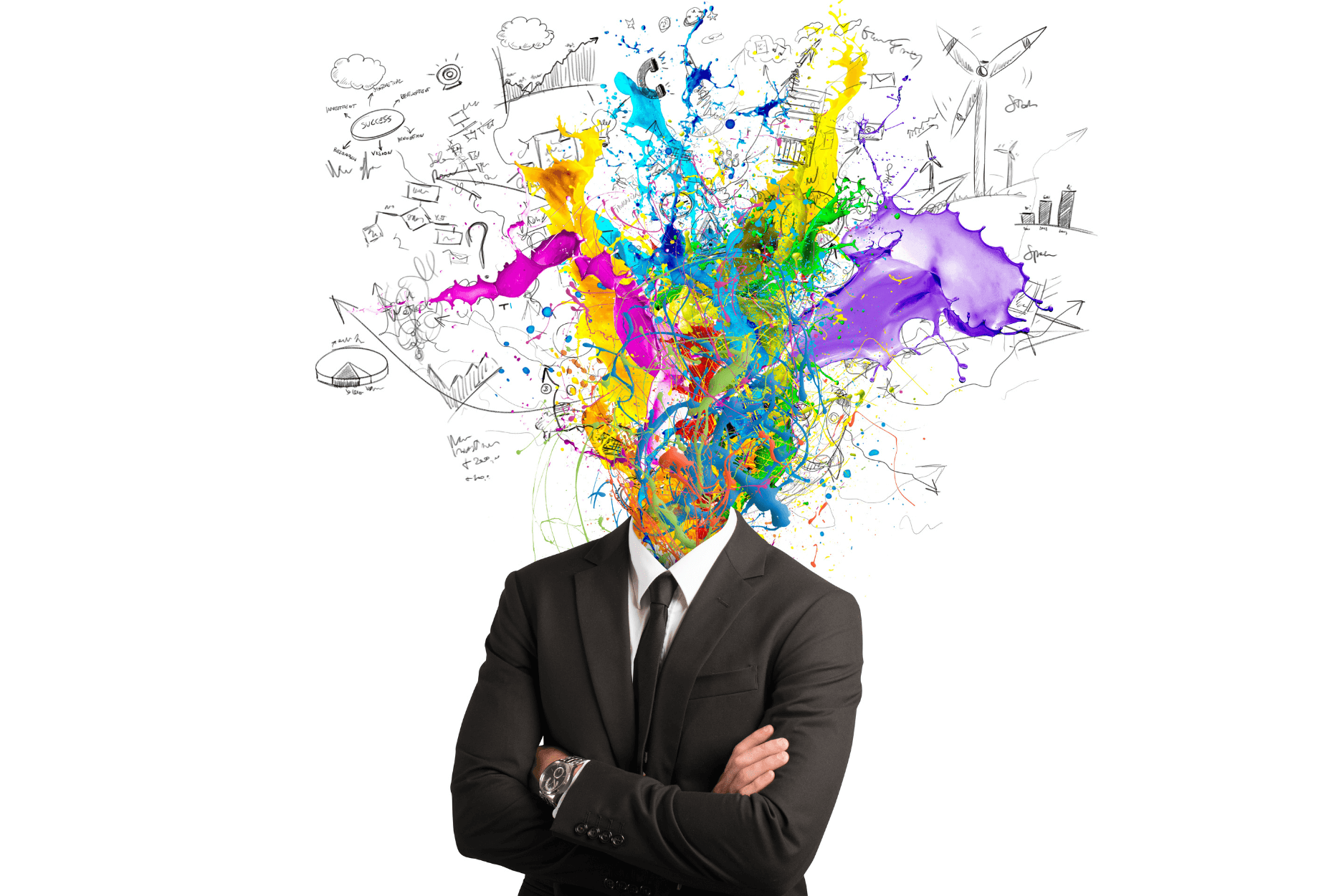 Creativity is a practice that has shown results over time. It helps us solve problems, gives new perspectives and thoughts which can result in happy clients or satisfied employees. But, creativity requires a conscious effort to cultivate. In project management, working with creative teams requires more than just tools like Karbon or PowerPoint (remember the last time you used them?)
You may use Microsoft Project for your next project, but when it comes to managing an innovative team, be ready for change and collaboration. Creative management software helps in building teams, defining goals, and achieving them. It makes the whole process more efficient while encouraging creativity at the same time.
Contrary to focusing on engineering technology, expansion, and construction, more focus is given to designers and creative teams. Managing creative projects and creative teams is complex and require empathy, communication skills, effective leadership, and dynamic software at hand.
Some advantages of the creative project are:
Efficient resource allocation and proper utilization of resource
Continuous supply of new and innovative ideas
Greater employee engagement, productivity, and performance
Team building spirit and sharing of knowledge lead to enhanced synergies
Increases transparency, communication, and collaboration within teams and employers.
It helps with innovative problem-solving, effective goal setting, and achieving them.
It helps creative thinking, continuous learning, and knowledge sharing.
Enables team-building skills
Helps in better time management
The leading 7 creative management tools are as follows:
Asana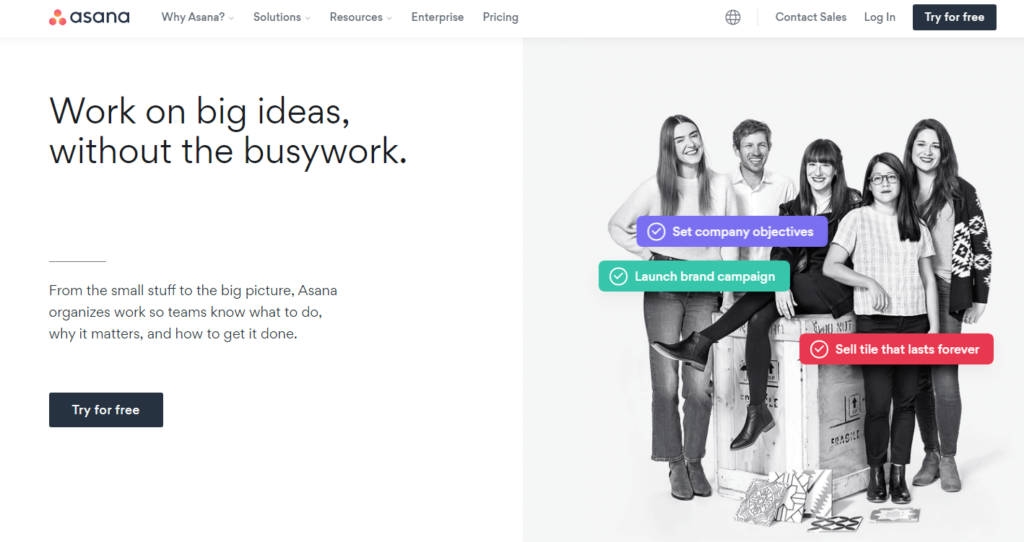 Asana is an agile, creative project management software that helps manage creative projects and creative teams. It uses Kanban boards, Gantt chart, agile project management strategies, workflow management tools, and team collaboration to complete the project within the time frames successfully. This management system ensures efficient task management and team collaboration with project calendars, time tracking, to-do list, and team communication. It tracks your workflow with a systematic approach and methods of getting things done and ensures everyone understands their work and its importance. Users have one free trial that comes with limited functions.
Asana helps in workflow automation to automate various day-to-day activities and streamline your approval process. You can also create a custom central database of resources and instructions to reduce bottlenecks and obstacles. It further assists in resource planning, task creation, project completion, proper allocation, and more. Different project views in Asana, such as list, calendar, timeline, or board view, help customize the project to suit your needs. This software manages your creative project from the beginning to the end with clear communication, dynamic collaboration, and efficient task management.
Highlight features of Asana
Project management
Asana provides tools that manage projects from remote locations, help gain the clarity of tasks, and enhance collaboration within the teams. Project managers can easily track the project progress and monitor blockers to take instant actions. You can also organize several projects at one time and ensure their completion before deadlines without any confusion. The mobile and web app further helps you remind the due dates of various projects.
Agile management with Kanban boards
You can break the project into small tasks or milestones. This agile management helps to easily organize and allocate different tasks or activities associated with projects. Asana further helps to monitor the project development, individual progress, helps to integrate with other tools, and assists in sprint planning. The visual representation of kanban boards helps observe various project variables and tracks team movement to achieve a successful project. 
Workflow management 
Asana enhances the project by planning the work according to the team's capability and workflow. It makes easy templates for continuous and recurring tasks saving our time and energy for other demanding activities. You can also track the team's work by managing to-do lists, collaboration, and communication of various creative project activities with other members to stay on top of the project progress in one place.
Wrike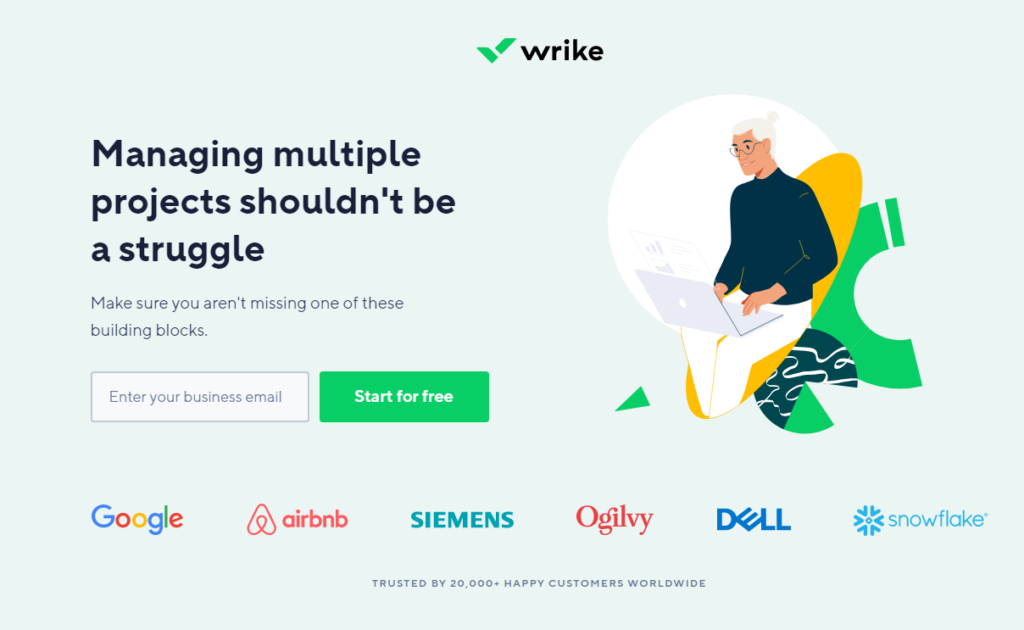 Wrike is one of the best creative management software available in the market. It offers real-time and 360-degree visibility over the entire creative production of a project. Various inbuilt templates of Wrike save time and make working on multiple projects easy. This software ensures project portfolio management, resource management, team management, agency project management, and remote working. The portfolio of Wrike includes powerful work management, improved communication, increased productivity, and timely delivery of projects. This is an agile project management tool that enhances faster delivery and speedy execution of sprints. 
Various other features such as Gantt charts, Kanban boards, time logs, lists, boards, workloads help creative teams gain real-time updates and prepare you for any upcoming tasks. This cloud-based project management platform makes it easy to transfer or access files, documents, and data with complete security. Seamlessly integrate with third-party apps such as Gmail, Google Drive, SAP, Adobe creative cloud, Microsoft, Github, Dropbox, and many more such apps. The robust inbuilt API of Wrike helps to connect current software easily and supports your business on the platform.
Some features of Wrike
Achieve greater visibility
Managing creative teams and projects needs full transparency and clarity about the work that is to be done. Wrike helps to have a clear view of all the tasks and activities associated with projects. You can easily view and update the progress with improved communication. Also, reschedule tasks and dependencies in just a click. Updating the project progress and milestones to top management and executives becomes simple with customized and dynamic reporting tools.
Collaboration and communication
Wrike speeds up your communication with your team through various collaboration tools. It engages us with real-time communication via chats, meetings, messages, etc. You can also brainstorm ideas and turn them into real projects with these tools. Also, notify and update any changes to your team as and when needed. The features of live editing and messaging on any document make it dynamic and ensure real-time collaboration. The shared calendar, customized dashboard, and organized data folders help fit your team's working style.
Minimize the risk
As we know, creative project management and leading creative teams can be risky at times. Wrike's customized reporting tools ensure proper resource allocation and assure continuous workflow management. It minimized the business risk by efficiently tracking the blockages or roadblocks and giving actionable solutions to such problems. The project reporting software tracks and analyzes each aspect of the project and organizes the data in visual representation, making it easy to understand for all.
Monday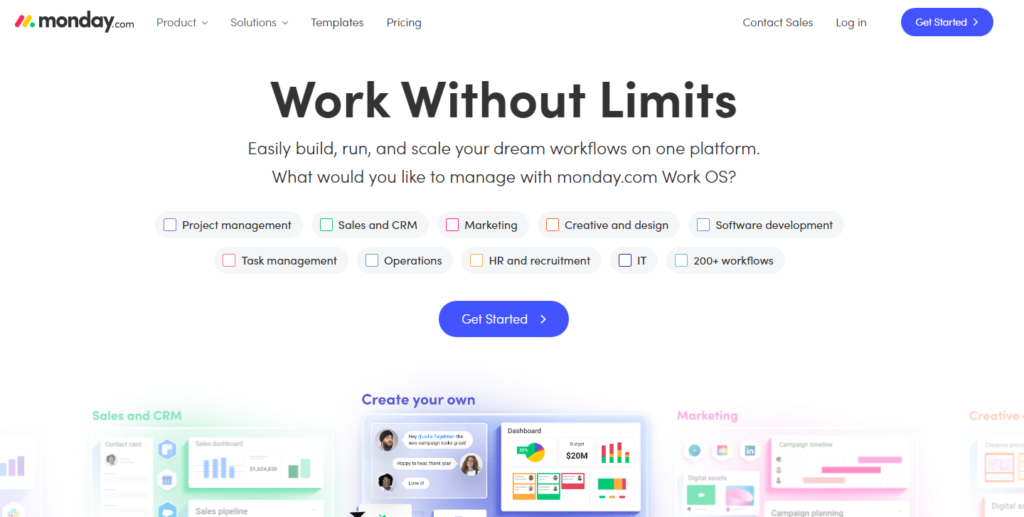 The next on our list is Monday. This is possibly the best visual platform that enhances your project management software and manages almost everything. It assists you in expense tracking, organizing, planning, file sharing, and monitoring your team's progress in one central place. This creative software is also easy to use and operate. Various renowned review sites such as G2, Trustpilot, GetApp, Capterra have shown their appreciation for this software. The fast search engine option helps you search the history of your work with the help of tags, people mentioned, etc. The customer support of this software is also outstanding and gives your queries personalized attention. 
Centralized storage of all the data at a secured place guarantees everything you need at your fingertips. Also, you can use drag and drop files, advanced search capacity, and give feedback from anywhere. Monday is compatible with any process, department, industry, or team. It manages your workflow, project variables, and daily work with fully customized boards. Minimize the chance of human errors by automating your workflow to deliver impactful results in the big picture. This tool effectively manages your workloads, plans the work, enables smarter informed decisions, provides management solutions, and generates accurate reports.
Some highlight features of Monday
Data visualization
Monday helps you to transform the data of projects into a visual format for better understanding and clarity. Different types of views include Kanban boards, Gnatt maps, timelines, maps, and calendars. They help in enhancing the project. Gnatt charts and timeline view helps to monitor the project success successfully. Further, you can distribute the tasks and ensure timely completion with calendars. Map the tasks and allocate sprints with Kanban. Easily ensure who is doing what work without actually asking it. All this data is organized colorfully and systematically, making it more visible.
Ease of use
Monday is an easy-to-use project management software that needs little to no training for you to get started. The interface of this software is very intuitive and visual. The already made templates make your work easy and get you started instantly. You can easily create your workflow by choosing from more than 200 inbuilt templates available for use. Any new team member or new user can use this creative software easily due to its visual interface and simple drag and drop option. Easy integrations with existing tools such as Google Drive, Dropbox, Calendar, Gmail, Microsoft, Outlook, Adobe creative cloud, kanban board, LinkedIn makes this software even more desirable.
Mobile apps
Communication is the key to any best project management process. The Mobile apps of Monday are available for both android and ios users. It helps teams by enabling communication in your office, home, outdoors, or even in transit. Use these mobile apps to easily share files, feedback, images, videos, updates, messages in real-time. Monday helps to centralize your work with a press of your finger. Also, you get notifications, updates, task assignments within 1 minute, making this software effective.
Streamtime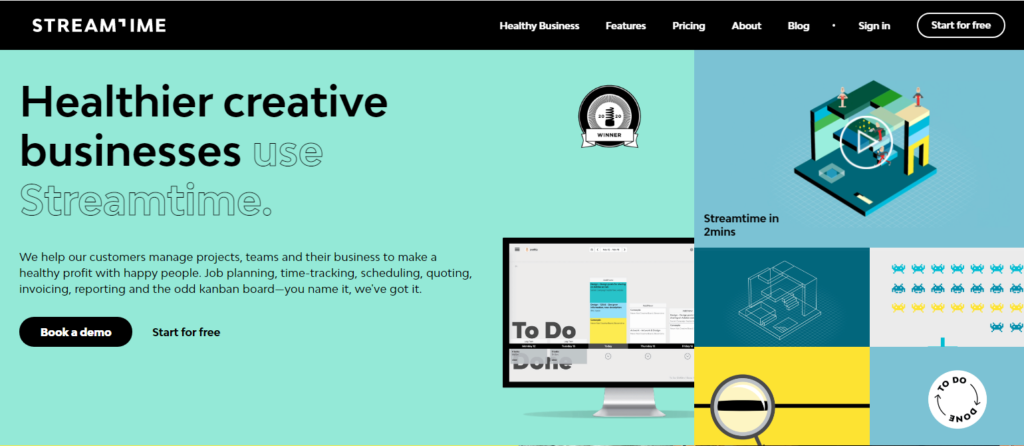 Streamtime is brilliantly designed project management software that helps you plan, organize, schedule, and track creative teams. This software assists the in-house team in scheduling tasks in real-time and uses an easy drag and drop option to increase productivity. It has proved its utility and is an excellent option for industries that regard creativity, logic, and design as their core specialty. You can avail of its free trial if you're unsure about its abilities.
The array of features that makes Streamtime unique are efficient job planning, invoice quoting, time tracking, accurate reporting tools, Kanban boards, scheduling, and more. Various easy integrations with Quickbooks, Slack, Google, Office 365, Xero, Jira, Outlook streamline your business and optimize profitability. The specially designed iOS app helps you manage your tasks, to-do lists, invoicing to ensure real-time collaboration with the team.
Some features of Streamtime:
Job planning
Streamtime makes job planning and management easy and fast. A clear view of data at a glance helps you to make faster and informed decisions. You won't need excessive documentation and reports that kill creativity. A few quick decisions will get you started with job planning. Streamtime also helps track expenses, budget, burn-up graphs, and job cost reports at one glance.
Kanban boards
Kanban boards help you to prioritize your work and efficiently track your project. Setting up Kanban and using them in Streamtime is very easy as you can move cards as they advance and follow jobs efficiently. Prioritize the Kanban view and create what is suitable for you and your team. You can also import personal cards, tasks, checklists, notes, and more for your team and yourself. Also, prioritize the pipeline to enhance your pitch, conversation, and approvals.
Reporting tools
Streamtime has advanced reporting tools that give you the exact data needed to enhance your creative projects. Good, reliable information is the core of project management. Streamtime provides excellent filters about various variables to find what you desire. Easy export to CSV and save to favorite options makes it reliable. You can also generate quick reports on invoices, budget, risk, etc.
Trello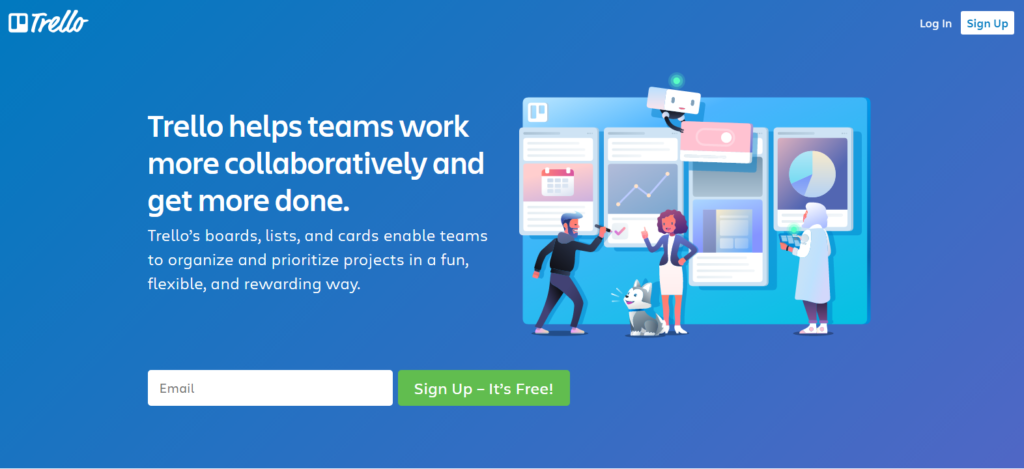 Irrespective of the project type, whether big or small, easy or complex, Trello works for every project, team, or workflow. Its efficiency and speed in managing these projects are also remarkable and help teams to a great extent. This productivity substation is simple, flexible, and powerful. The creative boards of Trello help your team create a masterpiece and break the whole project and give important project insights. The list guides you through the various stages of tasks (Do, Doing, and Done). Build a customized automated workflow that suits the requirement of the team and project.
The cards represent everything you are doing and should be doing to make progress. Use the drag and drop option to export the card to the list form. Also, manage checklists, calendars, reminders, attachments on this platform. Display all your data on the boards to bring clarity to the entire organization and bring an actionable perspective with Trello. Integrate with various apps such as Google Drive, Slack, Dropbox, Salesforce, Jira, Outlook, and many more apps. You can also send all the vital project information through emails without actually opening the Trello app.
Some highlight features of Trello
Boards and cards
Trello allows users to get started in seconds. Lists and cards are stepping stones to organize the workflow on boards of Trello. Do everything from task assignments to productivity to timelines to calendars and more. The intuitive and different angle analysis of data keeps the entire creative team updated about the project development. Manage your time efficiently with calendars, connect tasks across boards with a table view, plan your creative projects with a timeline view, and get board stats on dashboards.
Automation
Trello has built-in automation (Butler) that automates the various tedious processes and clicks on a project. With the potential of automation, you can reduce human errors, save time, and focus on things that matter. It allows workflow automation, task allocation, scheduling meetings, assigning reminders for deadlines, team assignments, and more. Harness the power of robots to do simple work like creating and moving lists, building customized buttons, and concentrating all your energy to excel in creative project completion.
Task management
Task management is a vital aspect of best creative project management. Trello provides cards that keep everyone on track with tasks. Fill in the required details, and you will be able to add members and their accountability. You can easily observe who is doing what and what other work is needed to complete the project. Also, use the free trial to break assignments into smaller tasks, use the checklist feature, and send attachments without hassle. It helps the employee, as well as the employer or project manager, to satisfactorily complete the project.
ClickUp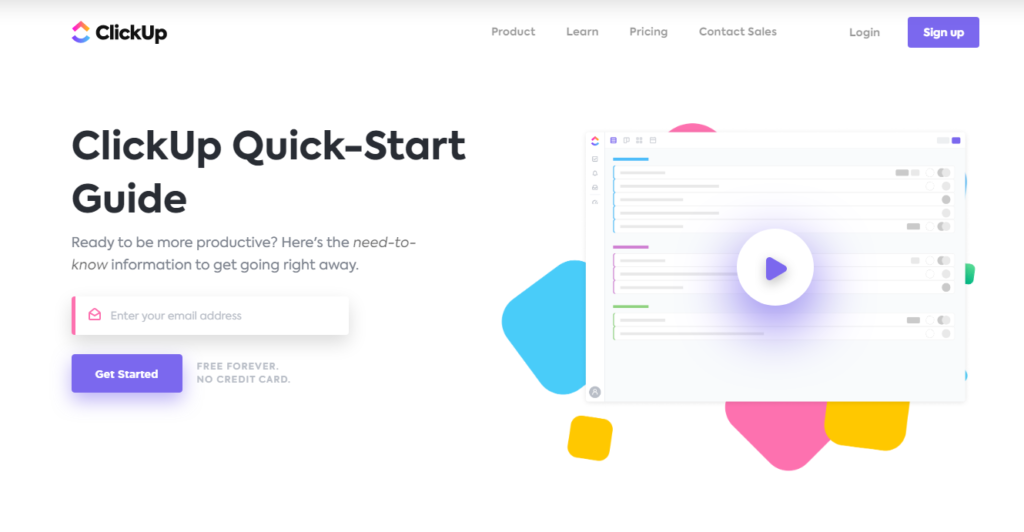 ClickUp is a free project management software that will make your team fall in love with creative projects. It makes project management, task allocation, project breakdown, analysis of milestones, scheduling, managing time a delight with powerful features and an intuitive interface. This free software enhances collaboration by real-time team reports, editing similar to Google Docs, automatic sync, and tagging people. The Box view enhances the priority work and tracks what everyone is working on. 
ClickUp helps the project manager decide who is packed with tasks and ensures equal redistribution of work among the team. The Gantt charts help to map the project and ensure proper scheduling, dependencies, and prioritization in a timeline. ClickUp uses intelligent tracking of path dependency to avoid bottlenecks or inefficiencies in creative projects. You can enhance the speed of the project by building and automating sprint points. Other features of ClickUp include Kanban boards, multiple assignments, two-factor authorization, expense tracking, custom fields, multitask toolbar, workflow automation, and many more features. If you are using it for the first time, you will receive a free trial.
Some features of ClickUp
Process management
ClickUp helps to streamline the project tasks and defines each step to follow for task completion. Use inbuilt statuses to fit each task and project. You can also customize the workflow by using them and automating it for future use. Also, easily create checklist templates and reuse them to manage your processes efficiently. ClickUp also enables multiple task assignments to include more than one person. The agile board of ClickUp helps to view each task related to the project on one board.
Managing multiple tasks
A creative project includes a large variety of tasks. Finding and allocating each task becomes easy with ClickUp's advanced filter options. Sometimes a company undertakes more than one project simultaneously. Here, ClickUp helps to sort different tasks of not only one project but global projects. Easy templates which can be modified for recurring projects make this software efficient. You can select the various tasks or subtasks and perform any actions with just a click.
Time management
Various features such as team capacity management, time scheduling, calendar organization, and analyzing milestones help you complete the project successfully. The real-time and two-way syncing of Google calendar with ClickUp enhances the collaboration. View your tasks in daily, weekly, monthly, or in timeline form. You can add both deadlines and due dates for completion and get notified when completion is near.
Hive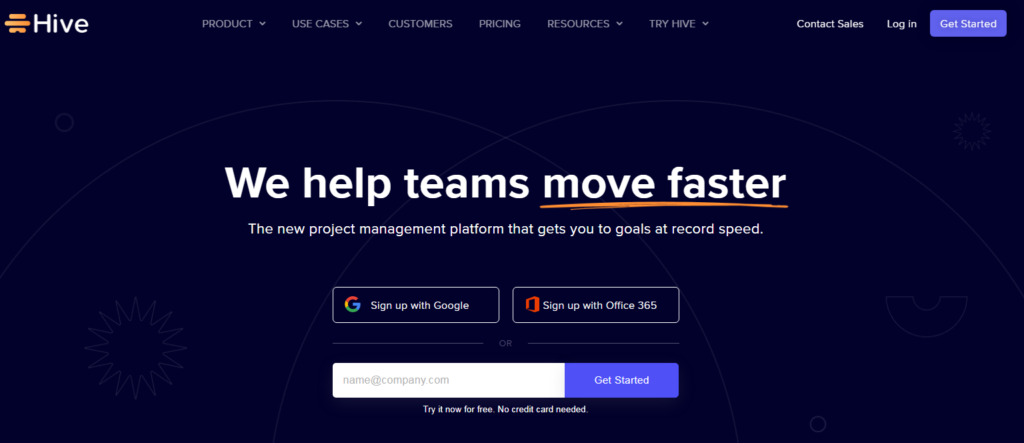 Hive is an excellent creative project management software that helps your team manage the project and move faster. The array of features in Hive include task tracking, collaborative notes, setting agenda, workflow management, powerful automation, expense tracking, etc. The robust annotation and online proofing tools help simplify complex workflow. Inbuilt project templates help your team to work more efficiently by cutting down the actual time required. Hive customizes work with Kanban boards, Gantt charts, Timelines, and Calendars and visualizes the project creative process that is best suitable for the team.
With more than 1000 plus integrations with third-party applications such as Google Drive, HubSpot, G-Mial, QuickBooks, Zoom, Salesforce, Outlook, Dropbox helps you to centralize your database and easily access it whenever needed. Hive provides a tool to track your tasks and subtasks with their due dates to keep team members accountable for their work. Portfolio and summary analysis of this software represents multiple tasks in one clear view. You can also use the focus mode for priority tasks and get them completed without interruptions. Moreover, view deadlines, collect information with forms, communicate with cards, use templates and view project timelines to ensure timely completion.
Some highlight features of Hive
Automation
Hive software provides automation to various tasks, productive data collection, and measuring team progress. Hive analytics gives data about the different individuals as well as team statistics to improve the project performance. Also, groups and labels report on the actions of the individual and team across the project. Streamline and automate the workflow by creating trigger buttons. One press on this button, and you will automate your work efficiently. The AI of Hive alerts you about the potential risk and ranks it in easily understandable ratings.
Team collaboration
Hive enhances communication and collaboration that helps team members to work together on the same page. You keep the entire team in the loop with Hive chats. Hive chat ensures real-time messaging with team members and allows seamless communication by importing Slack accounts. Also, tag, comment, email, and give feedback with instant notifications. This software helps in tracking, proofing, and approvals on project progress and its creative briefs and assets.
Time tracking and management
This feature of Hive ensures that your team spends more time on what's essential for the project. It helps you to manage the team in person or remotely. The project manager can view the entire work schedule of an individual with visual representation with a few clicks. Also, categorize different tasks and time spent on their completion. Easily view event processes and activities from Google calendar or outlook into Hike directly. Analyze your recurring activities in the week, compare and automate them to save time.
Conclusion

Before choosing your best creative project management software, check the efficiency, utility, integrations, and subscription cost per user of the software you are planning to buy. Take the free trials most software offers and examine the features practically to suit your creative organization. Even take feedback and idea from your employees and colleagues to ensure you are buying the exact fit for the organization. Though software can't create creativity as it is the team's job, it can surely help you manage and organize creativity in a project.
As remote teams work becomes more and more popular, it's important to embrace new tools that make the job (and life) easier. Creative project management is one such tool that seeks to create a balance between structure and flexibility for an ever-changing workplace. With these apps on your side, you can stay organized without feeling like you sacrificed creativity or freedom in the process.
Which app do you use? What has been your experience so far? We would love to hear from our readers!
Leave us a comment below with what creative project management app(s) you use and why they are helpful for managing projects remotely.