Introduction
A business needs a dedicated system in place to ensure its business grows and progresses. Free customer relationship management software is a simple solution that can help businesses tackle major issues. Customer Relationship Management (CRM) can benefit businesses of all sizes, nature, and intensity.
If you are looking into free customer relationship management software, you are likely a start-up or small business.
Free CRM software is the easiest way to test the CRM, understand its application, and decide whether it suits your business needs. This is why most CRM software provides free versions or free trials. It builds trust and engages people to get used to the software and slowly upgrade to the premium version.
What is CRM software?
CRM software simply stands for customer relationship management solutions. Initially, the CRM system was misunderstood to be used only by large organizations. But with time, CRM solutions have become budget-friendly, extremely reliable, user-friendly, and easily implementable. With more and more CRM software flooding the market, businesses have realized the true value and benefit of using these systems.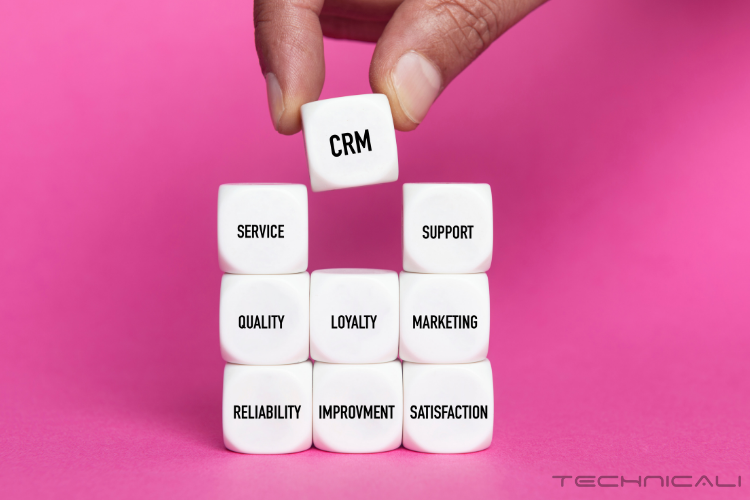 Source: https://pixabay.com/illustrations/crm-customer-relationship-7142692/
CRM software is primarily responsible for collecting, organizing, editing, and managing customer data. Using Customer Management Software makes you more productive, organized, and efficient in managing contacts and scaling your business growth to new heights.
Initially, CRM was introduced to manage all the customer data and company relations. But today, customer relationship management is an all-rounder strategy and process that combines different departments, such as customer service, marketing, sales, etc., into one cohesive platform.
What does a good CRM do?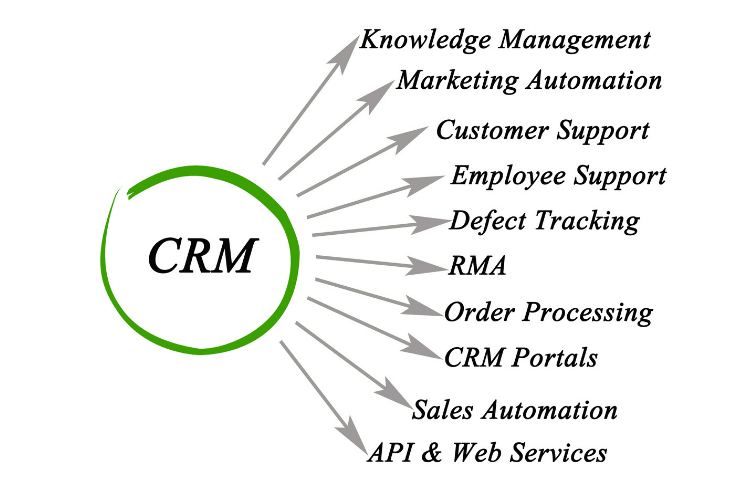 Collect customer information
The primary purpose of any CRM system is to collect all the vital customer information into one centralized platform. This information is then organized and managed in such a way as to maximize customer satisfaction and increase sales.
A reliable CRM system helps the customer service teams get all the related customer information with the snap of a finger. This helps to solve all the customer problems and establish trust in their relations. With a good contact management system, you can win more customers and retain them in the business for the long term.
Sales is an important part of any business. A good CRM system will help the sales team focus their attention on hot leads and prospects. A free CRM software provides efficient tools that shorten the sales cycle and optimize all the sales processes within the sales pipeline. It provides real-time visibility of all your prospects along with their current status in the sales funnel. 
Sales and marketing go hand in hand. Both the teams are interdependent on each other. Marketing teams use marketing automation to send personalized e-mails and messages that push customers to make purchases. Further, you can also use simple workflow automation to reduce the errors and efforts of your team members.
Why should you use CRM?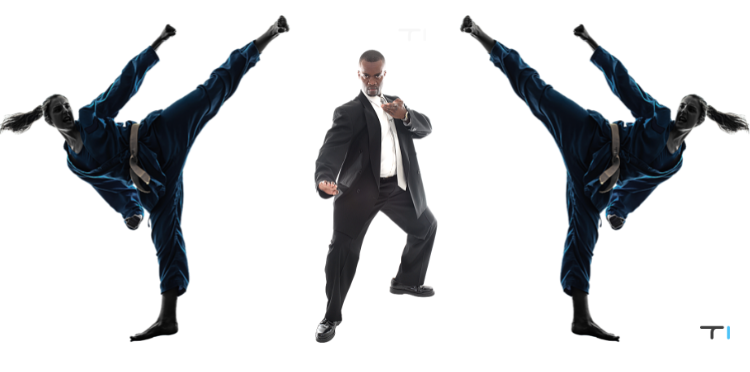 Traditionally, small businesses used spreadsheets and manual data entries to track their customers, sales, and accounts. This may be possible at the initial stages of the business, but as the business expands, manual entries and spreadsheets become difficult to maintain. Further, having ready access to all the customer data is vital while converting a lead. This is not possible with traditional databases.
With the invention of CRM Solution, creating new entries, maintaining them, and accessing them when needed has become very easy. Also, the cloud CRM allowed editing and accessing all the vital customer information from anywhere at any time. This vital information helps the sales, marketing, and service team tackle customer queries and problems better.
A good customer relationship requires consistent communication and personalized attention. Companies need to constantly track customers and leads in the sales funnel. Then according to the stage of the customers in the sales funnel the team has to send customized e-mails at various touch points. This will increase the chances of sales.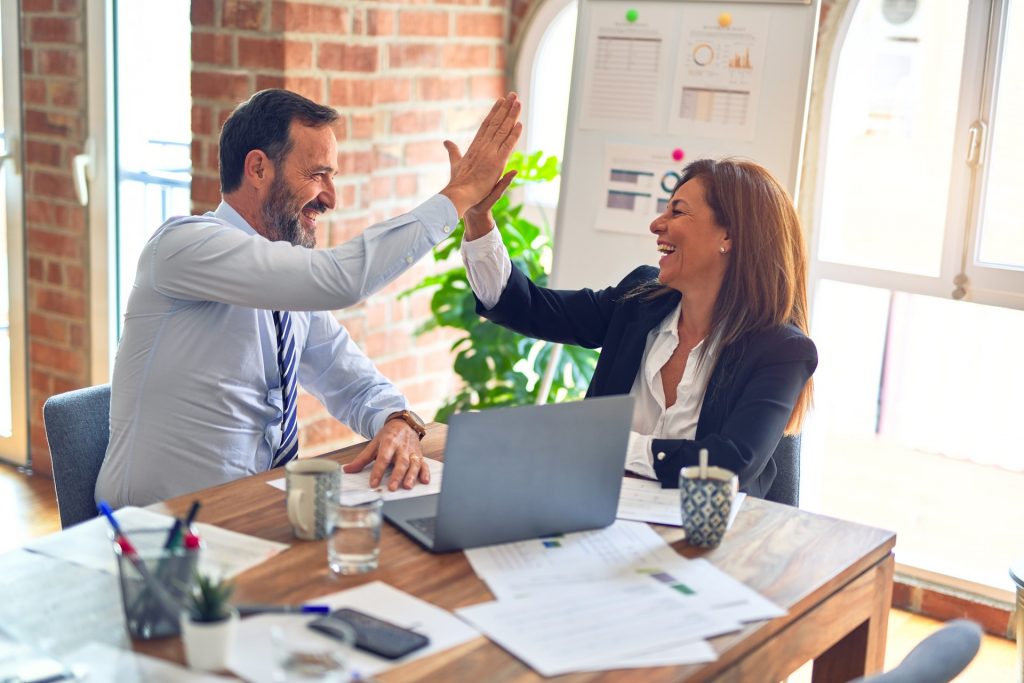 Further, with an efficient CRM system, you can ensure getting unified and consistent communication throughout the entire customer cycle. The sales, marketing, and service team all work together and know all the information updates about the customer. This will reduce the communication gap and increase the conversion rates.
Streamlined business processes
CRM software helps ensure all the business processes align with the company's overall objective. Further, you can customize and build effective business solutions that help your team stay productive. Using the CRM tools, you can ensure the right quality of standard is maintained at each and every step of making customer conversion.
You can ensure maximized marketing efforts, sales conversion, and customer service. CRM streamlines all the business processes and helps to better understand our customers and serve their needs.
Better decision-making capabilities
CRM systems help us to gather a lot of customer personal details and information, Like DOB, anniversary, relationship status, when they last contacted you, who solved their problem, etc. This data is useless if it is not analyzed properly. CRM Enterprise software provides intelligent tools that help analyze the data and make sense of the information; to provide you with more sales opportunities. You can draw accurate reports about various aspects such as customer behavior, recent trends, buying patterns, etc.
Such information from the right CRM software becomes very useful for top management to make smart business decisions. You can also create performance reports to analyze your team's performance and pinpoint the areas where you can make improvements.
Customer satisfaction is the end result of an effective and good customer buying cycle. It is not a one-time activity but a continuous ongoing process. For a customer to be satisfied, the customer service needs to be prompt and efficient. CRM systems power your teams with all the relevant information and historical CRM data on the tip of their fingers.
The central database of all the customer's repositories ensures quick and satisfactory customer service. 47% of CRM users claim that the CRM system has positively impacted their customer retention and customer satisfaction. 
Sales are the end point of any business activity. It is the most important for any business because it brings in money. CRM system provides quality resources to identify and track quality leads. It also provides tools to help nurture the leads till their conversion to the customer and even after.
CRM provides valuable insights to follow only reliable prospects and not waste the sales team's time and energy on cold leads. It helps in optimizing customer satisfaction. The greater the customer satisfaction, the greater the chance of customer retention and referrals. Combined with a reduced sales cycle, all this can bring in more sales at optimized costs.
7 Best Free CRM software are as follows:
1. Hubspot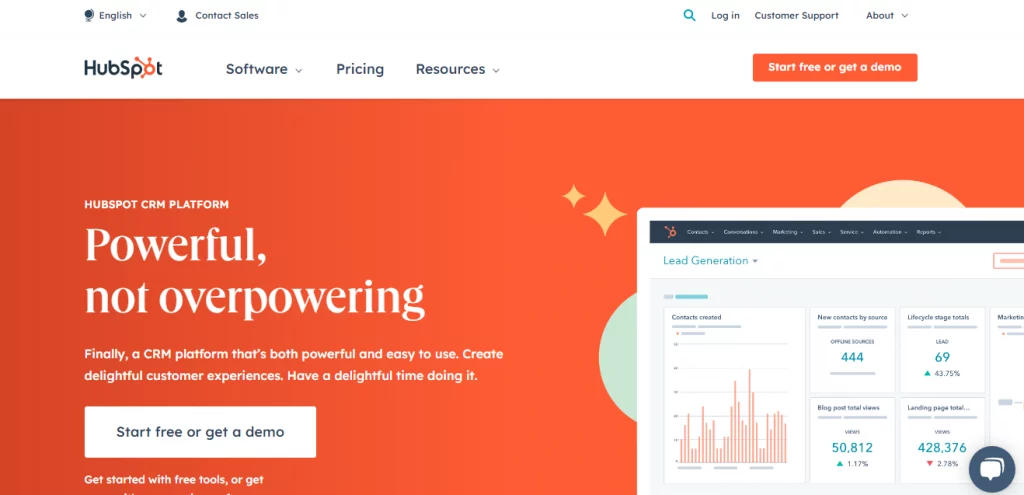 Hubspot CRM is the most popular free CRM system out there in the market. They provide all the basic features in the free plan for unlimited users. The free features include sales process management, creating effective workflows, contact management, tracking customer interactions, and marketing.
Tackle customers on a personal level with customized e-mail marketing and website visitor tracking. The useful inbound marketing tool helps marketers create engaging content that ranks in search engines and brings in more visitors to the website. Data migrations and syncing become seamless without any problems.
All-in-one Features of HubSpot
With this free CRM, you can track all your sales activity, customer communications, employee performance, customer inquiries and productivity. It provides detailed reports and insights on the next action steps that can increase productivity. You can easily spot opportunities and trends for the development of business. The intuitive dashboard gets us real-time visibility of customers in the sales pipeline, which can be very helpful for making sales and improving customer relationships.
Hubspot CRM adoption enhances your analytics capabilities that are at power with professional analytics but at the same time can be easily accessible to all the other employees. A single custom build dashboard can provide essential touch points and CRM solutions from various specs of business such as marketing, sales, service, and more. Use the simple drag and drop editor to build more than 300 creative dashboards that are custom-tailored to your needs and goals. 
Pros
Unlimited users with free customer service tools.
Interactive e-mail marketing and inbound marketing tools for SEO and blog posts.
Easy third-party integrations with Zapier, Slack, Facebook, Google, and more.
Use the free pre-build templates to impress your clients and crack more deals.
Cons
Limited customization in the free plan.
Premium plans are expensive.
2. Zoho CRM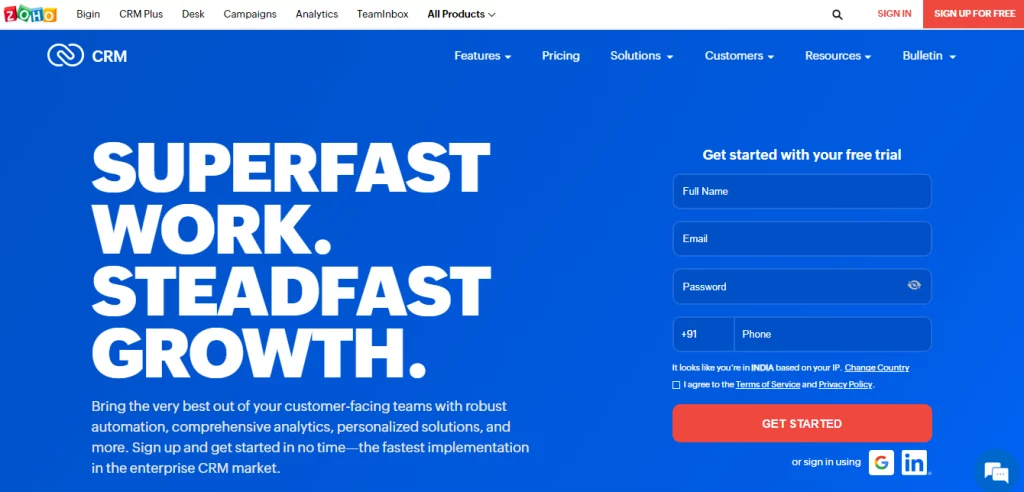 Zoho CRM is an excellent and free all-rounder CRM software that assists business growth of all sizes and nature. It focuses on tactical analytics, comprehensive customization, and sturdy automation. By harnessing the full power of CRM, you can build excellent customer relations, maximize productivity, and social media tools, and scale your business to its greatest height.
The free plan of Zoho CRM is more than enough for a small business to get started with its customer relationship management. It is free for 3 users and provides quality functionalities such as workflow management, lead management, and social media integrations. Though the free plan has limited customization options, you can easily upgrade to more premium plans which are also budget-friendly.
Features of Zoho
The free CRM provides a quality sales force automation feature that helps the sales team close more leads. Further, the sales team has several functions to perform daily, such as scheduling, sales meetings, follow-ups, etc. The sales process of Zoho CRM force automation. The Zoho CRM platform automates these mundane tasks and empowers the sales teams to invest more time in bringing more leads.
Collaboration and communication are important for business progress. Zoho CRM facilitates transparent and open communication between the customers as well as within the organization. Feeds, chats, notes, and tags help to keep the team updated, collaborate on innovative ideas, and make important announcements. It reduces the information gap and updates the latest information to stay connected.
Business process management
Zoho CRM assists you make the most efficient roadmaps based on standard sales processes and strategies that are most consistent. It helps to trace each step of the customer journey from lead generation to deal closure and beyond. The sturdy system accurately tracks your sales processes and ensures everyone in the organization follows the same process.
Pros
The free CRM version permits up to 3 users, which is more than enough for a small business or start-up.
Simple, easy to use, and modern interface.
Enhance the design and dashboards with the Canvas feature available in the Zoho CRM.
Cons
Limited customization options
Lacks bulk e-mails function
3. Insightly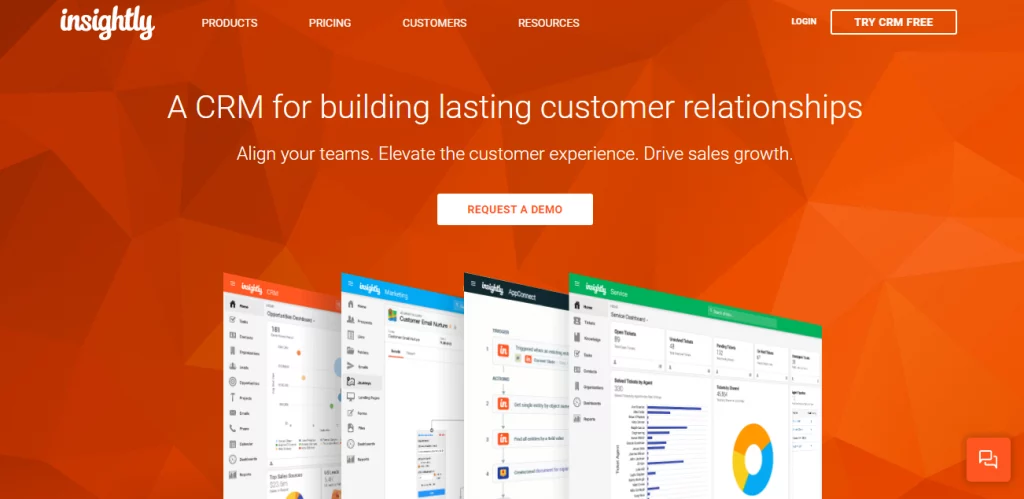 Insightly provides free CRM plans that not many people are aware of. This freebie is available for 2 users and is a great deal for no bucks. The free version provides important features like task management, project supervision, contact management, and relationship linking with a clean interface.
Other features include workflow automation, sales pipeline management, email marketing tools, lead routing, data management, communication, and collaboration. You can easily track customer and employee interactions to ensure everyone is on the same page. You have to upgrade to higher plans to use more enhanced lead management and customization modules.
Features of Insightly Customer Relationship Management System
Insightly CRM helps you to attract quality leads and engage them in making more sales. The powerful marketing engine guides your team to create more pipelines for the growth of the business. You can ensure information flows freely throughout the pipeline with one unified CRM platform. Easily align sales and marketing teams to suit the customer requirements. Pre-made e-mail templates, pipeline builders, and intuitive dashboards keep the company updated.
Insightly CRM provides intelligent reporting and campaigning tools that help improve campaign effectiveness and business growth. The visual representation of each customer journey helps entrepreneurs take the best logical actions. The enterprise-grade reporting tools can be easily visible on dashboards with various engagement metrics such as click-through rates, bounce rates, etc. You can also use easy A/B testing to identify which marketing campaigns work best.
Pros
Training videos about various functionalities of Insightly make the learning curve very easy.
A clean and user-friendly interface with a low implementation time of its CRM platform.
Customize and visualize all the key metrics with an easy drag and drop button.
Cons
The free CRM software version of Insightly is available for 2 number of users only.
No data back-ups and limited mass e-mail options. 
4. Bitrix24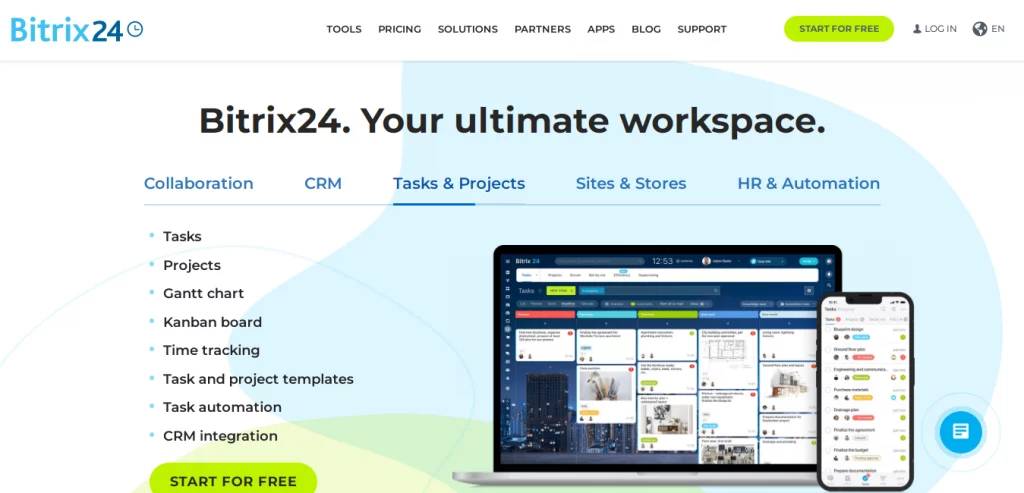 Bitrix24 provides free CRM software with basic functionalities and management features. The good thing about Bitrix24 is that it offers a free plan for unlimited users. You can manage multiple leads and contacts with this basic free plan. Other features include data migration, a live chat facility, social media integrations, centralized dashboards, task management, and project management.
While the basic free CRM app features may be limited, they are very useful. Further, if you want, you can go for higher-tier plans that include advanced functionalities such as intelligent reporting, customized sales pipeline, email marketing, increased online storage, advanced automation, workflow management, and payment processing.
Features
Remote working has hit the world by storm. Bitrix24 CRM provides various communication and team collaboration tools that can be beneficial for home offices and company offices. You can easily conduct conferences for up to 48 members for n number of hours. Record the call and engage in chats to brainstorm new ideas and share documents.
Bitrix24 digital sales suite provides power-packed client management, customer support, and automation tools that cater to your client's needs. Bitrix24 helps businesses in everything from lead generation to lead management to sales automation. Collect new lead information from multiple channels, use built-in lead scoring systems, and set automation triggers to save time and energy for the sales team.
Pros
Bitrix24 is free for unlimited users and for unlimited leads.
Extensive storage of 5GB in the free plan.
Easy data migrations from various other platforms.
Cons
Customer support is very limited.
Lacks reporting facilities in the free plan.
5. Freshsales Deal Management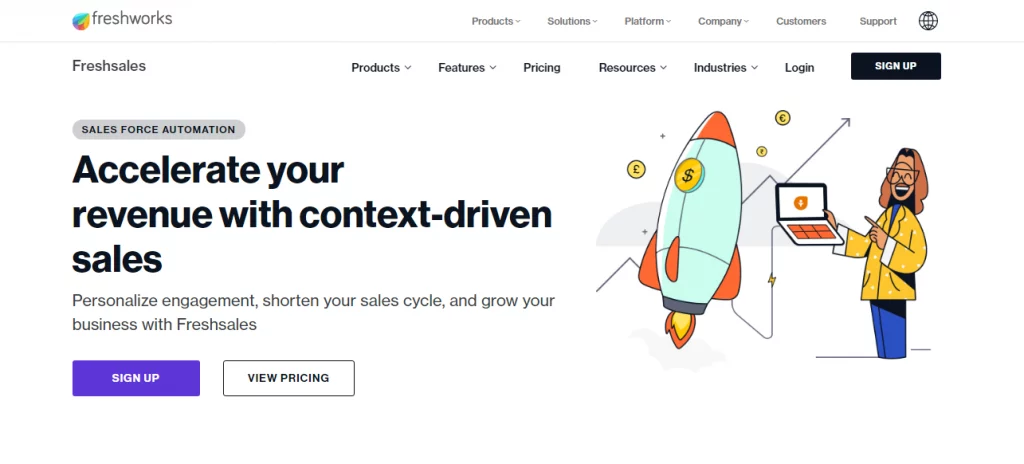 Freshsales CRM is among the easy-to-use best CRM software. This free CRM software is ideal for small and medium-sized businesses ready to start quickly with zero to no learning curve. The interface is lightweight, and the dashboard is very intuitive. Other unique features of Freshsales CRM include contact management, lead generation, and communication. It also provides Intelligent AI assistance, simplified business processes, marketing tools, and customizations.
Features
The sales process is time-consuming. Sales teams invest much of their valuable time doing repetitive tasks like sending follow-back e-mails, creating invoices, raising fields, etc. With Freshsales CRM, you can sit back and automate complex business processes with a simple interface. Streamlining and automating save a lot of salespeople time, and energy and reduce the chances of manual errors. But the free plan provides limited workflow management features.
Freshsales allows you to create a customized client list of all your leads along with a 360-degree profile view. You can create tasks, notes, appointments, filters, activity timelines, contact forms, and more. Make inbound and direct calls to your clients from the CRM dashboard itself.
Pros
Supports unlimited users with easy access to customer support tools.
Reliable customer support with chats, calls, and e-mails enhancing customer relationships.
In-app phone dialers to ease sales and communication.
Cons
Reporting features are missing in the free plan.
6. EngageBay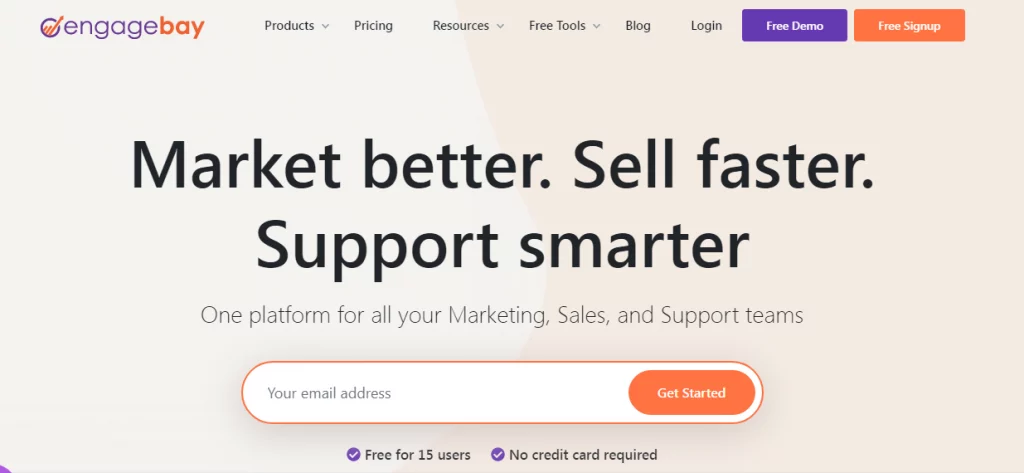 EngageBay is an efficient and free cloud based CRM platform that provides all the functionalities ranging from sales, marketing, and services. As a Hubspot alternative, EngageBay provides a freemium version that is the best start if you're a beginner. Further, the paid plans of EngageBay are affordable for any small business.
The free CRM version provides various features such as sales sequencing, personalized e-mails, landing page, pipeline management, 360-degree customer visibility, and more. The only downside is being restricted to having 1000 contacts with the same number of emails for the free CRM.
Features
Free landing page builder
EngageBay helps you create intuitive and responsive landing pages that bring in more conversions. Use the easy drag and drop editor to customize the landing page for high conversion and lead generation. A powerful landing page is essential for promoting and selling your goods and services. Further, you can also track your landing page performance and gain information about targeted keywords.
EngageBay provides a powerful email marketing tool that can help expand your business relationships and boost the customer service teams' productivity. Though the options of free templates are limited, you can create visually appealing designs that will impress your client base. Segregate and filter your subscriber list to send personalized e-mails that resonate with your customers. Add personalized information such as name, last name, e-mail, etc., to customize your e-mail outreach.
Pros
Efficient lead generation and nurturing tools like forms, pop-ups, newsletters, e-mail outreach, etc.
Connect and monitor your social media handles.
Easily connect to Zapier to extend the contact management facilities and e-commerce sites.
Cons
Limited integration options
Limited free e-mail templates
7. Agile CRM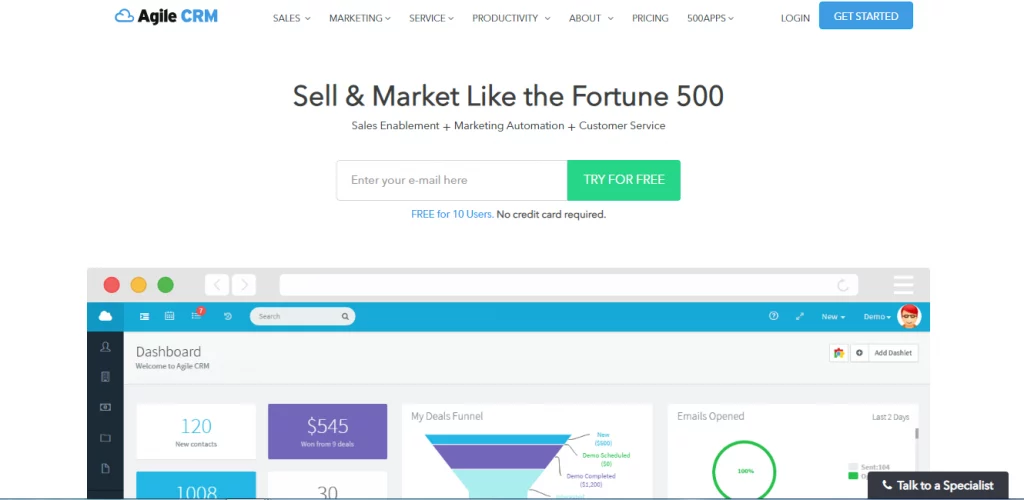 Agile CRM is a cloud-based free CRM that is fast, efficient, and easy to use. The free plan of Agile CRM allows up to 50,000 contacts. Another unique feature of Agile CRM is the lead scoring functionality that very limited vendors provide in the free plan. Further, you can customize workflow, manage tickets, and automate contact management. Other web engagement features include landing page builder, e-mail opening and closing tracks, e-mail sequencing, and website forms. Run effective e-mail campaigns that fetch more conversion and click-through rates with high-quality content.
Features
Deal milestone management
Agile CRM allows you to track and nurture customer relationships in the sales funnel. You can receive alerts and notifications at particular touch points such as when prospects enter into the funnel, proposal stage, final buying stage, and so on. You can easily view the overall health and status of your sales pipeline.
This free CRM provides top-notch web engagement features that can bring more prospects and sales. You can design engaging and dynamic landing pages, pop-ups, forms, and more. The premade templates and simple drag & drop option make your web tools look professional and take less than an hour to create. You can use e-mail templates and e-mail automation features to send customized messages to your clients- thereby strengthening customer relationships.
Pros
You can manage unlimited deals and tasks in the free version.
Use the lead scoring feature to focus on hot leads.
Create and customize sales processes for multiple milestones, products, and services.
Cons
Free plans have a limitation of up to 10 no. of users only.
You can add only 1 external plugin or integration.
Final Words
The best free customer relationship management software you choose should contain all the basic functionalities that help businesses grow rapidly. The major areas you should consider while choosing the best free CRM software include contact management, workflow automation, marketing automation, web engagement tools, reporting, sales funnels, and task management.
You can choose any of the free CRM tools mentioned in the list to get started. As you start using the software, you will understand what suits your business needs. If a certain tool doesn't satisfy your business requirement, switch until you find the perfect fit for your business.