In our fast-paced, modern times, it's more important than ever to keep in touch with your network of people. If you're a virtual assistant, you must be able to keep up with your contacts. Virtual assistants are professionals who work remotely and help small businesses or individuals with various tasks. These might include making sales, creating and sending emails, booking meetings, or even making daily to-do lists.
Communication is crucial for completing tasks and your business as a whole, after all. Many of these tasks, and more, can be managed using CRM software. Software like Salesforce and Zoho CRM allows virtual assistants to drive leads and send out quick emails with minimal effort. If you're looking for a CRM software option, it's essential to consider the product's features and how it will affect your ability to work.
What is CRM?
CRM (Customer Relationship Management) software is essential for all businesses, whether they operate online or in an office. However, for virtual assistants, CRM software can be a vital tool that provides better communication, leads, and efficiency. As a virtual assistant, you will communicate with many clients. It will give you a series of contacts, improve relations, and provide a place to store all of your information. Not only will this allow you to serve your customers better, but it will also be more efficient because you'll be able to serve more customers. All the CRM software options will provide you with various features, so let's look closely at each choice.
Why is CRM Important for Virtual Assistants?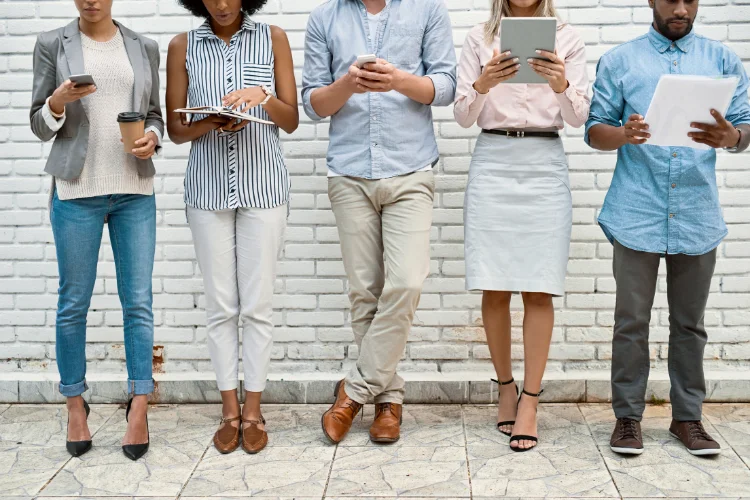 There are many reasons why CRM is essential for virtual assistants. The most important reason is that it helps virtual assistants keep track of their client's contact information, communication history, and preferences. This enables virtual assistants to stay organized and remember important facts, offering their clients the best service possible.
CRM can help virtual assistants cultivate relationships with their clients by allowing them to send automated birthday or holiday greetings. CRM software often includes features that support virtual assistants scheduling appointments, managing assignments, and creating and sending invoices.
What Features Virtual Assistant should Consider when Choosing a CRM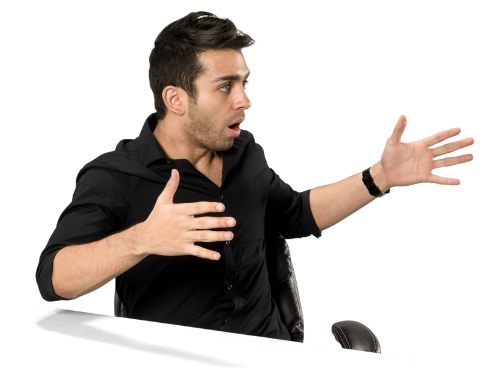 Virtual assistants need to consider which features are important to them when choosing a CRM.
Integration with Google Products like Sheets, Gmail, and Drive
Most Virtual Assistants or Businesses interact with Google Products daily; some rely 100% on them for their business. So when selecting a CRM, it is essential to consider its integration with Google Products like Sheets, Gmail, and Drive, as buying an incompatible CRM would be a waste of your money.
Analytics/Reporting Feature
The Analytics/reporting feature helps virtual assistants track their progress and manage reporting. This feature allows virtual assistants to track their time, customer interactions, project status, and deal closures. For Example, the reporting feature can measure how many customers have responded to a specific email or marketing campaign.
Task Management
Task management helps virtual assistants stay organized, prioritize and delegate tasks further down the line. It allows them to create detailed jobs with due dates, assignees, and notes to keep their workload manageable and on track.
Customizable Workflows
Customizable workflows within the CRM allow virtual assistants to create personalized, automated processes for various tasks. For Example, a virtual assistant could create a workflow for onboarding new customers. Or Create an analytics trigger to update your customers whenever they spend a certain amount of money.
Third-Party Integration
Integrating third-party software such as chatbot, help desk, or other automation software can save virtual assistants time and energy. Automation software such as chatbot helps you quickly respond to customers' queries, schedule appointments, and process payments. Sending automatic messages is an excellent way for virtual assistants to stay in touch with customers and build relationships. Automated messages can remind customers of upcoming events or deadlines and provide essential updates on their projects.
Scheduling
Scheduling is the most basic task every virtual assistant should do to ensure that their customers are taken care of properly. Virtual Assistant CRM software should have a built-in scheduling feature to make scheduling appointments and managing customer availability easier. For Example, Dubsado has a calendar feature that allows virtual assistants to quickly set up and sync appointments with their customers.
Time Tracking
Time tracking is an essential part of running a successful virtual assistant business. It should not be limited to just tracking your time but should also include monitoring the time of your customers and subcontractors. Virtual assistant CRM software with a built-in time-tracking feature can help you stay on top of every minute spent on each task.
Top 7 CRM for Virtual Assistants
Hubspot is a marketing and sales software company that helps businesses grow by providing tools and resources to help them attract more visitors, convert leads, and close more sales. Hubspot has been at the forefront of the inbound marketing movement, assisting businesses to attract more visitors through SEO and social media, convert more leads with their powerful marketing and sales tools, and close more sales with their CRM and automation features.
Hubspot is one of the world's most popular marketing and sales platforms. And with good reason – their platform is easy to use, their resources are top-notch, and their customer support is outstanding. If you're looking for a platform to help you grow your business, Hubspot is a great option.
Its key features are:
Integrated Reporting
Hubspot's integrated reporting capabilities are one of its defining features. With Hubspot, you can quickly generate reports showing how your marketing and sales efforts work together. This is extremely valuable for businesses looking to optimize their marketing and sales strategies. Additionally, Hubspot's reporting tools are very user-friendly and easy to use. This makes it easy for companies of all sizes to generate the reports they need to make informed decisions about their marketing and sales efforts.
Flexible and Customizable
Hubspot offers many features and integrations that make it incredibly versatile and customizable. You can use Hubspot to track leads, manage your sales pipeline, create custom reports, and more. Its drag-and-drop templates make it easy to use, even for those without experience. Whether you're just a startup or a large enterprise, Hubspot can be tailored to fit your needs.
Inbound Marketing
Inbound marketing focuses on attracting customers through relevant and helpful content. This is a much more effective way to reach customers, and it is what Hubspot specializes in.
Zoho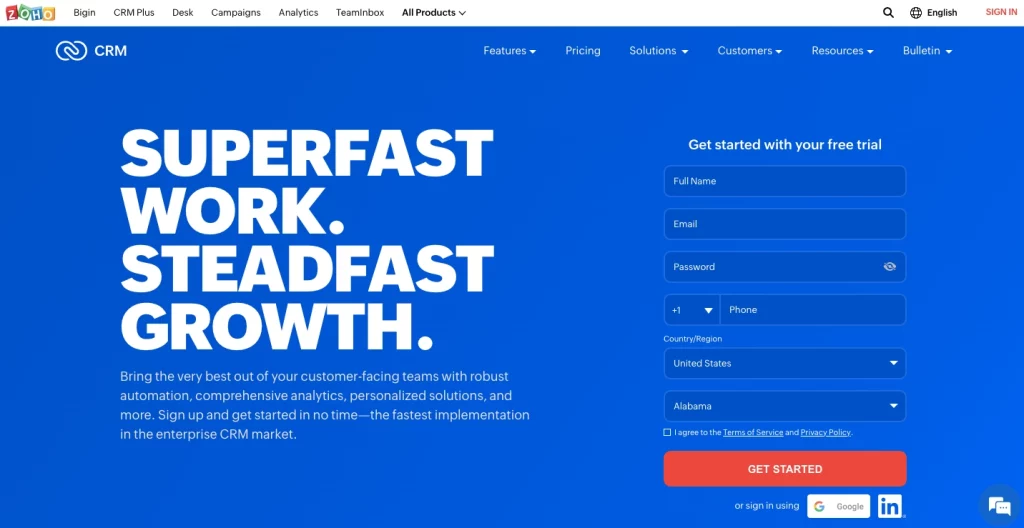 Zoho CRM is a comprehensive VA CRM software that helps businesses streamline their sales, marketing, and customer support operations. It offers various features such as lead and opportunity management, contact management, task management, quotes and invoicing, campaign management, and more. Zoho CRM also provides robust tools for customizing the software to meet your specific needs.
Its key features are:
Streamline operations
Zoho CRM helps businesses streamline their operations. It gives companies a complete view of their customers, enabling them to manage customer relationships better. It also helps businesses automate their sales and marketing processes, making tracking and managing leads easier.
Rich analytics
Zoho CRM is an excellent tool for sales and marketing virtual assistants who want to get the most from data. The platform offers rich analytics that lets users see which campaigns are performing well and what they need to improve. With this, assistants can help segment their data to get a more granular view of their customers.
Upscalable
Zoho CRM is a scalable solution for businesses of all sizes. It offers a comprehensive suite of features to help assistants to streamline operations and improve customer relations. The system is highly customizable, so companies can tailor it to the specific needs of their assistants. Zoho CRM integrates with several third-party applications, making it a versatile solution for various industries.
Agile CRM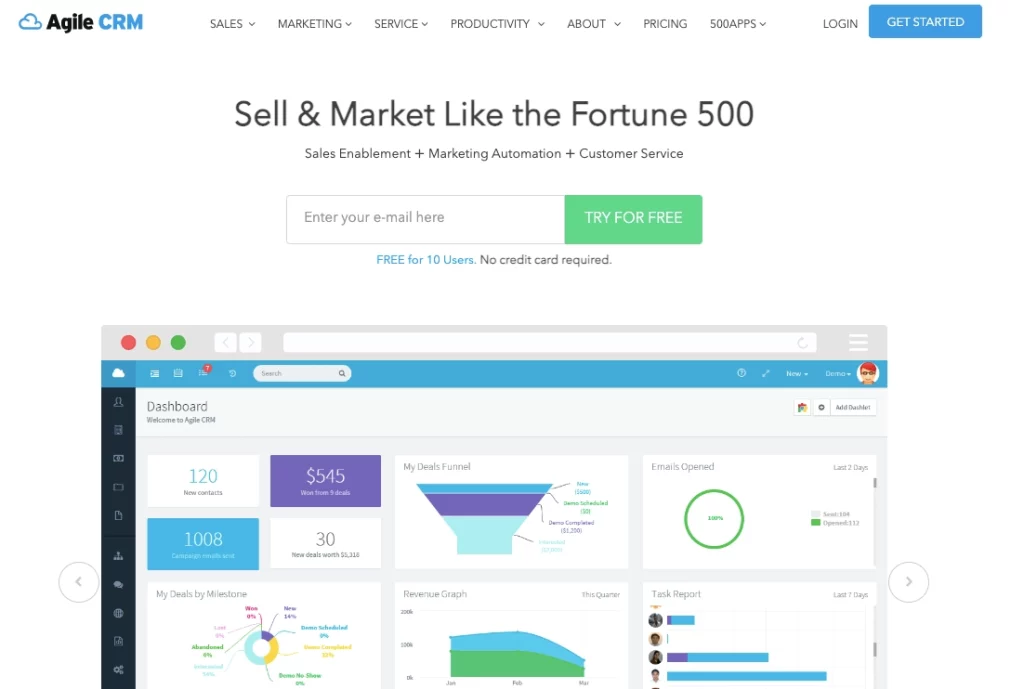 Agile CRM is cutting-edge customer relationship management software that helps businesses manage customer relationships more efficiently and effectively. Agile CRM enables businesses to track customer interactions better, manage customer data, and automate customer-facing processes. Agile CRM also provides businesses with powerful marketing, sales, and customer service tools, which helps companies to improve their overall customer experience.
Agile CRM is a good choice for businesses that need a comprehensive CRM solution. It comes with a lot of features for a fair price. The software is easy to use and has a good reputation for customer service. Its key features are:
Gamify daily operations
Agile CRM's gamification features are designed to make daily operations more fun and engaging. Users are motivated to complete tasks and achieve goals by incorporating game-like elements into CRM activities.
Smart Views
Agile CRM's Smart Views feature allows you to quickly and easily create views of your data tailored to your specific needs. Smart Views can segment your data by criteria such as location, account type, or contact owner and then save those views for future use.
Social suite
Agile CRM's social suite is a robust set of tools that help businesses stay connected with their customers across all social channels. With features like social media monitoring, social CRM, and social media campaigns, businesses can easily allow virtual assistants to connect with companies' clients and track their engagement.
Salesforce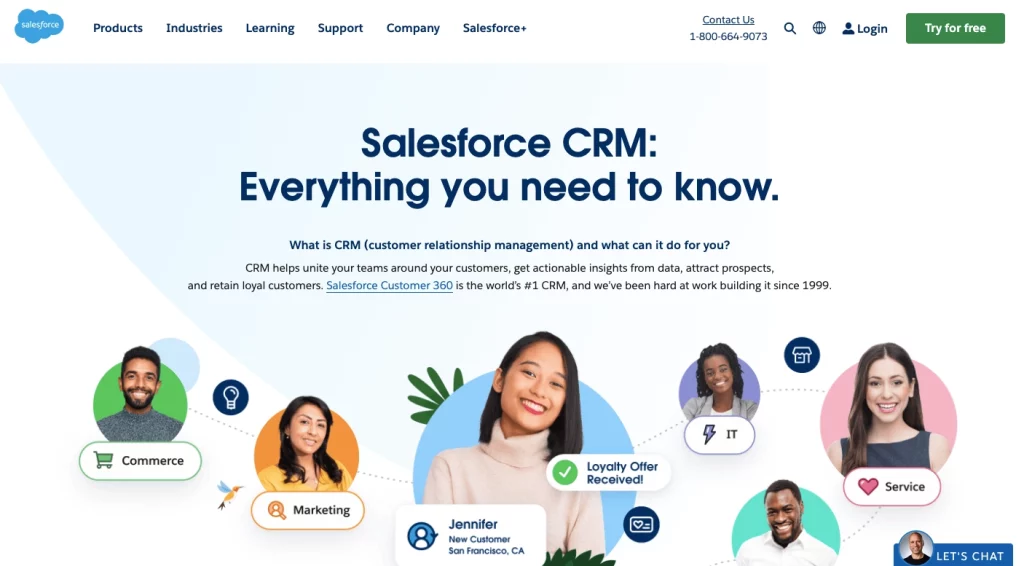 Salesforce is a cloud-based CRM software that enables sales and marketing teams to manage customer relationships. It offers a variety of features, including a contact management system, a sales pipeline, a lead management system, and a marketing automation tool. It is also scalable so that it can grow with your business. Salesforce is a popular choice for businesses of all sizes and has a strong reputation in the Virtual Assistants CRM industry.
Some of its key features are:
Adaptive
One of Salesforce's primary characteristics is its adaptability, which enables it to be tailored to meet the demands of each organization. This makes Salesforce a versatile tool that businesses of all sizes and industries can use. Salesforce's adaptive nature makes it easy to use and learn, even for assistants unfamiliar with CRM software.
Customer-obsessed
Salesforce is one of the best VA CRM platforms and is customer-obsessed. Everything they do is geared towards ensuring customer satisfaction, providing them with innovative features or outstanding overall support. Salesforce is always looking for new ways to upgrade its services.
Partner Tracking
Salesforce's partner tracking feature is one of its key differentiators from other CRM platforms. It allows businesses to track their partner relationships in a centralized place and provides valuable insights into partner performance. This helps companies to identify, delegate and nurture their most valuable relationships and optimize their partner management strategies.
Honeybook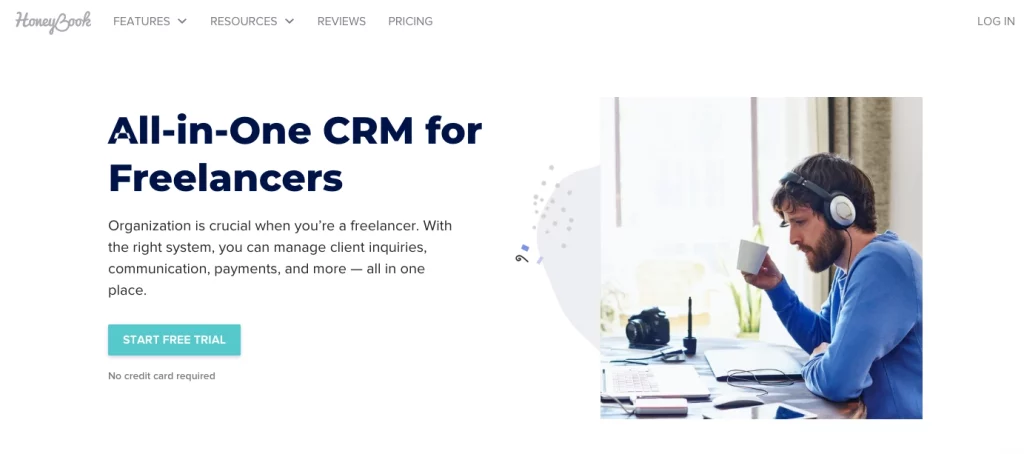 If you're looking for a CRM to help you manage your business, you can't go wrong with Honeybook. Honeybook is a cloud-based CRM that lets you track your clients, prospects, and deals. It also allows you to create and manage your custom workflows. Honeybook is easy to use and has an excellent user interface. Plus, it integrates with several popular business applications, making it a perfect choice for small businesses.
Honeybook's features include contact management, task management, document storage, and a built-in payment processor, which makes it a comprehensive CRM solution for businesses. Honeybook also offers a free trial, so try it before deciding if it's the right fit for your company. Its key features are:
Freelancer Focused
Honeybook CRM is a CRM software that is specifically designed for freelancers. It offers a range of features geared toward helping freelancers manage their clients, projects, and finances. Honeybook CRM is a beneficial tool for freelancers who want to stay organized and efficient. It offers various features designed to help freelancers manage their clients, projects, and finances. If you are a freelancer, Honeybook CRM is worth checking out!
Streamline the entire client flow
Honeybook's CRM software is designed to streamline client flow, from inquiry to booking to post-event follow-up. By keeping all client communications and files in one central location, Honeybook makes it easy for event professionals to stay organized and provide top-notch customer service. Plus, with powerful automation features, Honeybook can save you time by automating repetitive tasks, like sending out reminder emails or creating invoices. Whether you're a solo planner or a large-scale event company, Honeybook's CRM is the perfect solution for streamlining your client management.
Proposals
Honeybook's CRM Proposals feature is essential for any freelancer or virtual assistant. With it, you can easily create and manage proposals for your clients. The feature includes a drag-and-drop interface that makes adding or removing elements easy and a built-in editor that lets you customize your proposals to fit your brand. You can also track your proposal's status and view client feedback, so you can always be sure you are on track.
Streak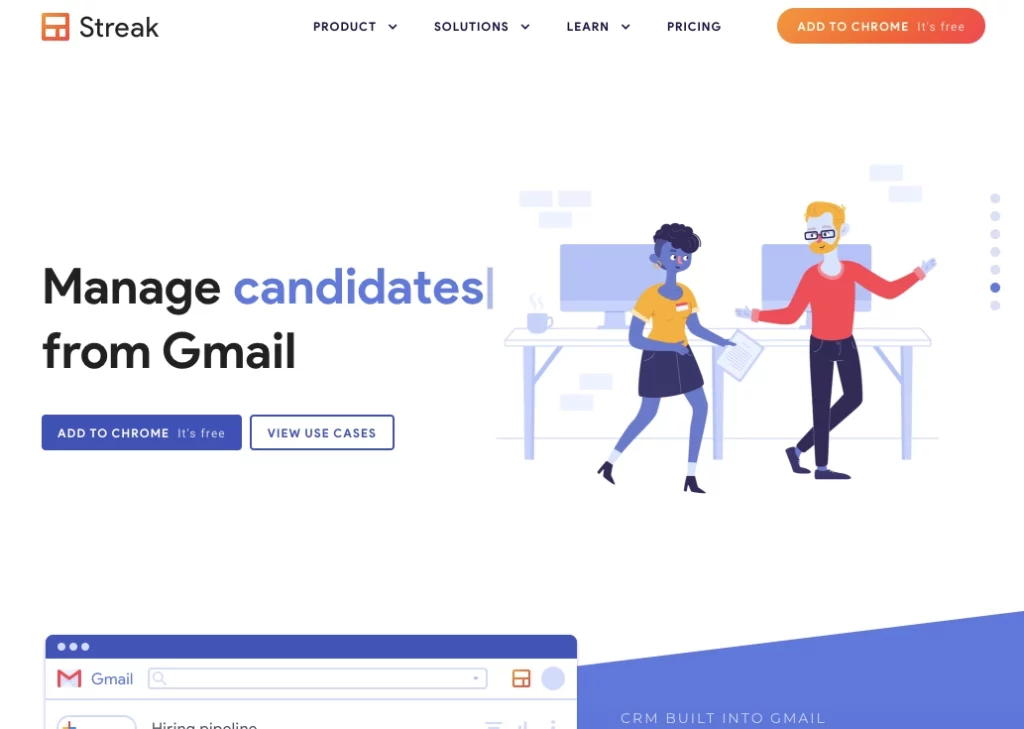 Streak CRM is a powerful tool that helps BPO businesses manage customer relationships more effectively. It provides a suite of features that allows BPO assistants to track and manage customer interactions, including contact management, communication tracking, and task management. Streak CRM also provides a robust set of reporting and analytics tools that help assistants track and report their performance and improve their customer relationships over time. Its key features are:
Optimized pipeline operation
Streak CRM is a cloud-based tool that helps businesses streamline their sales and marketing assistants. It provides
A centralized platform for managing customer data.
Tracking sales and marketing activities.
Automating workflow.
Built into a Common tool
It's built into standard tools such as Gmail, Google Calendar, and Google Docs. This makes it easy for users to access and update customer information without switching between different applications. Streak CRM also offers several features designed to help users manage their customer relationships more effectively, such as a contact management system, a sales pipeline, and a range of reports and analytics.
Efficient inbox managing
If you're like most virtual assistants, your inbox is a cluttered mess. But with Streak CRM, you can easily keep your inbox organized and tidy. Streak CRM is a powerful tool that helps you manage your email inbox by sorting and categorizing your messages. It also makes it easy to find old emails and attachments. With Streak CRM, you can quickly and easily get your inbox under control.
Dubsado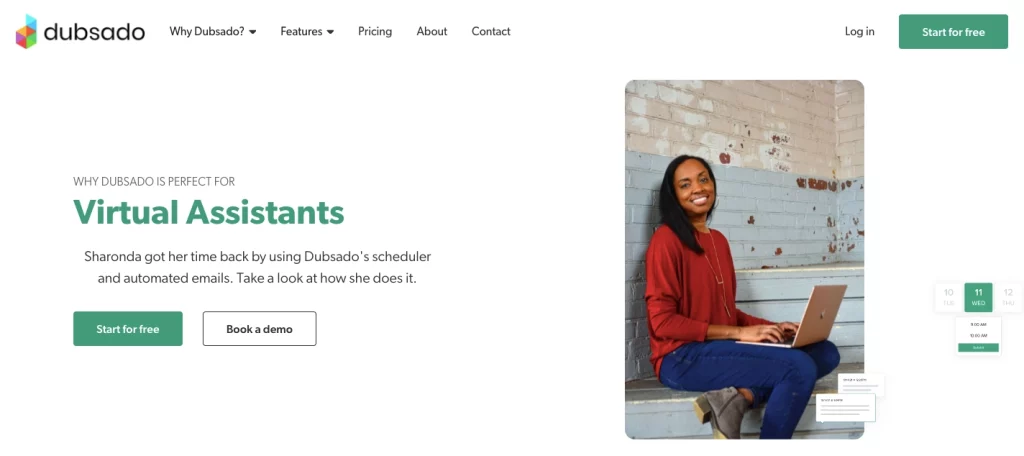 Dubsado CRM offers tools to help businesses manage their contacts, track sales and invoices, automate task management, and more. Dubsado CRM is an excellent tool for managing customer relationships.
Many elements in Dubsado may be used to track your contacts, interactions with your company, and past purchases. It also includes powerful automation features that can help you streamline your workflow. Dubsado CRM is designed to be user-friendly and easy to use, focusing on assisting businesses to save time and money.
Interactive Portals
Dubsado's interactive portals are a great way to manage your customer relationships. With these portals, you can easily keep track of your customer's contact information, communication history, and even order history.
Personable automation
It offers personable automation for small businesses. The software is designed to streamline customer relations by automating critical tasks, such as contact management, invoicing, and project management. Dubsado also offers a suite of powerful features, such as a powerful search engine, customizable workflows, and integration with popular third-party apps.
Streamline automation
With Dubsado, you can easily create workflows and automate your business processes. From sending invoices and payments to scheduling appointments and managing contracts, Dubsado makes it easy to streamline your business. Dubsado integrates with your favorite business tools so that you can handle everything from one central platform.
Conclusion
There are a lot of CRM software programs on the market, and it can be daunting to decide which is right for you. If you're a virtual assistant, you need an easy CRM that helps you keep track of your clients and their contact information. The seven CRMs listed above are all great options for virtual assistants. They are all easy to use and have features that will help you keep track of your clients and their contact information.
Take some time to try each and see what works best for you. Finding the ideal CRM for Virtual Assistants will benefit you in the long run.