In today's world, businesses face constant disruption – so technological software or tools are significantly essential for enterprise success. Most business owners throughout the globe try to grab the best Enterprise Resource Planning (ERP) tools. These tools can be utilized for the business process that is necessary for the continued development of an organization.
ERP is a system that integrates the various departments of your company to operate methodologically and logically. It can manage all the resources needed to make, ship, and account for your customers' orders. These tools mainly included different processes like manufacturing, accounting, and supply chain.
Besides, ERP software can also be used beyond its fundamental business functions to include more different functional areas such as BI (Business Intelligence), Marketing Automation and CRM, and e-commerce. Therefore, an advanced ERP tool can serve a broader range of businesses than the usual manufacturing-centric users.
The complete data flow over these functions is aided by a unified database that handles the data flow. This consolidated view of a business's data decreases disparities across the various departments and business units and makes entire processes more productive. For example, using ERP software can streamline economic and accounting reporting and resource planning.
Advantages and Disadvantages of ERP
This video can help you to know the advantages and disadvantages of utilizing Enterprise Resource Planning tools in your business.
Features and Capabilities of Enterprise Resource Planning Tools
Advanced ERP systems come with a lot of features and capabilities. Some of them are:
Logistics
Accounting
Manufacturing
Risk Management
Payroll Management
Inventory Management
Control the HR process
Analytics and Reporting
Supply Chain Management
Product Lifecycle Management
Project Financial Management Procurement
Grab the Best Enterprise Resource Planning Tools for your Business
As we mentioned earlier, an ERP tool can help you to manage your entire business process. There are different Enterprise Resource Planning tools that you can get in today's tech market. Henceforth, it's not easy as it sounds to find a perfect solution that can meet all of your major demands. Nothing to get worried about this – this guide can help you to grab the best tool out of the market. Here, we are about to discuss the top 7 Enterprise Resource Planning Tools in detail. So, go through the below description carefully and choose the best one depending on your needs.
Microsoft is one of the biggest tech giants, and its Dynamics 365 ERP software is a perfect solution for big, medium, or small-sized businesses. This is a cloud-based software product that can satisfy all of the ERP and CRM (Customer Relationship Management) requirements of your business. This software was previously named Dynamics CRM.
But, now, it consolidates the Enterprise Resource Planning, so the name is changed to Dynamics 365 – with more supplementary robust application modules. This software provides cloud-based as well as on-premise packages depending on your requirements. The selling feature of this trusty tool is the CRM application that has a broader range of amenities.
Key Features:
A CRM with Wider Scope: In addition to the ERP, Microsoft Dynamics 365 also comes with a perfect CRM solution that can help you to manage the marketing, sales, and clients of your business altogether in a proper way.
Control Accounting and Finance: This software can make your entire financial supervision process automate. Hence, you can improve your companies efficiency and productivity by maintaining the budget – it is highly essential in increasing profitability.
Supply Chain Management: Microsoft Dynamics 365 offers you a simple as well as clean supply chain management, inventory supervision, and also ease up most of the other operations of your business. Therefore, it can increase the growth of your assets.
Human Resource: You can turn your company's HR department into a more active and goal-oriented part. Expert workforce administration always can provide you more potency and profit.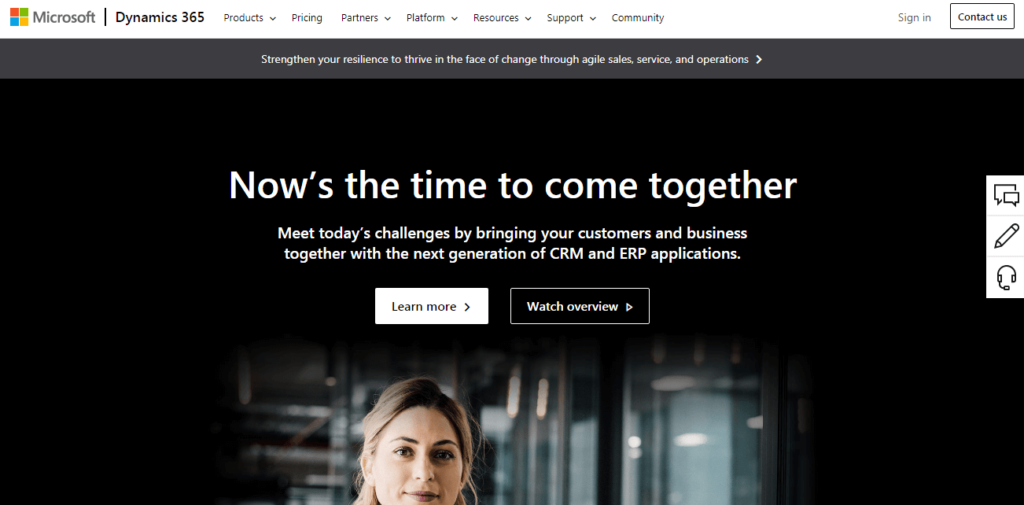 Assets:
This software comes with a combination of third-party apps like OneNote and Mail Chimp that make it simpler to share essential insights across apps.
It aligns the marketing and sales processes by delivering seamless experiences for the consumers through marketing automation and shared application data.
This software makes it simpler for a company to concentrate on the right type of clients by promptly utilizing the insight offered by Microsoft's artificial intelligence-backed features.
Extremely simple to customize.
Release management is pretty intuitive and straightforward.
UI is an extremely clear and direct, faithful experience over all things.
The complete mixture of other MS products out of the box.
Integration with Outlook for calendars and emails.
Liabilities:
The learning phase of this software can be complicated for a new user.
Putting new data into the database of this tool might take a few more. Besides, the entering process is also tricky.
There are a few security issues in that software – it can be sorted out by taking extra care of your server.
The UI of this software could be more straightforward.
SAP Business One is an easy-to-use, inexpensive business management software specifically introduced for developing small to midsize enterprises and subsidiaries. This is not just a scaled-down version of the bigger SAP products.
From accounting to financial and CRM to inventory, all of the key trade areas are blended to offer clear distinctness into your whole business. By taking data into separate specified software, you can obtain important real-time data to make fast and informed decisions with ease.
Trusted throughout the globe, SAP Business One is a scalable and proven software solution that is available on-premise and in the cloud marketed by AWS (Amazon Web Services). Besides, this software can support you in transforming your company by leveraging data to maximum performance, reaching new clients, and managing production growth.
Key Features:
Accounting and Financial Management: This software helps to organize and analyze the commercial system of your company. Therefore, it can manage simple to complicated economic and accounting closures. Also, treasury management is available on this software. Besides, billing management traits, account income, and receivable are some of the other significant features of this tool.
Supply Chain Management: SAP Business One can help you to manage and control the supply chain of your company all the way from asset control, preparation, logistics, life-cycle, and manufacturing.
HRM: Payroll management and employee experience is another major factor of a company. This software can help you manage all of your HR duties like curating and talent hunt, business-flow, evaluation, and reporting.
CRM: You can get all the significant features of CRM in this software. Besides, you can also create a compelling database to help you run the CRM process with ease.
Spend and Network Management: This software can help you to manage all of your expenses, track them, and strategic sourcing, monitor suppliers and acquisition. Moreover, after you market a service/product, this software can help you manage the feedback and post-selling service.
Assets:
Limitless alliance of all apps modules.
Reporting and Analytics aptitudes.
End-users are extremely satisfied using this software.
Simplistic and straightforward to utilize the app.
Customizations are certified as per the need.
Liabilities:
Services and sales automation needed.
Require to develop the production process of this software.
Require to implement Quality Management specialties.
Elevate HR works.
The foremost specialty of Odoo is the ease of usage of this software. This software can help you compose an account to input information to a website to create a database. You can then start controlling the accounting, CRM process, supply chain management, and many other things through this software. A broad range of compelling ERP software can help you to strengthen your company and beyond.
Odoo provides 3 different service types – 2 of them are local ERP systems, and the other is open-source. Besides, this software has classified its service into 4 types. They are – business and website builder (this is an additional service as you only see for ERP resolutions), operation, sales, and productivity software. This software can be considered as a comprehensive business resource planning suite.
Key Features:
Client Resource Management: You can have major CTM traits like entire lead supervision, project manager, and log calls, conference scheduler, 360-degree visibility by using this software. Henceforth, this software has an efficient client database system and a powerful, robust reporting system.
POS: Another most prominent feature of this software is the Point Of the Sales system. This software can assist you in tracing and controlling the trades of your company.
Invoicing System: This software can make and send invoices over the internet by using its manageable process. Besides, the processing and setup of this tool are extremely effortless.
Subscription Manager: This tool can help you manage both of your freedom and paid subscribers and convert them into permanent customers.
Financial Needs: This software can also control and manage all the fields with financial assistance. The economics administrator of your company will be more prolific with this accounting software. Along with this, it provides accounts receivable and payable service, economic statement maker, and other traits along with review reports.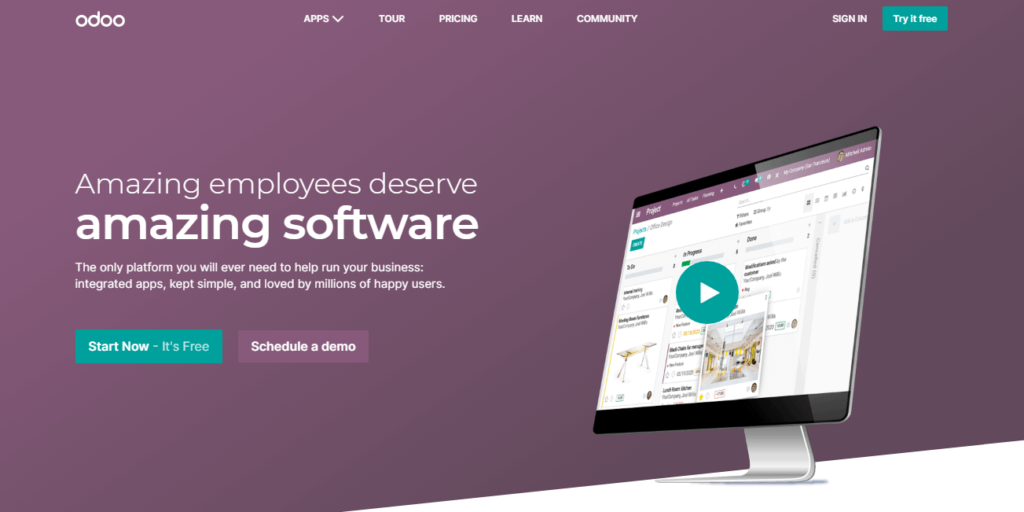 Assets:
Great traceability
Inventory tracking feature
Manufacturing orders
You can quickly learn this software within a short period
Simple user interface for both on-premise and cloud
Simple implementation
Liabilities:
Auto-generated labels
Navigation
Comes with a larger memory trace
Bitrix24 is a collaboration tool that comes with complete arrangements for communication, collaboration, and management. This software provides you a centralized program for your plans, data, associations, assignments, and messages. You can instantly utilize this software by just selecting an account and then calling your co-workers. With the help of the Activity Stream of this tool, all of your staff will keep the track of jobs and efficiently work collectively to advance on the project.
Its principal resolutions incorporate tasks and projects, social networks, file sharing, CRM, sales team management, document management, calendar and planning, telephone, email, and HR supervision. This software also has a mobile resolution that operates on your mobile device or tablet, whether it's iPad, iPhone, or Android.
This software provides a platform where you can manage, share, and discuss your day to day duties in a more simple way with your customers and employees. Therefore, if you are really looking for an enterprise resource planning tool that highlights remote working, Bitrix24 suits for a simple as well as a reliable solution.
Key Features:
Communication Manager: This software can help you to make a video and chat communication in-between, a distinctive type of HR process management, document manager, social intranet, and calendar.
Project and Task Management: It comes with features like Gantt chart for project workgroup, Kanban, visual project manifestations, time-tracking, workload manager, etc.
CRM Solution: Bitrix24 works as pipeline and lead manager of your company. It offers invoices, email marketing support, sales automation, query quotations, and a product catalog that can help you manage many of your company's tasks.
Contact Centre: This software comes with an outbound and inbound cloud call center, contact form, live chat, and social network manager.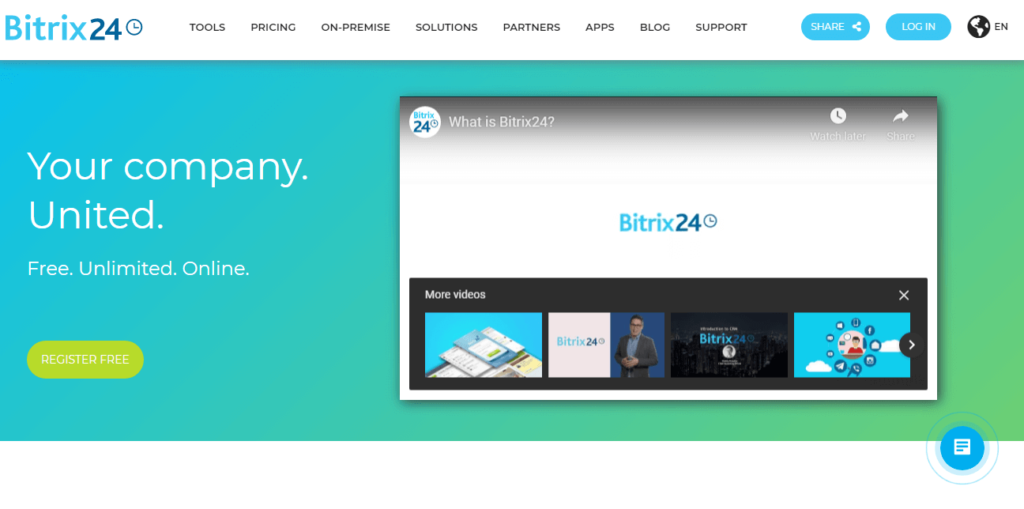 Assets:
Bitrix24 is a free useful tool that can be utilized for a minimum of 12 users.
You can get both the apps of this software – Android and iOS at free of cost.
If you take the paid plans of this tool, you don't require making payment for a separate user.
This software comes with a virtual telephone calling feature.
Bitrix24 comes with extensive functionalities along with extensive services.
Liabilities:
You may have to pay a little for additional disk space or some other optional features still after being paid the user.
The user interface requires a few improvements.
Lack of complete accounting requirements.
Less HR support.
This is another most secure and reliable open-source business resource planning tool available in today's tech market. It's an extremely full-fledged WordPress ERP system that also becomes more fulfilling in simplistic but sturdy ERP modules.
This system lets you manage your WordPress site as well as business from an individual platform. It offers you full authority over accounting, client relationships, and human resources. Certainly, there is also a 4th module available for project supervision.
Most surprisingly, you will get all the fundamental features to manage your business absolutely free of cost. Moreover, it sustains 20+ bonus modules to update your system to the next level. Millions of companies in 160 nations are utilizing this plugin to retain their enterprise running sleekly.
Key Features:
Client Resource Management: You can simply follow up or track inquiries with your subscribers, leads, and customers alike. Besides, it can also help you to schedule meetings and trades with post selling enterprises.
Human Resource Management: The HR module of this tool offers you the most HR features like recruitment partner, employee dashboard and self-service, and workflow supervisor. Along with this, you will get consent authority, an employee evaluation practice, and many more.
Smart Project Manager: This software can help you to set milestones, generate reports, and create projects. Henceforth, it also has activity logs, task calendars, discussion features, and private messaging.
Accounting: WP ERP can streamline your financial as well as accounts sections. Some of its features include – payments receivable and invoice, purchase transaction, sales tax management, journals for a double-entry method, and an integrated user dashboard.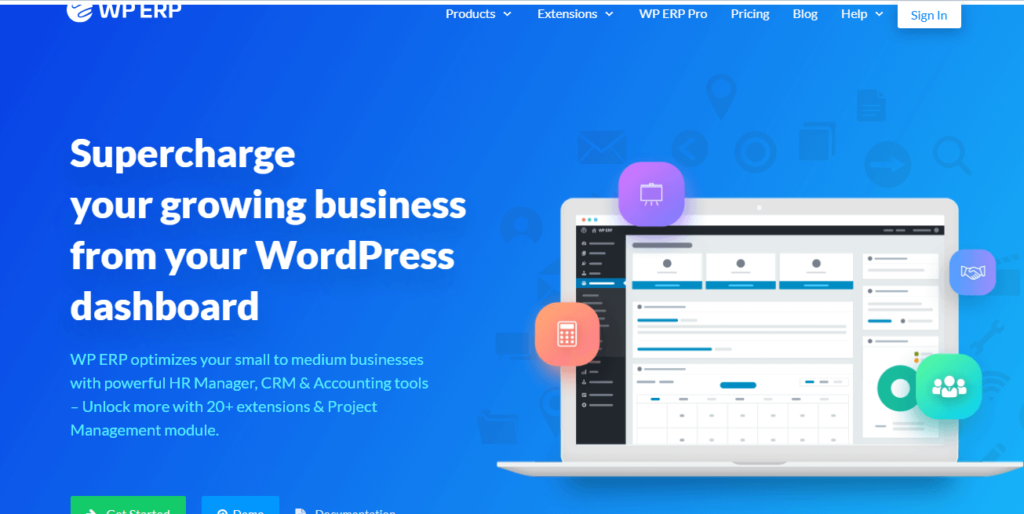 Assets:
It's straightforward to use this software for business resource planning.
Simple assessment process.
Help in managing all the projects and information under one single platform.
Can track and monitor expenses, profit, payables, receivables, and balance.
Assign tasks to the correct person and contact everyone smartly.
Liabilities:
This tool is only can be utilized in WordPress platforms.
Missing of employee onboarding service.
Priority Pro Software is a pioneer in today's worldwide ERP solutions market. It's empowering firms and corporations of all extents by offering the most inexpensive, flexible, and comprehensive ERP solutions to increase efficiency and profitability. To make the Enterprise Resource Planning process simpler, this software provides a more accessible alternative to complicated and expensive solutions.
Nowadays, more than 75K organizations in 40 nations depend on Priority Pro to control, manage and develop their enterprise. Priority Pro is translated as well as localized in 20 different countries in individual languages.
This software's system functionality covers all the fundamental elements of classical Enterprise Resource Planning with basic modules. It includes logistics, construction, finance, project administration, CRM, individual resources, business intelligence, etc.
This software provided both the cloud and on-premise software solutions – both of them provide 100% system functionality and enable users to obtain their data in real-time from tablets and smartphones.
Key Features:
CRM and Sales: This software can help you in doing a lot of tasks such as opportunity and lead management, target sales, client account manager, and order. Besides, you can also analyze the marketing campaigns with the help of this tool. Moreover, charting and reporting tools are incredibly crucial for a business that you can also get in this software.
HRM: You can handle the HRM work of your company by using this tool. It includes recruitment and job manager, performance evaluation—employee training capabilities, succession planning, and employee benefit program.
Financial Aspects: From generating financial statements to bills, this software billing provides each required accounting feature.
Supply Chain: This software can help you purchase and MRP planning, demand prediction, merchant relationship manager, product handle supervision, record, etc.
Other Services: Production and warehouse manner management, extensive business judgment analytics, and consumer support modules.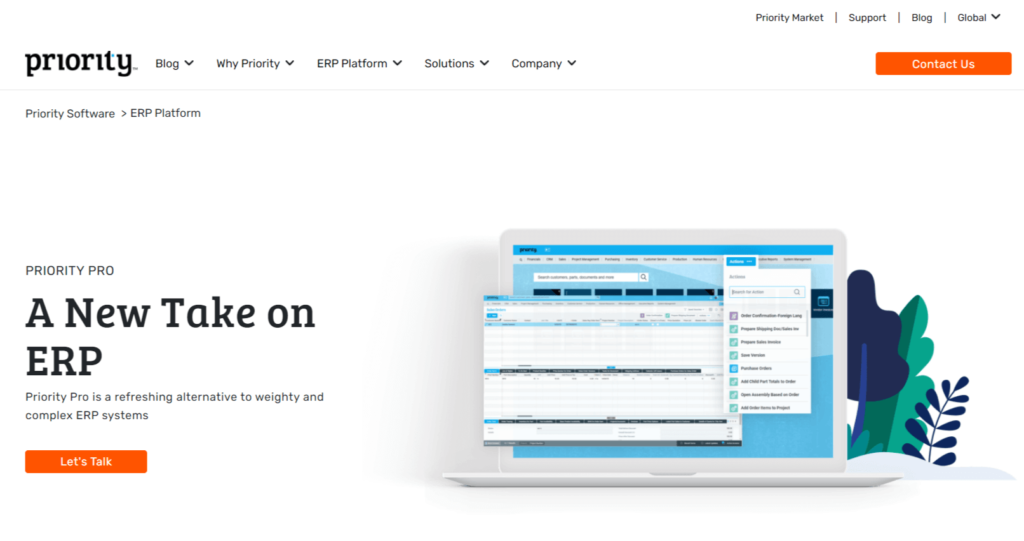 Assets:
Ease of use
Minimum Total Cost of Ownership (TCO) for consulting and licenses
Fast implementation
Comes with features like an Enterprise Search, a Google-like software that can search the text
Liabilities:
Support calls might take a long time to be solved.
The feeble ability of the conventional system to attach other apps
The last ERP tool we are going to mention is SYSPRO. It's a great ERP solution that is specifically designed for distributors and manufacturers. This software can be utilized in the on-premise, cloud, or a hybrid form. Besides, this tool also can be accessed from any smart device. Additionally, this software is permitted through a subscription or perpetual pricing model.
This tool offers an end-to-end, entirely combined business resolution that involves inventory management, accounting, planning and scheduling, order management, warehouse management, supply chain management, CRM a self-service portal, and making operations management apps.
Key Features:
Supply Chain Optimization: This software helps in sourcing approach management, supplier performance evaluation, tender and requisition process automation, risk management, etc.
Economic Management: SYSPRO has a greater perspective in providing support to your business. This software is introduced explicitly for a dynamic economic manager. This tool's core features involve – executive dashboard, asset register, digital tax tool, and general ledger.
Inventory Management: This tool helps in inventory prediction analysis and in order fulfillment performance. Besides, it also offers inventory optimization support.
Lean Manufacturing: This software comes with the ability to handle the tasks like sales and service process automation, business analytics reporting, and product research and development.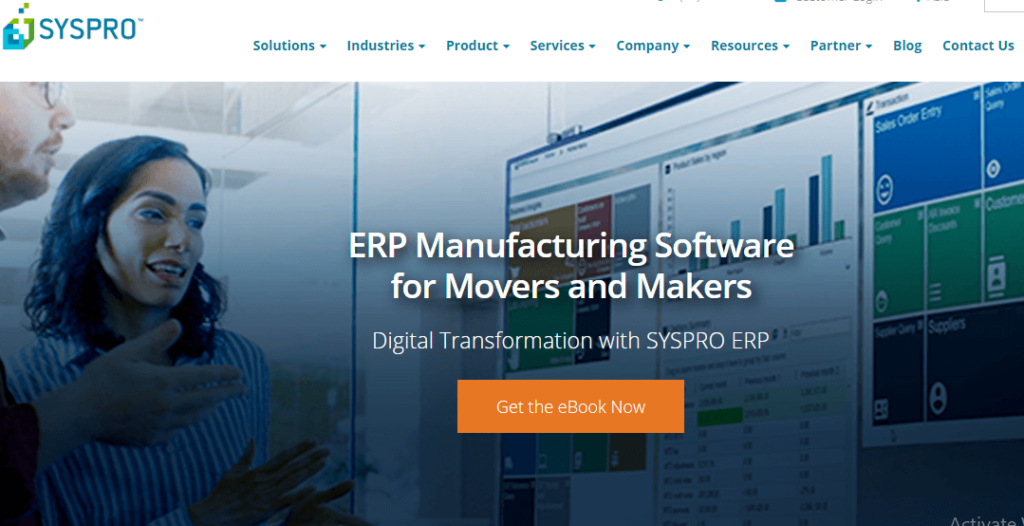 Assets:
Simple to navigate and use
It's an extremely user-friendly app.
Easy to input data to excel for analyzing fitter
The GUI of this software is intuitive as well as reliable.
Liabilities:
There are some issues with the customization of this software.
It takes time to read the complicated software management
Sometimes, you may feel hesitant to view various options to achieve a simple task
Wrapping up…
Well, these are the top 7 Enterprise Resource Planning tools available in today's market. Hopefully, after following the aforementioned ERP comparison carefully, you will be able to pick the perfect one as per your business's necessities.