The online payment market is one of the most rapidly evolved sectors of the online industry.
Online payments in India are expected to grow with more than a 20% CAGR between 2019-2023. The online transaction value will most probably be increasing by 16.3% in Europe & 15.2% in the US, from 2020 to 2025.
However, because of the global pandemic, the online payment sector has observed exponential growth and is expected to grow at an alarming growth in the upcoming years.
What is a Payment Gateway?
A payment gateway can be described as a mediator between the e-commerce platform and its payment interface.
In simple words, when you make an online transaction, the seller's website transfers your payment detail to the gateway for verification. This, in turn, confirms the bank's details and the amount debited from your account and transfers it into the seller's bank account.
Seen equivalent to the credit card processor, also known as a card-not-present transaction, dissects and moves payment data.
According to research, 86% of customers make online purchases via debit or credit cards, and more than 60% of them consider it to be their favored payment mode.
While picking a payment gateway, it is important to analyze the simplicity and security of an interface. Must not forget, the easier access to the gateway, the more are the chances of customer's revisiting the store.
Running an e-commerce store without a digitally secured and an updated payment method seems impossible!
A single unsatisfied payment experience might lead to a loss of faith for the customers, eventually turning into a sales loss. Hence, understanding and having a good payment gateway plays an important role while running an online store.
Why Is Payment Gateway Important?
If a payment gateway does not exist, you as a buyer will separately contact the bank to verify the transaction and make the purchase, and the whole process will eat your time and efforts. So, to avoid this hustle-bustle, payment gateways were launched to make the process easier and secure.
While cash and check transactions look like a lot of effort and direct bank transfers involve many risks, we need a more user-friendly third-party interface to easily make digital payments. Hence a convenient payment gateway becomes a necessity.
Sometimes a client might change the decision to purchase if caught under the payment method's complexities. Therefore, to reassure clients and impart their trust in the brand, a multi-functional yet fast and simple payment gateway is necessary. It becomes important to expand the customer base and improve convenience while undertaking a transaction.
A secure and comfortable transaction without any inconvenience or technical complication is all that a customer desires. A payment gateway must be smooth, fast, properly functional, and secured.
Choosing the right payment gateway might look like a monotonous task but is vital to earn customer's trust. Factors like Security, Ease of website integration, Payout Time, and Multi-Currency must be considered before selecting the payment gateway.
What Are the Factors to Consider When Choosing a Payment Gateway Provider?
Before discussing the top 7 payment gateway tools, it is essential to discuss the main factors you must keep in mind when choosing your payment gateway provider. Choosing a payment gateway provider can be a tedious process, and while selecting the provider, your main concern should be your customer's best experience.
Here are five factors that you must consider while choosing a Payment Gateway provider:
Security is one of the most important aspects while choosing a payment gateway provider, as your customers are trusting you with your money. Also, any problem on the checkout page or in the payment process seems to be more upsetting than anything.
Sometimes, some customers do not even realize that they are temporarily redirected to a third-party website to safely process their transactions.
Ensure that the payment gateway security provider security standards should meet minimum with the integrated 3D security and comply with the PCI Data Security Standard. This ensures minimum protection against hacking or fraudulent activities.
The payment time frame is an important aspect to consider while choosing your provider. The best payment gateway providers give the customers a reasonable timeframe for the payouts. So, check out the payout time frames before integration.
Online Payment Gateway integration is an important factor because it is not a DIY process. Ensure that the payment gateway process is easy to integrate and does not botch up your website's UX because of a slow payment process.
Also, make sure that the payment gateway you choose comes with strong customer support, which will help ease the integration process.
If you have a global business, it is mandatory to make sure that the payment gateway provider you choose supports multiple currencies during payments. For an international business or portal, this can prove to be a deal-breaker!
Usually, the payment gateways' pricing is based on the kind of transactions the business conducts, along with the type of market they serve, transaction frequency, or revenue consistency. It is vital to check on the gateway provider's fee structure.
They might charge for setting up some of the services and might need to draw contacts. There is a chance of a transaction fee if a set volume of transaction is not met.
Top 7 Payment Gateway Tools
Here is our compiled list of the top 7 Payment Gateway tools:
PayPal
PayU
Stripe
Amazon Pay
Authorize.net
Skrill
Braintree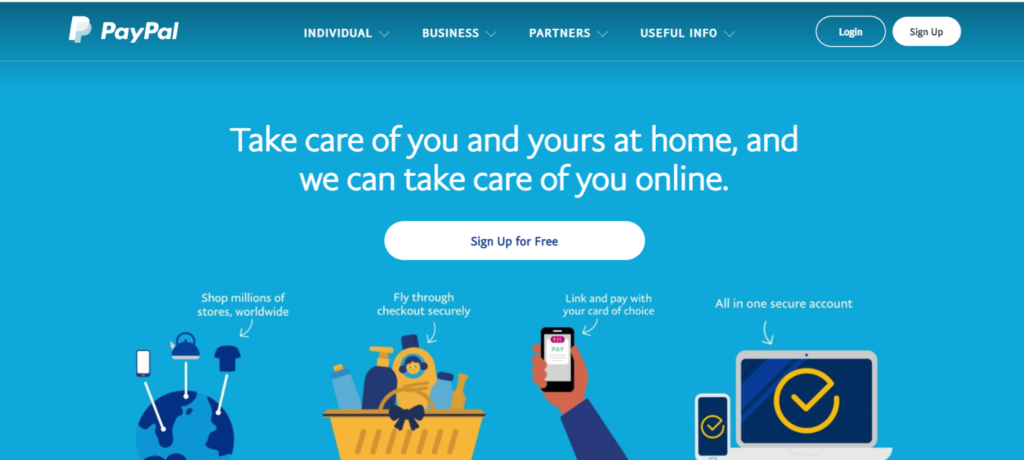 PayPal, an American company, is one of the largest and widely used third-party agents. It has been a payment service provider to businesses, freelancers, individuals, and shoppers since 1998. PayPal is used in over 200 nations, and it supports online money transactions. They provide online payment services as an alternative to traditional forms of transactions such as cheques.
Despite its ever-growing area of functioning and popularity, it also has its cons along with the pros. While it is known for its easy-to-understand technology worldwide, it has facilities that make its users deem it the best above all others in the niche. This payment gateway tool is a special favorite of business owners as it makes their lives so much easier.
From a business owner's perspective, PayPal makes carrying out transactions smooth, and setting it up doesn't require any professional help. It is a one-man's job and simple to carry out. The best part is you can carry it on your phone, anywhere, and use it anytime. It becomes a part of daily life, integrating itself as essential.
Pros of Paypal Payment Gatway
A user-friendly and straight-forward application
Keeps a track record of all transactions that are available on the transaction page.
Creation and maintenance of invoices isn't a thing to stress about anymore.
Mobile friendly and an asset to businesses
Free of charge when used for sending money to friends and family.
The encryption feature prevents frequent hackings.
Enforcement of high standard of security of user's data
Cons of using Paypal
Incoming credit flow implies a fee cut.
Freezes account without warning if the mysterious activity is sensed.
Account freezes also mean credit loss.
Additional fee for transferring credit from PayPal to a bank account.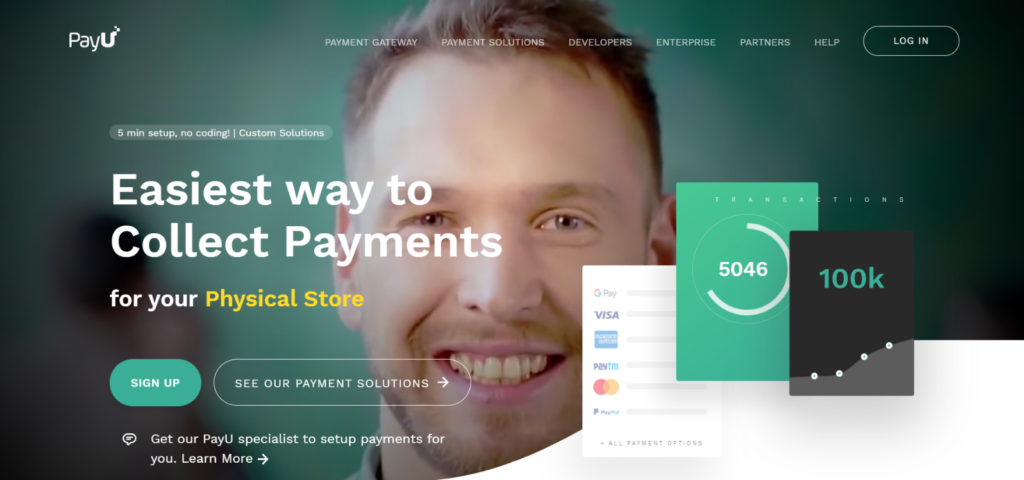 Also known as PayU money, it is a Netherlands-based fin-tech company operating in 17 countries. More than 450000 merchants on board aim to provide an ecosystem of high convenience, fast activation, and zero complexity.
Popular brands like Netflix, BookMyShow, Snapdeal, Airbnb, Dream 11, etc., have used PayU as their payment gateway. It supports more than 100 foreign currencies and possesses a wide range of payment methods, including UPI, EMI, net-banking cards, Wallets, so on and so forth.
PayU was launched in the Indian payment industry by Ibibo in 2011. By 2014, PayU detached from Ibibo and separated its operations as an individual payment gateway in India. It is accepted as the best payment gateway with minimal development effort and seamless transactions.
It also has an in-built anti-fraud system that provides a fraud management system taking care of matters related to the privacy and security of its clients. With zero cost of setup or annual maintenance fee and a user-friendly interface, the company shows all the transactions in the dashboard once the payment is made.
It manages your transactions, refunds, settlements, etc. and downloads reports for the same. Apart from this, it also allows users to customize the checkout page and has a facility that enables merchants to integrate a website and mobile app.
Pros of PayU
Zero downtime facilities and better conversion rates
Easy integration with user-friendly plugins, SDKs and APIs.
Instant activation without much detail requirements
Ideal transaction experience with features like OTP reading, dynamic switching, and magic retry.
100% hassle-free onboarding process
Cons of PayU
Poor signal and technical problems can cause repeated transactions.
It has a complex pricing structure.
Transactions costs are not fully transparent.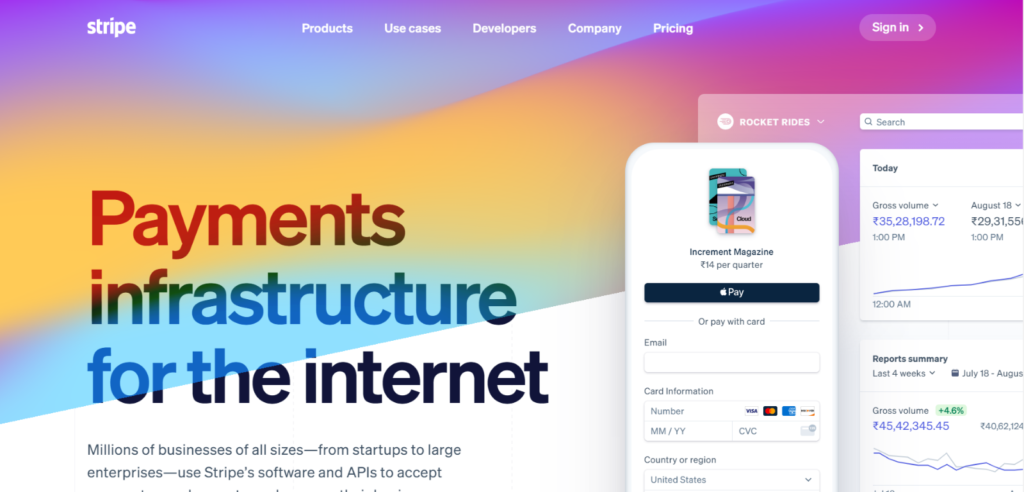 Stripe is another powerful payment gateway used by big E-commerce companies. You might not find anything out-of-the-box here, but that precisely what makes it unique.
It has a simple interface with a plethora of features and options that allow you to create a customized payment gateway, on-demand marketplaces, crowdfunding platforms and more. It supports Visa, MasterCard, American Express, Discover, JCB (Japan), and Union pay (China).
Stripe has a simple aim to make things as simple as possible for all types of businesses. Whether you have a SAAS business looking for a subscription billing option, an e-commerce site for easy in-app payments or a marketplace for seamless payment splits, it is everywhere. It is feature-rich software that supports more than 100 currencies and offers features like mobile payments, subscription billion and single-click checkout.
Besides this, Stripe also supports a range of development languages like Python, Java, PHP, etc. It is one of those platforms that has seen a quick and progressing demand among emerging businesses. According to studies, brands using Stripe have increased revenue by 6.7% and have successfully reduced operating costs by 24%.
Stripe also offers an added advantage to customers based in Europe as card processing fees are 1.4%, whereas it is 2.9% for non-European cards. Also, it has laid out customized plans with heavy discounts for businesses that have large volume needs.
Pros of Stripe
Built-in APIs and other developer tools
Predictable flat-rating pricing
Exceptional subscription tools
Multi-currency support
Cons of Stripe
Requires Technical understanding
Account stability issues
Not suitable for high-risk industries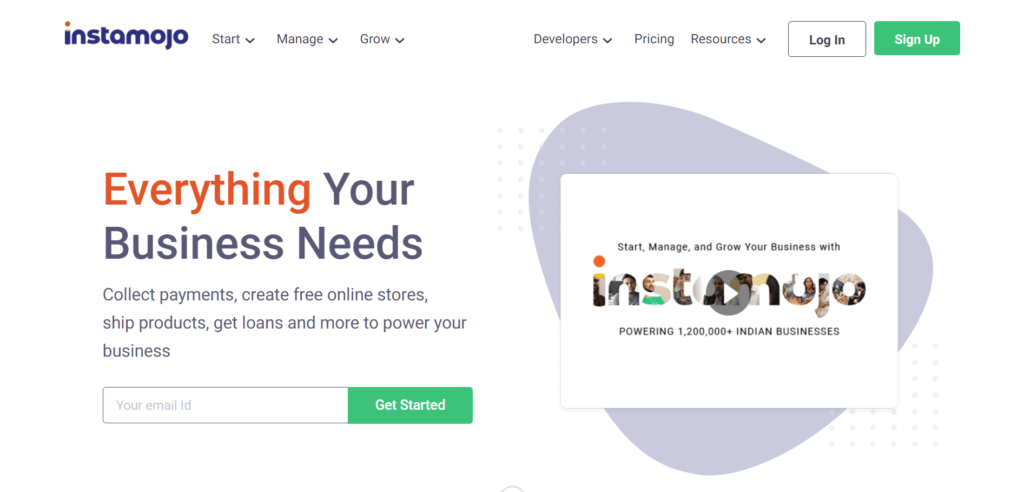 Instamojo is considered to be India's largest on-demand eCommerce & payments platform. Founded in 2012, it initially offered a method to collect payments for digital goods. However, a lot of people are now using it to collect payments for everything – reports, tickets, passes, ebooks, tutorials, merchandise, etc.
This gateway allows new merchants to easily create a merchant account to collect online payments without any website easily. Now, it is easier to set up your merchant account with their recently introduced instant onboarding feature. You do not require any documentation to set up a trial account with Instamojo. All you have to do is answer some questions & then get started.
For a complete account, the bank statement along with the PAN card remains the only requirement. You can create a payment link or a button – basically, a page where you can list your services or products or directly request a payment.
Pros of Instamojo Payment Gateway
You have to answer a few simple questions to set your account up.
No need for a website.
The maintenance fee is Zero.
Any payment mode is accepted, including Credit Card, Debit Card, Net Banking, UPI, NEFT, and Wallets.
Cons of Instamojo
There is a transaction fee of 2% + Rs 3/transaction.
It does not support any international transaction.
It also misses out on a mobile application.

Also Read: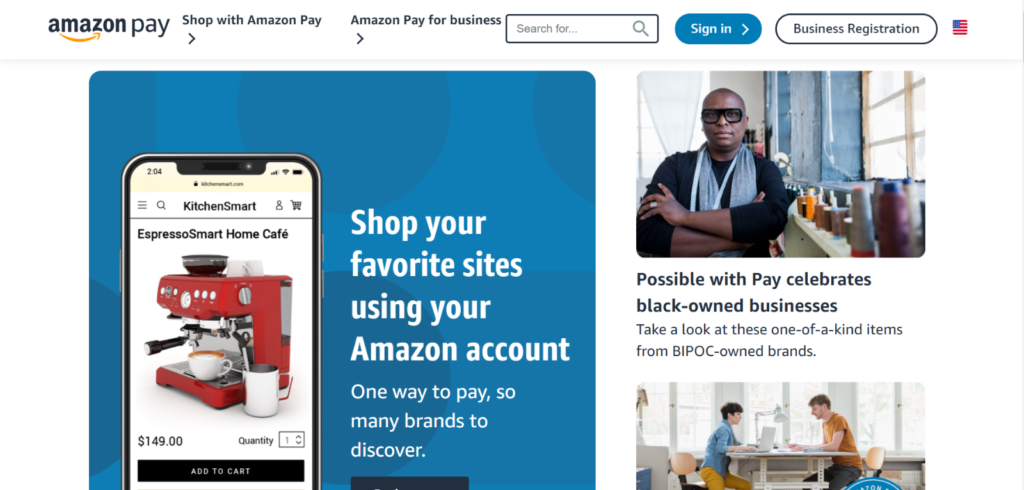 A highly reputed, fast, and reliable source of making payments, Amazon Pay give customers a relaxed and satisfying experience. It is a wallet-based payment gateway designed specifically for Amazon sellers and shoppers. It comes with two different packages- Pay with Amazon and log in and Pay.
Pay with Amazon is a merchant-specific gateway that helps sellers to provide a smooth experience to their customers. By giving an option to make payment through this option, buyers are no more required to add their shipping address, name, credit card details, etc., to the merchant's website.
It is automatically accessed, making the purchasing experience hassle-free. The interface is loaded with multiple features that are built to attract new customers and retain regular shoppers. This option has also made start-ups grow, and various other large enterprises expand their businesses by facilitating a fast and easy checkout experience.
On the other hand, login and Pay are for buyers who can enjoy the shopping experience with a simple sign-in into an Amazon account and make payments. It ensures speed checkout from several sites and apps.
Once entered, the information is stored automatically and accessed whenever the buyer comes online to shop. This simplifies shoppers pay, whether online or through the mobile application.
Amazon Pay focuses on customer satisfaction and takes utmost care of their privacy and security. It has a strong security system that includes fraud detection and merchant protection. It believes in helping businesses grow by maintaining a strong seller-buyer relationship.
Pros of Amazon Pay as Payment Gateway
Hassle-free check out from multiple websites.
Increases conversion rates as well as offer different consumer-centric schemes.
A simple implementation for Shopify users
Reliable safety system
Attractive tools and help enterprises to expand operations.
Easy to sign up and integrate.
Cons of Amazon Pay
Sometimes it takes more than two business days for payment clearance which becomes inconvenient for many sellers and buyers.
Frequent accounts hold Freezes and Terminations.
High processing rate and can be expensive for high volume merchants.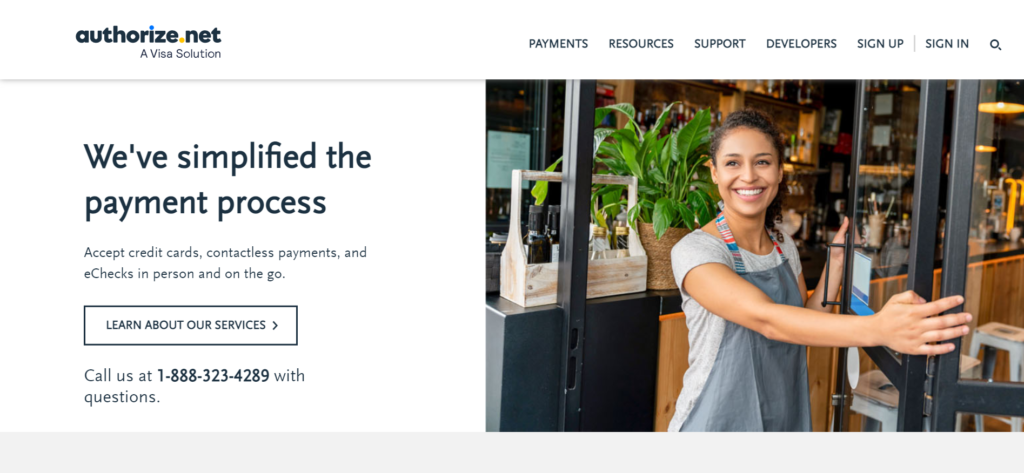 Streamlining transactions and making the payment process easier is the sole aim of this software. Developed for businesses of all types and sizes, the software gives you tools to sell items and receive payments online or in-person.
It is a reliable system that offers you an easy checkout system, a customer information manager, automated recurring bill, and QuickBooks Support, all of it with a very minimal monthly payment. It supports credit cards like Visa, MasterCard, American Express, Discover, Diner's Club and JCB.
This platform is also adaptable with digital payments services like Visa Checkout, Apple Pay and PayPal.
It is one of the oldest used payment gateways in the e-commerce industry. Although people generally confuse it with a merchant account provider, its primary product is the payment gateway.
However, it is suggested that you must have a merchant account through a provider that doesn't partner with Authorize.net. The process of receiving and transferring payment to the merchant account becomes quick and unhindered.
You can also directly sign up with Authorize.net for a gateway only account; whatever you choose depends on the size and requirement of the business.
However, an important drawback that I feel worth mentioning is that although it can accept transactions made by users worldwide, your business must be registered in the US, Canada, Europe or Australia if you want to use this service.
Pros of Authorize
Support for credit cards and digital providers
Supports a wide range of currencies.
Any kind of business can use it.
You can customize what email notification you must receive both for individual transactions and end of the day.
Cons of Authorize
The website has an awful interface. It can be hard for developers to work with.
It becomes irritating at some point because it asks for unnecessary credit card information.
All-in-one options may puzzle some users.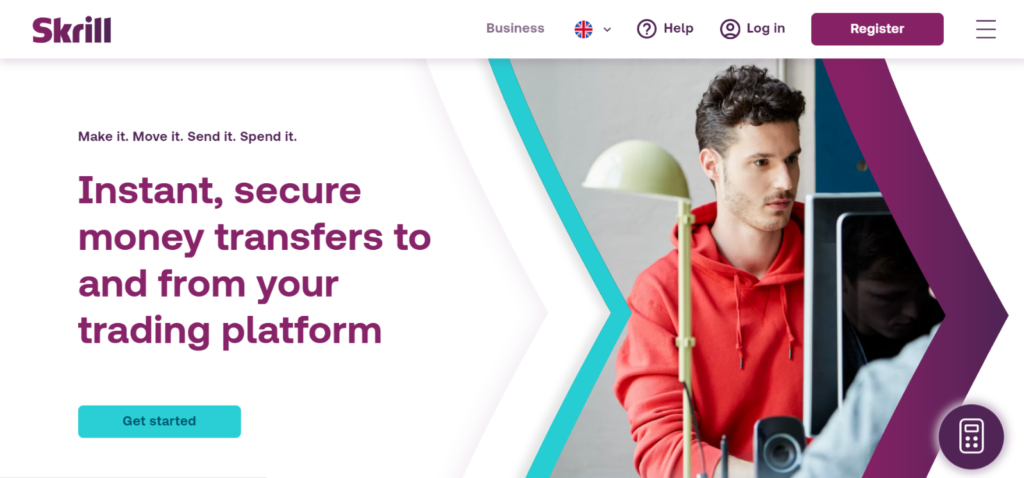 Launched in 2001, Skrill is a digital provider offering a wide range of money transfer services besides being a one-stop-shop for other online payments. It is famous for its multi-purpose feature set that supports 40 fiat currencies in over 200 countries.
It has a user-friendly interface that enables the quick transfer of money. In terms of user experience and convenience of smaller amounts, it works pretty well.
It serves both merchants and customers of those merchants to transfer money or pay for goods and services online. It is a cost-effective way of making real-time payments and transfers. It has a very quick installation process and takes a couple of minutes to sign up and verify, and you are good to go.
Skrill is fully licensed and a secure platform wherein you can access the funds in your Skrill account at any point in time. Your funds are always safe and can also be linked to your bank account for easy transfers and withdrawals.
Another interesting aspect about Skrill is that the more you revolve cash around this platform and the more transactions you undergo, it will progressively open up a unique VIP programme for you. This will reduce the cost, and the more you use Skrill, the cheaper its services will cost you.
Apart from all these features, it has the cheapest charges and a simple and inexpensive cost structure. It is often used by merchants and customers who make withdrawals and transfer frequently. It also offers round the clock customer and merchant support.
Pros of Skrill
Available in 200 countries
Can work wit forex and multiple online gambling accounts
No separate transfer fee when the money is directly sent to the bank
User- friendly mobile app
Buy and sell cryptocurrency.
Offers a prepaid card powered by MasterCard
Cons of Skrill
High currency exchange for 'Skrill to Skrill' transactions
Complicated fee structure and policy
Getting fully operational can be a long, complex, and tiring process.
Conclusion
Choosing the perfect getaway tool for your business can be quite a task, but it is easier to make a choice when you are well-informed about all aspects of each tool. The best way to choose the right payment gateway tool should be to identify all your requirements, and keep in mind the things you must consider before finalizing one! Hope this article proved to be of value to you.