The saying customer is the king of business is rightly said. The company could not sell its products and generate revenue without the customer's existence. Businesses need to evaluate and understand customer needs and gain their trust, or customers will find other companies that meet their demands. CRM software is the best tool that helps you store your customer's data, assists in marketing campaigns, generate sales pipelines, and identify new customer prospects.
CRM is beneficial for any and every type of business, whether big or small. Its application can be seen in insurance, retailing, banking, consulting, hospitality, real estate, and many more. Any industry that includes customers is entitled to benefit from CRM.
What is CRM?
CRM stands for customer relationship management. CRM consists of 4 strong pillars, namely people, process, technology, and strategy, that sustain the existence of any business. It seeks to understand the behavior of customers and integrate a holistic approach to nurture the customer relationship. The evolution of Information Technology and constant changes in customer behavior has given rise to CRM.
Businesses have realized that customers are essential to any business. Without them, it is difficult to sell any product and generate any income. Companies have understood the importance of satisfying the customers and have started producing goods according to their needs. Further, the expense of acquiring any new customer is very high and includes promotional costs, brand awareness, marketing expenses, advertisements, etc.
Increasing the customer base is significant for the credibility and profitability of any business. Thereby also motivating valuable and loyal customers to buy again from the company. CRM helps us to understand the changes in customer behavior and skillfully manages all the customer's records. It is potentially the best way to enhance the customers association with your business and keep them engaged in repeated sales in the bargain.
CRM is an efficient system that guides us through the journey of customer acquisition to customer loyalty. Though very easy to understand, customer relationship management solution fails in many organizations due to its improper implementation. It is vital to note that though CRM is more technology-based, people, strategy, and processes also play a significant role.
What is Real Estate?
Real estate refers to any real property, land, house, and anything attached to land example, trees, bridges, fences, etc. It also refers to anything artificial or natural that lies above, beneath or attached to the land. A person can invest and buy such land for their use. The owner of land or property has the right to sell, possess, enjoy or rent that property. Some features of real estate include immobility, indestructibility, transferability, uniqueness, and permanent investment.
Real estate is divided into five categories:
Residential land
Commercial land
Raw land
Industrial land
Special use land
It is necessary to keep customer relationships in CRM software designed to create a real-time, centralized database that delivers real-time data after gathering complete information. Through Property Management CRM, you can collect customer contact details, including names and email addresses in addition to their preferences. This real estate CRM solution enables realtors to share leads with others.
Realtors will have more customers if they can effectively communicate with them and maintain a healthy relationship with each of them. To develop this bond, realtors live real estate leads of potential customers.
Real estate business deals with the buying, selling, investing, leasing, and managing such properties. All that can be complicated to manage without the use of CRM, so let's discuss the need for CRM in Real Estate.
Benefits of using CRM in Real Estate
Knowledge about the Customer
CRM software gives you accurate data that helps you sort customers into occasional customers and recurring customers. It also gives you efficient solutions to procure new leads and customers. Storing all the customer-related information like their mobile numbers, name, e-mails, etc . becomes easy and centralized with CRM. It helps to effectively interact with customers and understand their needs, making them satisfied. This customer relationship management solution paves the path for external interactions and relations, leading to success.
Real estate is a real game of people. It's not complicated to guess that realtors need to be aware of their client's needs and situations rather than just understanding the professional aspect of the estate business. With CRM software, you can efficiently manage your client database and keep in touch with them via e-mail or social media. Moreover, you can easily add notes to the client's record, organize appointments with them, and send emails to prospective clients for making an appointment.
Enhanced Communication
The automated templates in CRM are customizable according to your needs, such as invitations, quotations, proposals, documentation, letters, etc. It enhances your customer communication and helps to respond quickly. The customers are delighted with speedy customer service, and they feel valued. CRM helps to find solutions to customer problems, and quick communication gives a personal touch.
CRM can also easily be integrated with any real estate agent's website and realtor software. This will help the realtors to remain in touch with their clients via the firm's website, which is simple, faster, updated, and convenient for both agents and customers.
Automated Marketing
CRM software allows real-time tracking of customer behavior. It uses advanced algorithms and machine learning that helps you get real-time data about the customers. CRM generates leads and compiles customer profiles who are ready to buy. This real estate CRM Software improves your marketing strategy, accuracy, and efficiency when tracking customer behavior. For real estate agents, real-time data also assists in providing customized service and real-time guidance for real estate agents as they aid you to capture more business.
A real estate CRM is the real game-changer for realtors; it enhances efficiency, boosts profits, and saves time. This customer relationship software helps realtors track their client's behavior and manage their contacts lists in one location, making it easier for marketing purposes.
Transparency
The real estate industry is worldwide, and it requires transparency to be efficient. CRM system is integrated with the property management system or sales software that allows real-time RE estate transactions. Leads distribution management helps realtors to remain transparent, accurate, and convenient with real-time data. It not only saves time but also reduces the manual effort to a greater extent.
Business Growth
CRM is a system that aligns your strategic business process with customer needs and finds a balance to satisfy both parties. It automates various business processes such as task allocations, workflow management, task categorization, sales pipeline, etc. It reduces manual errors, data duplication and saves time. It involves coordination and collaboration between teams which leads to business growth and development.
CRM real estate software holds the realtors to a higher standard of accountability. It is used for marketing, sales activities, and the bidding process, which helps real-time data tracking and alerting in case of any delays or issues. So that you can manage your agents more effectively; it helps realtors to define business goals, business processes, and business operations.
Protection and Privacy
The threats of data leaks and hackings have compelled CRM to safeguard the privacy of sensitive contact information. Cloud-based CRM often gives more security in comparison to locally stored data. Restrictions on the access, advanced security options for subordinates and seniors, restricting data exports, and clearing data in case of losing devices are included to protect the customer data.
CRMs also help businesses with risk management, including compliance, risk assessment, protection of critical information, and reducing exposure to risks. Most CRM software on our list also protects the data on personal storage devices, which is not usually available in other applications. It prevents unauthorized modifications, destruction, or disclosure that can lead to loss of business profits or information.
It also helps employees handle risks by providing guidelines on how they should react when a high-risk situation occurs, which can be a risk to your physical assets and your online assets.
Integrations
CRM not only integrates with other sales software, but it also comes with tools to help you easily connect CRM with any website without expert assistance and IT support costs. Thus, it is easy for RE Businesses of all sizes to quickly implement CRMs and start streamlining their operations sooner than later.
CRM systems have become an essential part of the real estate industry. Though they not only focus on enhancing productivity but also help in saving time and energy, which allows realtors to focus on meeting potential customers, creating a strong connection, and closing leads rather than spending hours tracking their customer's behavior or managing their contacts lists.
Is CRM needed for Real Estate?
Many New in Real Estate Industry thinks less of CRM as it involves a bit learning curve, but anyone in this industry for much time will agree on the importance of managing contacts lists, lead followups, lead distribution.
Managing and Selling real estate involves many steps, from finding a realtor to closing the deal. The realtor may be an independent agent or may work as part of a real estate firm or brokerage. Still, whatever it is, they have to manage clients' leads, schedules, property listings, marketing, buyer and seller details, etc.
Budgeting real estate involves a lot of paperwork, and realtors have to manage not just their time but also the clients. In case of emergencies like realtors getting stuck in traffic, they can be in touch via SMS or calls instead of asking the realtor to call them back once he reaches his office.
As mentioned above, CRM software is beneficial for any business having customers. Real estate has a lot of customers, so a CRM platform is essential.
It's important to use CRM Real estate as this business as more than 82 percent of new sales occur through existing customers or referrals. Estate Business is based on trust plus belief; And, CRM is called relationship management for a reason.
Realtors have to go through a lengthy process while selling or buying a property. CRM has many uses, and it helps anyone with customers or leads to manage.
CRM software can help them keep track of their appointments and follow-ups.
CRM software can help real estate to efficiently manage their contacts, documents, meetings, workflow, sales pipeline, feedback, and many more things.
Real estate is just not real estate anymore. Today, realtors must handle data and tech-savvy buyers to make a sale, present, and sell real estate online.
Realtors have to manage real-time data from the prospect and then manage the sales funnel and pipeline in real estate. CRM helps in that process.
CRM helps real estate agents need CRM software that can integrate with other business software like Zillow or Redfin so that realtors can update their prospects promptly.
CRM software helps in boosting the real estate business as it can save realtors time. Time is money for realtors as they have to earn from every real estate lead. CRM enables prospect realtors to organize their real estate leads so realtors can increase their real estate closing ratio.
Real estate CRM software helps in collecting and storing extensive data for easier access.
CRM offers the flexibility to agents to create user-friendly custom fields. Real estate agents can add more info like interest areas, salary range, showings preferences, and investment details related to each of their leads promptly within no time.
CRM software helps agents to make it easy for clients to contact them via SMS or calls, which is a lifesaver as realtors can receive info about their appointments even on the way if traffic jams are there etc.
Real estate agents can always access their customer contact information via CRM: Information like phone numbers, emails, and social media details can be stored in one place with no hiccups or delays.
CRM software is beneficial for real estate agencies as it helps them manage their business better by improving the lead conversion ratio.
7 Best CRM tools for Real Estate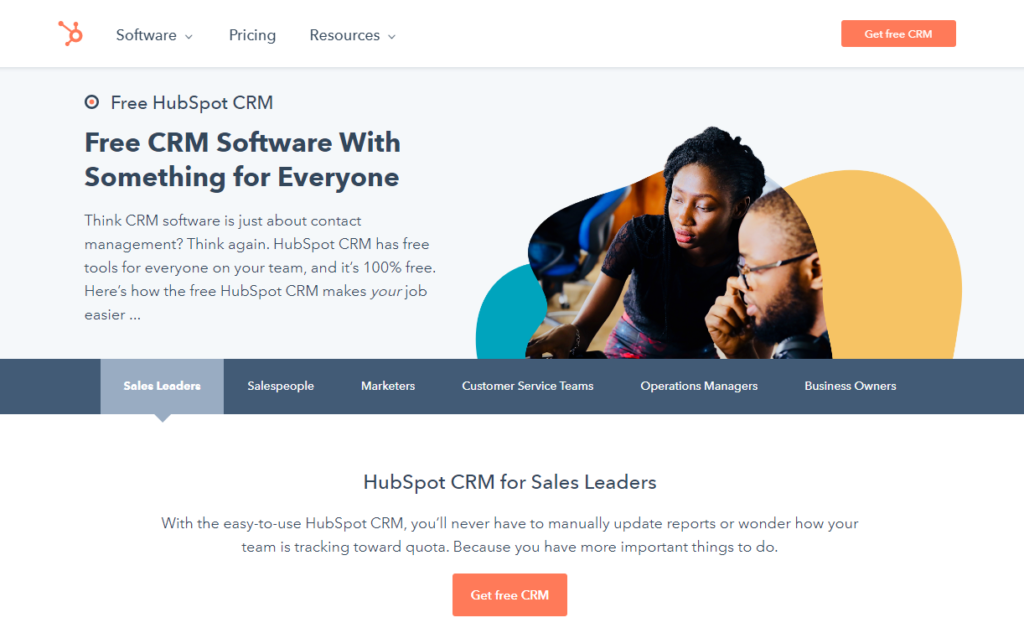 HubSpot is a free cloud-based CRM software where there is something for everyone. This all-in-one software gives your team members free access to various tools. The rich features of this software offer to schedule timely meetings, customized email templates, and help manage customer information. The function of connecting with the customers with live chats, e-mails, and messages makes your business easy.
The management of sales pipelines, automation of sales capabilities, call trackings, and auto-designed templates help you get started quickly. You can also customize appointments and automate the tasks accordingly with this software. The HubSpot's App Marketplace assists you in integrating other company apps with CRM. This software is ideal for the real estate industry to keep its system centralized and achieve great functionality at the same time.
Some benefits of using Hubspot:
All-in-one CRM
Hubspot CRM is an all-in-one tool that helps to combine various software and integrate them to ensure effective results, easy task management, and increased sales. The easy integration with the App marketplace makes it a delight for the clients to transfer and link all the data from one software to another.
Centralized Data
While using Hubspot CRM, you can easily sync the customer data, sales, and marketing information to get a clear view of the growth. The error of duplication is otherwise eliminated due to the uncomplicated linking apps facility. It helps you to map the customer's journey and generates reports for better understanding.
Hubspot Academy
The dilemma of buying new software and not knowing the features or interface well is no longer a problem for HubSpot. With the dozens of courses and videos available on HubSpot academy, you can learn the platform interface, its various features, and how to use it. It also keeps you updated and educated on the different trends in customer service, sales, and marketing. It will help you grow as your business grows and applies to both big and small businesses. No doubt why it is called the best contact management software.
Cost: Free, Starter- $45/month for 2 paid users, professional- $450/month for 5 paid users and Enterprise- $1200/ month for 10 users.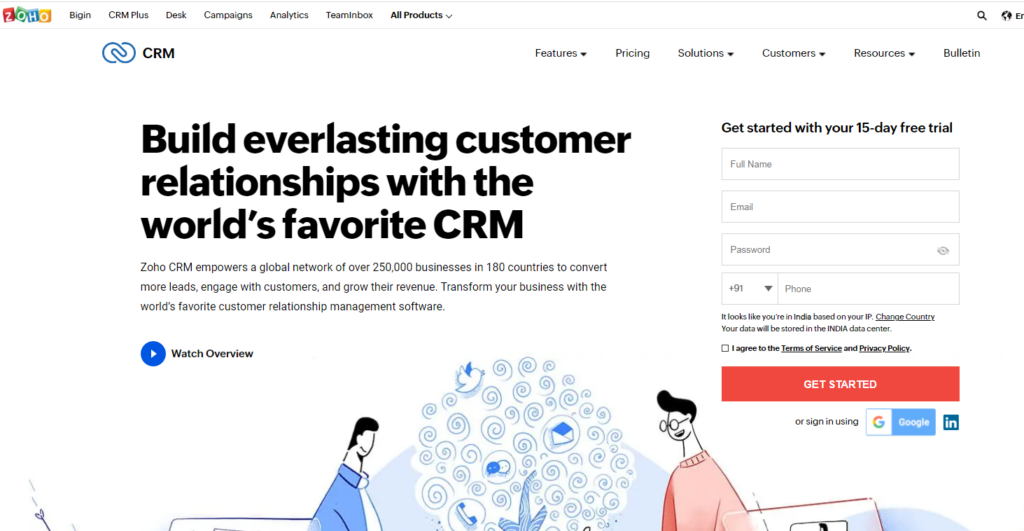 Zoho CRM is software made to accelerate your sales, manage your properties, automate real estate development, and help in the lead generation for all sizes of agencies. It helps provide to the various needs of real estate companies while managing the relationships between customers, agents, brokers, the banking sector, financial organizations, and developers involved.
Real estate is a tricky business, and most of the customers are referrals from previous customers, friends, family, or colleagues. Thus, maintaining a customer database and managing relations becomes essential. The other features of Zoho include automation of workflow, deal management at each stage, real-time notification, optimized sales pipelines, accurate data entry, and many more. The seamless and integrated interface allows you to view the availability of each property, its valuation, and its address at a glance.
Some highlights of Zoho:
Sales Pipeline
Zoho helps to manage each stage of sales with automated blueprints that guide your team throughout the process of sales. Create levels in the sales process, for example, lead generation, follow-up, order management, and closure. Review the entire process and validate your sales data according to your criteria with Zoho.
Omnichannel
Connect to your customers with social media, e-mails, chats, and messages. Set a real-time notification and get notified every time a new prospect interacts with your platform. Know when your customers are talking about your brand, browsing your website, or reading your email. Take this opportunity and convert your leads into sales, in turn growing your business and profitability.
Reports and Analysis
Get real-time reports and analyses of marketing trends, sales opportunities, team performance, and activity indicators with Zoho. The creative dashboard displays components that help you analyze your next milestone towards growth and ensures easy task management. Zoho forecasts and analytics helps to expand the reach of your business and gives reliable data to make better decisions. Although paid version, it is a very versatile contact management software.
Cost: Standard – $12/ month per user, Professional- $20/ month per user, Enterprise – $35/ month per user and Ultimate – $45/ month per user.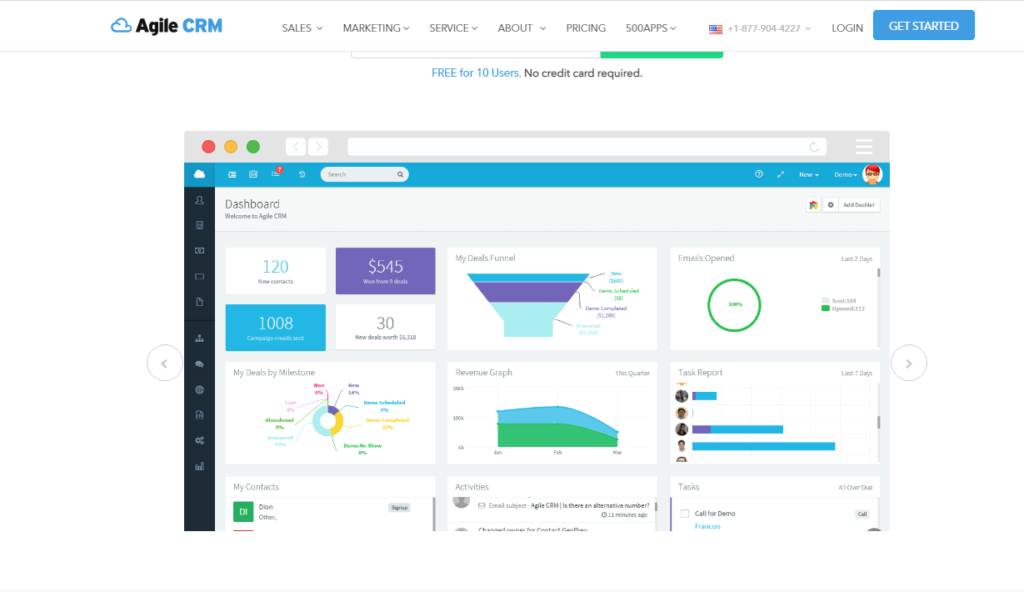 AgileCRM is one of the best contact management software that helps generate new leads and increases pipeline visibility. This easy-to-use CRM software helps you to track your clients and follow them on social media handles to convert the prospects to buyers. Other features of this management platform include tracking documents, storing unlimited records, setting appointments, data entry, task allocation, and management in one collaborative software, free for a small team of 10 members. Its management tool excels in sales marketing and email marketing.
Agile is a cloud-based SaaS software that one can easily operate from anywhere with mobile phones. The easy integrations with google drive, Gmail, and other social networking sites increase customer engagement.
Allow best customer service with consistent marketing, service efforts, and tracing sales all at a centralized place. Get one-click helpdesk support with calls, voice call automation, and call scripts in case of query.
Some advantages of using AgileCRM
Sales Review
One of the most key features or the valuable service that AgileCRM strives to achieve is strategic marketing campaigns, bringing more customers and their purchase journey. This software automates the entire sales process by bringing new customers, adding custom tags, filtering contacts, scheduling action, email notification, calendar syncing, and managing deals. You can review the sales process and analyze your sales with this software.
Marketing Workflow
AgileCRM allows the users to use the easy drag and drop function to schedule their appointments and increase their marketing workflow automation. Schedule dates and set a notification reminder never to miss the deadline. Easily assign tasks, take follow-ups, and monitor deals progress to enhance efficiency. Also, manage and maintain your contacts for future endeavors.
Easy to Use
Various functions in the AgileCRM software are automated, making it easy for anyone to use and understand. The sales pipeline automation also makes it convenient for beginners to get started. The user interface of this tool is easy to operate, and mobile apps are simple to learn. Further, the webinars conducted on the website help you to understand the working of this tool better. It is ideal for small businesses that are looking to expand and reach out to more people.
Cost: Free for 10 users, Starter- $8.99/ month per user, Regular- $29.99/ month per user and Enterprise – $47.99/ month per user.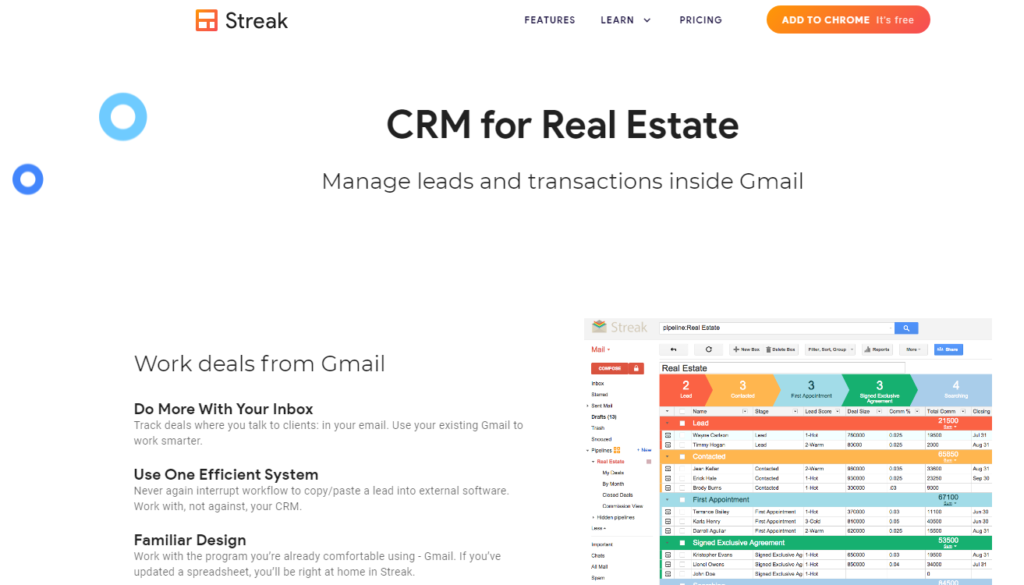 Are you more comfortable with emails and google workspace? If yes, then this software is for you. Streak CRM platform helps you to work on your deals from Gmail itself. Use your existing email in lead generation, track more customers, and communicate with your clients. Don't spend time using external software on lengthy tasks to disrupt your workflow and shuffling the information from one software to another. Just install the free extension of Streak and get started on your Google app.
This free software is also feature-rich with efficient task allocation, automated reminders, e-mail tracking, sales pipeline management, and dynamic categorization of emails. It is an ideal option for people who don't want to or have time to learn new things and are comfortable using systems they are familiar with.
Features of Streak CRM
Organized transaction
The workflow of the sales pipeline in Streak CRM is streamlined and organized. It helps you to manage and share all contact information about the customers among your team. Centralize all the documentation in one place and transform it into papers for better understanding. Set appropriate permissions to various parties involved in real estate and enhance better control over it.
Collaboration and performance
We all know email is the best collaboration tool, but there are some weaknesses. The weakness of email collaboration is converted into strength in Streak, making it more collaborative. The key people involved in real estate find it easy to communicate using Streak. This, in turn, enhances the performance of the members, which one can also easily calculate.
Simple and Time-Saving
Let's face it. E-mail is an easy form of communication. The complex system that needs to be learned by both the buyer and seller in the real estate industry is eliminated with Streak. It reduces the learning time of the new system and helps to capitalize this time on streamlining the workflow and finding new clients. Snippets created are sharable within your team, which further saves time.
Cost: Free, Solo – $15/ month per user, Pro- $49/ month per user and Enterprise – $129/ month per user.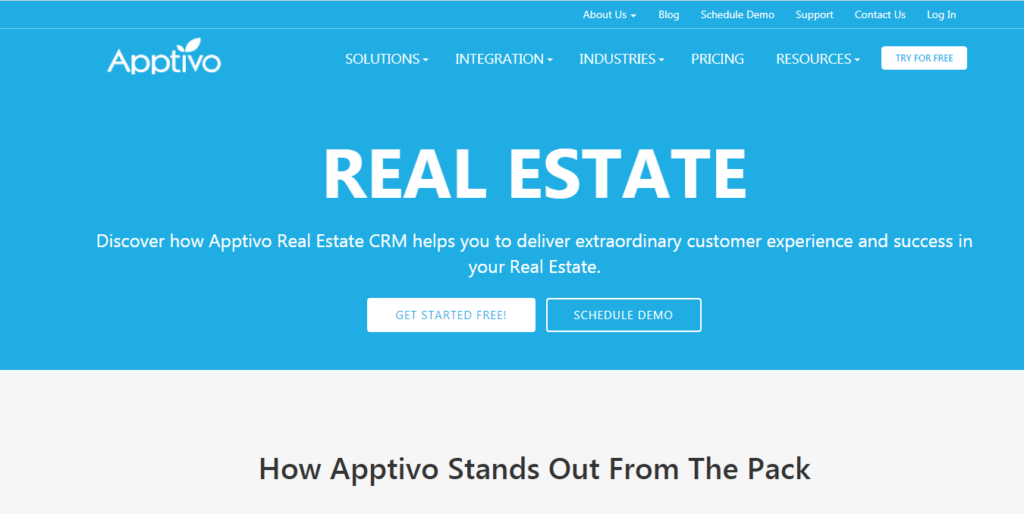 Apptivo is a powerful contact management software that allows you to access customer data from anywhere, saving the client and your time. It also allows you marketing automation, invoicing, e-mail communication, and targeted marketing campaigns. The project management tool of Apptivo guides you through setting tasks and reminders, list appointments, home inspections, and helps in each step to deliver the best customer experience.
Other features of Apptivo include inventory management, communication, customer relationship management, regulated workflow, and sales order to agents. Integrate various apps such as Office 365, Google Workspace, Dropbox, PayPal, and many more to manage your work in a centralized place.
Some advantages of using Apptivo
Real-time access to data
Real estate is an on-the-go business, where you have to travel to show the housing location to the clients constantly. The mobile app of Apptivo gives you access to all the customer data at any place and anytime you want. You can track and manage all the updated information about the potential, new and old clients make it easy for you to convert more sales.
Automation
Real estate is a busy occupation that involves more traveling. A client may send their concern or query when you are not available. This may lead to loss of clients, and to avoid such a situation, Apptivo has an automation facility. It helps you to set a personalized response system by addressing the customer query and sending acknowledgment responses to their issue.
Effective Communication
Apptivo helps developers and builders to share essential files and documents with their clients immediately. It also helps inform project timeline, due dates, payment inventory, and delays directly through your mobile app. You establish two-way communication between the buyer and seller using the Customer apps and email integrations.
Cost: Free, Lite – $8/ month per user, Premium- $12/ month per user, Ultimate – $20/ month per user and Enterprise.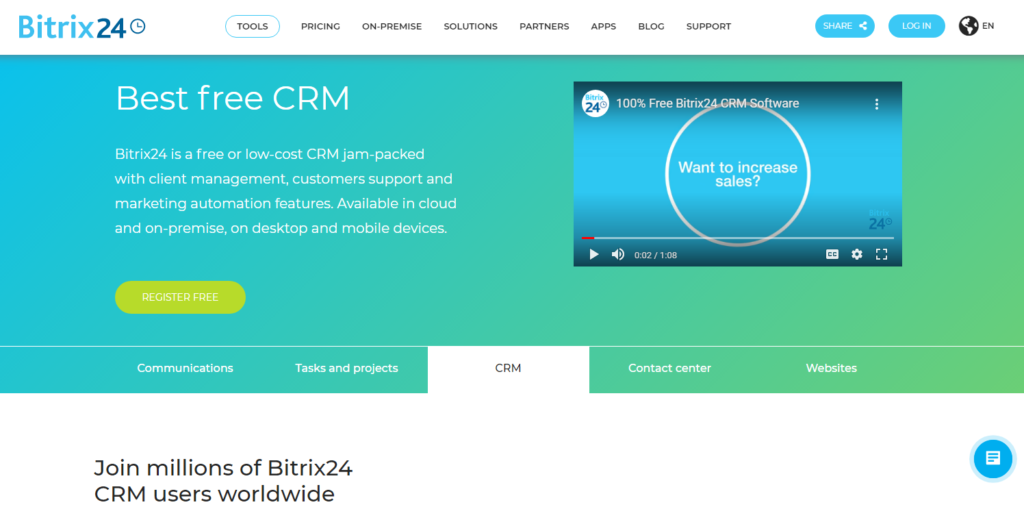 Bitrix24 is a leading CRM tool that can help realtors, dealers, agents, and brokers to communicate directly. This free CRM software helps to openly communicate with clients using live chat in the video, phone calls, messenger, social media platforms, and call-back forums. It provides visibility to your project tasks, deadlines, along with reminders and tracks time for accurate billing.
The marketing automation capacity of Bitrix24 helps to move clients through different levels of automated sales funnels with ease. Pipeline management, repeat sales automation, sales reports, and 360-degree customer feedback are features of this tool. Further, the sales and marketing innovation helps you calculate your expenses and return on investment efficiently without any external app.
Some highlights of using Bitrix24 are:
Sales funnels and automation
With Bitrix24, large and small businesses can better understand their sales processes and automate each step in their sales. Personalize each level of sales and improve the conversation with sales marketing and email marketing features. It is simple to visualize the representation of pipeline management with customized deal stages and various categorizations of multiple pipelines.
Scheduling and booking
In Bitrix24, there is a calendar inside the CRM, making you book the slots for work without any external tools. You can schedule appointments, check employee availability, and get confirmation reminders with this feature. Further, you can also generate accurate sales reports, deal reports, lead reports, and custom reports to gain insights into your business.
Feedbacks and reviews
This contact management system helps store the entire profile of clients with information such as contact name, e-mail, mobile number, appointments, tasks allocated, etc. You can easily access and view the contact details to get the necessary information at any time using the contact manager. Also, multi-channel communication allows getting feedback, reviews, and queries from various communication sources.
Cost: Free, Start+ – $19/month for 2 users, CRM+ – $55 /month for 6 users, Project+ – $55/month for 24 users, Standard – $79/month for 50 users and Professional – $159/month for unlimited users.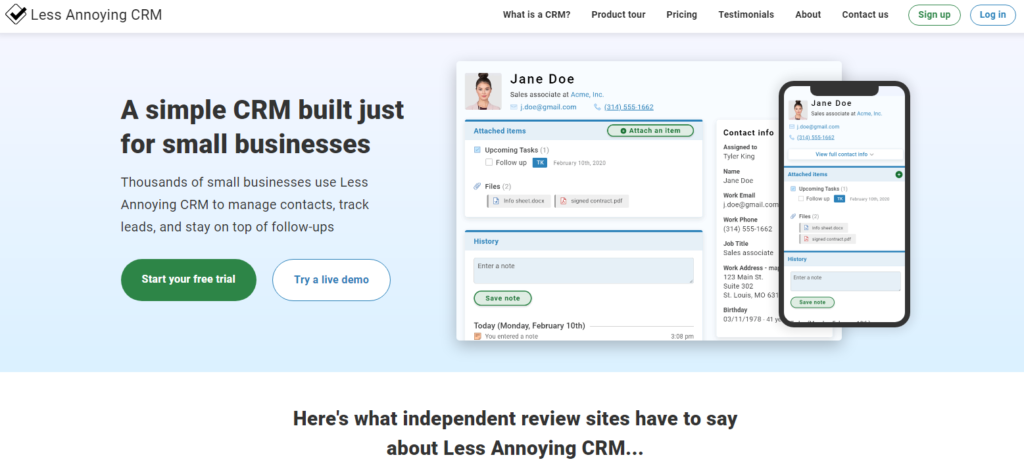 This easy-to-use CRM software offers assistance to small business entrepreneurs. They usually don't have the patience and time to learn complex business software. This app was created for people to discover the usage and its application with ease. Less annoying CRM offers an uncomplicated contact management system.
The effortless and straightforward reporting tool helps to track and boost sales. It provides features such as sales pipeline, tracking buyers and sellers, workflow management which is also customizable according to the realtor's needs. The ease of communication and streamlining all the assignments in one calendar often help reduce confusion and conflicts.
Features of LessAnnoyingCRM
Customer Retention
While making a deal and talking to the customer, you can add some quick notes in the software. Noting all the essential requirements and ensuring you remember them in your next appointment ensures customer delight and satisfaction. Such small things can impress customers and compel them to remain in your business for a long time.
CRM for Small Businesses
Most CRM is built for large businesses. While they may have plans for smaller organizations, they may not meet our expectations. Less annoying CRM is created from scratch to satisfy the requirements and demands of small companies. Also, you don't need to spend a horrible amount of money to buy this software. It comes at a very affordable price with a pretty user-friendly interface.
Easy Collaboration
Less annoying CRM helps to collaborate with your sales team and communicate at regular intervals. It allows sharing of information, job allocation to team members, and progress monitoring at one centralized location. It keeps you updated with the follow-up meetings via notifications or reminders.
Cost – $15/ month per user.
Conclusion

Customer relationship management software can make the life of a realtor easy by doing various activities such as enlisting property lists, portfolio management, managing contact information, sales pipeline, marketing automation, lead generation, and many more activities. Investing in CRM software and its efficient utilization can ensure better communication flow and increased sales. The management platform saves your time and makes the job easy for your sales team, agents, and brokers.
Whatever CRM system you choose to use, remember that it is simply an aid and tool. Always put effort into making great connections with your customers, and they will come back again and again.
Have you tried any of these CRM systems? Leave us a comment below to let us know what you think!