Today, businesses have started using CRM software to enhance their growth and development. Customer relationship management has become essential for collaboration, storing, and accessing customer data from one place.
In this modern and technical world, it is essential for businesses to continuously be in contact with their customers and prospects to get positive results. Hence, there is a constant need to elevate customer interaction and provide exemplary customer satisfaction.
There are more than 640 CRM tools available to users. To find a reliable CRM software to suit all your business needs, you must compare and weigh various aspects of CRM via trial and error.
To simplify your task, we have compared the three major giants of the CRM market: Hubspot CRM vs Salesforce CRM vs Zoho CRM.
But let's start with understanding customer relationship management.
What is CRM?
Customer Relationship Management, fondly known as CRM, is software that helps businesses manage customer data, purchases, customer interactions, and tapping into new opportunities. The core aim of CRM lies in managing all the relations a business has with others. This includes internal, external as well as interpersonal relations.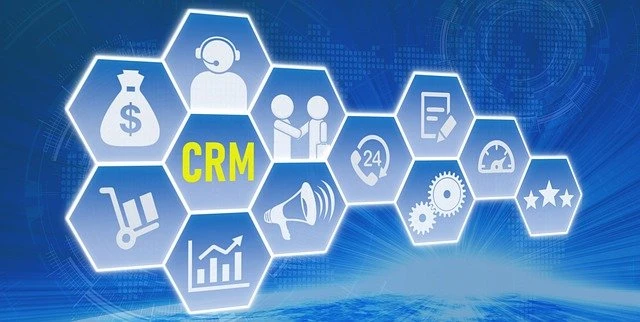 CRM includes technologies, tools, and strategies for acquiring, retaining, nurturing, and developing customers. CRM software helps businesses gather all the vital customer such as customer purchase history, purchasing information, buying behaviour, etc., that can help amplify business purchases. 
CRM solutions also help businesses manage customer relations throughout the customer purchase lifecycle. It helps acquire new leads, convert them to buyers, and provide after-sales services.
Traditionally the only aim of CRM known to the business was developing and tracking customer data with powerful databases, spreadsheets, and tools. But today, with the advent of cloud technologies and other evolving tools, CRM helps businesses with more profitable sales, marketing, service management, streamlined business processes, and increased profitability. 
CRM today has proved to be beneficial in optimizing customer satisfaction, time management, and operational efficiency.
Who should use CRM software?
The best thing about CRM is that it can be used by any company that has or wishes to acquire customers. And every company has customers because there can be no business without them. Even B2-B businesses have customers, where the businesses buying their services or products are the customers.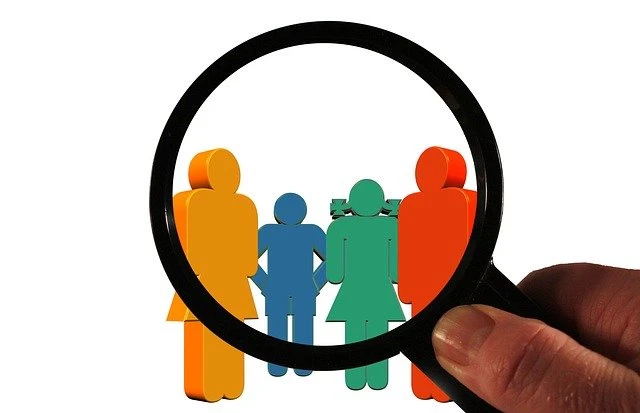 Companies of all sizes, no matter how big or small, need an excellent tool to manage their internal (suppliers, manufacturers, employees) and external (customers) relations. CRM can be useful not only for managing relations but also for other activities such as sales, marketing, and operations. 
Many people think that only big giant organizations need CRM, which is absolutely false. Even a start-up can use CRM technologies to grow at a rapid speed and scale their business capabilities. While it may not be compulsory for small organizations to adopt CRM, it would bear fruits if you do it at the initial stage of your business growth.
With the increase in remote working environments, people are looking for a reliable system that can help in easy collaboration, communication, and accessibility of data. CRM does precisely that with increased productivity and security of sensitive data.
Benefits of using CRM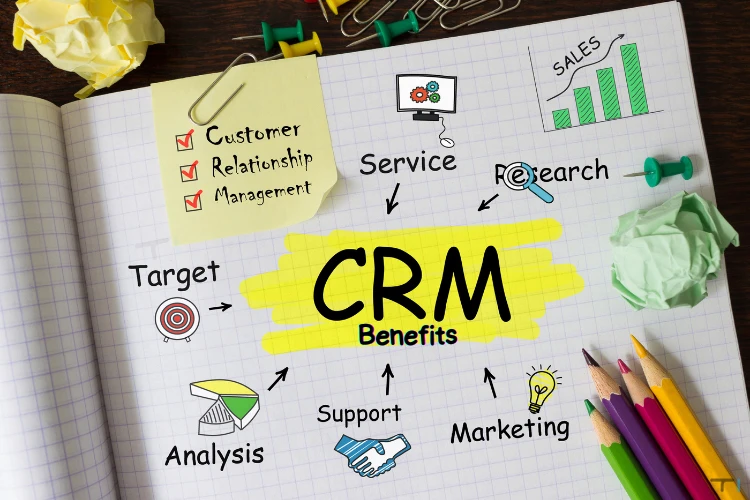 Enhanced customer relations
Modern CRM software performs various functions, but customer relationship management technology was first introduced to improve customer relations. With that said, even today, the core function of CRM lies in effectively managing customer relations of businesses.
A CRM tool does everything from gathering and organizing to analyzing and computing customer information. It assists you in the entire customer life cycle process and helps you convert customers into loyal customers. It also plays a significant role in customer retention by maintaining continuous interactions.
Traditionally, businesses had to maintain all the customer data in a spreadsheet. It was tough to organize, alter, or access information in such a format. Before that, businesses used to maintain manual records of customers, which was even more challenging to maintain.
But today, with CRM platforms, we no longer have to take the pains of long spreadsheets or manual entries. Customer relationship management has made it easy to add customers' entries and all their related information and track them when needed.
Further, CRM software also helps to note all the customer buying-related experiences such as email interactions, sales team interactions, feedback, etc.
After collecting and organizing comes the storage of customer data. CRM assists businesses in storing all sensitive customer information in a centralized location. This centralized database makes it easy for your sales team to access it from anywhere at any time.
When a customer interacts with the sales team, CRM pulls the list of previous interactions from the database. This saves the time and energy required to dig old files. Customers are impressed with the services, which increases the chances of customer conversion. Your sales team can access any customer information at any time with just a click of a finger.
CRM software provides businesses with the feature of segmenting customers. This is especially beneficial for companies that want to target a specific audience with a particular taste, age, or demographics.
You can filter customer data based on location, demographics, buying habits, lead stage, etc. This sorting done over time with customers can help lead management and convert loyal customers in the long run.
For example, you are a clothing brand introducing a new branch of women's perfume in your business. Customer segmentation can help you target women in your data list. The chances of those customers buying from your company are high because of your previous brand relations.
Automated reports and analytics
Having tons of customer data would mean nothing if you can't interpret them. CRM software has inbuilt analytics tools that help break the chunk of customer data to provide segmented and actionable insights. It gives you some easy metrics, such as click-through rate, demographics, conversion rate, etc., to optimize your marketing campaigns and sales.
Features such as sales reports and dashboards allow your sales teams to better handle and organize current customers and prospects. CRM helps sales teams with everything, from pipeline management to sales funnels to lead management.
Sales managers can draw automated sales reports to track the team's performance, quota attainment, the number of deals closed, ongoing deals, etc. Further, CRM provides accurate sales forecasts with advanced technologies to enhance the business's decision-making.
Streamlined communication
Communication with customers is tricky and complicated. You have to be very careful while communicating with customers. You cannot expect a customer to become a lead immediately. Instead, it takes continuous two-way communication and nurturing to convert a lead.
CRM assists businesses in the entire lead generation process by sending emails, messages, alerts, and chats. You can also easily search and find the history of communication attached to a particular lead or customer.
Internal communication is as important as an external one. It is necessary to track employee communication with the prospects to ensure a unified brand voice across the network. CRM helps track communication and facilitates internal communication between employees. Employees can send notes, alerts, tags, messages, and emails from within the CRM system. 
CRM platform provides us with all the essential data about our business to scale it. We have all the information about leads, purchase behaviour, buying patterns, etc., in one central place. This saves the time and energy of the sales team to fetch and organize the data to make sense. CRM does that for you. 
The sales team must sense a pattern and understand which campaign fetches more sales. The sales team can use this information to create similar campaigns and optimize them to increase sales. Such data can be beneficial for the sales team to scale the business and enhance efficiency in the long run.
What is Zoho CRM?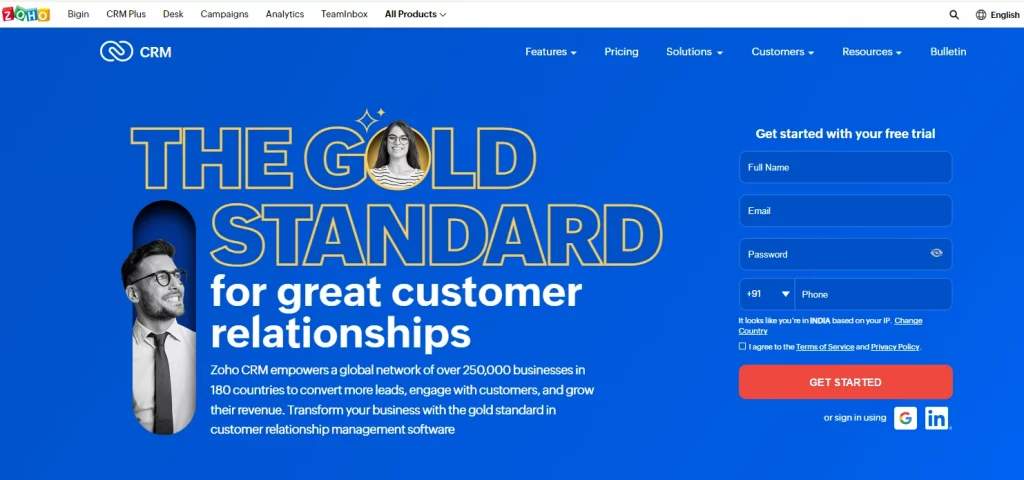 Zoho CRM is one of the best CRM software available in the market. It has a global network of more than 250000 businesses in 180-plus countries. Zoho CRM aims to transform your business by providing a world-class and gold-standard contact management system to scale your sales and growth. 
It specializes in connecting with your customers wherever they are with live chats, messages, social engagement, etc., across multiple channels. Enhance your engagement with real-time notifications when a customer starts a communication.
With the power-packed performance, Zoho CRM provides the feature of customizing your user interface to suit your business's requirements. You can use Canvas to customize the interface according to your liking without any coding requirement. 
Zoho CRM supports easy migrations and data import from spreadsheets and other third-party CRM systems. It provides close integrations with external applications and systems like accounting software, enterprise resource planning, e-commerce websites, etc.
Moreover, Zoho facilitates easy iOS and Andriod mobile integrations for ease of work across various platforms. The simple user free interface of Zoho CRM enables you to learn various functionalities with little to no learning curve.
Other advantages of using Zoho CRM include sales force automation, process management, sales forecast, marketing automation, AI-powered analytics, performance management, collaboration, and integrations.
Unique features of Zoho CRM
With the robust lead management system, Zoho CRM provides powerful features to boost sales. Lead management is a complex process requiring continuous efficient communication and nurturing of leads.
Zoho CRM assists you in continuous follow-up to lead your prospects to the next sales pipeline stage. Further, it identifies hot leads from the cold ones and engages with them across multiple channels and touchpoints.
You can use Zoho CRM to measure and track ROI spend on online advertisement and marketing campaigns. Tracking and analyzing all the vital information about the leads can be done quickly with Zoho CRM.
Zoho CRM helps you to create strong customer relations. The multi-channel communication of Zoho CRM helps you exceed all customer expectations. The prompt assistance and customer engagement at the point of contact help turn them into customers. 
With real-time notification and support that instantly solves all customer queries, you can convert customers into brand ambassadors of your business. Zoho CRM provides a clear picture of your customer conversions and gives insights to find new leads while retaining existing customers in the business.
Your sales team can use the one-click call service to instantly connect to your customer and generate call reports to understand your performance for every sales rep. Zia, Zoho's AI assistant, gives valuable insights about when to get hold of your customer to increase the chances of conversion based on previous interactions.
Businesses must do multiple things simultaneously to increase sales and convert leads. They have to continuously send emails, take follow-ups and provide updates regularly. Zoho CRM helps you to automate the workflow of day-to-day tasks. Set one workflow rule with multiple conditions that would be triggered through specific actions.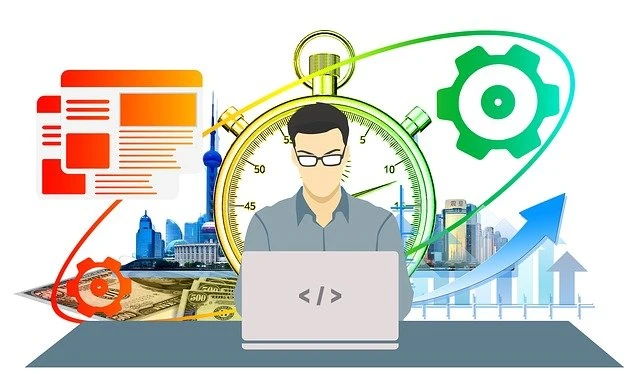 Zoho CRM automates your sales routine for current or later dates. Perform the proper steps at the right time with predefined actions such as scheduling tasks, sending emails, getting follow-ups, etc. 
With Zoho CRM, you can customize your action steps like personalized messages and emails to notify them of their product delivery status to meet the specific business needs. Zia intelligence helps create workflow templates keeping your business history, data patterns, and customer logs in mind.
What is Salesforce CRM?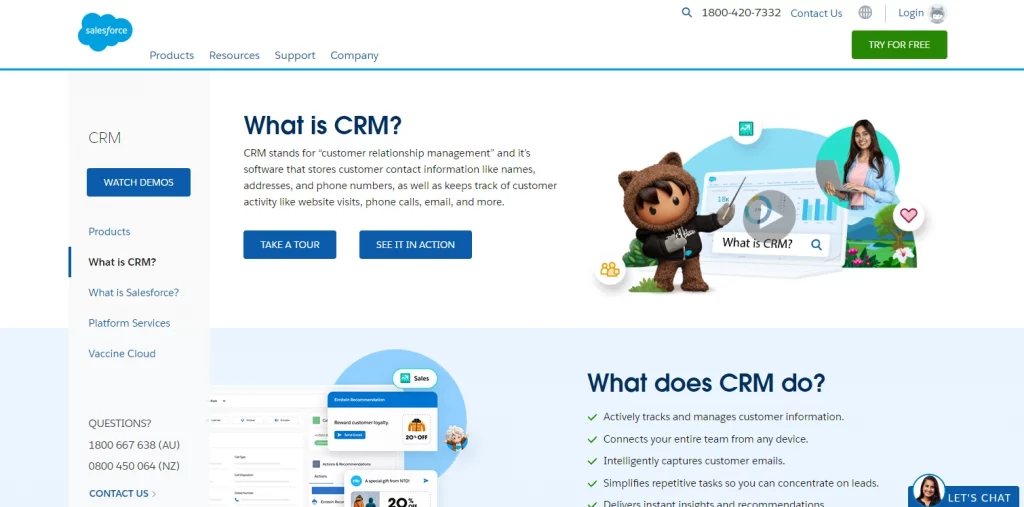 Salesforce CRM is one of the best CRM and has the industry's highest market share of around 23.8%. It is one of the oldest and first native cloud-based software in the market. Salesforce CRM provides one unified platform that combines marketing, service, sales, commerce, and IT teams from anywhere in the world. 
Various third-party seamless integrations with external apps powers your entire suite of connected apps in one platform. This helps employees focus on business stability, lead generation, and enhanced customer experience.
Salesforce CRM is helping more than 150000 small as well as big companies in the growth and development of their business. The personalized marketing of Salesforce enables businesses to attract more leads by leveraging customer data and targeting them with more customized messages. Further, you can create attractive marketing campaigns and track their effectiveness with powerful analytics and dashboards.
Sales management and customer delivery management are essential parts of any business. Salesforce CRM helps you win more customers and leads by understanding their needs and delivering more than what customers expect. It further gives a fantastic shopping experience for e-commerce platforms with a steady e-commerce intelligence.
Salesforce CRM helps resolve customer queries by unifying emails, social channels, chats, calls, etc., in one place. One view channel enables you to easily manage and improve customer-responsive time.
Unique features of Salesforce CRM
Lead generation and management
Salesforce CRM provides a 360-degree view of all the customers in your business from the cloud. Import sticky notes and spreadsheets to easily track customer activities, contact information, social insights, and interaction details.
Further, Salesforce CRM helps you to accelerate productivity by helping manage opportunities at the right time. Salesforce sales cloud automation allows you to automate unique sales processes that help push your prospects forward in the sales funnel. The salesforce CRM intelligence sends you immediate alerts and tips to keep track of your leads and entire sales pipeline.
Salesforce CRM empowers your sales team with integrated tools and training that assists in closing more deals and configuring the quotes for each completed deal.
Salesforce CRM unites customer 360 with Slack. This helps bring all your teams in sales, marketing, services, commerce, analytics, and IT together with the power of digitalized workflow.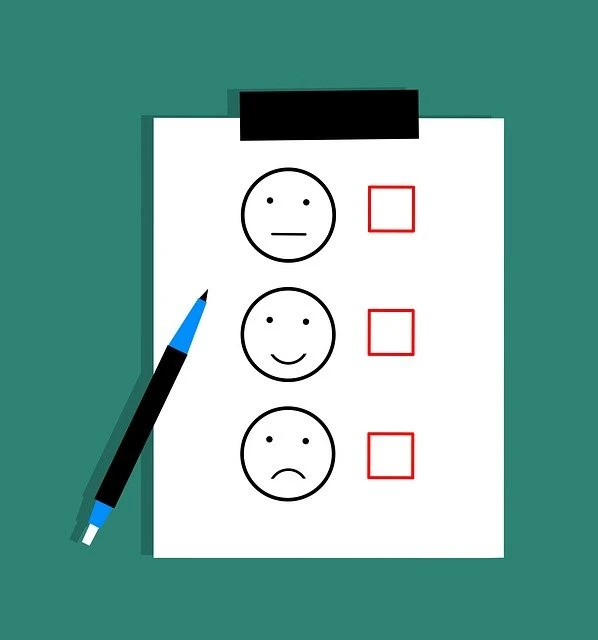 Customer expectations are rising, and businesses must meet their demands holistically to improve retention and loyalty. The shared view of customers increases sales, improves customer services, and enhances marketing campaigns to drive business growth.
With Einstein AI and Slack integration, employees better connect with each other and customers. It helps to work proactively towards providing an enhanced customer experience. Trailhead, the learning Hub of Salesforce CRM, assists employees in learning essential skills for free.
Salesforce CRM collaborates with Slack and Tableau to provide valuable data for every conversation, lead interaction, and decision you make. Taking the right decisions at the right time is vital for business growth. Salesforce CRM aids you in getting instant notifications on various business metrics to make smarter, informed, and market-driven decisions at a rapid speed.
Salesforce also provides analytical apps, seamless product connectivity, and dashboard templates that keep your sales team on track. The real-time data helps the sales team gain valuable insights into the workflow. Tableau gives the entire team access to the data and helps understand how to use the analytical platform to drive the business forward.
Salesforce CRM's AI-powered algorithms, predictions, and valuable insights help make you smarter decisions. No matter how raw the data is, Tableau can clean it effectively and shape it for better understanding and analysis.
What is Hubspot CRM?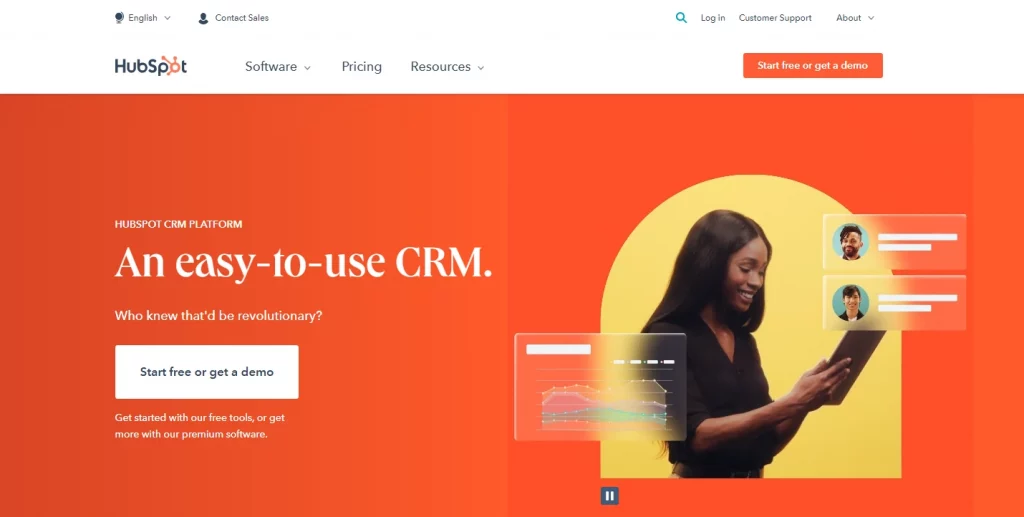 HubSpot is an easy-to-use CRM software that can transform your business and help convert leads and marketing emails. It is thriving with more than 143,000 customers in over 120 countries. 
Hubspot CRM provides multiple tools to help businesses with sales, marketing, customer service, and content management. It enables you to stay ahead of your time and work proactively towards your objective without wasting time scheduling meetings, booking appointments, and forwarding emails.
Hubspot CRM does everything from email marketing to contact management to landing pages to forms to automated sales campaigns. This potent CRM also helps you analyze the quality of traffic and conversion rates from various sources such as Facebook ads, Google ads, Instagram ads, etc.
Blogs and content have become an essential part of brand awareness and sales. Hubspot CRM understands how valuable content can be in lead generation. Hence, it provides top-notch SEO and content strategies and other content creation tools that help generate creative content that resonates with customers.
The customer service of Hubspot CRM helps you keep track of every customer request, query, and other communication in one centralized location. This allows the sales team to stay organized in managing tickets, prioritizing tasks, and finding reliable solutions quickly. Hubspot CRM ensures a high customer satisfaction rate by putting the customer's needs at the forefront before anything else.
Unique features of Hubspot CRM
Hubspot CRM provides inbuilt analytics, reports, and dashboards to measure the performance of your marketing campaigns. Compile all the data to make intelligent and informed business decisions.
You can break down the reports to prioritize company requirements, like detecting the trends in the purchasing pattern over time. Hubspot CRM helps you to set up behaviour tracking that understands website visitors' behaviour and triggers automated actions to engage them when necessary. 
Hubspot CRM analyzes each website page's performance and identifies content that fetches the most visitors. You can also measure and compare essential metrics such as conversion rates, visitors, sessions, etc. This feature helps you focus on content that brings in more conversion and duplicate similar marketing campaigns to engage more visitors and conversion.
Hubspot CRM allows you to build a simple pipeline with just one click. The simple, straightforward sales funnel ensures no deals slip through your hand. This sales pipeline clears the confusion and provides insights that help you maximize the sales.
Hubspot CRM assists in creating new deals, company records, or customer history within the CRM software. The automated, up-to-date information will enhance productivity and save the sales team's time, which can be used to send emails or phone calls to prospects.
Further, Hubspot CRM ensures total visibility into individual and team progress. You can easily track the sales team's performance, monthly trends, key sales activities, and the overall value of the pipeline via the dashboard. This data helps you hit the right deals at the right time with the right resources.
Hubspot CRM helps you to create personalized marketing emails for your customers. People often ignore marketing emails that don't have the proper design and layout. You need coding ability to build such designs and layouts. Hubspot's email marketing tool assists you in sending professional marketing emails that wow your customers and ensure optimized performance even if you don't have any coding knowledge.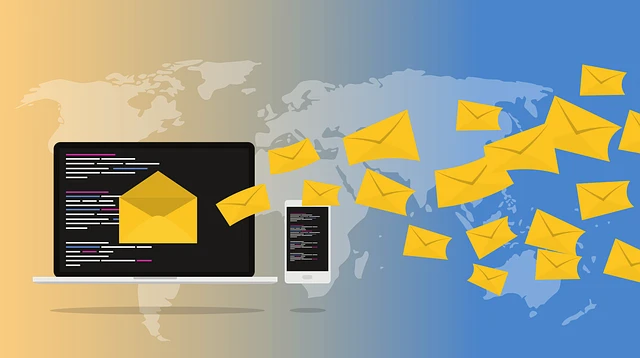 Further, the data used for emails come from the Hubspot contact management system, which is accurate. You can attach relevant links, subjects, attachments, and CTAs from the customer data to increase the click-through rates and chances of conversion.
Hubspot CRM also provides assistance in using A/B tests that helps businesses learn which subject line, illustrations, or content drives more sales. You can use the available information to create new email campaigns and optimize them for the highest conversion rates. 
Zoho vs. Salesforce vs. Hubspot
Zoho, Salesforce, and Hubspot are some of the best CRM tools available to users. Today, we will compare these customer relationship management software to know the best. This comparison of Zoho vs. Salesforce vs. Hubspot will be a thorough analysis considering the diverse aspects of each business.
The first and the most crucial aspect of any software is the user experience. Hundreds of useful functionality will not be beneficial if the customer finds the software interface too complicated.
Let's start with Zoho. Zoho CRM has undergone many changes and is continually updating its interface to satisfy the users. The easy-to-use navigation bar contains more categorizations than any other software. This makes finding any tab you want easy. Zoho CRM further blows your mind with Canvas. Canvas can help you customize your views to suit your business. The interface is very smooth and easy to navigate. But having a lot of features and buttons may pose irritation and confusion to some who prefer a clean interface.
In comparison, Salesforce is a bit complex to operate and navigate. Many companies do not understand this complexity and hence appoint special experts to oversee CRM implementation. Further, companies also outsource the platform's management to third-party professionals.
Hubspot CRM provides an effortless and straightforward experience to the users. The sales dashboard is pretty much everything for this CRM. The user experience is very smooth, with a big navigation bar that directs you wherever you want. Viewing other reports and documents is clear and easily understood by anyone, even an amateur.
Automation helps you save the time and energy of your sales team, which can be used to do other productive activities. Further, good automation can generate more leads and increase the overall profitability of the business.
Automation in Zoho CRM's free plan includes core processes in lead management, contact management, customer accounts, deals, and task management. If your company wants to use the features of Sales forecasting and Sales signal, you have to upgrade to standard or professional plans. Zoho CRM also supports marketing and email automation, although the tasks you can do depend on your chosen plan.
Salesforce CRM does everything from workflow automation to approval process, sales campaign automation, marketing automation, and email campaign management. Salesforce proves to be more versatile in having everything you want; if it doesn't, you can always add it from the AppExchange. However, you should remember all these features come with premium plans or at an extra charge.
Hubspot also provides reliable automation features, namely email sequencing, task automation, workflow automation, lead scoring, marketing campaign, etc. Hubspot has always provided robust automation that can be implemented without much fuss. But most automation features require you to upgrade to a higher plan.
Mobile accessibility has become a significant element in choosing the right CRM software, primarily due to the spur in remote working. Companies prefer to buy CRM software that has eased mobile integration and access.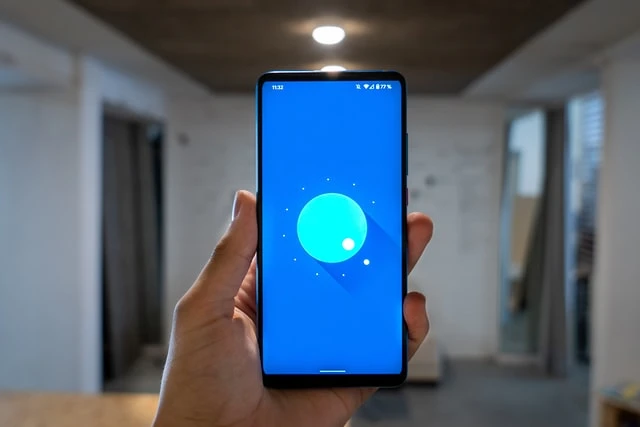 Zoho CRM's mobile app is simple and smooth. You can access features like uploading notes, file attachments, tasks management, and report viewing from the app. However, you can not create reports, export files, or track email campaigns on the go.
Mobile accessibility of Salesforce CRM includes creating, deleting, and editing tasks. You can access the basic functionalities of managing contacts, opportunities, leads, and accounts. Use your laptop or desktop to do advanced actions like reports, email campaigns, or make changes in your settings.
You can use Hubspot mobile app to do basic activities such as contacts, tasks, and deals. You must use a desktop, computer, or laptop to use advanced features such as reporting, email sequence, tracking tasks, and progress.
The cost of the CRM is the pain point for many customers. Companies, especially small ones, can't afford to spend an insane budget on CRM itself. Hence, companies always look at the most cost-efficient options for maximum features.
Zoho CRM has 5-level pricing, starting with a free subscription suitable for very small businesses, free up to 3 users. Further, it is followed by a Standard subscription for $20, a Professional subscription for $35, Enterprise Subscription for $50, and an Ultimate edition for $65 per month.
Pricing for the Salesforce sales cloud CRM can cost you 25$ for the Essential version, $75 for the professional version, $150 for Enterprise, and $300 per month for the Unlimited version. Though the pricing of Salesforce CRM may seem steep, the features and integrations they provide are worth the cost. Salesforce does not offer any free plan.
Hubspot CRM starts with the basic starter plan of $50/month. To use Slack and other advanced automation, you must use the Professional Plan, which costs $ 1780/per month. For advanced features such as predictive lead scoring, you have to use the Enterprise plan at $ 5000/month. It also provides free plans for users with limited functionalities.
Customer support is an integral part of customer relationship management. Strong customer support can build a good business reputation among the customers, while inadequate customer support can cost your customers.
Zoho CRM provides a reliable and diverse support system. This support is divided into four parts. If you are low on budget and don't want to spend extra, Zoho provides you with email, call and chat interaction with a response time of around 8 hours. If you are willing to pay additional costs, you can cut this responsive time by 3 to 1 hour, depending on your purchased plan.
Like Zoho, customer support in Salesforce CRM depends on the price you are willing to pay. Though this pricing is a bit vague, 24-hour support and configuration assistance are only available with the Salesforce Ultimate Plan ($300/month). You can access the standard support at the response time of 2 days for other plans.
Customer support for the free plan of Hubspot CRM comes with community support such as forums. To get email support, you should have the Starter plan. Phone support is available for Professional and Enterprise plans.
Functionality and integrations
Third-party integrations with multiple apps can increase the efficiency and usability of your CRM software. Easy integrations with all the apps you use daily are a plus point for any CRM software. External apps can help increase scalability, streamline collaboration and amplify the functionalities of CRM.
Zoho provides a wide range of third-party apps to simplify information transfer and open communication across the cloud platform. With an open API (Application Programming Interface), you can improve sales, services, business operation, and marketing processes.
Some popular integrations of Zoho CRM include G Suite, Office 365, Slack, Dropbox, Mailchimp, WordPress, QuickBooks, and Google Analytics. All-in-all you can integrate with a total of 221 integration in Zoho.
Salesforce CRM has one of the highest numbers of available integrations in the industry. No matter which tool or software you are using, the chances are you can integrate them with Salesforce. The AppExchange is a massive marketplace where you can extend your business functionality in any field, such as sales process, marketing automation, IT, CRM services, tracking contacts, creating customizable reports, managing accounts, and also offers integrations to other verticals. It has more than 676 integrations, including FreshDesk, Jira, Salesforce AppExchange, Zendesk, Service cloud, marketing cloud, etc. While you may not use all the integrations, having more options is always beneficial for business expansion. 
Hubspot CRM integrations range from marketing and sales to customer service and IT. Some popular integrations include Gmail, Google Calendar, WordPress, Outreach, Mailchimp, Stripe, etc. Hubspot App Marketplace includes financial and productivity integrations such as Xero, FreshBooks, NetSuite, Zoho, Zapier, Asana, Trello, etc. With Hubspot, you can integrate with 125 diverse apps.
Client management is the base of customer relationship management. Businesses use simple CRM with the principal goal of managing their existing customers and making new ones.
Zoho CRM stores customer data such as emails, phone numbers, names, and purchase history. Making to-do lists, notes of meetings, and documenting all the contacts can be done without leaving the interface. You can also import data from other third-party applications with ease. The unique social media CRM feature assists you in tracking leads from various social media platforms.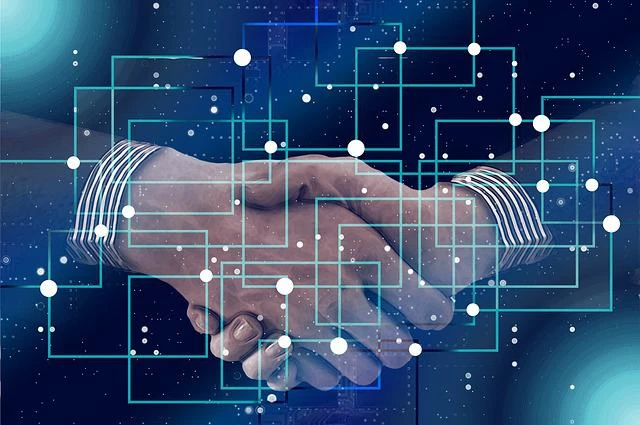 On the other hand, Salesforce CRM stores all the customer data, related communication, activities performed, and such within the system. You can also use the enhanced predictive lead scoring feature and gain valuable insights with Einstein AI of Salesforce. It tracks imported leads' real-time activities and moves them smoothly through your sales funnel.
Hubspot CRM also provides efficient client management features, from importing the leads to managing them automatically without any complicated processes or manual settings. Hubspot helps in sales management by closing more leads and tracking them throughout every sales pipeline stage. 1,000,000 free contacts along with unlimited memory are the center of attraction for many.
Conclusion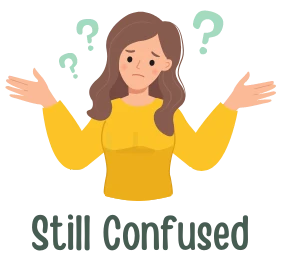 This article compares three giants of CRM industries, namely, Zoho CRM vs. Salesforce CRM vs. Hubspot CRM.
These 3 CRM are great, but they differ in their functionalities, interface, pricing, and usability. It is imperative for any business owner to carefully examine the requirement of their business before choosing a CRM.
The owner can choose the CRM that best satisfies the entire company's needs based on these requirements.
Selecting the best CRM is subjective and depends on the business needs, budget, features, and functionality required.