Customer relationship management, sales, and marketing are the three most important aspects of any business. If you are into marketing and sales, you would have come across Hubspot. Hubspot CRM is a giant hub that provides class inbound marketing, lead generation, sales automation, and many other features. You can also learn more about Hubspot through their Blogs and free marketing course. If you are looking for alternatives to Hubspot CRM, then you have landed at the right place.
Before we delve into the list of top 25 CRMs, let us go through some advantages of using a customer relationship management system. These systems help you in building professional relationships with your customers and keep a track of all the interactions that you have with them. This will help you create strong customer relations and offer personalized service to them.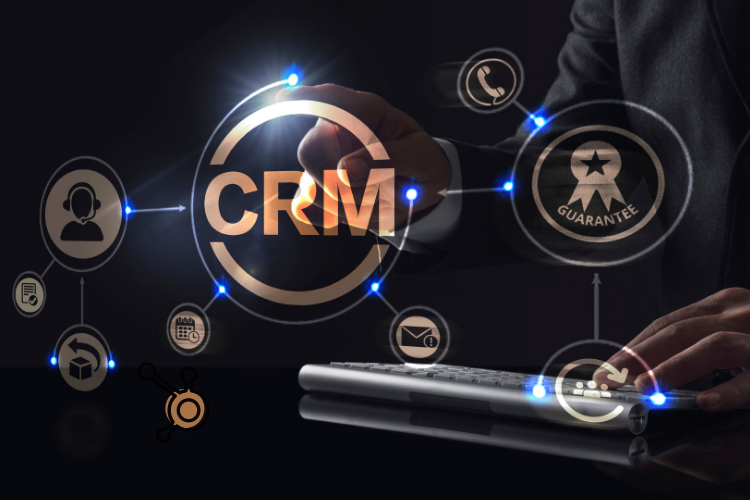 Let's explore HubSpot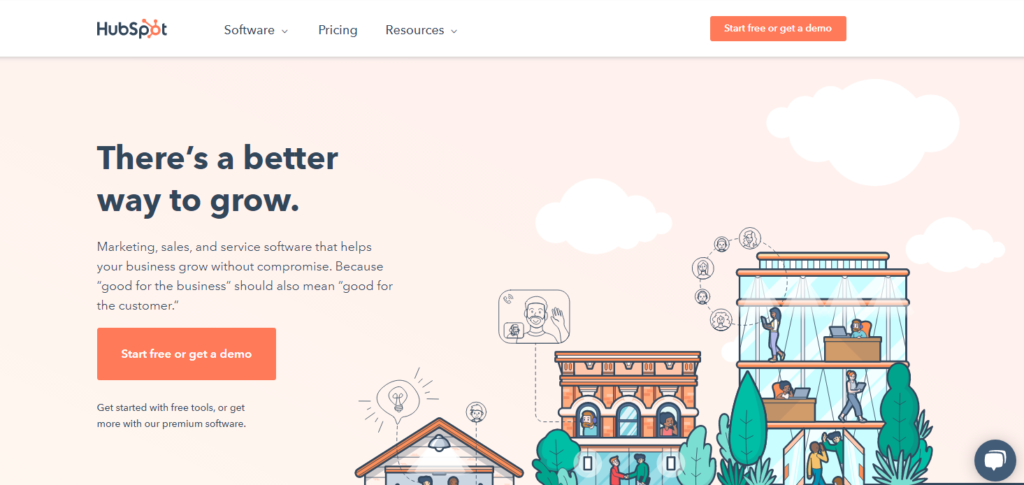 Hubspot is a collaborative Customer Relationship Management (CRM) software that combines sales, marketing, services, and operations to maintain and generate customer relations. The collection of Hubspot features includes sales media tools, email automation, inbound marketing, lead management, pipeline management, marketing analytics, landing page builder, and marketing automation. The blogs and academy further keep you aware of changing market trends. Hubspot strives to provide your prospects and customers invaluable experience and content, at the same time helping your business prosper.
Hubspot Offers:
HubSpot CRM provides free email tracking with which you get notified the second a prospect clicks on your link.
Powerful marketing analytics and dashboard to view the performance of your marketing campaign in one place.
Create and publish an innovative landing page that would bring more customers without any professional designing assistance.
HubSpot CRM can be connected with several inbound marketing apps like Salesforce, MailChimp, Zendesk, etc.
Free training course that helps you learn how to use HubSpot products easily.
Well-integrated API for easy automation between your team's tools.
Hubspot's unquestionably influence in the market with its feature-rich and intuitive dashboards is undeniable. But the most common drawback of this software is its pricing. While it does provide many free tools, you have to upgrade your basic plan to use some advanced tools. Startups, small and medium-sized companies often deny the upgraded plan due to the extra monthly expense. Hence, they are in search of a cheaper and more reliable alternative to Hubspot.
Top 25 Hubspot Alternative:
Active Campaign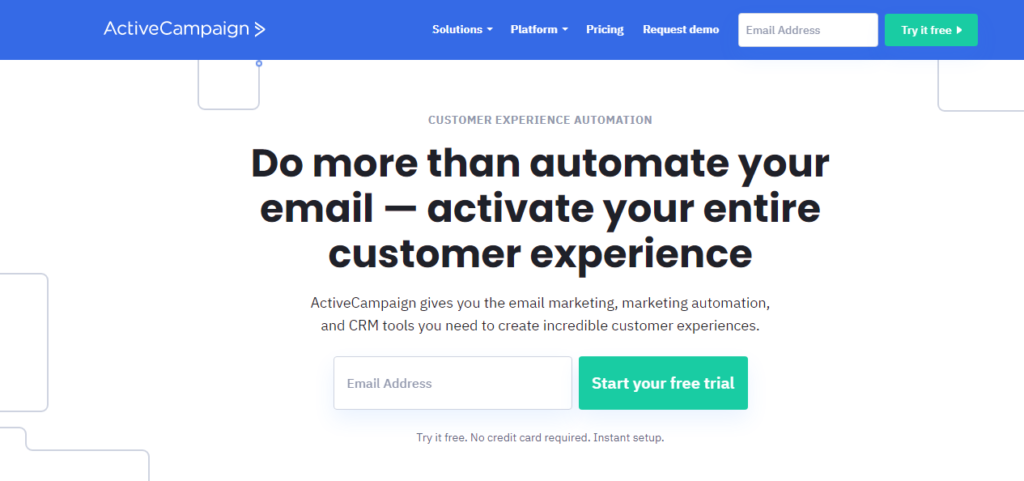 Active Campaign is an excellent alternative to Hubspot. One of our favorites. It strives to provide personalized email marketing automation, sales, and sales CRM, advanced reporting, email segmentation, and more. Just like Hubspot, you can create innovative landing pages to drive more sales and leads. Enjoy 850 plus popular integrations with apps, such as WordPress, Shopify, JotForm, etc. Also, make use of the G-mail extension for instant notifications.
Active Campaign CRM Highlights:
Personalized email marketing with dynamic content, messaging, and segmentation to convert the lead.
Marketing automation and lead management, workflow automation, sales automation, and contact management to save your time
Lead generation and lead management by site messages, SMS, Chats, and segmentation to pass quality leads to the sales team further.
Post-purchase followup, automated email sequences to nurture the prospects and customers.
Create dynamic content for emails and landing pages by using snippets and including form fields.
Zoho CRM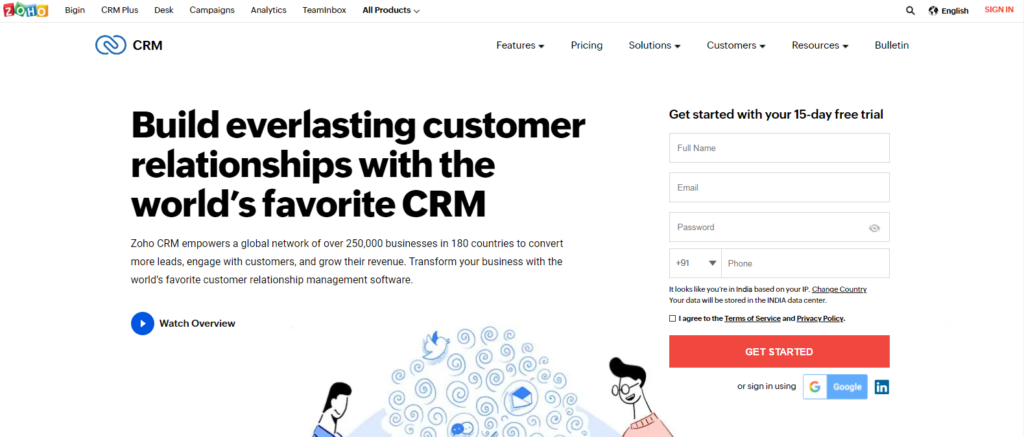 As a Hubspot alternative, Zoho CRM provides various functions, from lead generation to sales automation. Zoho CRM assists in many marketing and sales functions such as deal management, contact management, customer segmentation, Ad integration, team collaboration, and more. With customized layouts, components, filters, you can create personalized content for different customers. The real-time omnichannel communication segmentation via emails, chats, SMS, and social media keeps the prospect notified and interested. You can avail its free plan.
Zoho CRM Highlights
The marketing analytics generates reports on KPIs, current trends, and predictions to make smarter business decisions.
Zoho helps to run productive marketing campaigns to further pass quality leads and customers to the sales team.
It assists in email campaigns by engaging the customers with personalized attention and attractive inbuilt templates.
Team collaboration using boards for tasks assignment and following up on daily/weekly/monthly basis further drives your business growth.
Sale automation, marketing automation, service automation, and contact management.
Freshworks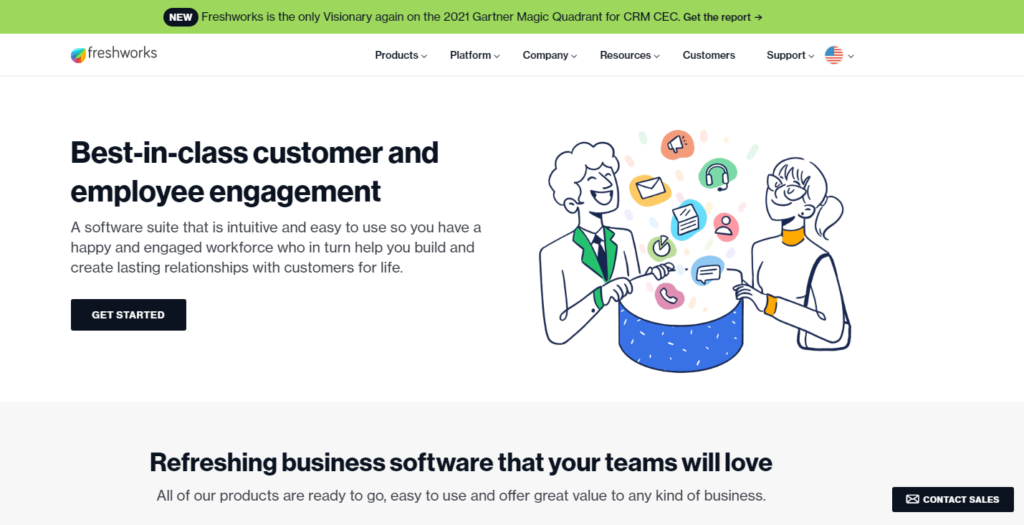 FreshWorks, an alternative to Hubspot, is a sales force automation tool that accelerates revenue and boosts sales. Other benefits include sales reports, contact management, email marketing, sales pipeline, event tracking, sales sequence, intelligent workflow, and more. Engage efficiently with your customers by AI-powered chatbot, web forums, e-mails, chats, timeline view, etc. Streamlining your sales process, 360-degree view of customers, easy implementation, lead management are some other features of Freshworks.
Highlights of FreshWorks CRM:
You can create a contact lifecycle for customers according to your business processes.
Create tasks, reminders, appointments and automate the workflow to manage dependencies and save time.
Manage sales, marketing, support, and more teams efficiently with interactive dashboards.
Enjoy marketing automation, segmentation, Email builder, and a beautiful landing page with this software.
Pipedrive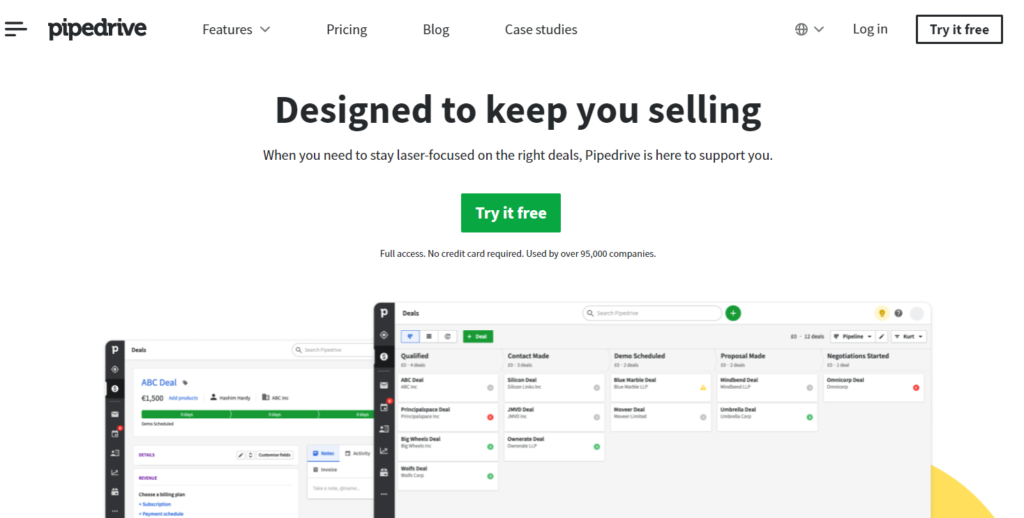 Pipedrive is a sales-focused software that helps you tackle quality leads and convert them into repetitive sales. You can also create custom reports, filter them and observe the pattern to reduce bottlenecks and gain actionable insights. Organize your sales team and track their performance to enhance their overall productivity. Ensure visibility and control of communication and data security with this tool.
Highlights of PipeDrive:
Visual sales pipeline helps to stay organized, reduce bottlenecks and make prompt decisions.
The mobile app of Pipedrive allows you to take notes, schedule activities, and click pictures to store them in the client or deal details.
Use Artificial intelligence to automate all repetitive and administrative tasks to focus on business.
Track new opportunities, conversions, and sales daily.
Generate custom reports for detailed analysis to understand the business better.
Manage your team effectively with task management, goal alignment, collaboration tools, etc.
EngageBay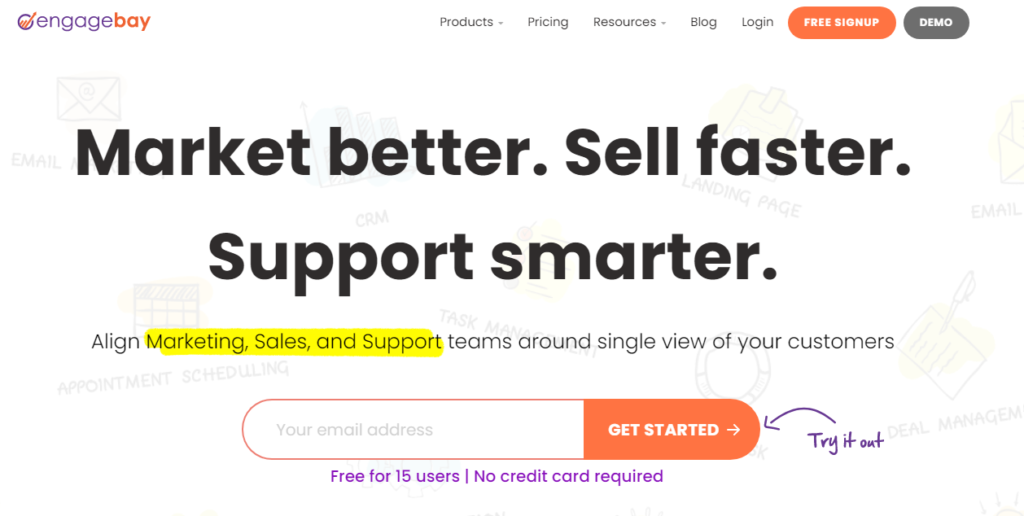 EngageBay is another Hubspot competitor that helps you align marketing and sales. It offers an entirely free CRM that eliminates miscommunication between marketing and sales teams. Market your business with lead generation tools, landing pages, sales automation, deal pipeline, contact management, and more. Build lasting relations with customers with efficient task alignment and scheduling appointments. Also, provide seamless customer support with ticketing, feedback forums, knowledge base, and helpdesk.
Highlights
Ensure solid marketing strategies with strong lead generation, email marketing, marketing automation, and more.
Get complete information about your sales process in visual sales funnels and report modules to boost your revenue.
Organize all your customer details and profiles at a centralized place for a personalized and targeted marketing campaign.
Create effective personalized email outreach campaigns using email templates.
Distribute relevant content to the right people with the help of automated workflows.
Easily filter deals and opportunities according to your business requirement.
Organize deals, opportunities, tasks by teams or individuals for better collaboration.
GetResponse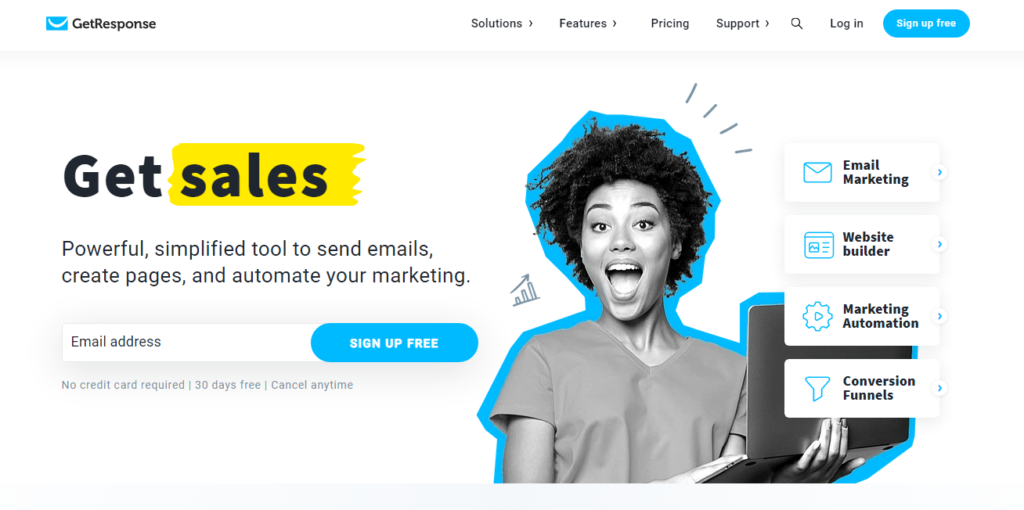 GetResponse is a powerful Hubspot alternative that assists users in business growth, lead management, sales, and marketing. The marketing automation solution builder helps save time, capture more leads and boost sales while building strong customer relations. Email marketing, conversion funnels, website builders are some other advantages of this software. Inbound marketing tools aid in growing your customer base and engaging them in repetitive buying.
Get Response Highlights
Stay in touch with your audience and keep in touch with e-mail marketing, Facebook ads, and segmentation.
Bring customers to your landing page and collect actionable data and feedback for your marketing campaigns.
Marketing automation and website tracking allow us to reach a targeted audience with the right messages and tools.
Create interactive marketing campaigns with email builders, landing pages, forms, pop-ups and more.
Build smart lead funnels to track all important information about your leads in real-time.
Drip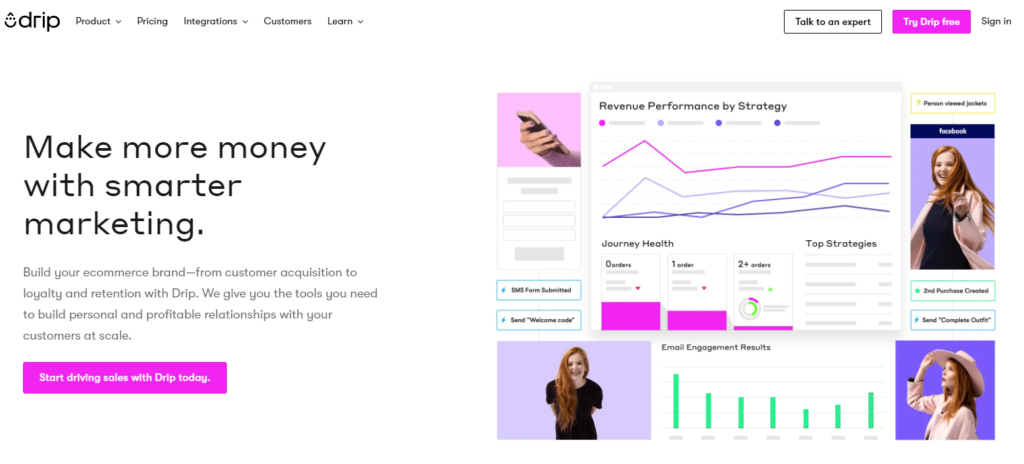 As an alternative to Hubspot, Drip campaigns enable you to make intelligent marketing strategies and sales functions. It provides tools to retain loyal customers and build personalized relations with new prospects. The converting forms, lead ads, customized email marketing helps to turn a shopper into loyal customers. Further, it provides segmentation reports, email automation, revenue dashboards, workflow automation, and more.
Drip Highlights
Customizable forms allow you to convert and optimize your website traffic into customers.
The visual email builder makes e-mail marketing a delight by sending personalized emails to the customers.
Make use of in-depth revenue and engagement statistics to plan your marketing campaigns and email marketing.
Build a personalized relationship by selecting a sequence of emails to each prospect or customer.
Motivate your customers into buying more through effective email marketing customer journey.
Sendinblue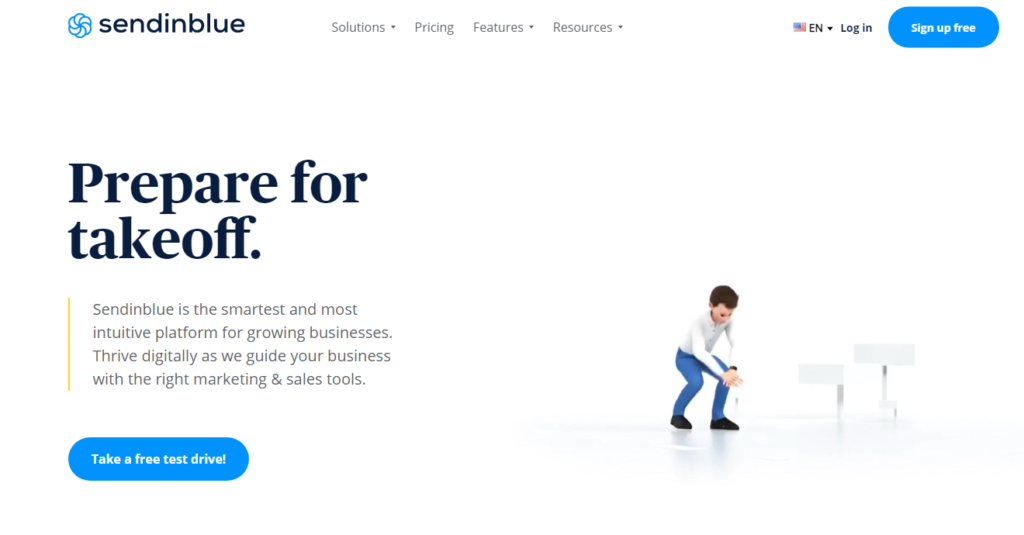 Sendinblue is an all-rounder software that provides an intuitive platform and practical tools for growing businesses. With effective marketing automation, you can focus on the essential task and leave the rest to autopilot. Shared inbox, chats, SMS marketing, email marketing keeps you in touch with customers. Efficient segmentation, landing pages, signup forms, and Facebook ads turn visitors into loyal customers.
Highlights
The e-mail marketing tool helps you to spread awareness about your brand by sending sleek and action-oriented e-mails.
Track and manage all your customer details in one place and build strong customer relations.
Use marketing automation and automate marketing segmentation and messages to optimize performance and save time.
Add contact info to your database easily using web forms, landing pages, newsletter signups
Ontraport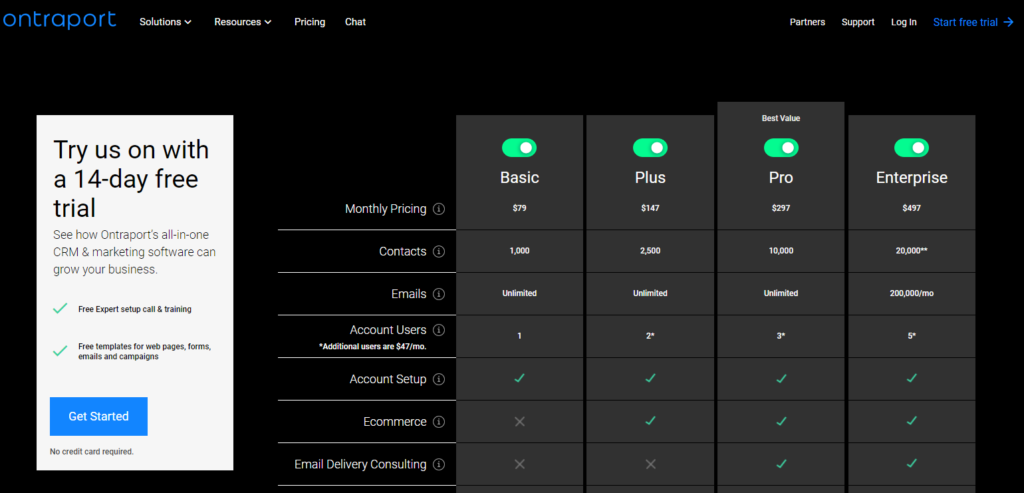 Ontraport is a complete marketing tool that offers a range of features including contact management, email marketing, landing pages, payment management, CMS, forms, and website analytics. It works as an all-inclusive package to grow your business with automation tools. Grow your business by using ontrapages and landing pages to get more traffic and conversions.
OntraPort Highlights
Flexible and customizable CRM that automatically collects essential data about customers.
Track the process through which prospects are going with easy drag and drop pipelines.
Efficient marketing automation tool that helps manage different marketing processes at affordable rates.
The No-Code Dynamic CMS helps you cerate website and manage visitors all together.
Wishpond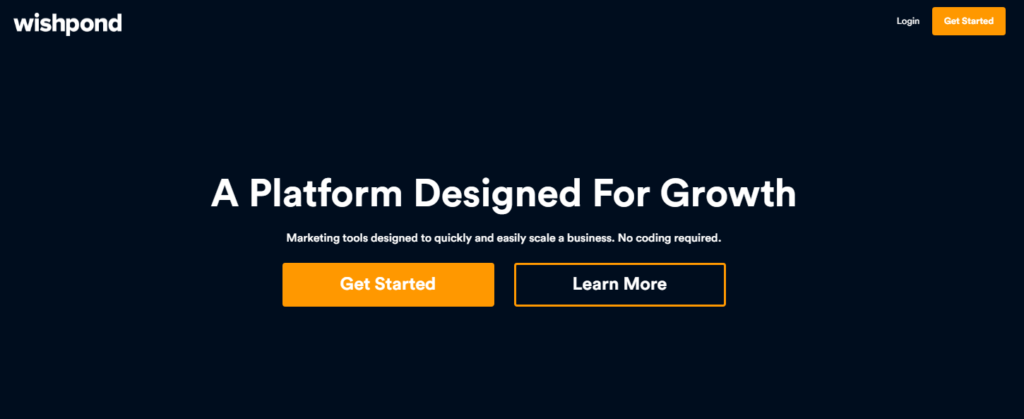 Highlights
The intuitive landing page builder gets you maximized leads and generates more sales.
Turn leads into sales by marketing automation and personalized email campaigns.
Integrate with 300 plus integrations, including sales, analytics, payment, e-mails, and other collaborative apps.
Keap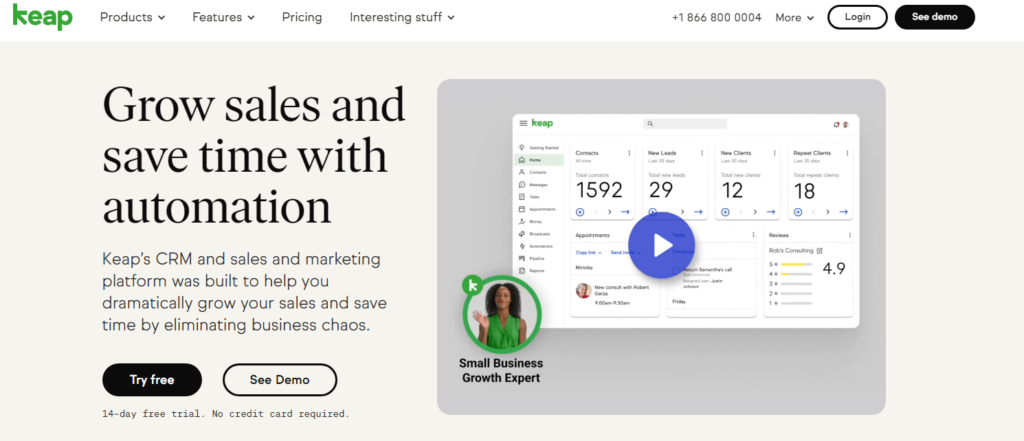 Keap is a sales and marketing automation software that reduces confusion and boosts your business. This all-in-one platform combines CRM, payments, marketing, and sales in one place. Centralize all the lead information, e-mails, marketing campaigns, SMS, calendar appointments, invoices to take instant actions. Also, use sales pipeline, sales, and marketing automation, reports, and analytics tools for smooth functioning.
Highlights
Tracking your sales process becomes easy with sales pipeline management.
Marketing analytics and reports help to gain marketing and campaign performance insights.
With pre-built templates and email automation, boost your brand and convert more leads.
SharpSpring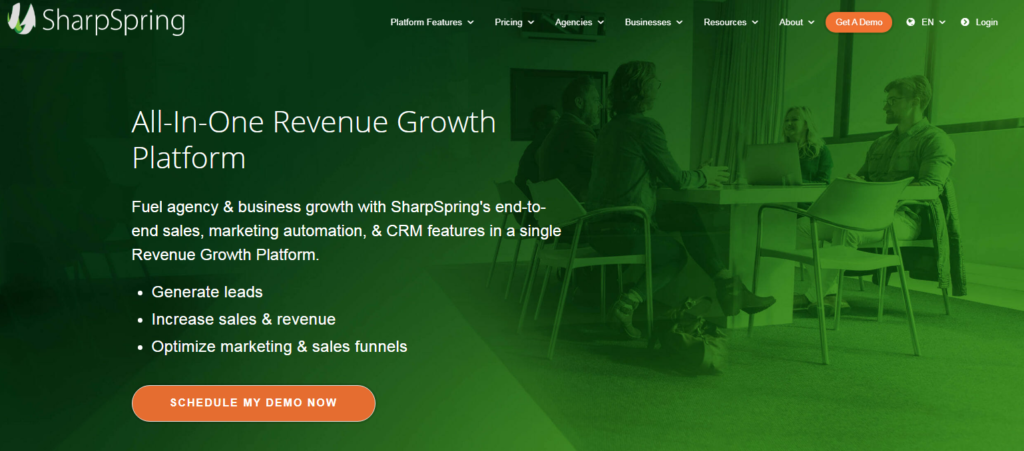 Sharpspring is a revenue-generating platform that fuels growth by driving more leads, optimized funnels, and marketing and sales automation. As a Hubspot alternative, it provides many features such as E-mail marketing, Sales and CRM automation, landing page builder, chatbox, social media engagement, ads, customized forms, and more. Easy integrations with your current apps, sales optimizer, lead scoring, and marketing campaigns help engage more sales.
Highlights
Use CRM and Email automation features to send the right message to the right audience at the right time.
Using the easy drag and drop editor, construct dynamic forms to improve conversation and generate hot leads.
Visual workflow builder instantly syncs all the marketing and customer-related information to simplify marketing automation.
Groove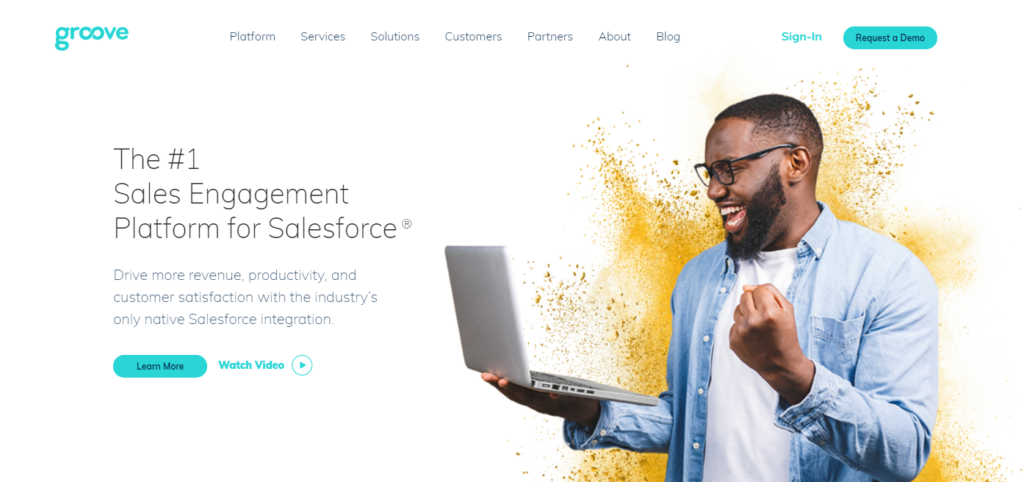 Groove is a sales engagement platform for Salesforce and helps drive productivity, sales, and customer satisfaction into your business. This native salesforce integration tool gains actionable insights for task management, better sales engagement, and maps your workflow. Ensure the security and protection of sensitive customer information under global public law such as CCPS.
Highlights
Enhance your sales team's performance and productivity to fuel sales and engage more leads.
Multi-channel marketing automation engages customers with instant SMS, personal emails, calls, etc.
Use real-time data to organize your work, set priorities, and assign tasks to your sales team.
SalesLoft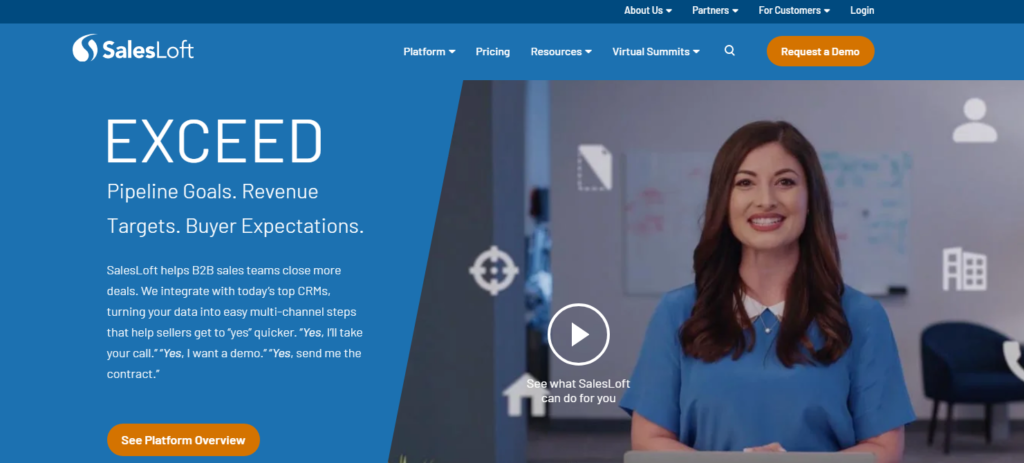 SalesLoft is a top-rated pipeline oriented, revenue-generating, and sales management tool. It provides various features for sales engagement, lead management, sales acceleration, e-mail tracking, and more. Automate the CRM to gain flexibility and adaptability in personalized interactions with customers. This all-in-one platform guides your sales team towards expansion and renewals of the sales process to reap more revenue and leads.
Highlights
Seamlessly integrate with third-party apps such as Salesforce, Microsoft Dynamics 365, Zoho CRM, 6sense, etc.
Understand the sales conversation and replicate the process for reaping more customers and leads.
Gain deep and valuable insights into the sales process with efficient forecasting tools to optimize your sales and marketing strategies.
ZoomInfo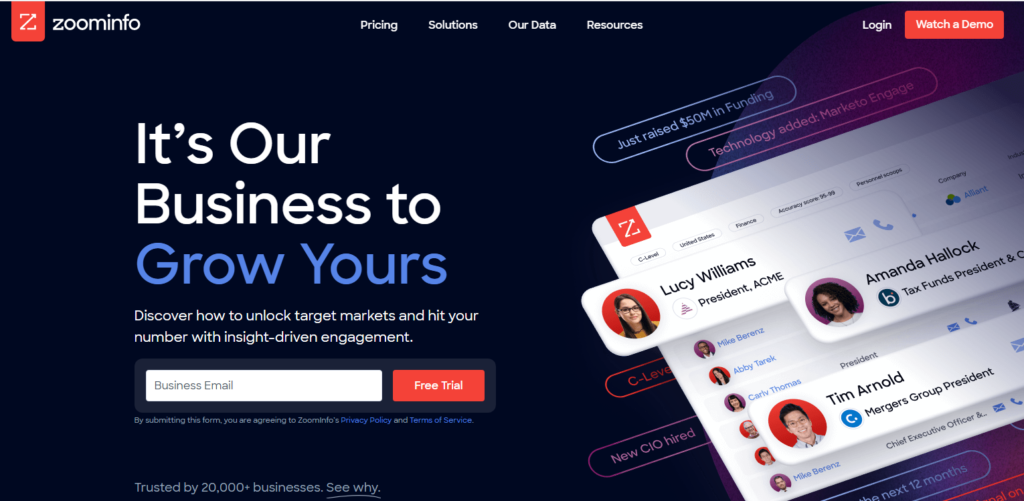 As an alternative to Hubspot, ZoomInfo is an all-rounder business growth tool that provides various solutions regarding CRM, lead management, buyer intent data, sales, and marketing. Lead generation, realized ROI, omnichannel communications, and centralized sourcing data are highlights of this tool. ZoomInfo views Data-as-a-service(DaaS), which accelerates business, sales, and marketing outcomes.
Highlights
Insight-driven workflow that is based on principal market changes to ensure profitable actions.
Use omnichannel marketing strategies to grow your inbound marketing and stimulate pipeline management.
Shorten your sales cycle and conquer your sales target by conversation intelligence and sales automation.
Outreach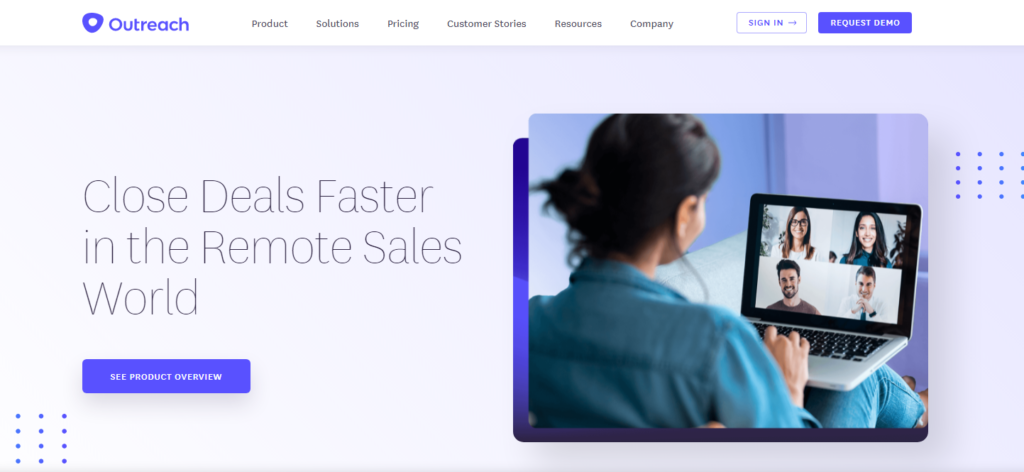 Outreach is a popular tool to close more deals and drive growth efficiency with every step. Single-handedly drive the marketing, closing, success, and sales team towards efficiency. Intelligent insights, customer engagement, security, reliance, and collaboration all constitute this software. Enjoy features like inbound and outbound sales to convert hot leads, account-based management to ensure transparency, and ops control to manage uncertainties.
Highlights
Enable your sales team to convert more sales by actionable pipeline management and tracking your work from your inbox.
Outreach provides features to align marketing strategies, management visibility, and sales management.
Integrate with popular apps such as SalesForce, Microsoft Dynamics 365, Outlook, G-mail, calendar, and more.
Nimble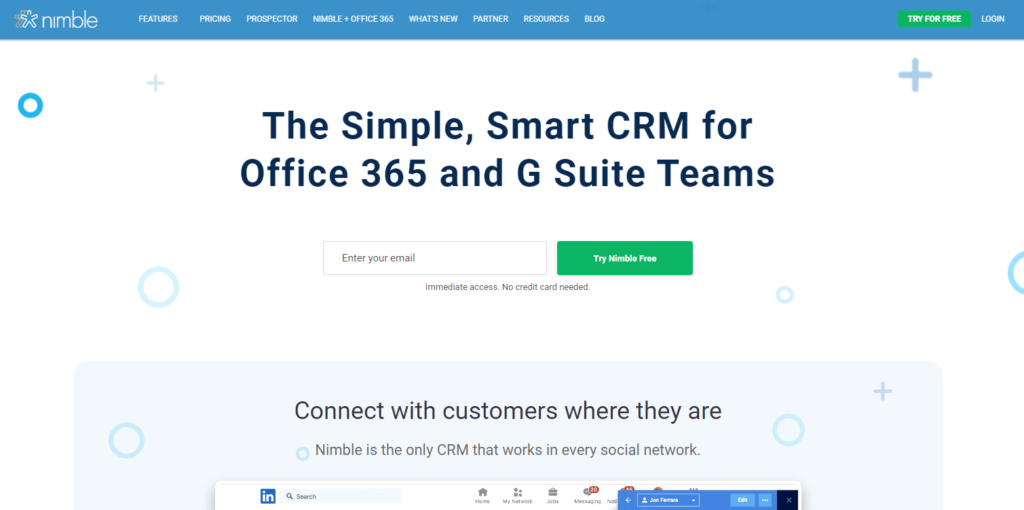 Nimble is a strong Hubspot alternative. It assists you in building a reliable customer base and collecting data that brings productivity. Organized contact information in lists and segmentation helps you to send group messages and take follow-ups. Ensure efficient sales team management, analysis and reporting, email marketing, customer engagement, sales funnels, intuitive dashboards, and marketing automation.
Highlights
Use CRM that has efficient contact management, data enrichment, and activity tracking.
Intelligent tools to track your sales pipeline, calendar appointments, task priorities, and sales funnels
Enjoy practical social search and market segmentation to find critical customer data for efficient decision-making.
Nutshell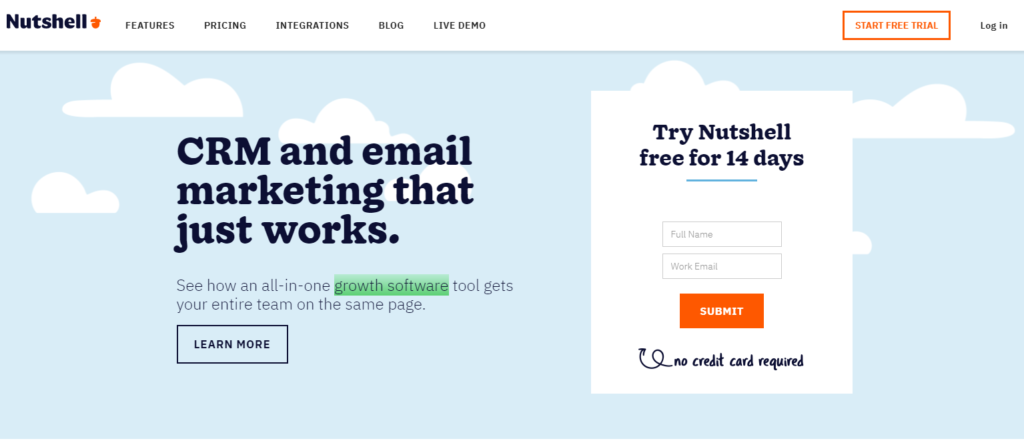 Nutshell is an overall growth software that provides excellent CRM and email marketing features. Enhance team performance with sales process automation, funnels, automated email sequence, activity reports, and multiple sales pipeline management. Seamlessly connect marketing campaigns with CRM to send personalized marketing emails and grab better leads.
Highlights
Efficient sales automation to design a perfect sales process that reduces overall time by cutting activities that are non-sales related.
Measure the impact of your marketing campaigns and e-mails with powerful funnel reports and sales analytics.
Use desktop or phones for log communication and reduce manual entry errors by efficient contact management.
Salesforce CRM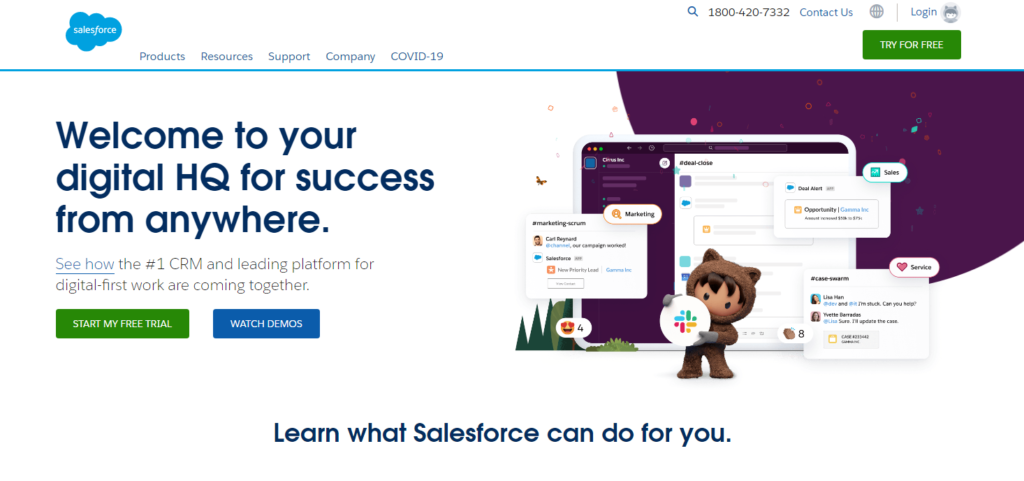 Salesforce connects marketing, sales, services, commerce, experience, and IT to provide collaborative and valuable software. The scalability and flexibility of this software allow small, large, medium, and startups to achieve success and growth. Some features of Salesforce include lead management, sales funnels, forecasting tools, customer management for digital marketing, e-mails, sales automation, and more.
Highlights
Win more leads as a sales team by strengthening your customer relations using Slack and the Sales cloud.
The sales automation of this marketing software assists you in overall sales strategy, sales forecasts, and sales team performance.
Send the right messages to your target audience by intelligent marketing automation tools.
Also Check: Salesforce Alternatives.
Apollo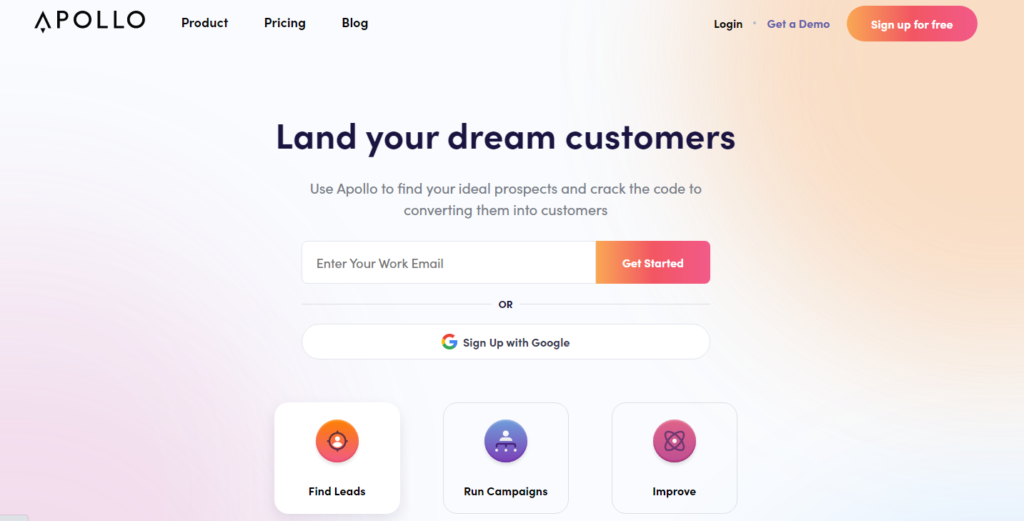 Apollo is a project management and contact management software that assists in task prioritization, project organization, and team management. Break big projects into small subtasks and allocate them to the sales team. Time management, milestone tracking, and collaboration flourish your customer network. Multicolor categorization helps you to better visualize the tasks, subtasks, dependencies, due dates on the timeline.
Highlights
Efficient project management, task management, and milestone calculating tool
Contact management with instant messaging, proof images, chats, notes, SMS, conversation history, e-mails, etc.
Keep a constant eye on your prospects and customers with communication tracking and automated email reminders.
Insightly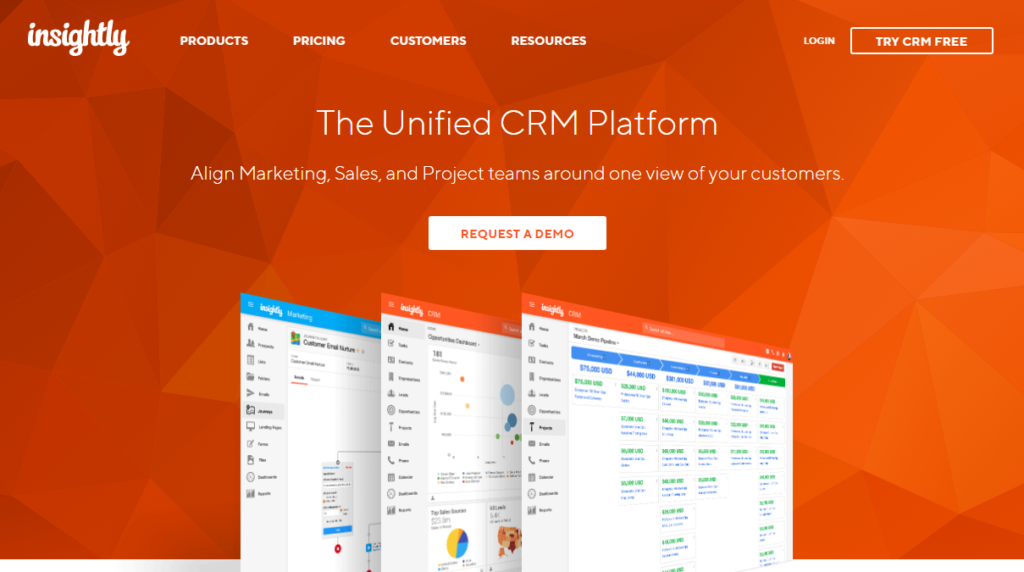 Insightly is a unified CRM platform that regulates marketing, sales, projects, along with various integrations. Today, customers want more than just service. They want to establish lasting relations with businesses. A single source of customer information helps to capture and manage better leads. Nurture existing customers and build a new recurring customer base with Insightly marketing tools. Other features include market segmentation, visual dashboards for logical actions, Marketing campaign effectiveness, reports, Email marketing, Inbuilt templates, feedback forms, and more.
Highlights
Keep track of your marketing campaigns, their performance, and ROI with advanced reporting and analytic tools.
The sales team and other related members can access all the project and customer-related information with Insightly mobile apps.
The workflow automation helps you to generate tasks, email alerts, lead, update records, etc.
Optimove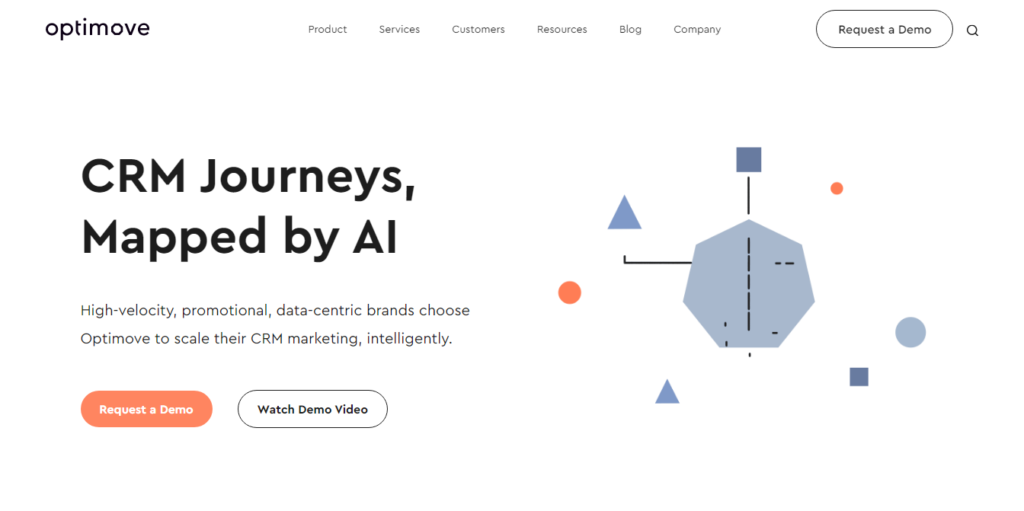 Optimove as a reliable Hubspot alternative provides data-centric and intelligent customer relationship management. The built-in AI of Optimove named Optibot reduces the complex marketing operations by combining customer and marketing campaign data. Perform customer segmentation, personalized marketing campaigns, customer engagement, KPI monitoring, intuitive dashboards, and more with theme-guided analytics.
Highlights
Optibot uses machine language and artificial intelligence to optimize marketing campaigns and gain valuable insights.
Accurate prediction of customer analytics by micro-segmentation and personalized marketing campaigns
Seamlessly integrate with Facebook, Google ads, Amplitude, Oracle, Jira, Spreadsheets, Shopify, and more with ease.
InsightSquared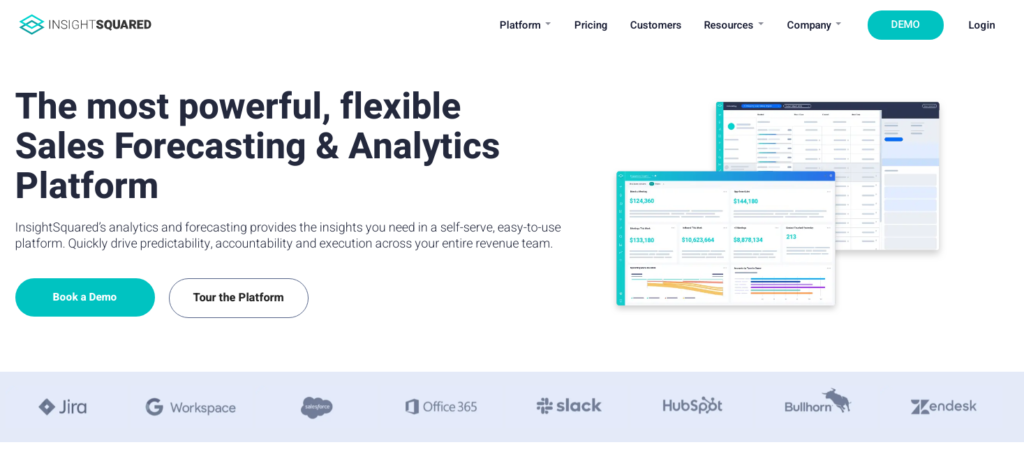 InsightSquared is an efficient Hubspot alternative that provides flexibility and power-driven insights for sales forecasting, marketing, and analytics. Enjoy enhanced reports, forecasts, dashboards, and pipelines to ensure good customer relations even after the deal is closed. Use strong CRM, sales forecast, analytical, and prediction tools and capture new hot leads. Machine-learning-driven results provide an intelligent base for product roadmaps, marketing campaigns, coaching, market positioning, and more.
Highlights
Connect activities, pipelines, performance tracking, and update meaningful metrics with DevOps dashboards.
Interactive reports give insights about pipeline reviews, accounting reviews, lead generation and speeds up your sales cycle.
Conversation intelligence tracks, records, and analyzes each customer call or meeting from beginning to end.
Woorise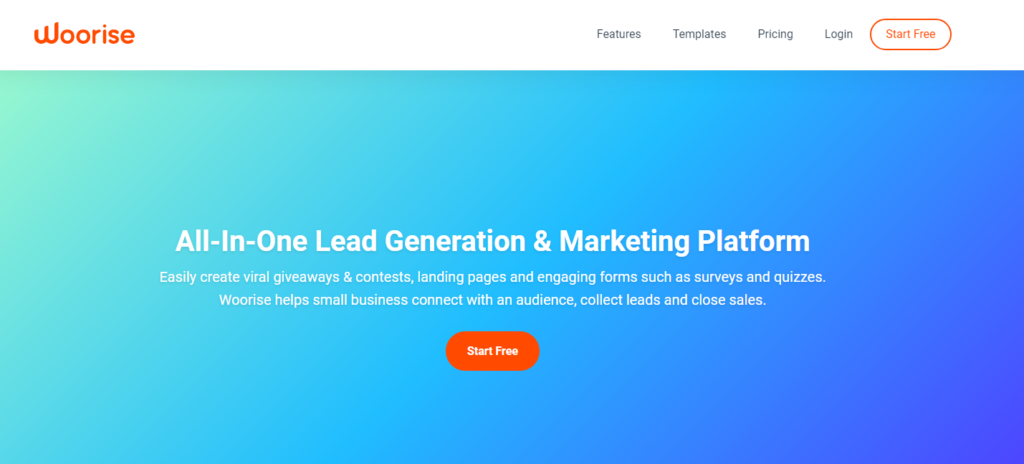 Woorise, as a powerful Hubspot alternative, is an efficient lead generation and marketing platform. It allows businesses to connect to their customers, collect more leads, and close sales. Make use of unlimited templates to design landing pages and add media and visual content. Collect payment securely and create checkout pages, sell your products, accept donations and send notifications with this software. Also, increase customer engagement and generate hot leads with forms, landing pages, contests, quizzes, and surveys.
Highlights
Create high-converting landing pages which are beautiful and look professional to your audience.
The pop-up builder guides to add pop-ups at the peak of customer interest and engages them in offers available.
Collect rich insights about customer wants with intelligent online surveys to make better business, marketing, and sales decisions.
Buffer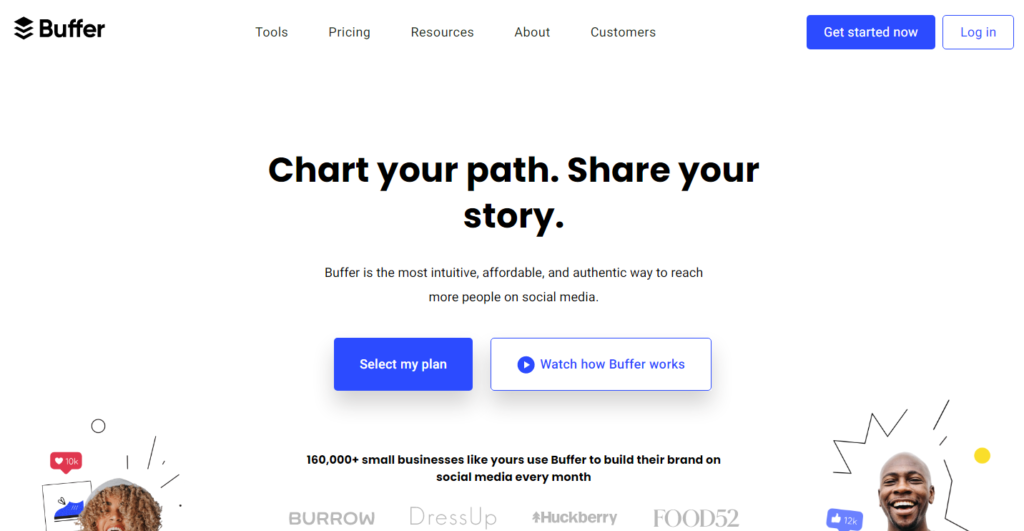 Buffer is a social media engagement platform that helps you analyze, publish, engage and celebrate your progress in one place. Get in-depth insights to help measure social media performance, get recommendations, and increase sales engagement with reporting and social media analytic tools. Also, use white-label reports with your company logo, description, and title for each document and export them in multiple forms. Increase customer engagement with an enhanced grid view that highlights the essential comments and helps view unanswered comments.
Highlights
Create beautiful and customized reports and share them with the sales team, manager, and other stakeholders.
Prioritize conversations by machine learning and enhance communication with keyboard hotkeys, emojis, and grid view.
Intensify your marketing campaign by planning and scheduling posts at the right time to increase customer interest.
Conclusion
All the Hubspot alternatives are reliable and excel in different areas. Some software such as ActiveCampaign, Ontraport is known for their automation, while Pipedrive, Drip is known for easy-to-use interfaces. Various software such as Zoho CRM, Freshworks, and EngageBay provide value for money along with great trials option.
While Hubspot marketing may provide class features, small and medium-sized businesses may find their cost a bit out of their range. And hence, these Hubspot Competitors may give you all the required services at comparatively cheaper rates. Choose any software from or outside this list, test them, take free trials, and visualize better to boost the sales team lead by their subscription.
Let us know whats your favorite in the comments.