Email Marketing is not in its decline phase though chatbots, Instagram influencers, and new opportunities snake their way up the marketing communications. You need to check the facts. For every penny spent on email marketing, it generates substantial ROI.
Thus, Email marketing is here to stay until marketing strategies prevail!
However, the grace points do not go only for email marketing; the service provider is an unsung hero.
In the world of Email marketing, the reigning monarch is none other than Mailchimp.
What is Mailchimp?
Mailchimp is an Email Service Provider(ESP). It lets you take full control of Email services by providing you to create and manage mailing lists, newsletters, and automated campaigns. By putting you in the driver's seat, Mailchimp lets you operate fore to aft.
It is simple and easy to use. Providing email marketing tools that are integrated seamlessly in one place proves to be a top choice for businesses searching for an ideal software.
Why has Mailchimp considered the best choice for Email Marketing?
Free account for lifetime
This forever free account has managed to lure many new businesses at the start of their email marketing journey.
It offers up to 2000 subscribers list, and 12000 emails can be sent in a month free.
If the subscriber's list goes up or you want to increase your spend limit, you have to upgrade to the paid plan. But the free account has satisfied nearly 3.5 million users worldwide until now.
User friendly
Mailchimp is easy to set up and has a low risk in the introduction phase. The features are user friendly and super flexible; thus, any non-technical person can also send professional emails without a marketing degree.
Enhanced features
Without advanced features, Mailchimp would have been obsolete long back. Well, thanks to its advanced features, which seem to hold onto the fort quite well.
Integration
Mailchimp offers seamless integration with various apps like CRM, WordPress, and other social media networks, allowing you to get the most out of your marketing.
Offers support
Free plans do not have a support system, but free plans have 30 days of free email support system, and even the chats are available from Monday to Friday.
Paid plans have 24/7 email support.
4 Reasons to choose Mailchimp alternatives
While Mailchimp is the de facto email marketing service, some things may take you by surprise.
Their free plan is prudent with generous offers. Still, it also attracts quite a few spammers, which can affect email delivery rate.
Their automation is archaic, while the alternatives provide the latest and updated automotive system.
The flawed support system has to backlash them.
Their pricing plans consist of contacts instead of subscribers, so extra baggage of work to manage the unsubscribers for you. If you avoid them, you end up paying for them as well, incurring unnecessary costs.
So if you would like an EMail Marketing Service going on par with the trends and at a fraction of the price or probably free with tempting offers, here check out the recommendations below.
25 Best Mailchimp Alternatives
Sendinblue
Sendinblue is the best alternative than Mailchimp because of its down to earth pricing strategy and Email marketing strategies that charge per email rather than per contact…
The process of segmentation of contacts is more painless and does not result in ambiguity.
Along with extensive automation features such as test A/B automation, Sendinblue gains the upper hand with client email testing. They do it for free, while Mailchimp comes with monthly pricing plans for the same feature.
Convert Kit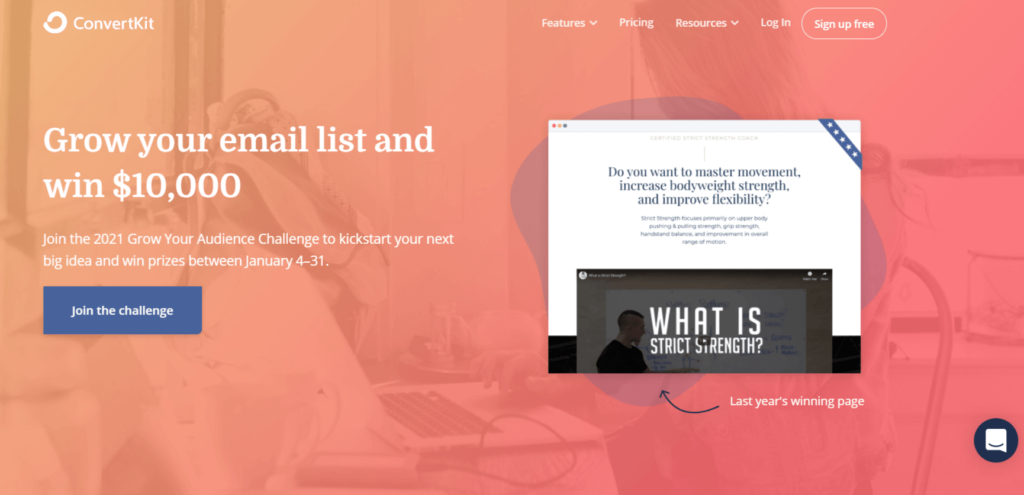 A perfect choice for online creators. There is a reason why Convertkit outranks Mailchimp in almost every aspect- It is cost-effective, available for all blogs and business, and comes with excellent customer support. Convertkit is birthed by creators for creators; therefore, their core values are something that you can look out for
Teach everything you know
Create everyday
Work in public
Default to generous
Do less, better
Convert Kit renders a simple method of managing contacts. When you upload contacts, they all go to the same place. You are provided with an option to assign contacts with a form, sequence, or a tagging option as a better way to organize them. Like Craft+ Commerce, their premium events are known as the best platform for online creators to help each other and learn from the top most creators of the world. To go further in-depth, it allows multiple forms per list.
Convert kit works by tagging and segmenting subscribers. It takes pride in itself on one subscriber's several interests. They do not charge for duplicate subscribers, unlike Mailchimp, where you are charged for the same subscribers.
Mailerlite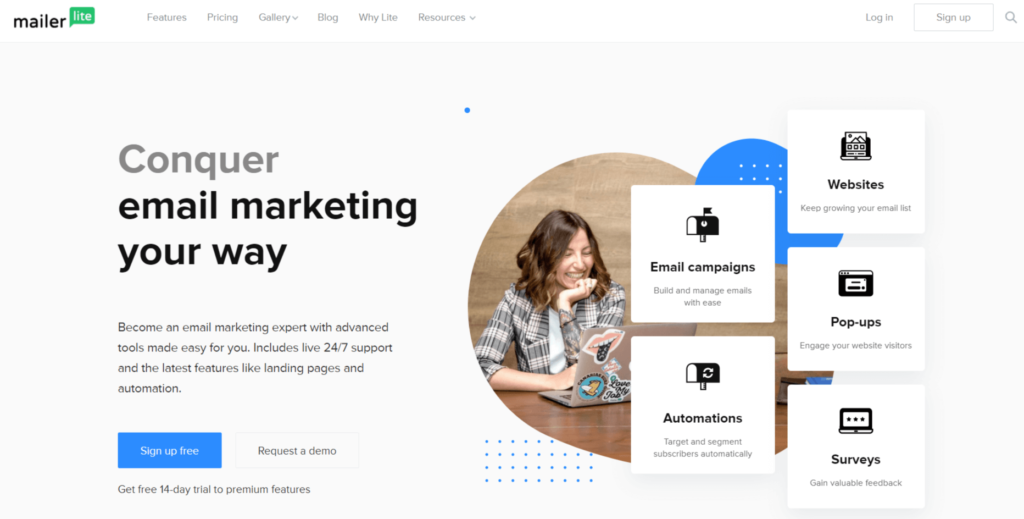 As the name says it all, a lightweight tool to get started with for your business. Users of mailer lite are majorly small businesses with 20-50 employees. Mailer lite believes beauty lies in simplicity; thus, it never tends to over complicate things with fancy, shiny, and glittery contender tools.
However, it's not that basic to bore you but strike a perfect balance of simplicity and efficiency. It's easy to use tools lets you create a regular email newsletter and A/B test messages and send RSS feed as an email.
You also have an opportunity to send an auto to resend messages to people who didn't open the first mail with a different subject line, new content, or a personalized message.
Though Mailchimp and Mailer lite both lie on the same plane when it comes to a free plan. Mailer lite triumphs over cost because you can send 12000 emails per month to up to 1000 subscribers. With full segmentation, landing page design, subscriber management, and autoresponder functionality. Their paid plan has $10 for 1000 subscribers with unlimited emails.
In Mailchimp, it is 12000 emails per month to 2000 contacts. It includes only basic templates with no landing pages, doesn't let you schedule emails as per your time zones. Its paid plan includes $9.99 for 500 contacts.
Drip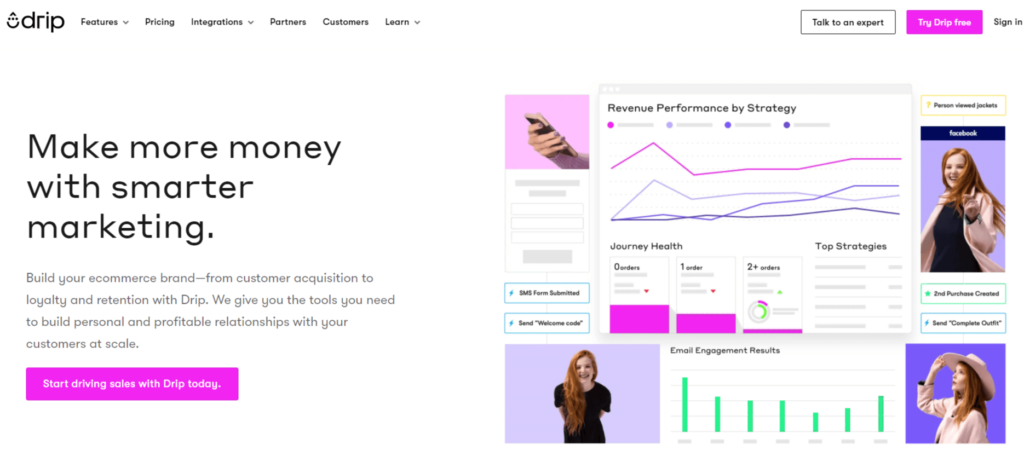 Drip is designed with marketing automation in mind.
There are 18 automation triggers and 16 different Drip actions, for when a customer clicks a particular link, visit a specific URL. It lets the particular program operate.
It also comes with lead scoring and segmentation. If you are looking for a traditional or primary email marketing tool, then Mailchimp fits the bill. Suppose your organization is besotted with an in-depth trigger and action mainly used for online shopping. In that case, Drip has the edge over Mailchimp.
Drip also comes with a modern opt-in form, whereas Mailchimp has an old school opt-in form which appears clumsy.
Plus, Drip provides an option to not engage with unsubscribed people, which means you don't have to pay for them.
Campaign Monitor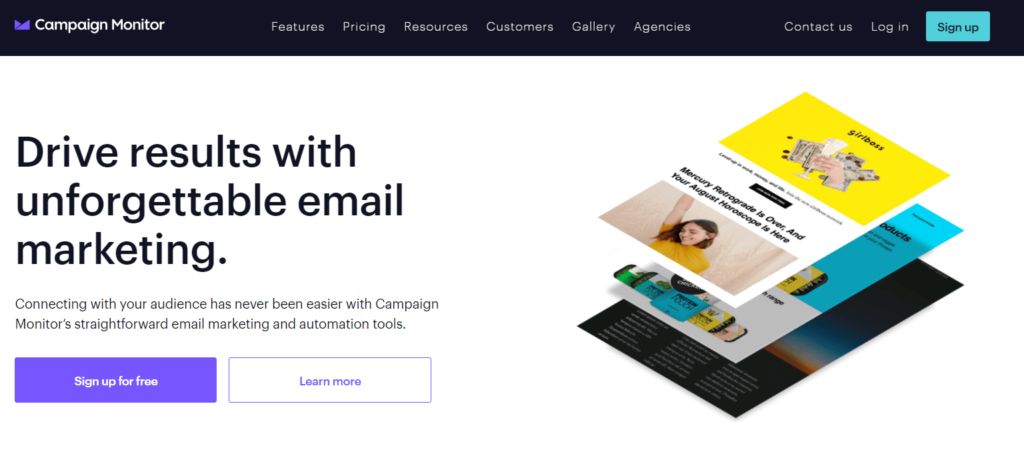 Campaign Monitor stacks up against Mailchimp by creating aesthetically pleasing emails that will leverage your email promotions. It helps your company by sending branded, stylish emails to customers.
It is most popular amongst infamous brands like Adidas and Unicef, which creates an impactful campaign to spread brand awareness among the audiences.
Campaign Monitor has coveted tools that cater to Email promotions of every movement and high visual standards.
Hubspot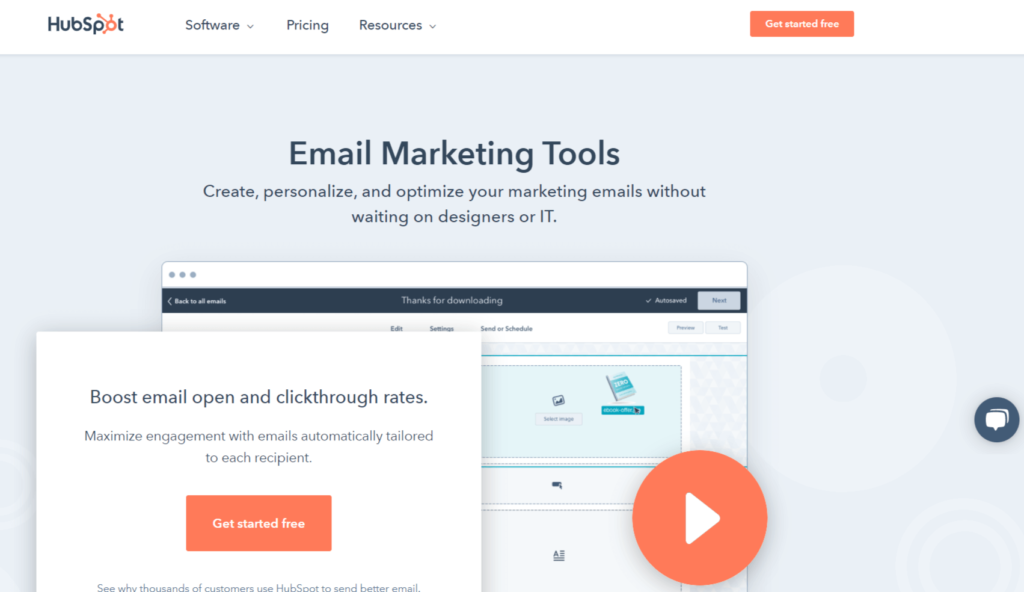 Hubspot is a flourishing platform that, along with email, also tags a suite of digital marketing tools with robust CRM integration. This gives a more in-depth insight into your marketing efforts and how they are affecting your customers. It is considered a great platform with advanced marketing and functionality.
It also offers embedded A/B testing and a smart time zone to ensure your message is being sent at best possible time. Within free access, you get sign-up forms, pop-ups as well as landing page builders. The support system stretches its boundaries and bears language support to use Hubspot email marketing in Spanish, German, French, etc.
Its free plan covers a span of marketing tools, CRM and Social media tools, etc. Hubspot's in-app tools ensure that emails can be previewed and sent on various devices. Its analytic dashboard helps you optimize your campaigns with user-friendly charts and click maps.
Aweber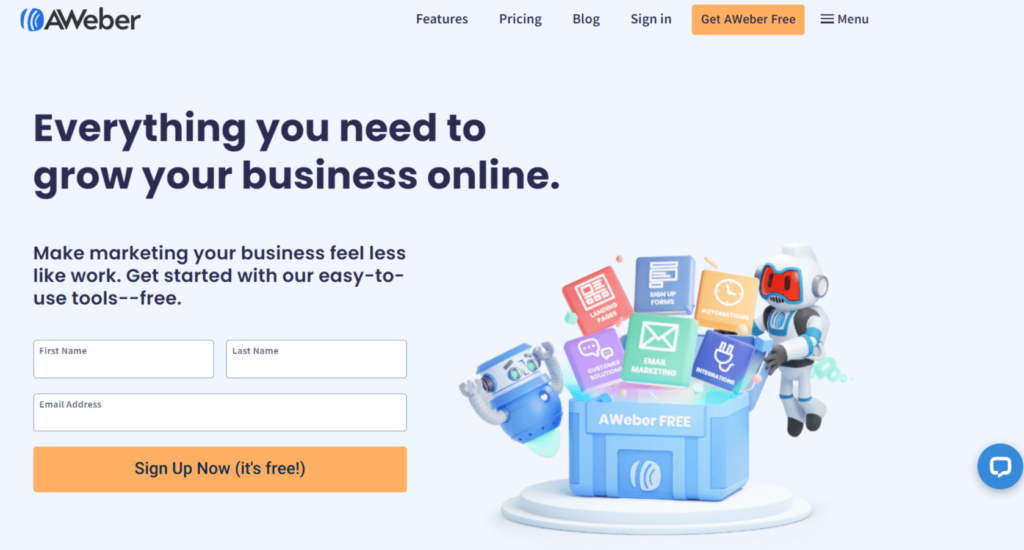 Aweber is considered an excellent option for large enterprises and bloggers with Affiliate marketing in their business plan.
Aweber has more than 700 templates
It provides more free stock images.
Aweber helps in creating sign up forms.
In Aweber, you can create your design or use a premade template. You can embed the signup forms into your site and convert it into a landing page. On the other hand, Mailchimp needs HTML knowledge; therefore, a techie with HTML expertise is required to embed it on your site.
Aweber also offers a visual builder, which makes editing a newsletter a cakewalk. It also provides more extensive support options, and its free plans are also entirely unrestricted.
Get Response
Get Response has a highly customized user interface that pleases the eyes. When Get Response price is compared with MailChimp, Get Response gets cheaper as your list size grows more significant in size.
Get Response offers more functionality with its entry-level packages. If you are serious about your business for earning money. In that case, you can opt for Get Response because MailChimp is ideally suited for beginners.
Get Response makes the point by being more helpful with its API when it comes to the integration. Get Response support globally with a different language of a different continent. Mailchimp support universal, i.e., English language for customer service
Emma
Emma helps in facilitating marketing campaigns like a pro with the help of great design templates. It also allows you to manage and organize emails across several locations. It will enable you to create targeted communications using triggers like targeted email based on your customers.
The email score and your performance can be easily visualized with its dashboard features. It's easy interface can let any novice use it like an expert.
Constant Contact
Constant Contact is a cheaper alternative to Mailchimp; therefore, it is more suited for small scale businesses and nonprofit organizations.
It can work well with Optin-Monster and WP forms
Automated feature sends welcome messages to new subscribers
It tracks users behavioural pattern
It has an array of resources that are useful and quite popular to manage Email Marketing Campaigns.
A forever free plan allows you to access advanced features essential for email marketing services. Its landing page builder creates landing pages efficiently.
Omnisend
Omnisend has been built explicitly for an e-commerce platform. It offers an advanced feature, like offering discount codes and product picks that allow you to transfer products from the online store to the campaign platform.Omnisend and Mailchimp are both easy to use email builder services.
SMS marketing is what lets Omnisend win thus, becomes the preferred choice for the email service platform. It supports gamification pop-ups that entice customers like fortune wheel pop-ups while exiting the website, allowing an easy way to add contacts to the mailing list.
Dotdigital
Dot Digital has been providing rock-solid support to big brands like British Airways and Harley Davidson.
Being entirely scalable in operation, DotDigital is also useful for small scale and medium enterprises. Dotdigital comprises 30 + tools in its arsenal like SMS, Survey forms, Push notifications, Campaign reporting, etc., essential for your stunning email marketing services.
Mailjet
A smooth and straightforward setup is what sets Mailjet apart from Mailchimp.
It has 3minutes of easy design setup, real time efficiency to view charts, tables, and
status of your sent mails, providing you with full transparency. Also, Mailjet offers an unlimited number of contacts and optimized delivery.
Sendpulse
Customization and personalization are what Sendpulse is all about. It lets you catch your customer's pulse and know their ins and outs by offering web push notifications,
SMS, email marketing, and artificial intelligence all in one platform. It has an unmatched price where 15000 emails can be sent in a month to 2500 subscribers.
Sendpulse database technology has 45% of email opening rates.
Active Campaign
Boosting your sales and catering to targeted customers is a pivotal role in email marketing campaigns. The Active campaign has justified its role in satisfying a large number of users.
The pricing options are flexible, along with no set – up charge. Its paid version is also quite affordable. Its automation feature like customer service automation allows less of manual intervention and let your customers enjoy best customer service
Klaviyo
Klaviyo boasts in its tagline that Mailchimp is for sending emails while Klaviyo makes you earn money. The brands that have shifted from Mailchimp to Klaviyo have made 30% more money each month. Klaviyo and Mailchimp core functionalities overlap somewhat, but at heart, both platforms serve you by creating, designing, and automating email funnels.
But to make the most out of any email campaign, features such as segmentation, automation, A/B testing, and reporting and analytics are essential. And that is what Klaviyo takes pride in itself. Shopify has also mentioned how every $1 spent on Klaviyo earns them $85. With its zapier integration with Shopify, it makes it easy and fast to lead the campaign.
Keap
The in-person training and customer support by Keap lets you keep the software until your business prevails. Besides email marketing automation programs, keap offers a vast number of features in both free and paid versions. Their customer support is always banked upon, with live technicians already available.
Only sending emails isn't going to earn any profits. The campaigns have to be run to generate profits. Therefore, in addition to managing subscribers, users' emails, templates, traffic, and reports offer excellent insights into how effective marketing practices are.
Autopilot
Autopilot is suitable for small and large businesses. They offer a 30 day free trial of the product. There is no hidden cost, and their pricing is flexible and affordable. They provide an easy to use automation builder with many great options and integrations. Coveted campaign designing and tight integration helps in marketing automated solutions.
Remarkety
For businesses who wished to maximize revenue and send targeted, personalized emails based on the shopping behavior and e-commerce data, Remarkety is the savior for them.
Remarkety provides a litany of marketing suites that until now was reserved for big brands only. It plays a vital role in specialized tools and automated trigger emails like ordering follow-up and abandoned cart notifications. With browse abandonment campaigns, shoppers need not put anything in the cart.
The campaign scans individual browser behavior on your ecommerce website and sends highly engaging trigger emails. This helps in retargeting at the right time for products they viewed and generate leads.
Sendgrid
When it comes to email marketing strategy, Sendgrid certainly has the answer for it. It gives you analytic nuances like the percentage of emails have been delivered or have been spammed.
It provides a newsletter and transactional emails under one roof only. With SendGrid, the first time user can send up to 40000 emails for the first month, whereas Mailchimp can send only 12000 emails per month.
Helpcrunch
Helpcrunch is designed explicitly for B2C businesses where personalization is of utmost importance. Therefore, target messages to the customers fit the bill.
It can also be operated on multiple websites, and any amateur can use its dashboard and onboard instructions. If you cannot get the hang of it by any chance, there is a chatbot and advanced helpdesk to answer your queries related to Email marketing.
Engagebay
It has a unified software system that serves the best of marketing, sales, and help desk at an affordable price. Engagebay provides the highest number of contacts/subscribers than Mailchimp. It also has tailor-made plans for small and big companies.
You may bid farewell to data silos because the all-in-one platform gives you excellent customer experiences. You can nurture your automation with advanced CRM software.
It provides access to cutting-edge sales features like telephony and messaging, sales proposals, and many more.
Tinyletter
It was rumored once that tiny letters were on the verge of dying. Well, Mailchimp saved it by acquiring and later on relaunched it.
But still, there is a knee-jerk reaction when the tiny letter is compared to a big boss like Mailchimp, but they say Mailchimp is for business and Tinyletters is for people.
It has a cap of up to 5000 subscribers and has stripped down to light features and therefore extremely lightweight. The UI is breezy to use. It is simple, beloved, and costs very little to operate.
Easysendy
Easysendy is a perfect platform for bloggers, podcast creators, freelancers, course creators, etc., to name a few.
If you are wondering why Mailchimp is compared to Easysendy, well in that case,
Mailchimp is more:
finicky in its appearance
a limited product with limited functions.
The formatting is wonky and easy to mess up,
embeds are restricted to images,
newsletter and design choices are rudimentary.
Lack of a support system and high prices are few issues adding to the grievances box.
Therefore, a robust system like easysendy with better contact management, A/B testing, and automation is required to assuage the online gig creators purpose.
Moosend
Moosend offers unlimited customer segmentation with a free plan. The automation builder is fast, reliable and most of all tailor made for all pricing plans.
It also provides free email newsletter templates for all occasions and fabulous customer services.
Infact, Moosend is 30% cheaper than Mailchimp making it value for money who are on a shoestring budget
Final Verdict
That wraps it up for you! The above mentioned 25 alternatives can serve as a good shortlist for your Email marketing service compared to Mailchimp. Though Mailchimp is a popular email marketing service provider for a reason, as we have seen, there are a lot more tools and companies way better than Mailchimp and also provide better options at affordable rates.