In this article, we are going to look for some awesome alternative to QuickBooks accounting software that is easy to use and has various features and advantages. You can find similar or related accounting software that will help your business make more money and save time.
Some of the alternative software in this list can help to make your accounting and bookkeeping so easy and fast that it will give you time to focus on growing your business. The alternative software can cater to various groups of people such as entrepreneurs, accountants, freelancers, contractors, self-employed people, small, medium, and large organizations.
As we know Accounting is the collection, organization, and classification of financial data. It refers to collecting and analyzing the information to know the financial position of your business. Accounting is more about practical learning rather than theoretical learning. It helps to organize and represent financial information and understand your finances to make better decisions in the future. Accounting is studying your past and making changes in the present to improve your future.
Accounting software is a computerized and intelligent system that assists in various accounting and bookkeeping activities. Accounting software helps to maintain financial data, generate reports, and analyze the data digitally. It helps generate important financial documents such as Profit and Loss Statements, Balance sheet, and Income Tax returns. Accounting software draws the exact profits and cash flow reports of your company and suggests various methods to improve the business.
Some of the superior benefits of using accounting software are listed below:
Accounting software makes the redundant task of manual bookkeeping easy.
It saves a lot of our time by computerizing everything and minimizing the manual assistance.
Linking your software to your banks will ensure accurate recording of transactions reducing the errors.
Accounting software makes it easy to get a loan by drawing all the required documents needed in no time.
What is QuickBooks?
QuickBooks, as we all know, is a revolutionary software that is available in the market. QuickBooks has a global reach with about 5 million users worldwide and an easy to use interface. It is the world's leading online accounting software with dedicated support and the best cloud base. The feature of attaching the document or file has proved to be very useful. It saves us the hassle of drawing the documents from various platforms and decreases confusion of the accountant. People all over have liked their direct bank connected to the software with almost no manual intervention, leading to fewer mistakes.
Reasons to choose QuickBooks Alternatives
Although QuickBooks provides various features such as quick and hassle-free access anytime and anywhere, easy to use and maintain interface, quick and hassle-free set-up, etc. It might not be suitable for your business and you may want to look for other alternatives. It has certain downfalls like:
Slowing down of the server due to heavy internet traffic
Access to company information only if the internet is available.
Possibility of data hacking.
Here are 25 Alternatives to QuickBooks: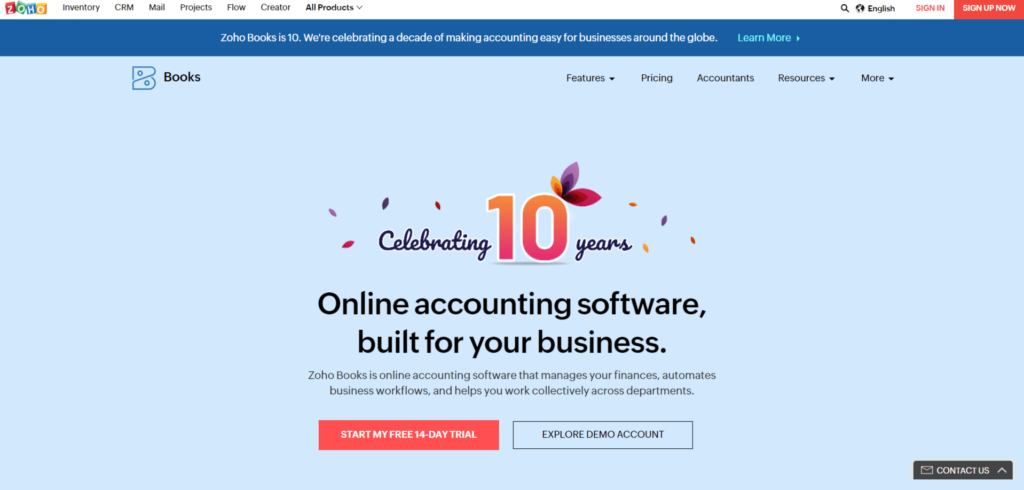 Zoho Books comes under Zoho Corporation and is an integrated software with excellent data managing skills. It is known for its easy to use and understand interface that needs only a few minutes to understand the software. Zoho Books can make customized invoices that can be sent and converted into bills in no time. The linking bank account facility in the software can ensure smooth payment and entry in the accounting system with limited or no manual intervention. It also produces detailed and basic reports such as Balance Sheet, Profit & Loss statements, GST reports, etc. It also has a separate inventory and payroll software to ensure and provide advance inventory and payroll facilities.
Here are some of the amazing features of Zoho Books:
It helps manage receipts and payments daily, sends statements to your customers, and receives payments in various currencies.
The feature of producing delivery challans and approval of each sale or purchase order by the manager is also available.
The platform helps you set invoices of recurring customers and set their details to ensure secure payment.
Zoho Books is also one of the software recommended by the government of India for GST.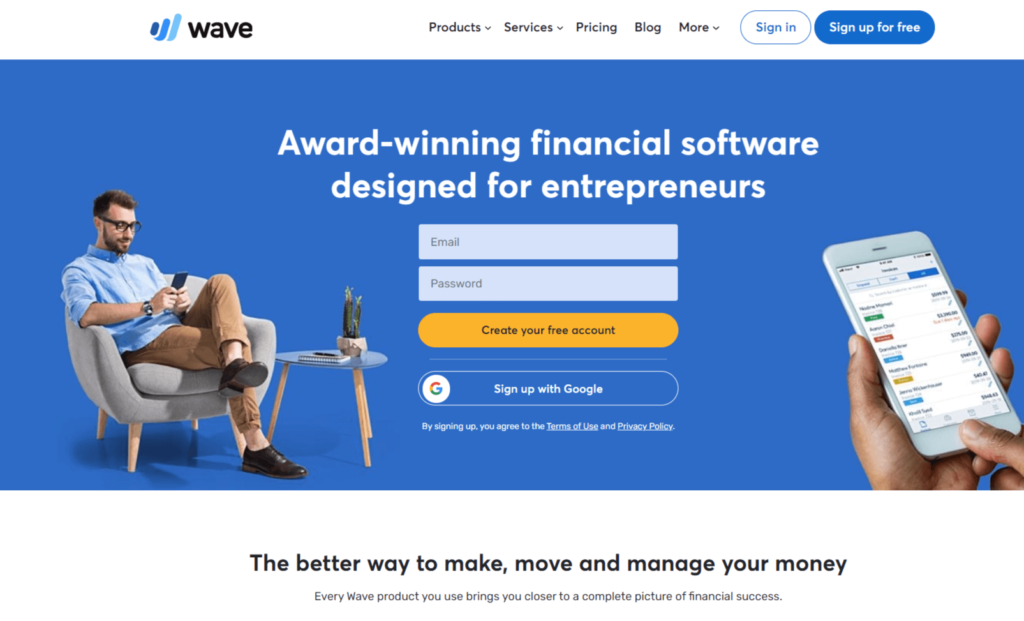 Wave is a finance and software producing company for small-sized organizations. It is one of the most popular and free accounting software available to us. Wave has a good interface that can be operated by anyone. It is mostly used to record the expenses of a company and individual. The basic functions of Wave are to produce a professional invoice, ensure better bookkeeping and maintain receipts. This free software provides an easy connection to Paypal, Etsy, and Shoeboxed. It also helps produce customized accounting charts. Reports of various data like sales tax, balance sheet, cash flow, and profit & loss a/c can be generated in this software. Mobile apps of Wave are available for both Android and iOS users to track their expenses efficiently and quickly.
Some of the Highlight features of Wave are as follows:
Wave is designed for small businesses, freelancers, small entrepreneurs, and consultants to keep track of their expenses and manage their finances.
It uses double-entry accounting tools, ensures direct data imports from banks, helps you track your expenses, and makes journal entries.
The modern and friendly interface of the software allows us to do auto-categorization and edit in no time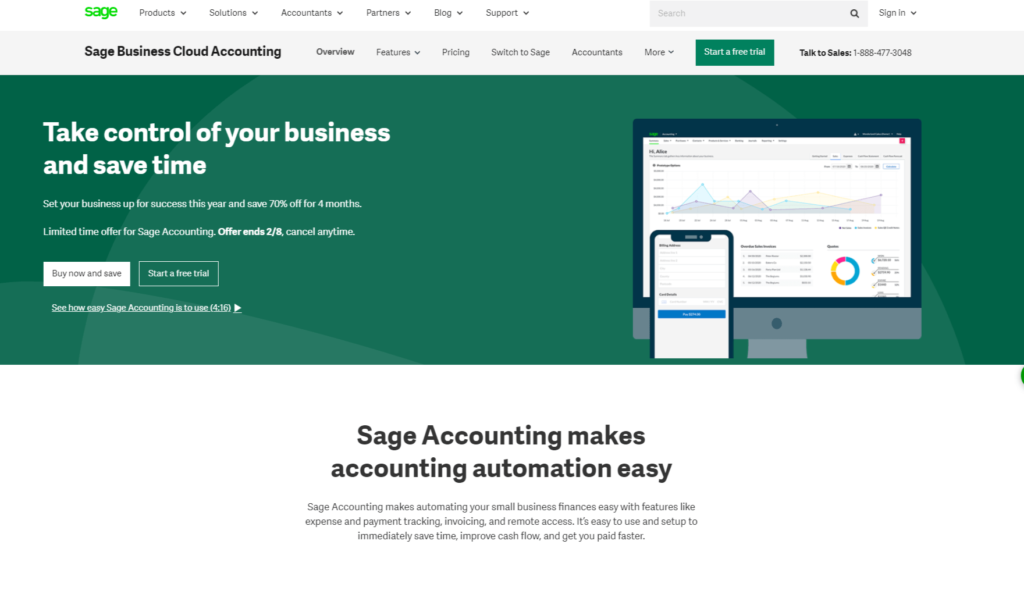 Sage Accounting is a power and function efficient software available to you at a very reasonable price. It helps you create invoices, send them to your clients, click the snaps of your receipts, and aids you in making payments. You can also share the access with your accountant and collaborate with him in real-time to ensure no mistakes in your statements. There is a lot of training material available in the market to get started with Sage. It also helps you with tax compliance and guides you to the proper filing of tax payments. It is the most versatile and affordable software that is also user-friendly.
There are many benefits of using Sage Accounting. Some of the leading benefits are as follows:
Sage has been there since 1981 and is the only one on this list who can claim seniority to QuickBooks.
There are various connecting apps such as Stripe, AutoEntry, Satago, Sage Employee Benefits, etc. will help your business prosper.
Sage provides you 24/7 online support and resolves your queries through chats, calls, and mails in no time.
Xero

Xero is an all-in-one accounting software that helps you run your business efficiently. Its incredible fast speed and easy to use interface makes it the favorite of everyone. You find everything from paying bills to paying tax in this software. It helps you connect with your back and advisor in real-time. This software ensures automated invoicing and reporting smoothly. Xero helps you show the financial position of your company and helps you make the year-end tax return. It also regulates the cash flow and helps in bank reconciliation. You can also connect to apps like Stripe and Vend in this software.
There are many benefits of using Xero. Some of the advantages are:
You can connect to your bank and sync all the financial information smoothly and efficiently.
You can invite your accountant or advisor any time and work together from anywhere in the world.
Xero has a marketplace of over 800 third-party apps that you can connect to make your business successful
FreshBooks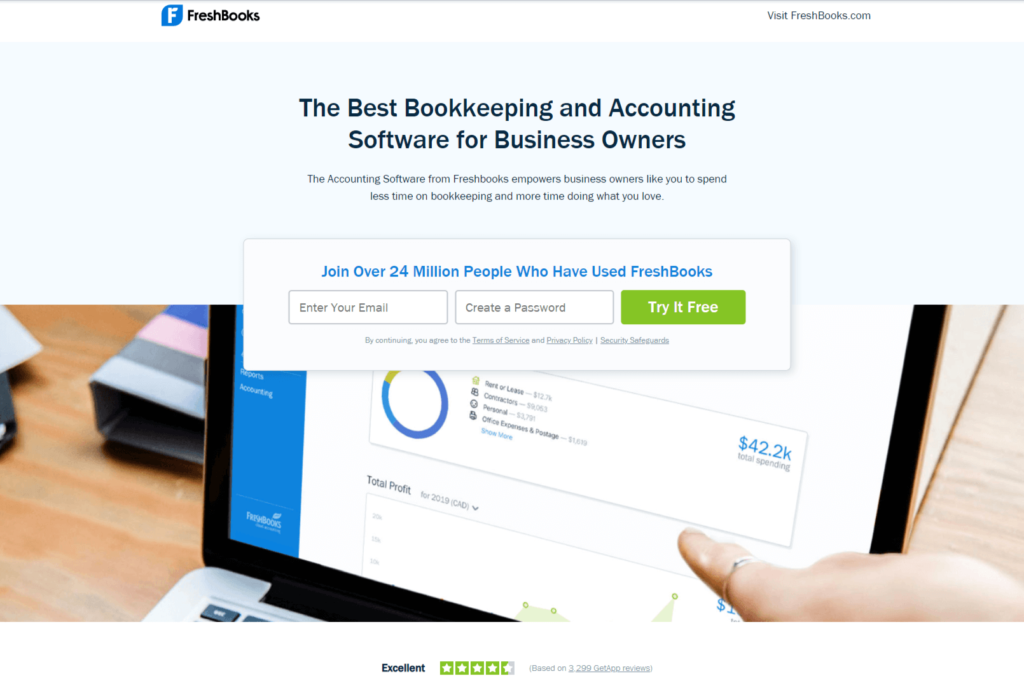 FreshBooks is the best software helping and satisfying the needs of self-employed people and their teams. When the CEO of this company, Mike lost all his invoices, FreshBooks was born then. Since then, it is helping small businesses to run their businesses efficiently. Today, there are over 24 Million users of FreshBooks. It makes professional looking invoices within minutes, making your clients pay you faster. This software tracks each of the expenses you have spent and organized the bills so that you are always ready for tax time. This software helps you to get paid faster.
Among the various benefits of Freshbooks, here are some of the highlighted ones:
FreshBooks helps you keep all your files, documents, and feedback in one place, making it easy to access when needed.
This software generates simple reports that are easy to understand and powerful enough to make your accountant and other Third parties happy.
The double entry accounting principle that the software uses makes your business decisions easy.
Bonsai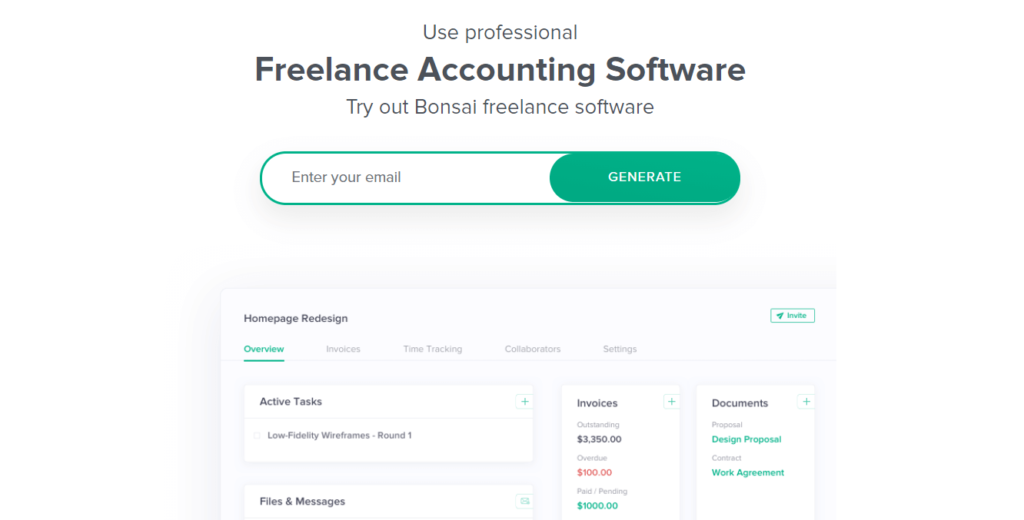 Next on our list is Bonsai. Bonsai is an ideal accounting software specially designed for freelancers. These self-employed and independent contractors know the importance of proper bookkeeping and the difference it makes in the long run. Bonsai is an automated software that assists you in your finance and paperwork. It has more than 250k freelancers and small entrepreneurs trusting Bonsai with their finances. Bonsai manages your income reports, tracks your expenses, and estimates your tax planning. It helps you to expand your business by integrating all the processes of the business automatically. It aids you in managing your tasks and tracking the time for your projects.
Here are some of the significant features of Bonsai:
Bonsai covers a large range of work types to suit everybody's needs.
Making contracts and maintaining good client CRM is one of the unique features of Bonsai.
The international coverage of the software helps you operate it from anywhere in the world and supports over 180 currencies.
Quicken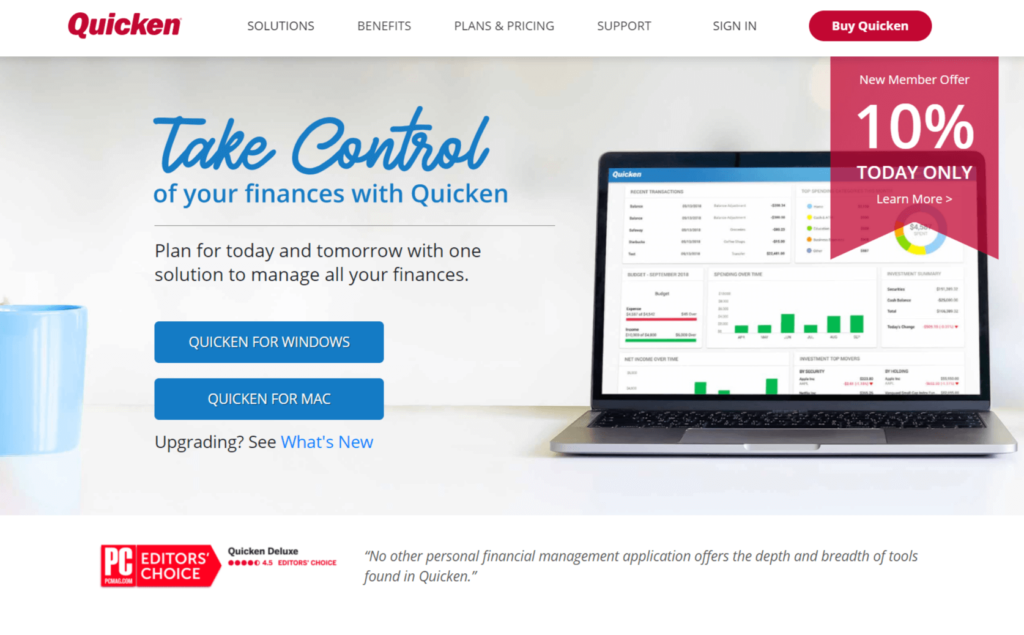 This personal finance management software, Quicken, helps you to easily view and manage your bills. It keeps a check on what is coming in and what is going out of your account. Quicken bill manager helps you remember all the due payments. With the help of mobile apps for both iOS and Android, it has helped people manage their finances from anywhere and anytime. It also keeps you updated with the latest updates of the software to ensure smooth functioning.
Some of the advantages of using Quicken are as follows:
You get free customer support with the help of phone calls and chats from Quicken.
Quicken provides you with 5 GB of free online storage from Dropbox to save your documents and files.
It tracks your spending and aids you to save more by creating custom budgets for you.
Tally
India's most trusted and leading business management software is Tally. Tally helps you to reduce complex problems and helps grow your business. In Tally, it is easy to discover and update the information even for non- IT background people. The simple and easy to understand interface helps you create vouchers, ledgers, and journal entries without any difficulty. Tally also helps generate profit & loss account statements, Balance Sheets, and Tax reports. Tally helps give a broader view of your business by providing inventory, management, finance, and MIS reports to ensure better decision making.
From so many advantages of Tally, some significant advantages are:
The Multi-user License in Tally can have unlimited users on the same LAN and can handle the bulk transaction at one time.
The system's data remains safe and secured from corruption in case of power failure or network disruption.
Tally's easy interface on mobile phones and the web has made the recording of transactions and expenses easier.
Oracle NetSuite
Oracle NetSuite is helping businesses and start-ups adapt to everyday changes by ensuring visibility and control. NetSuite is very flexible and aids you in doing all the things with ease. Your core business becomes more customer-specific and customizable with the help of this software. NetSuite supports ERP, CRM, and e-commerce along with financials.
This power-packed software helps you manage your business efficiently.
Oracle NetSuite is a great platform with many advantages. Here are some of the advantages:
NetSuite gives you the transparency and control to make vital business decisions.
It assists you in upgrading and configuring your system software to meet the complexities of the business.
The real-time analysis of the NetSuite gives you an idea about what to do to help your business prosper.
ProfitBooks
This number 1 free software for accounting helps you to manage your finances and accounts easily. Even if you have zero knowledge about accounts, you can easily use this simplified software for your business. ProfitBooks helps you create invoices, manage your inventories and track your expenses to make better decisions for your business. This software also helps manufacture and manage inventory, selling services, and handles all the business processes efficiently.
Among the numerous benefits of ProfitBooks, some of the distinguished benefits are:
ProfitBooks assists you in managing your money and finances without any accounting knowledge.
This platform helps you track your inventory and simplifies the manufacturing process.
It also helps you to record manual journal entries and tracks your expenses to ensure profits.
Vyapar
It is one of the most efficient software that helps in free GST billing. This software makes billing, inventory, and accounting simplified and easy to understand. With this software, you can create GST invoices and bills with a professional look that will impress other business owners. Vyapar aids you in effectively managing your inventories with the help of their invoicing app. It also helps to avoid unnecessary purchases by guiding you with their sales reports. Tracking your orders of sales and purchases becomes easy with this software.
Many features make Vyapar a great platform. Some features to consider are:
This software can give you Delivery Challan as an acknowledgment of receiving the consignment.
Vyapar helps you to recover the pending payments by reminding you about them on time.
This free software makes your GST filing a smooth process and generates GST reports in no time.
Giddh
Giddh helps and fulfills the needs of every business. It helps in creating professional-looking invoices and manages the inventory by tracking them. This software assists to import your data from excel files into the software without any hassle. You can create GST returns and file them easily with the help of Giddy. Your colleagues or accountant can easily access and share your financial data with this software. At a glance, you get a view of the revenue and net-worth of your business on the dashboard.
There are many advantages of Giddh. Some of them are:
The cloud of this software helps to access your accounts and documents at any time and from anywhere.
Giddh assists you with the bank reconciliation and helps you know your financial position in no time.
The multi-currency support of Giddh helps you to serve and accept your international clients well.
Horizon ERP
This software has a simple and easy to use interface. It helps manage the billing and accounting of the company. Horizon ERP is ideal for retailing, distribution, and manufacturing units. This software helps to increase the revenue and enables us to connect with the banks. It also helps to classify and group different inventories according to their locations and batch numbers. The multi-item classification, proper control, and data transfer facilities ensure proper business management. Horizon also helps in filling GST in CSV format and decreases data entry errors. The E-way bills help to generate computerized bills and invoices.
Horizon ERP is very good software and has many advantages. Some advantages are:
Horizon ERP is ready to use software with an easy interface to increase the productivity of the business.
The speedy and accurate report generation helps to save the time of the user.
It generates financial reports automatically with the help of transactions reported in the system.
Odoo
Odoo has a smooth and easy interface build to impress its users. It helps the small and big companies by providing full integration and flexibility. The open community of Odoo helps to generate more developers to meet the customer's needs by providing new innovative apps. Odoo has more than 30 integrated apps that you can use as per your company's needs. Odoo is the best software that can be used to satisfy customers and increase your customer base.
Many prominent features of Odoo makes it great. Some of the features are:
The easy access to the software and user-friendly ranges of business applications makes this software unique.
The regular up-gradation of the application helps the user to expand their business.
Odoo helps small as well as large companies by providing quality services.
MProfit
This power-packed portfolio management solution helps you manage your assets and accounts. MProfit is powered by a user-friendly interface that lets you maintain assets and investment portfolios. You can import data and files from 700 brokers in 4000 different formats. MProfit manages your stocks, insurance, bonds, mutual funds, and other assets. It helps you manage multiple portfolios and categorize them according to the needs. The mobile applications of MProfit assist you to track and update your portfolio anytime. MProfit enables you to view long-term and short-term Capital Gains reports in Income-Tax Return format.
Some of the reasons that make MProfit famous are as follows:
MProfit helps import bank statements and links your portfolios to the accounting module to eliminate double entries.
You can easily view and access your Balance Sheet, Trial Balance, and Profit & Loss account.
MProfit helps in viewing and updating the current stock valuations and Mutual Funds updates.
ZipBooks
ZipBooks is a simple software that makes accounting of your company fast and convenient. It makes balancing and tallying of your books and data simple. This software's intelligent data helps to generate automated reports and provides actionable insights. ZipBooks helps to create and send auto-generated invoices to your clients. It also integrates your books and bills into the system. The instant payment from the credit card feature saves a lot of time. It also allows you to connect to other people and simplify your work.
Some of the features which help Zipbooks stand out from its competitors are:
ZipBooks provides valuable insights with the help of data available to ensure impactful decisions for your business.
The single transaction and simple reports make accounting easy to understand the auto-categorization.
ZipBooks has a smart tagging facility enabling you to tag people, projects, or location to your transactions.
Pact Business Solutions
Pact Business is a one-stop accounting solution for all types of organizations. This software undergoes a lot of development and quality checks ensuring its reliability and security. The pact has auto and manual bank reconciliation. This accounting software can manage multiple cost and profit centers, multi-currencies, ratio analysis, and generates diverse reports. The real-time updates and ease of compliance eliminate data duplication and ensure the accuracy of reports. This software also helps in taxes like GST and VAT to ensure proper tax compliance.
Pact Business Solution is perfect accounting software. Some of the significant advantages of this software are:
Pact helps all the small, medium, and large organizations in budget and asset management.
It assists us in cash flow analysis and gives real-time updates.
Pact Solutions offers robust and flexible accounting solutions for all business needs.
Reach
This software is a boon to all businessmen as it is suitable for more than 21 various businesses. This custom made software helps to suit every business and helps to customize your brand. Reach helps to make creative invoices and helps track your payments and orders. It also provides day-end reports to make changes in day to day routine. For large organizations, it shows the profitability reports of each branch or site. This compliant software helps you to view the reports in real-time on your mobiles. Reach helps to track and manage the inventories of the business.
Reach is the most favored accounting software for many reasons. Some reasons are as follows:
Reach helps to convert invoices of Foreign Currency to Indian Rupees.
This accounting software secures all your data and information and takes the backup online.
It also gives multiple access to people like accountants, consultants, etc., and the access is controlled and regulated by the admin.
Busy Accounting Software
Busy is accounting software that caters to growing businesses. This GST compliant software is very user-friendly and has every feature to make your business prosper. This platform does everything, including Ledger, Trial Balance, and Vouchers. It also helps in managing and tracking your inventories. You can also add details such as batch numbers, serial numbers, and set parameters of color, size, style, etc. Simplify your GST returns and file them easily with this software. Busy helps you manage all your operations such as Payroll, Challan, Orders, Payable, and receivables all on one platform. Get robust and continuous customer support at all times.
There are many advantages and benefits of using Busy applications. Some of the advantages are:
Busy helps to make professional invoices that are GST compliant.
You can stay connected and make timely changes with the help of mobile apps.
To use this software, you don't need accounting knowledge. The interface of the software is very user-friendly and easy to use.
Deskera Books
Deskera book is the perfect alternative to QuickBooks and much other accounting software. This software is a boon to small business owners, accountants, and bookkeepers. Deskera helps generate financial reports and other income statements with just a click of a button. This all-in-one software does it all accounting, invoicing, sales, payroll, and even CRM. Deskera supports more than 100 currencies and provides smooth foreign currency transactions making your international clients happy. If you have a QuickBooks account you can easily switch to Deskera and all your data will be transferred automatically.
Deskera Books is the best alternative to QuickBooks because of its many features. Some significant features are as follows:
This platform assists you with a built-in Customer Relationship Management/ CRM to ensure better customer relations.
The double-entry accounting makes the reports accurate and without any errors.
Deskera Books gives full access to your accountant and ensures real-time communication to minimize mistakes.
Kashoo
Kashoo helps businesses by splitting each transaction into various categories and sub-categories. This flexible software keeps track of your regular client base and keeps you informed about the same. The feature of capturing and scanning bills to make entries automatically is attractive and time-saving. Kashoo is simple accounting software that integrates the latest technology to make your work easier. The boring work of data entries and manually importing files have become computerized. You only have to link your bank account and simplify everything. Kashoo is designed to cater to all the essential requirements of small businesses.
There are various benefits of using Kashoo. Some of the benefits are:
The OCR technology helps scan and record the bills automatically reducing duplication of entries.
Kashoo simplifies the tax filing process as it sorts and categorizes the items efficiently.
This smart software automatically generates contact information when new clients work with your company.
AccountEdge
AccountEdge is accounting software for small businesses. It assists you to create reports on sales, invoices, purchases, and orders. Since 1989, AccountEdge has been constantly evolving and developing to meet the requirements of small businesses. The customer support provided by the software helps you start accounting easily. The software is not limited itself to one currency. You can add various currencies and expand your business.
Among the various benefits of AccountEdge some of the significant ones are:
Multi-currency support that helps do seamless business with people beyond the borders.
This software supports a double-entry system that will make your accountant happy.
You can generate any tax reports as per the requirement of your country.
FreeAgent
This software helps freelancers and small business owners by assisting them in their accounts. FreeAgent creates and sends invoices to clients and ensures timely payments of the dues. This powerful software helps in inventory and expense management. It supports hands-free invoicing by sending automatic reminders to the clients. You can also track your expenses and customize them in various categories available. This software helps you keep an eye on various business activities such as sales, purchases, expenses, invoices, etc.
The FreeAgent software has many features and advantages. Some of the features are:
FreeAgent provides an overall view of the projects at one glance
It updates you about your expenses, profits, and incomes.
This software reminds the late-paying clients about their outstanding amounts.
One Up
One Up is API based software that helps customize and implement the data into your system easily. This flexible software assists you in business, banking, and accounting. It helps to manage the cash flow and reinventing banking portals to ensure sustainability and growth. The accuracy of all the transactions recorded is 95% that is the highest among all the other software. You can quote the invoice and track the tax with ease in One Up. This software provides the opportunity to pay your bill by scanning the bill.
Some of the addictive features of One Up are as follows:
One Up helps generate automated and customized cash flow statements for every client.
You can easily pay and track your bills by connecting the software to your bank.
It provides AI which does all the accounting tasks efficiently ensuring the growth of the business.
MYOB
MYOB is accounting software that saves a lot of your time by providing efficient services. You can track the invoices as and when your clients receive them and ensure easy payment of your bills. This software ensures you get paid faster and records all your transactions automatically. It aids you to manage your customers, manufacturers, and suppliers efficiently. Linking your bank account and managing your cash also becomes easy because of this software.
Some of the various features of MYOB are as follows:
You can extend an upgrade to MYOB software as and when you need.
It manages all your incomes and expenses automatically saving a lot of time.
The Desktop and Mobile app support of this software is remarkable.
Conclusion
These were the 25 alternative software that you could use instead of QuickBooks. Other than this, there are various other options available in the market to suit your needs. All these software offer a free trial period before subscription, use this software, and decide according to your comfort and needs which software would fulfill all your requirements. Your finances and financial data are some of the most important aspects of your life, so choose wisely.