Generally speaking, project management uses all the company resources to fulfill customers' demands and needs. It involves allocating all the resources necessary to ensure the completion of the project's task and activity. Careful planning, organizing, communication, allocation, talent management, etc., are some areas of project management.
Project management is present everywhere and in every field, whether finance, construction, Information technology(IT), healthcare, or engineering. These fields use project management software, tools, and techniques to ensure their client's demands are fulfilled within the deadline.
What is project management?
Project management applies all your knowledge, skills, and talent to ensure you complete the project within the timeline and with all the specified requirements. While managing a project, you have to start by creating a draft plan, breaking the project, assigning small tasks to team members, solving any problem, and meeting the project deadlines.
Also, our daily tasks do not constitute a project. A project has a definite lifetime, and it can't go on forever. It has a limited timeline, budget, and expectations. Each client's expectations differ, and hence, every project is different. The core aim of undertaking a project is to create something unique and achieve the goal.
Every project goes through a lifecycle that includes 5 stages: initiation, planning, execution, monitoring, and closure.
Project lifecycle
Initiation
Project initiation refers to the start of the project. Here the goal or scope of the project is defined in detail. What exactly does the client want? When will the project be completed? What is the budget of the project? Are some primary questions asked in this phase? Project managers calculated the actual time, cost, and feasibility of the project which are also discussed.
Some aspects of the initiation stage are:
Feasibility study
Project scope
Defining project deliverables
Project budget and resources available
Knowing project stakeholders
Planning
Here, the project manager creates a roadmap to meet all the project requirements within the timeframe. A lot of minute planning occurs in this stage which ensures smooth functioning during the execution stage. Smooth and accurate planning will help you carefully manage all the project's resources, budget, labor, risk, and quality.
Here are some things that are done at this phase:
Creation of project plan
Resource planning
Allocation and assembling resources
Budget estimations
Risk anticipation and mitigation
Execution
Execution is the stage where all the planning is actually put to action. Here all the work-related activities are implemented along with task allocation and resource assigning. Here, the team members are given tasks and are expected to be focused on achieving all the goals mentioned in the project plan. The project manager does the continuous changes in the schedule and controls fluctuations at this stage. Hence, the project manager should be on their toes and keep an eye on everything their team is working on.
Below are a few considerations of this phase:
Progress report of the project
Regular meetings to keep the team on track
Solving any problems that disrupt the flow of work
Measuring the project activities
Monitoring
The project monitoring phase includes measuring the project's actual performance with resources required and time taken. It allows you to track the project and assure everything is going according to the project requirements. The most considered aspect in this phase is the financial part and the time requires to be aligned with the project plan. The project manager is responsible for timely completion and the quality of the project.
Activities in this phase include:
Making required adjustments
Monitoring regular performance reports
Taking corrective actions whenever necessary
Cut down any unnecessary expenses
Closure
This marks the end of the project. With this final step, the project comes to an end, and the project manager delivers the project to the stakeholders and clients. Feedbacks are taken from everyone regarding the project, but the main focus is to deliver the project. The project manager notes the pros, cons, expectations, and delivery of the project and documents it for the future.
Some activities of closure include:
Documentation and storage of project files
Timely project delivery to the client
Studying the strengths and weaknesses of the project
Disbanding the team members of the project
There are various benefits of knowing the project life cycle. It helps project managers and teams be more productive, transparent, and better communicate with each other. Further studying it also reduces the risk and uncertainties associated with the project at the start. The team also learns to minimize costs wherever possible by studying previous project documentations.
Project management has a unique concept of triple constraint to ensure proper balance within the 3 most valuable constraints of a project. The triangle shows three vertices demonstrating each side as an important variable: time, cost, and scope. All these variables are interlinked, and any changes or variations in one aspect result in changes in other elements.
For example, the project time is reduced, then the cost needed would increase along with changes in scope. Similarly, if the project's scope is changed, then both project time and cost are affected by it.
A healthy balance between time, scope, and cost would ensure a high-quality project that meets all clients' requirements. Also named the iron triangle, this triangle has demonstrated its importance in big as well as small projects.
Variables of triple constraints are as follows:
Time Constraint
Often called a schedule, this time constraint includes the period required to complete various tasks and projects. Any fluctuations, whether increase or decrease in the scope or cost of a project, can affect the project completion timeline. Hours worked on a project, the time needed to complete a task, shared calendars, planning, and allocation, timeline, etc., are all included in time constraints. So while planning any project, a project manager should know about this correlation to plan the variations accordingly.
Scope Constraints
The scope is the main body of the project. It refers to all those tasks, activities, and deliveries expected when undertaking a project. Due to the changing business environment and uncertainty, stakeholders can make sudden changes in the project's scope. Any adjustments in the scope, like the introduction of a new product, change in the project's vision, etc., directly impact the cost and time constraints. Project managers should be extra careful when there are changes in the scope to ensure no bottlenecks and scope creeps along the way to project completion.
Cost Constraint
Cost is usually said to refer to the monetary and financial aspects of the project. But cost constraints include more than just money. It also consists of the resources, tools, equipment, machinery, and labor support required to complete a project. Anything that requires financial aid comes under this constraint. Financial budget, labor cost, team members requirement, tools and equipment required, etc., are cost constraints.
The quality variable is in the middle of the iron triangle or triple constraint. It suggests that any changes in one, two, or all constraints, which if not tackled skillfully, can directly impact the quality of a project. The quality of the project can never be compromised, and hence, project managers have to study and learn this triple constraint theory in detail.
What is project management software?
Managing multiple projects single-handedly can leave the project manager exhausted and tired. Always knowing the details of all the projects is also not possible. Further, handling multiple projects simultaneously can leave room for confusion, chaos, and possible errors. 
To remedy this situation and help the project managers ease their work and give them time to concentrate on monitoring the team, project management software came into the market with open source project management apps. Project management tools are simple yet innovative inventions that help project managers plan, organize, schedule, and manage the overall project to deliver it within the expected time frame.
So is project management only for project managers use? The answer is no. In a survey conducted among 1,400 work employees, 94% of workers manage projects, out of which only 47% were project managers. The statistics here prove that not having the title of project manager doesn't mean you don't manage projects. Further, you can customize the project management software according to the team's requirements, size, and goals.
Some features of using project management tools
Informative at a glance dashboard
Gnatt charts and timesheets
Advanced analytical and reporting tools
Agile project management
Cross function task and resource management
Project evaluation
Efficient resource management
Benefits of using Project Management Software
The best project management software will help in managing projects, keep your team members organized, save time, promote transparent communication, and ensure all the tasks are completed with the highest quality.
Planning and Organizing
Project planning and organizing it in such a way to reap the highest benefits are essential. With each project management tool and softwares, project managers can quickly draw a project plan and organize the project to ensure you meet all the project deliverables with utmost efficiency and within the boundary of the expected time.
Scheduling and Task Management
Scheduling is another aspect of project management. Project management software helps you prioritize the project and break it into small tasks and activities. These tasks are then allocated to the team members with a deadline and expected deliverables.
Project management tools help us assign tasks to different individuals and assist in task management. Task management is all about allocating tasks, managing task dependencies, automating tasks if possible, and ensuring each project task completion within the deadline.
Collaboration and Communication
Now you have allocated the tasks but assuring that all the tasks are on track with the project requirements is crucial. Ensuring team members are on the right path and are progressing in their tasks can be done with effective team collaboration and communication. Project management software makes team collaboration extremely simple by unifying the communication and progress in one click. Free project management tools can get deep insights, progress reports, and project updates.
Documentation Storage and Access
Documentation is an essential step to reducing time and resource wastage. Project management software provides us centralized document storage for referencing it anywhere anytime. Also, you can limit or give access to any team member you perceive is essential for the project development. One-click access to any document at the correct time can help team members save their valuable time and company their valuable costs.
Enhanced productivity
Project management software helps to enhance the productivity of projects as well as team members by providing various functionalities to ease their work and automate various recurring tasks. Further, project management tools provide valuable information, analytical details, and future trend data that help you with an informed, quick, and intelligent decision-making ability.
Risk management
Risk is inevitable in any project management. There are changes in scope, project objectives, cost, time, trends, etc. Project management tools help the project manager reduce any bottlenecks or problems arising with the project completion. It helps to mitigate or manage the risk by drawing valuable strategies and making informed decisions to better a project.
Choosing the right Project Management Software
After going through the various functionalities and benefits of project management software, next comes the process of choosing the right project management software for your business and team members.
Choosing the correct and best project management software needs rigorous research as there are hundreds of different project management software available for you in the market.
Some outlines steps you should follow are as follows
Define your requirements and needs
Make a list of all the tools you need
Research and test various tools
Ensure you take feedback from your team
Evaluate the cost with your budget
Purchase and implement the project management tool
Use the project management software
Retrospect and get feedbacks
Best 7 Free Project Management Tools for Startups
Most start-ups and new businesses do not have or are not interested in investing extra costs for project management software. Also, project management software, though beneficial, is sometimes expensive, which some companies could not afford to pay.
So here is a list of the top 7 free project management software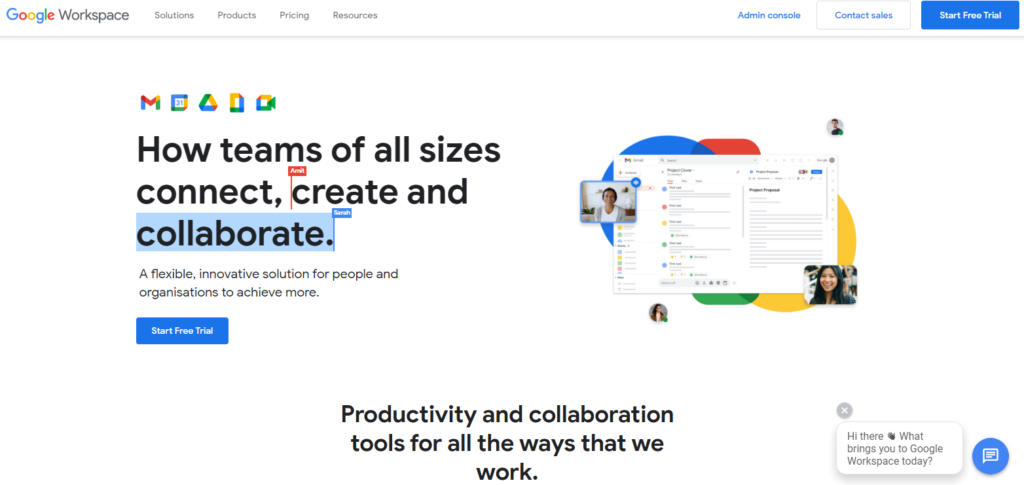 Though Google does not have an elaborative or special software specializing in a particular project management tool, it has some excellent apps that can help you better collaborate, plan, communicate, and schedule a project. Some subproducts of this free project management software that help you manage a project are sheets, Gmail, docs, slides, keep, chats, and drive. These apps collaboratively help you in document storage, file sharing, team collaboration, productivity tracking, and project planning.
Google sheets
It is a spreadsheet-like structure compatible with Excel, which helps you in project planning, productivity tracking, and reporting functionality. It also enhances communication with real-time editing.
Docs
As a word processing app, google docs helps your team with efficient document tracing, storage, and sharing. Further, it promotes real-time communication with instant comments, editing, and suggestions.
Drive
Google Drive is a safe and secured storage for all your files, documents, presentations, and folders. It reduces your work by keeping the files organized which can be accessed from various devices.
Slides
To create and innovate new projects, presentations are of importance. Google slides help create stunning presentations and slides that provide a rough overview of the project, milestones, estimated time, budget criteria, and other critical project information.
Calendars
With rigorous polishing, Google calendar has earned popularity for efficient time management and organization tools. It does everything from planning to scheduling to team collaboration to communication.
Keep
Though not very well known, Google Keep helps you manage tasks individually and take project notes in various forms such as bullet lists, checklists, images, audios, and regular texts.
Gmail and Google chats
Both these google tools help you communicate better with chats, messages, e-mails, etc. It efficiently allows the team members to collaborate in real-time.
Some highlights of Google
Team collaboration and communication
Easy integration with other Google apps
Document storage and accessibility
Downside
Google products are not reliable in isolation
Asana is a visually appealing project management tool that helps you work on big ideas and projects without getting stuck in the busy and lengthy work. It helps team members stay organized and connected. Also, the quick drag and drop options aid you in task management and keeping a birds-eye view of various tasks. The easy integrations with third-party apps such as Google calendars, outlook, dropbox, Gmail, etc., ensure eased information access at a centralized location. it is regarded as one of the best project management tools in the industry.
Some highlights of Asana
Organize and assign the task
Unlimited task and projects
Expense tracking and time management
The downside in the free version
Basic dashboard and search function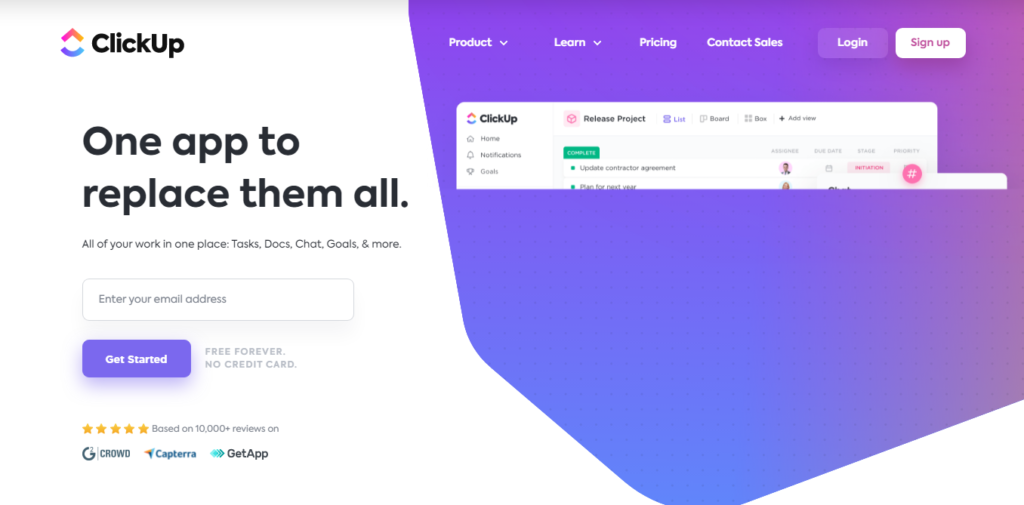 The free version of ClickUp provides you with multiple features such as unlimited tasks and users for your project. Further, it ensures efficient task management and visibility with various views such as list, Gnatt, calendar, board, table, etc. Creative dashboards that help you with agile project management. Manage your workload by prioritizing, setting reminders, tracking targets, and custom fields to meet each of your project deadlines with this project management tool. Also, ClickUp provides excellent collaboration and communication tools.
Some highlights of ClickUp
Easy drag and drop task function
Mind mapping and visualization tools
Custom status to track tasks
The downside in the free version
Trello
Trello has gained popularity for its efficient kanban board tools. Keep your tasks organized and prioritize them with different boards for various projects. Use the drag and drop option, create custom fields, add tasks and prioritize activities with the highly user-friendly interface of Trello. This free project management software allows 10 team members per project, which is sufficient. If you want access to more team members, you have to upgrade to the premium version of this project management tool.
Some highlights of Trello
No limitations on the number of boards, cards, lists, and attachments
Attractive kanban view
Quick reminders and notifications to manage tasks or ongoing projects
The downside in the free version
Only 1 integration is allowed for 1 board
Teamwork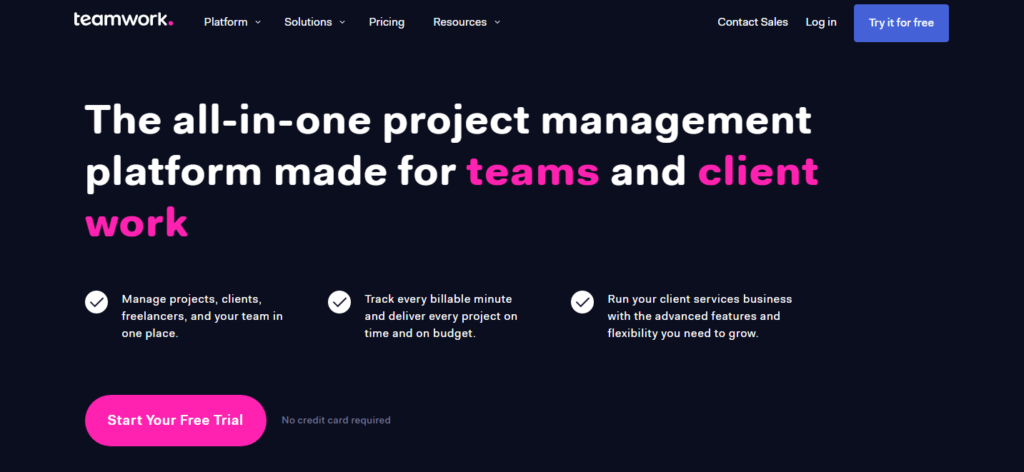 Teamwork is one of the best and free project management software in the market that helps you create a Gantt timeline to ensure all tasks are handled efficiently. Prioritize the workflow and tasks according to high, medium, or low priority. You can access teamwork through various platforms such as android, ios, website, or chrome. It comes with HIPAA compliance and is the best project management tool for users looking for enterprise management along with project management.
Some highlights of Teamwork
Gnatt timeline view
Prioritizing tasks and workload
Time and milestone tracking
The downside in the free version
Only 2 active projects and limitations in task boards
Wrike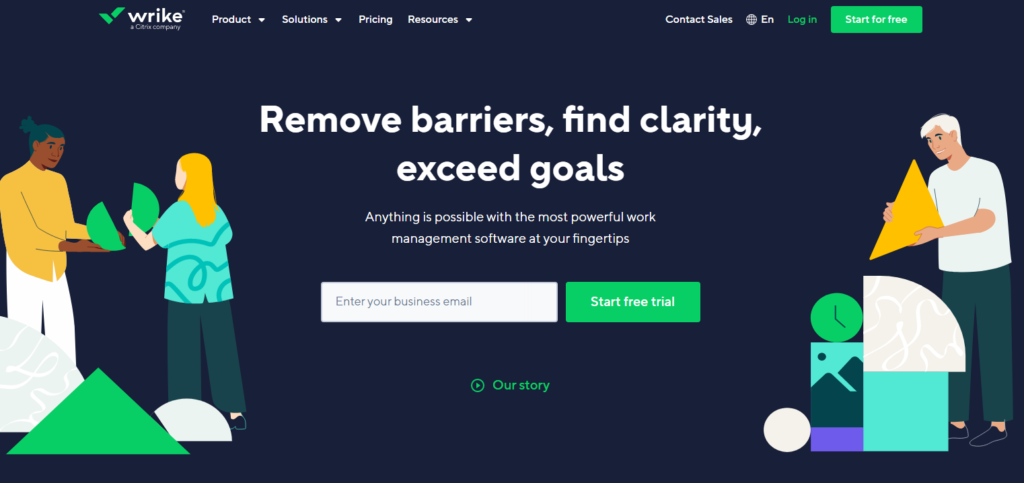 Wrike is an efficient and free project management software that works best with small teams. The simple interface helps track all the team's work with efficient file sharing, open communication, and team editing features. Creating Gantt charts to ensure project enhancement and a timeline view of your choice is possible with Wrike. Further, this project management tool provides features such as a critical path for estimating the right project completion time, folder hierarchy, easy sync with calendar, outlook, google, etc., to keep your milestones and tasks on track of project scope.
Some highlights of Wrike
Task management and subtask prioritization
Collaborative editing and instant file sharing
Android and ios mobile compatibility
Document management
The downside in the free version
Setting the software is time-consuming and difficult without proper support or training
Teamgantt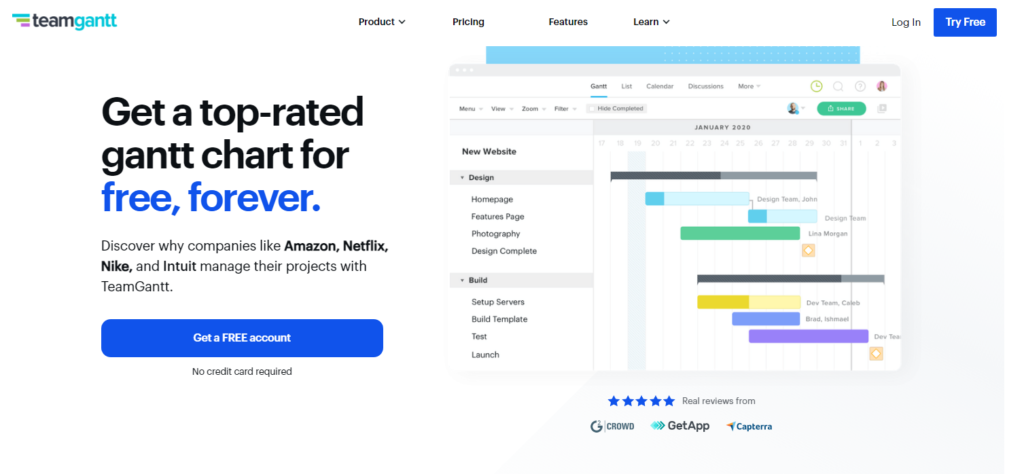 Teamgantt is an excellent and one of the best project management software that helps you segregate the project in the Gantt charts. It helps you with essential planning, organizing, scheduling, and communicating different tasks and activities to the team members. The software solely focused on Gantt charts ensures all the project responsibility and helps understand who is doing what. Further, it assists in comparing the team performance and individual work to actual project progress and milestones using Gantt charts. The creative and visual Gantt charts of this project management tool help understand which task is overlapping or lacking and help make instant amendments.
Some highlights of teamgantt
Assigning high, medium, and low priority tasks
Multiple project view
Create project tasks, subtasks, and milestones
The downside in the free version
Only one project is allowed, with 3 limited users who can access the project.
Conclusion
While project management is a tough job and requires expertise capabilities, various giants in the market are giving their project management services for free. Though, you may not find all the required features for free and may require upgrading to a premium or paid version to enjoy such features. But for a small organization or start-up, the primary and free features will be more than enough. And for the medium or large organizations who need advanced benefits, pull up some resources and invest in the best project management software according to your organization's needs.
If you want to check out open source project management tools, click on the image to find out.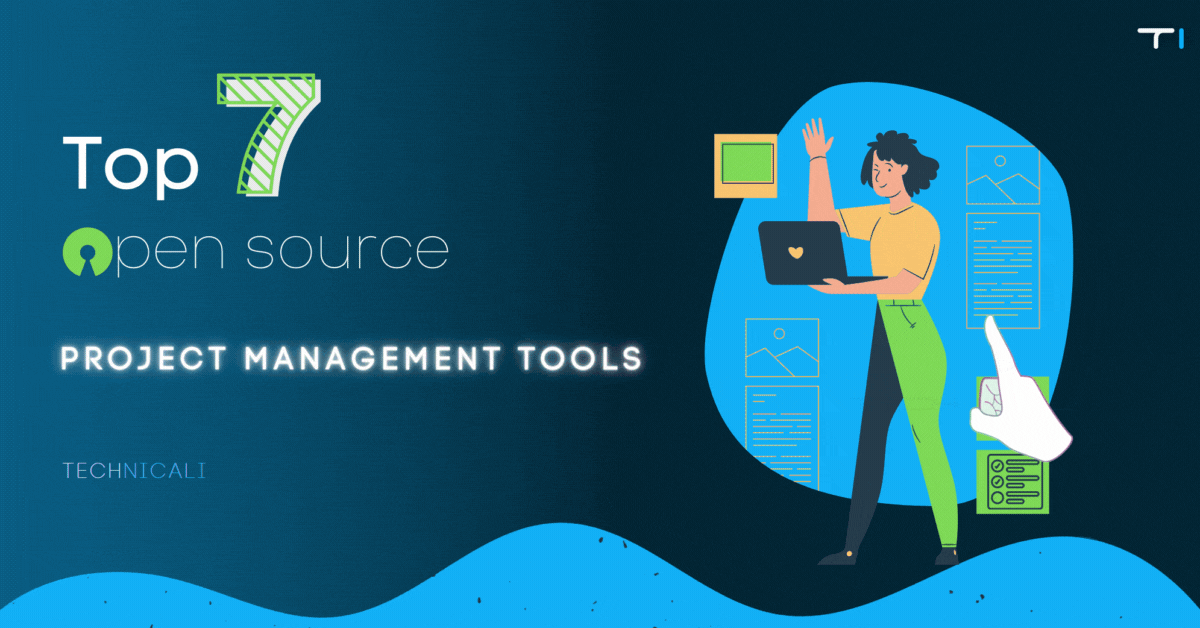 Did we miss something? Let us know in the comments.