What is Project Management?
Project management is the methodology of leading a project team to deliver all the project objectives within the given constraints. It is all about creating value for people by using specific skills, knowledge, techniques, processes, and tools.
Project management works within the boundaries of 3 principle constraints: cost, time, and scope. The key difference between management and project management is that project management has to give final deliverables within the allocated time. While management is a continuous ongoing process. 
What is Project Management software?
Project management software is a system that helps entrepreneurs or project managers in managing the entire project. Project management tools help plan the project, organize, schedule the tasks, allocate the resources, and monitor the progress.
Further project management assists the project managers in juggling multiple projects with efficiency. Project management tools quickly turn complex projects simple through efficient task management, quality management, risk analysis, and collaboration with all the project stakeholders.
Benefits of Project Management Tools
Communication and collaboration
For a successful project, communication and collaboration with other people in the team are crucial. Communication software enables the sharing of various data, content, documentation, files, photos, videos, etc.
Project management tools enable open collaboration with team members for monitoring, discussing, coordinating, and controlling various aspects of a project. Without efficient communication and collaboration tools, there will be chaos, confusion, lack of transparency and accountability in the project.
Task management is all about breaking a complex project into small actionable tasks. Further, it also includes scheduling the tasks for various individuals in the team depending on their skills, knowledge, and caliber.
Project management software helps to efficiently allocate tasks among the employees and monitor the task progress at various stages. When combined and completed efficiently, all the tasks lead to the success of the entire project.
Planning is the most essential and challenging aspect of managing a project. Efficient planning is halfway to completing your project. It provides a roadmap and framework of what to do next.
The accurate and automated AI system that project management software uses is efficient in predicting the tentative completion date and other project variables such as cost, resources, schedule, etc.
Companies don't work on a single project at a time. They work on multiple projects with multiple teams. Primarily because of the popularity of remote work, various teams worldwide are working on diverse projects.
Project management tools help increase the visibility of all the projects and employees working on them. It gives an overview of all the tasks that are completed and in progress, along with uncompleted tasks.
Project management software further reduces bottlenecks and provides solutions for project success. 
Traditionally working on multiple projects was challenging as it was challenging to keep track of each project and its tasks. Project management software is an efficient all-in-one tool that tracks the real-time progress of any project.
It enhances our control of the project and reduces the chances of scope creep. It helps track the team performance, project milestones, time taken, and budget needed.
For any business's long-term growth and development, gaining insights about what is working for the projects and what is not is essential. Project management has dedicated software and tools that can help us analyze and report powerful insights. It can track future trends, which will assist you in making beneficial decisions for your project.
The visual charts and infographics that the project management tools develop are easy to read and understand. All the information from the reports is then used for making the right decisions.
ClickUp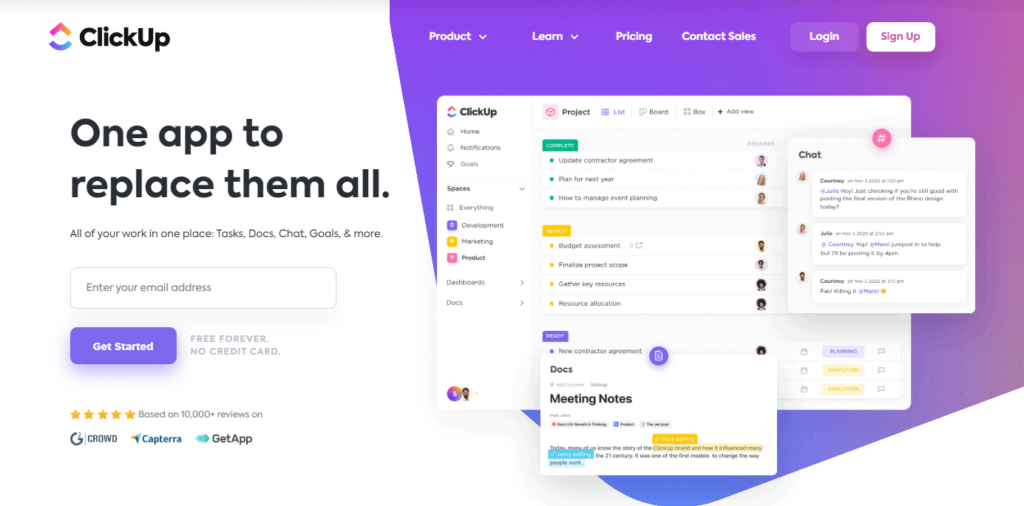 ClickUp is an excellent project management software that helps you organize multiple projects at one glance. Further, it helps you collaborate with your teams and track the real-time progress of your project goals. Different view options in ClickUp enable us to build the perfect workflow for our projects. Monitoring your goals, planning with intelligent insights, ready-made templates, agile project management, and remote-working are some specialties of this app. n
Key Features of ClickUp
– Visual representation
The unique concept of viewing everything makes ClickUp a very easy-to-understand tool. The 360-degree bird's eye view enables us to find any tasks irrespective of hierarchy. Also, you can easily sort, filter, and save tasks in ClickUp.
– Task customizations
ClickUp provides more than 35 Click apps that can help you customize different tasks of your project. The easy automation options help save a lot of our precious time. You can also add custom tags and sprint points while monitoring all the activities in the task view.
– Powerful collaboration
Collaboration is crucial for the success of any project. ClickUp helps streamline the teamwork by providing various facilities such as whiteboards, comments, proofing, emails, chats, etc. The visual canvas makes it easy to collaborate workflows and ideas in real-time.
While ClickUp is a feature-rich interface, people may find ClickUp alternatives for various reasons. Some companies may not need so many features. For a small company, where done and not done can be enough options; having too many customization options can be bothersome.
25 ClickUp alternatives are as follows
1. Google Workspace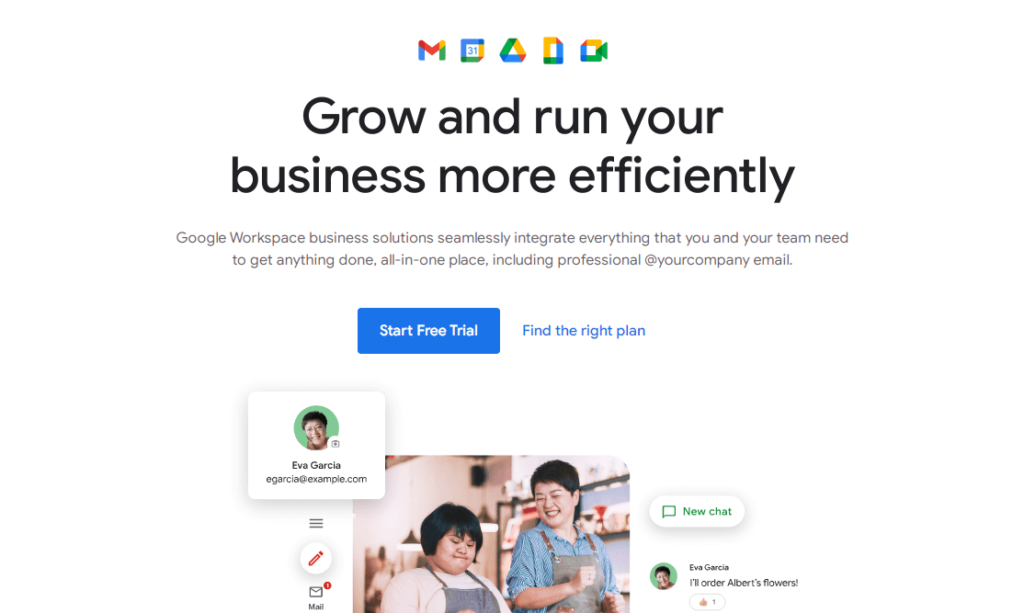 Google workspace helps you connect, create and manage teams of various sizes and complexities. It combines different tools such as Drive, Gmail, Docs, Sheets, Meet, etc., to transform the way things are done in project management. Google Drive makes project management clean and effortless. The reliability, security parameter, and clean cloud infrastructure help the users stop worrying about the safety of applications, information, and identities. It streamlines the entire project from planning to monitoring to securing and more. 
Key unique features
There are different types of solutions for new businesses, small businesses, NPOs, enterprises, and education at reasonable prices.
Increase your team collaboration with cloud-based tools like Docs, Drive, Meet, etc., to connect and deliver the project outputs anywhere.
The security back-up against phishing threats and other malware attacks by encryption, streamlining the authentication, and information protection is commendable.
2. Microsoft Project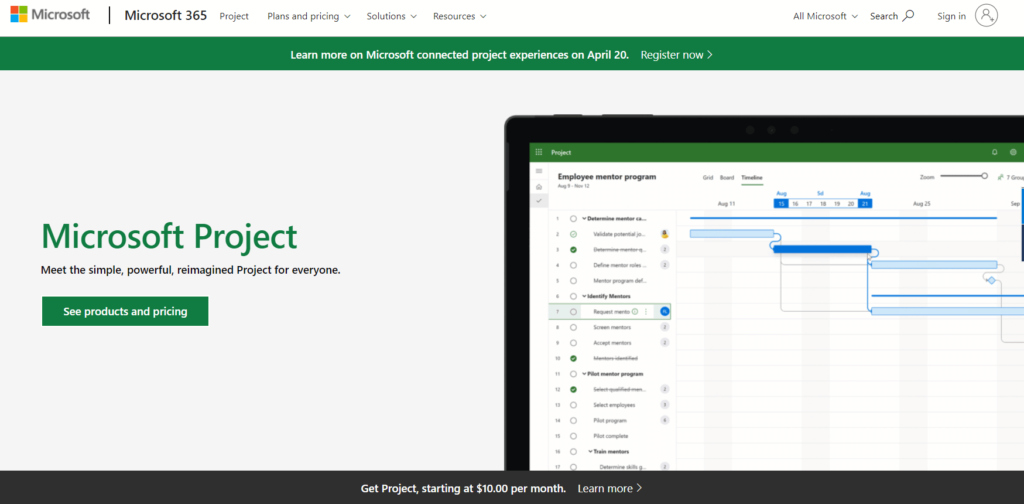 Microsoft project is another efficient alternative to ClickUp. Microsoft projects assist you in managing multiple projects, no matter how big or small. It helps team members organize the projects and stay focused on the project deliverables. Even if you have no skills in project management or are no project manager, Microsoft Project will help you become the master of projects with its easy interface and rich features. 
Key features
Interactive dashboards powered by business intelligence improve your project vision and the project's overall status.
Plan your new project efficiently and save a lot of time using hundreds of industry best customizable templates for your project.
Use different types of project views such as grid view (task list), Board view (Kanban boards, and timeline view (Gantt charts) for enhanced project management.
3. ProofHub

Proofhub is one of the best ClickUp alternatives in the market. It compiles all the tools you need for project management in one centralized place. Manage projects with efficient task management tools, workflow customizations, seamless collaborations with your teams, and multiple project views. Plan, organize, and monitor multiple projects with little to no learning curve and improved focus. 
Key features
ProofHub helps bring all the team together for client discussion in one central place, eliminating long email threads that cause clutter in communication.
Plan your project and present it in the well-organized table view, which clarifies the prioritization of tasks needed to be completed.
Integrate your regular calendar with the ProofHub calendar and multiple calendar views. Also, schedule recurring tasks and automate reminders to never miss a deadline.
4. Asana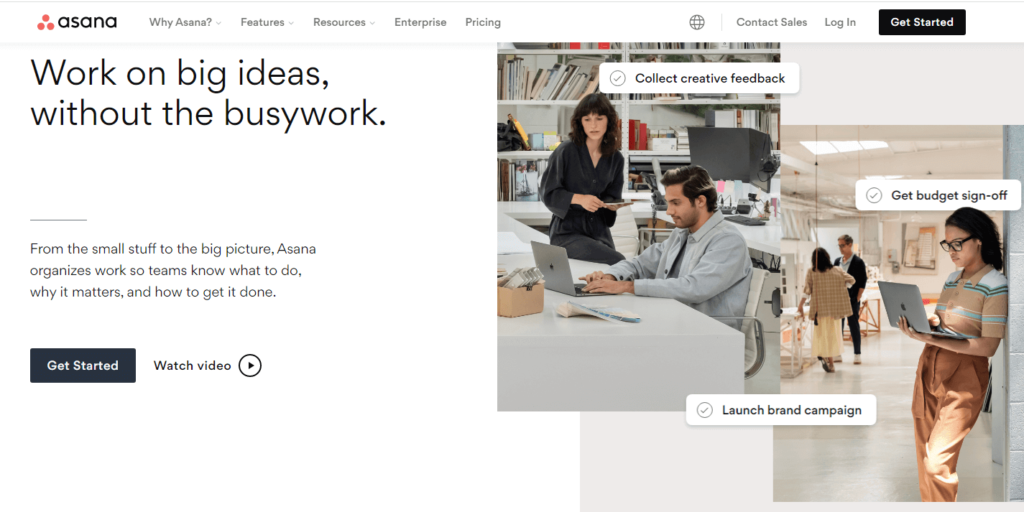 Asana is an efficient project management tool that helps you work on multiple projects with a big team. It enables you to automate routine, repetitive work and assists you in getting more things done. As a ClickUp alternative, Asana also provides third-party integrations to various other apps. Asana also helps in agile management and goal planning along with project management. It also aids businesses in workflow sections, task management, milestone tracking, reminders, due dates, etc. 
Key features
Asana helps create one space that allows the integration of a number of tools and information for getting things done and managing work from one platform.
Streamline communication with approvals, likes, rules, forms, and file sharing with your project team members.
The project timeline view can be easily converted into Gantt charts. Keep track of your project with the list, boards, spreadsheets, and calendar view.
5. Trello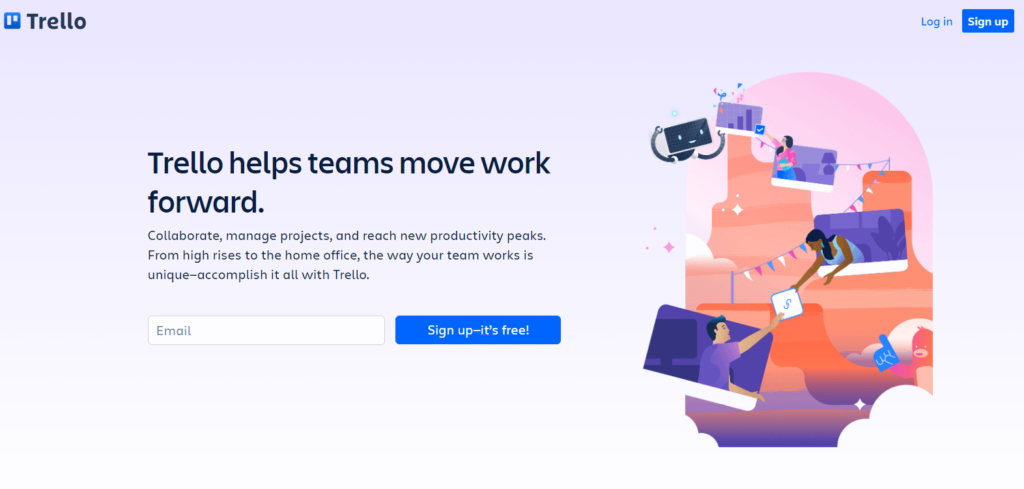 Trello has a collaborative and easy-to-use interface. It assists you in managing projects and reaching the highest productivity by customizing your workflow, planning projects, and organizing each task efficiently. Use Trello cards, boards, and lists to assist, manage and collaborate on various project activities. The intuitive dashboards and interface of the software make it easy for anyone to use it. 
Key features
Trello cards include the entire overview and details such as due dates, checklist, attachments, comments, and related information of each task.
The build-in automation helps you take advantage of the automation for your entire team. Robots do your repeated work so you can concentrate on other vital things.
Integrate various apps into your workflow or add hundreds of power-ups available to increase the functionality and effectiveness of the team.
6. BaseCamp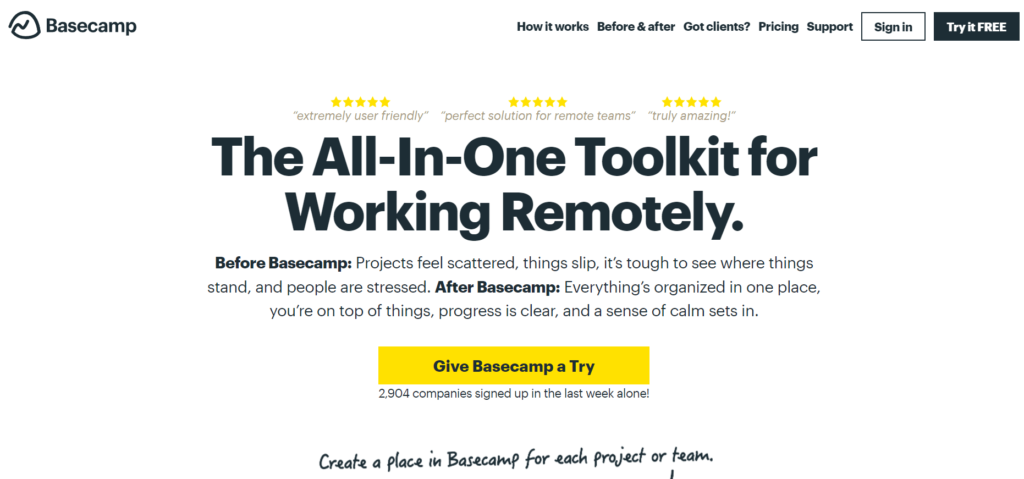 BaseCamp as a ClickUp Alternative can help organize and track your project progress, especially for remote environments. It usually tackles remote working as it is challenging to manage remote projects with everything spread in our emails, chats, meetings, etc. BaseCamp compiles everything in one centralized place and keeps tabs on who is working on what. With this task management software, you will know where to drop the following tasks so that everyone will know and understand what to do next. 
Key features
BaseCamp helps the team become more productive and get more things done. Using this project management tool, teams communicate better and need fewer meetings to progress in the project.
Manage teams and projects with message boards, intuitive to-do lists, and automated check-in questions.
BaseCamp provides an exclusive hill chart that helps keep an eye on project progress, deadlines, and curbing problems arising in project completion.
7. Wrike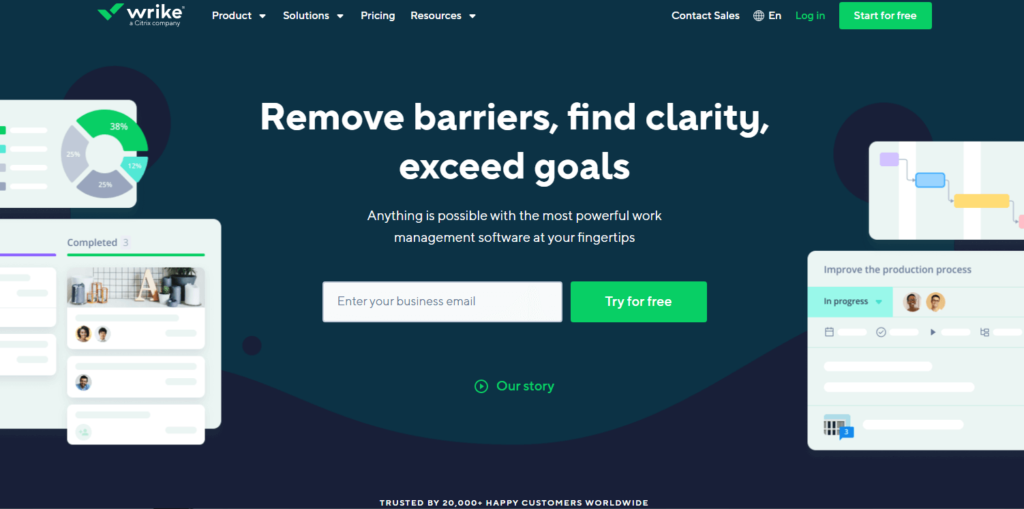 Wrike is one of the best ClickUp alternatives that help streamline all your project processes and customize the workflow to meet your team's needs. It enhances visibility and clarity at each stage of project development. Wrike uses smart automation that helps to manage tasks and subtasks along with effective time tracking. m
Key features
Customize the dashboards by pinning the to-do's of your project and segregating them into categories such as new, done, in progress, etc.
Eliminate miscommunication and have a record of your work with efficient collaboration and proofing tools.
Build a report from scratch with the report wizard and share the interactive reports with your team in just one click.
8. Notion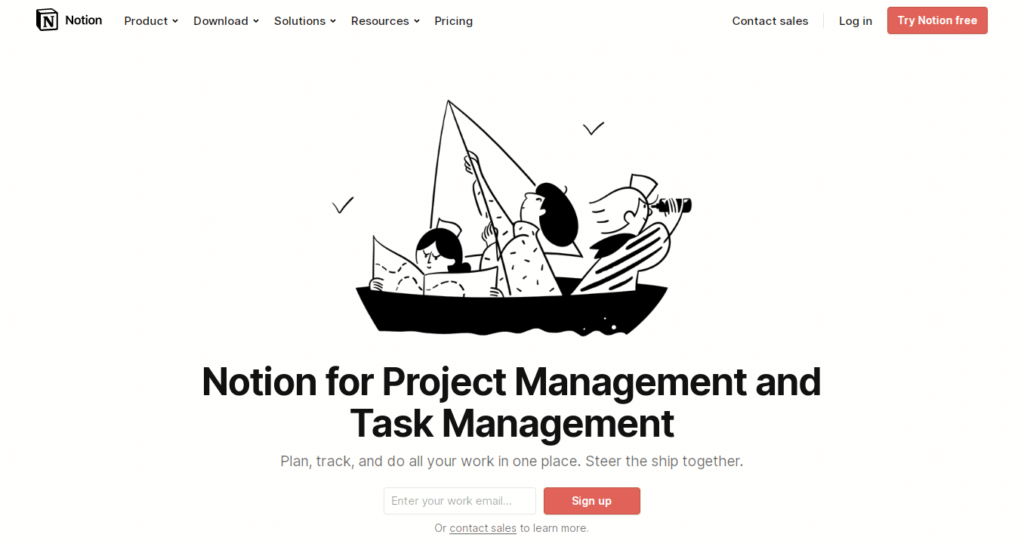 As one of the ClickUp alternatives, Notion presents to be an efficient app for every team. Compile all your teams, multiple projects, and tons of docs in one workspace without chaos and confusion. Use the easy drag and drop option to customize your dashboard, websites, and docs to make work more accessible and productive. 
Key features
Pre-build set-ups with thousands of community-made templates that you can integrate and change according to your requirements.
Simple categorizations that keep your work organized throughout your project management journey.
The powerful note-taking feature of Notion helps with more detailed notes with side by side floating docs option.
9. Hive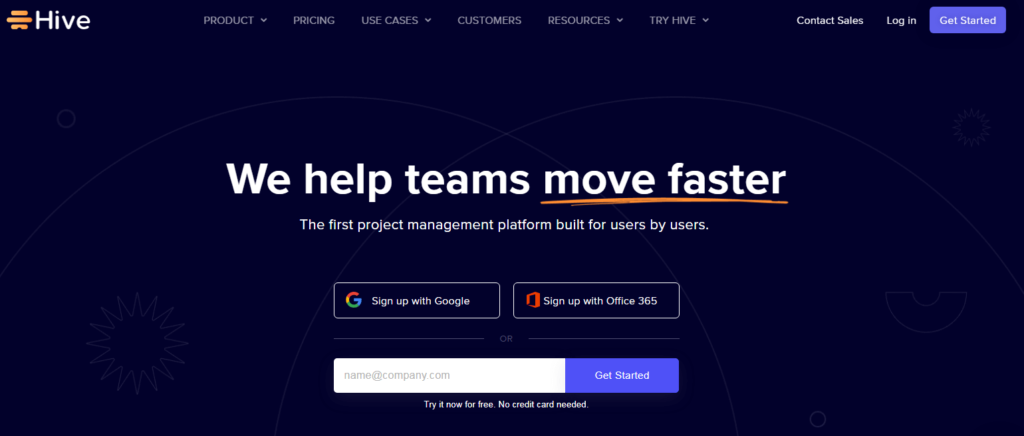 Hive is a versatile task management software that enhances your team collaboration, process management, and task management. Simplify complex projects with automated workflows, timesheets, tracking, and video proofing. Collaborate notes and get a clear idea of the subsequent action with Hive notes. 
Key features
Streamline all your recurring tasks with automated workflow management.
Choose the most suitable option between list, calendar, Kanban, or Gantt charts for effective task management.
Create customized built-in forms to gain more accurate information and data collection.
10. Slenke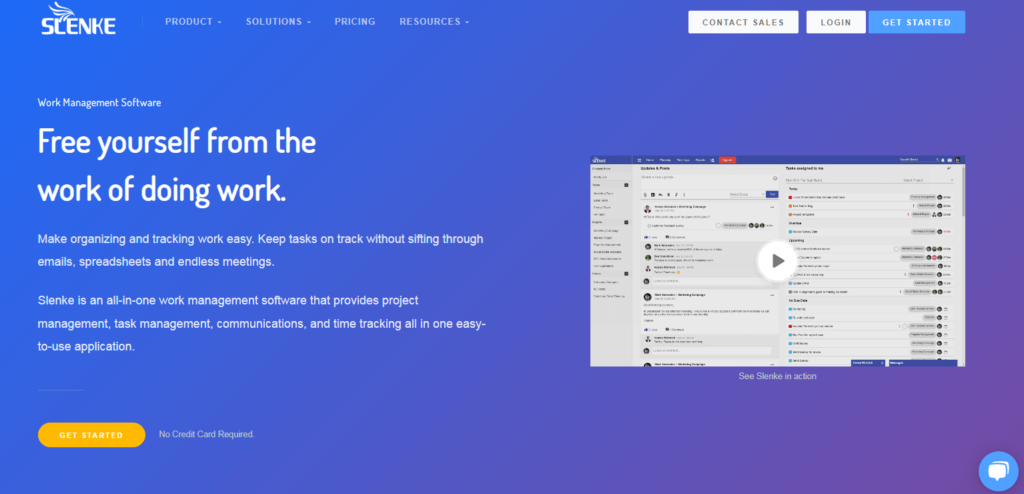 Slenke is an excellent ClickUp alternative that helps you with task management, collaboration, time tracking, project organization, and performance management. Always stay informed about the various aspects of the project with a full view of employee tasks, budgets, and resources. 
Key features
Use the user-friendly and straightforward comment section for doubt clarification and sharing information.
Prioritize and organize each project task for efficient project management.
Track your time and expense to complete the project within the boundaries allocated.
11. Pipefy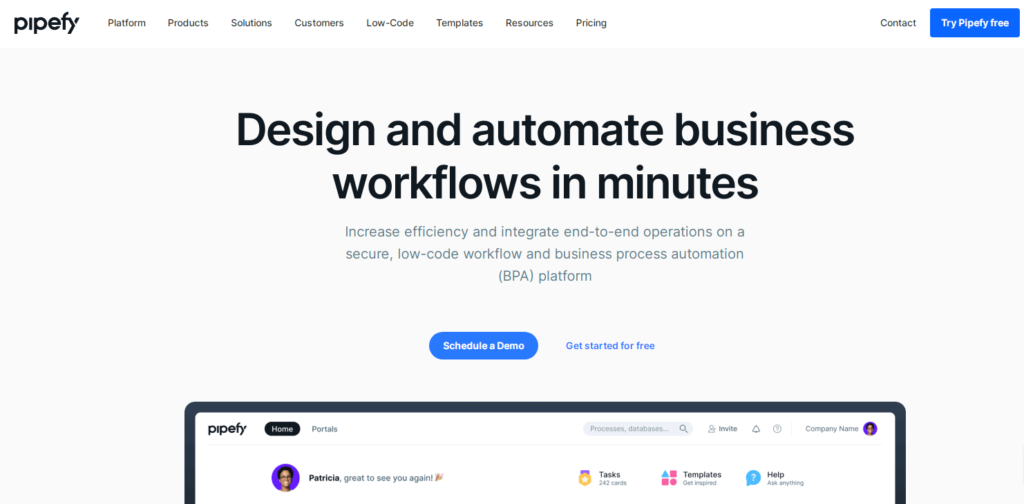 Pipefy is another reliable alternative to ClickUp. It is an easy-to-use project management software that helps you automate and design your workflow and processes. Integrate with industry best software from simple Docs to complex ERPs. Pipefy helps unify all the conversations between customers, vendors, and team members for easy collaboration. 
Key features
The advanced filtering feature enables project managers to filter tasks based on priorities and custom tags.
Multiple, detailed, and efficient projects reports that track various variables of projects.
Centralized and streamlined workflows with easy automation.
12. Toggl plan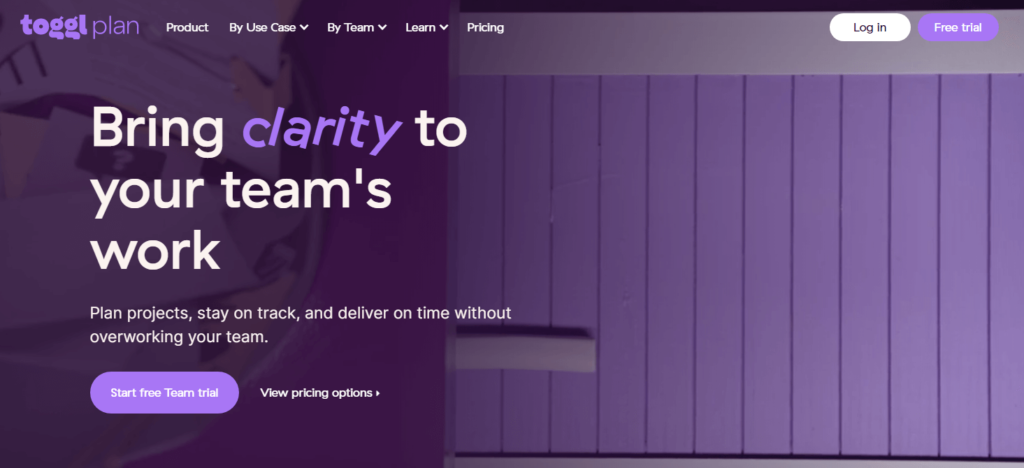 Toggl plan is a simple work management software that helps plan, track, and monitor the project in real-time. This visual project management tool is vast, versatile, and customizable. The combined features of project planning, task management, and resource planning make this interface attractive. It is instrumental in enhancing creativity for marketing teams, freelancers, and entrepreneurs. 
Key features
In-app notifications and email updates to stay on top of all your tasks and plans.
An unmistakable bird's eye view of all the aspects of the project, team progress, and workflow.
The interface is easy, flexible, innovative, colorful, and can be customized using drag and drop options.
13. Monday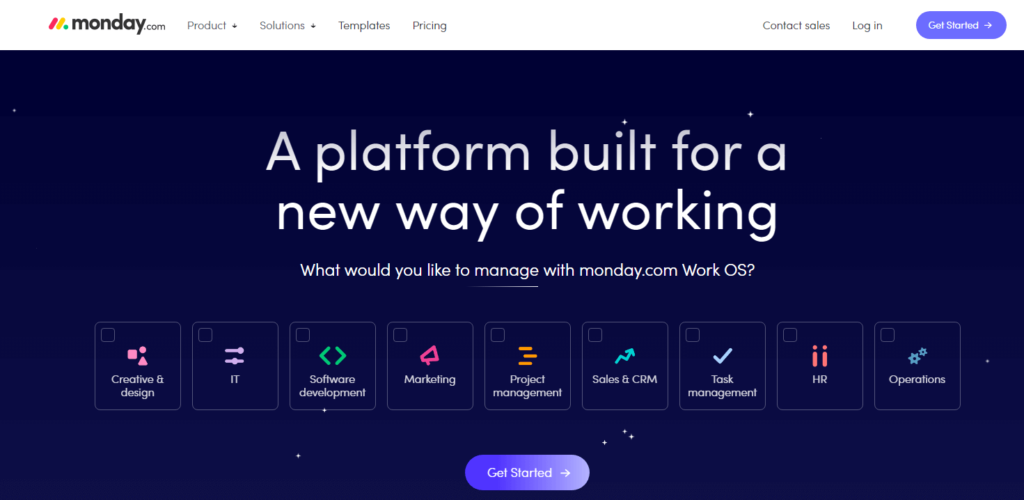 Monday PM is amongst the leading ClickUp alternatives. This task management software takes your project to another level with Gnatt charts, product roadmap, intuitive dashboards, etc. It lets you mark significant checkpoints in your project progress and gives you a clean workload overview to know who is doing what. 
Key features
Monday helps connect your remote teams and collaborate in real-time, all within one platform. 
Use automation, boards, and customized forms to streamline your project. 
A transparent, flexible, visual, and intuitive dashboard keeps you on track to achieve your project goals. 
14. Zoho Project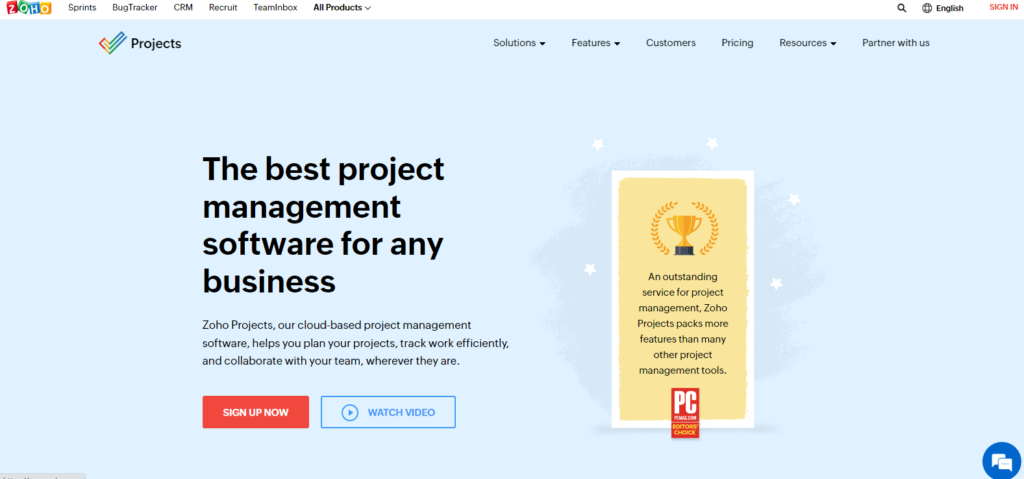 Zoho Project is an all-rounder project management software that helps plan projects, track work and collaborate with remote teams. This cloud-based software helps communicate, discuss, share, and make changes in real-time. Use Gantt charts, automation, timesheet logs, and personalized workflow to turn your every project successful. 
Key features
Project customizations
Intuitive UI and colorful themes
Seamlessly integrate with Zoho apps and other third-party tools
15. Bitrix24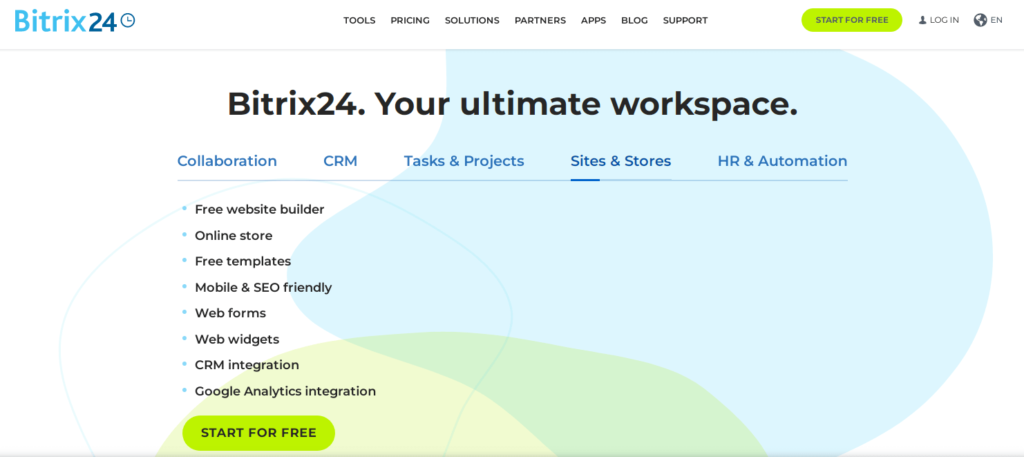 Next on our list of ClickUp alternatives is Bitrix24. This all-in-one solution is just what you will need to integrate your projects, track the progress, and unify the communication in a single ecosystem. This software is power-packed with various benefits like workflow automation, HD video communications, lead acquisition and management, sales automation, and CRM. 
Key features
Visual project management with Gantt charts, Kanban boards, and other graphical representations.
Efficient workload management that enhances equal workload distribution among team members.
Cloud storage and online documentation increase transparency and collaboration.
16. Jira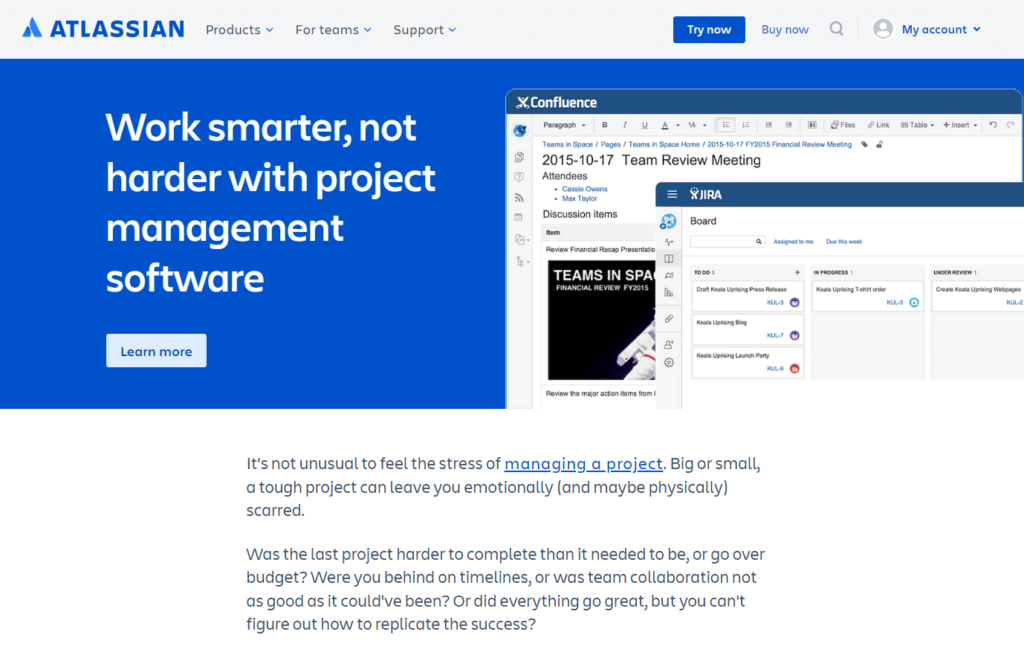 Jira is specially designed for agile project management. It helps you manage projects and stay on track of your changes. Organize all your data in an easy-flowing format that is understood by anyone. Use scrum, Kanban boards, Gantt charts, and sprints to prioritize your work and enhance task management. 
Key features
Sketch powerful roadmaps
Agile project management and reporting
Customize your workflow and automation
17. Mavenlink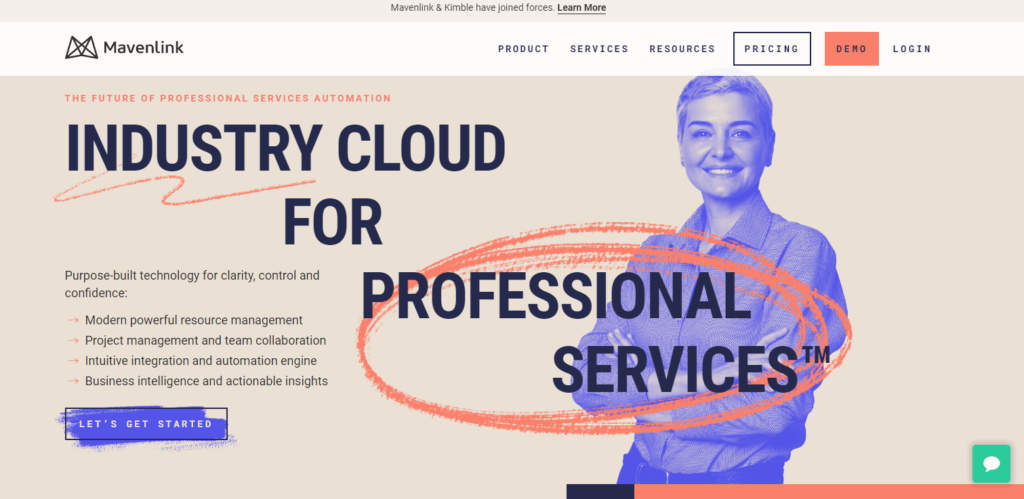 Mavenlink is the project management solution that helps you in resource planning, skill management, team collaboration, and integrated reports. Further, it also provides powerful forecasting tools related to the project's demand. The high-class collaboration tools ensure every task and project is running smoothly without any bottlenecks. 
Key features
Real-time responsive data for resource optimization.
Automate and streamline processes that give the best results.
Increased collaboration and employee productivity.
18. nTask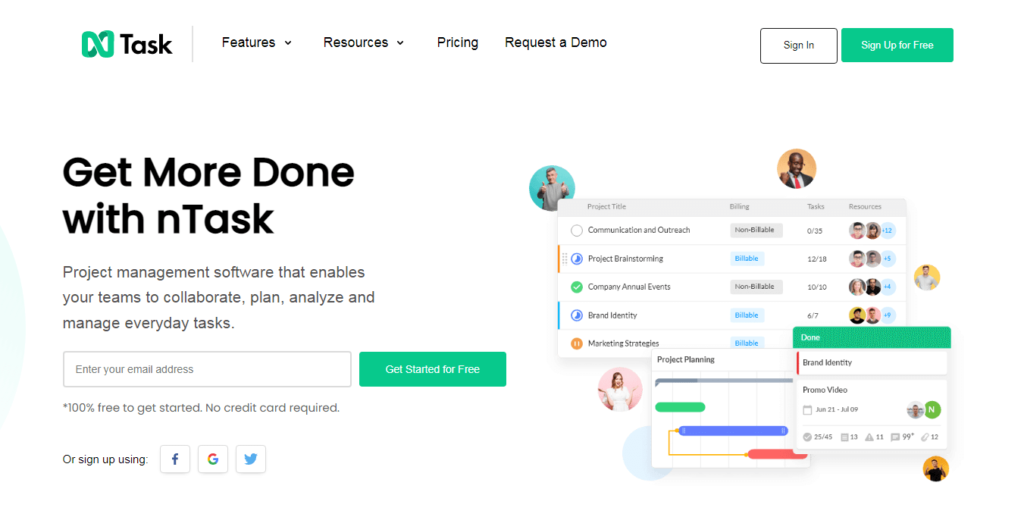 nTask is an adaptable project management solution that assists you in project planning, risk management, resource allocations, collaboration, and reporting the project's progress. Gantt charts, Kanban boards, and calendars help set and track dependencies. The intelligent reporting and risk management tools help us make an informed decision for timely project completion. 
Key features
Plan your project and strategize your tasks with efficient task management tools.
Robust time tracking and timesheet reporting in real-time.
Use risk management to identify, evaluate and mitigate any risks.
19. Indy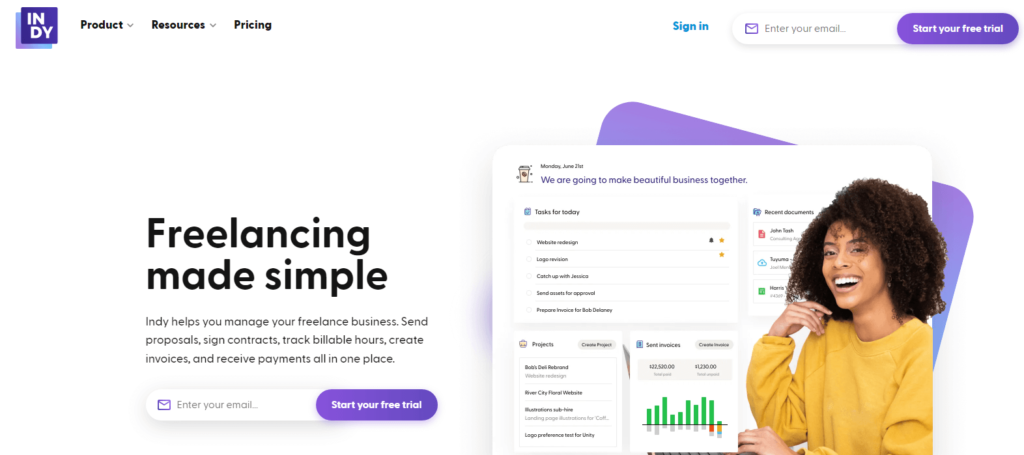 Indy is an efficient task management tool for freelancers and contractors. As an alternative to ClickUp, this tool easily links all your multiple projects and simplifies task management. This software solution provides one solution for diverse tasks, creating invoices, managing proposals, tracking time, approval of contracts, etc. 
Key features
Integrate all your websites, tools, and freelance business in one place.
The CRM functionality helps you keep tabs and connect with customers and employees.
One dashboard to manage all your projects, task status, documentation, chats, etc.
20. Nifty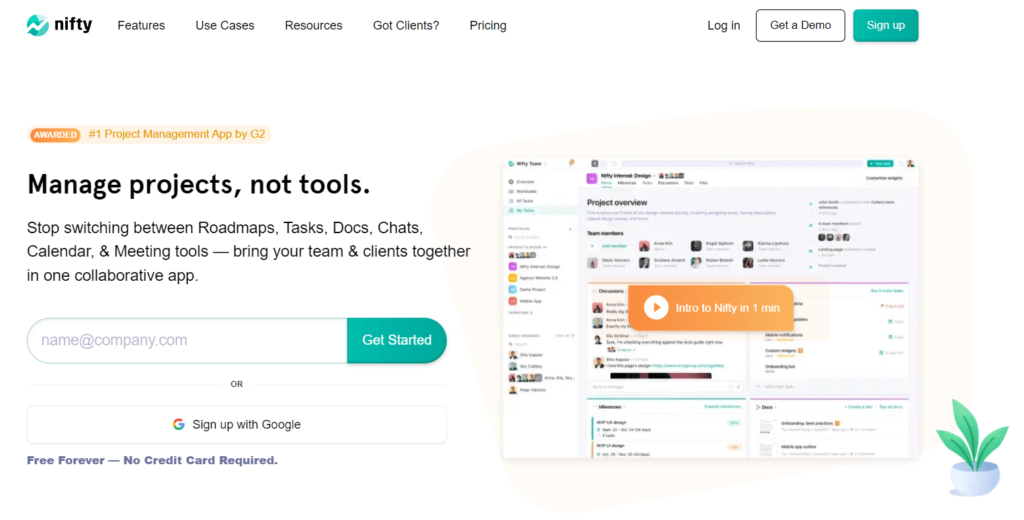 Nifty is another one of the few effective ClickUp alternatives that help you plan projects, manage tasks, document management, and collaborate with the team. Real-time automation allows users in the timely completion of projects. Set recurring milestones for all your essential tasks and never miss important meetings. You can also add custom tags and fields for all the data and information regarding the project. 
Key features
Set and block milestone and task dependencies to ensure all milestone accomplishments.
Built-in knowledge base with Wiki capabilities to increase your knowledge about project-related tasks.
Align your project goals and objectives with a timeline view, swimlane view, Gantt charts, Kanban boards, and list view.
21. Airtable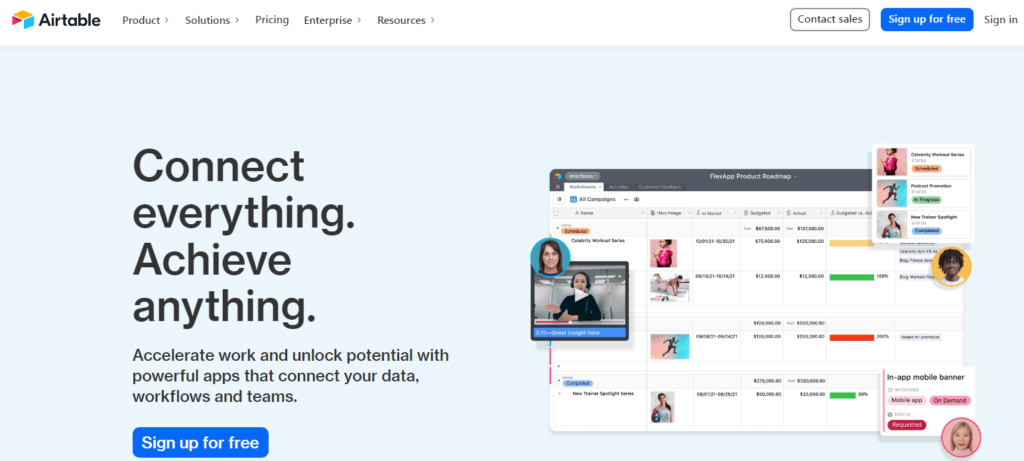 Airtable is one of the best project management software in the market. It is one of the best ClickUp alternatives that assist you in creating powerful spreadsheets and databases. The multiple views available in this system enable you to accelerate project progress, streamline workflow, and track tasks. Deep enhanced integration assists you in achieving high levels of collaboration and project success. 
Key features
A customized interface that gives your team all the relevant information needed.
Collaborate, bring and integrate all the data to access it anytime and anywhere.
The premade templates and intuitive interface helps you to get started in no time.
22. Teamwork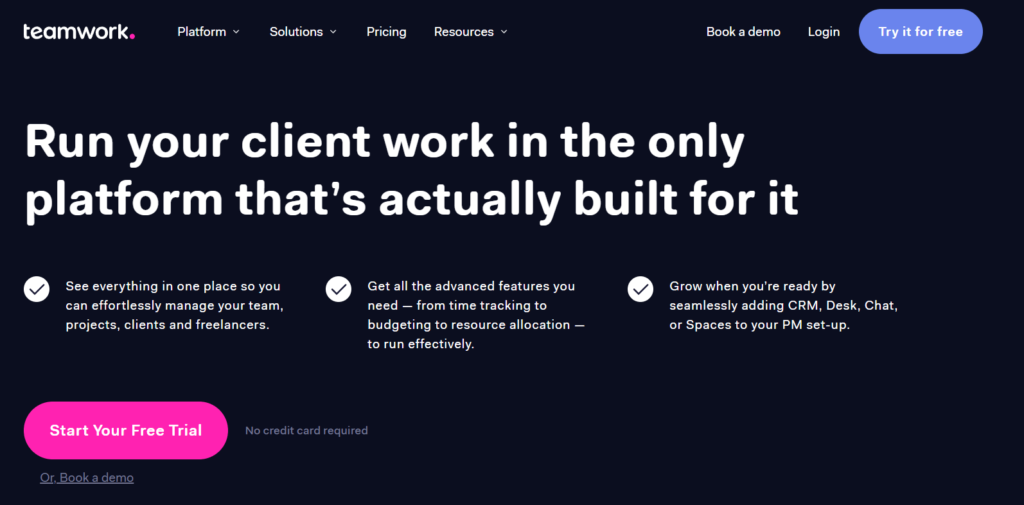 Another efficient and collaborative project management software is Teamwork. A large amount of pre-built templates gets you started irrespective of the topic involved. Track your billable hours and time invested in a particular task. Teamwork also helps manage your schedules with efficient project time tracking, which increases your profitability. 
Key features
The attractive kanban boards help to automate and visualize various project tasks.
Manage your resources wisely with efficient forecast tools and capacity planning.
Client users to deliver more productive and collaborative experiences to clients, employees, and customers.
23. Meistertask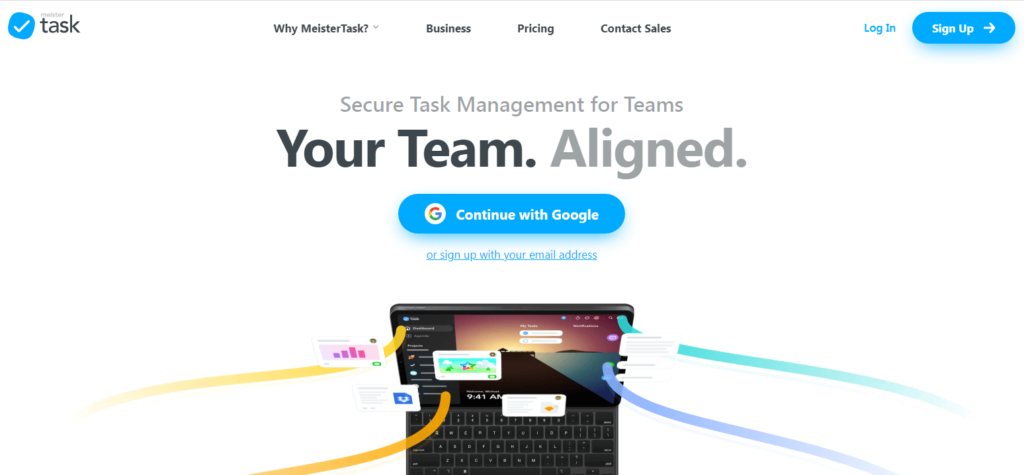 Meistertask is a secured project management tool for your team members. This software tackles project management challenges like planning, digital workflow, Kanban boards, scheduling, and organizing tasks. Schedule and assign tasks in the calendar view to ensure you never miss your deadlines and quickly locate bottlenecks. 
Key features
Drive project efficiency and align your team to project with the Gnatt chart style timeline feature.
Enhance task management with automation and workflow consistency.
Easy template customization for regular and recurring tasks to save your time.
24. Zenkit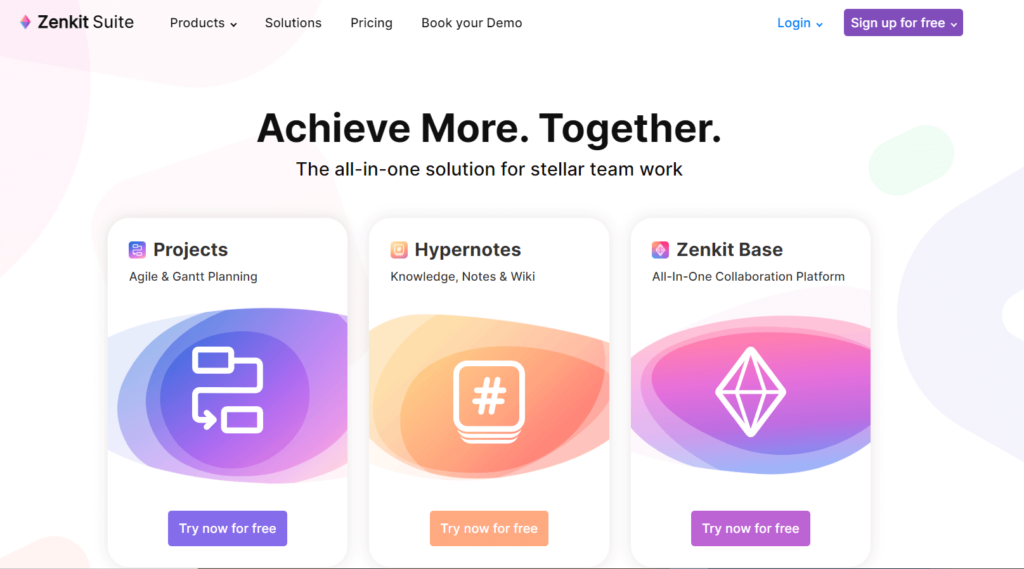 Zenkit project is a project management tool that helps you manage multiple projects in one place without any distractions and complexity. It provides classic project management tools with agile team management, Kanban boards, Gantt charts, a global calendar, etc. The Zenkit suite enables deep integrations with all the products of the Zenkit family. The multiple views in Zenkit bring all the tasks together in a holistic overview of the entire project.
Key features
Use the Kanban boards, agile, and hyper agile project management methodology to support your team.
Gantt charts support your tasks, subtasks, dependencies, critical path, leads, and lags.
More than 720 custom reports help optimize your project and gain essential insights about risks, opportunities, and challenges.
25. Clarizen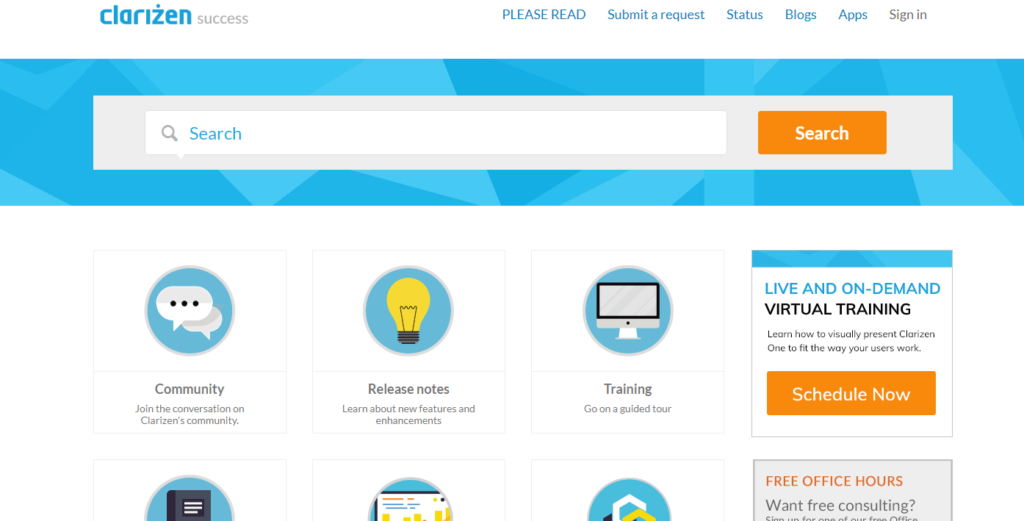 Clarizen is a collaborative task management software that helps you tailor the tool according to your business needs. As a ClickUp alternative, it provides a long list of benefits to the users, including cross-product management, multiple project management, automated workflow, collaborative communication, and more. It also helps you prioritize your routine tasks, projects, budget, resources, and portfolios by efficiently managing all the critical information. 
Key features
Real-time visibility on dashboards and dynamic reports to track every aspect of project progress.
Review and access multiple reviews, strategies, information, team, and products with visual portfolio and road mapping.
Empower the flexible UI and use the intuitive interface that fits every organization's needs.
Conclusion
Choosing and managing the right project management apps or software is a daunting task. It needs a lot of research, comparison, trials, and critical analysis to get the most reliable software that is the best ClickUp alternative and suits your unique business needs. Use the trial period that most project management tools provide to experiment and explore various features and usability.