Providing on-site service efficiently and effectively is a tough nut to crack. Many organizations have spent heaps of money to solve this challenge but still lost a significant part of their revenue because of poor service quality. Fortunately, that's not the case anymore, as modern field service management tools allow businesses to stay connected with their agents in real-time to ensure service quality.
That's right – with field service management software, you can track your agents in real-time and manage their productivity by intelligent workload scheduling based on their skills, expertise, location, and even their connection with the customer. Heck, you can even connect them to an expert sitting in your office for the first-time resolution of the service. Delivering high-quality onsite service has never been this easy.
Now, if you're wondering which field service management software you should choose for your business, don't worry. We will make finding one easier for you by providing you with a list of 7 such tools in this article. So bear with us till the end of this page, and you may have your answer!
Field Service Management Tools Benefits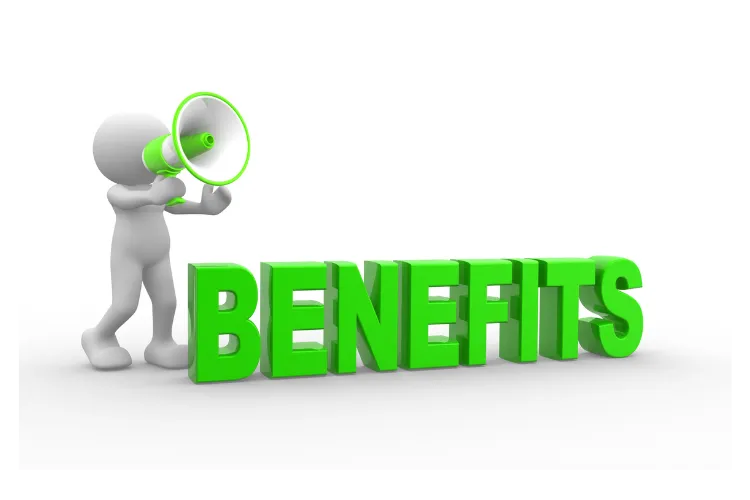 Before we take a look at 7 top field service management tools, let's take a quick look at some of the benefits these tools offer. Field service management software has many benefits, but five major ones stand out among them.
1. Streamlined Service operations
The first and most immediately visible benefit of good field service software is streamlining your customer service operations. Everything looks and feels under the control of your managers when they have the data and resources required to provide customer service at their fingertips. Field service management tools integrate with accounting software and CRM software, so customer payments and communications are also synchronized automatically without the need for paperwork or spreadsheets.
2. Greater Team Efficiency
Field service management software allows your team members to be more efficient because you can see their workload in real-time and assign them other service requests on the basis of how easy or difficult it would be for them to complete the request. You can take things like their skill level, current location, pending requests on them, etc. into account while assigning them a request, ultimately improving their efficiency.
3. Service Quality Monitoring on the go
Unlike the legacy methods of tracking service quality that was mainly confined to offices, field service management software works on the go. Your team members can install it on their phones, and dispatch managers can see their location, clients they are servicing, and other details in real-time.
Both managers and customers can manage their service requests with ease. Managers can assign requests on the go using their own apps, while customers can access a web-based dashboard or an app for tracking the progress of their requests.
4. Data and Analytics to Improve
Almost all field service management tools capture data and provide data points to managers in real-time to improve their teams' service quality. Your managers can see things like whether the service level agreements (SLAs) are being kept, how many pending service requests are on a team member, how much time it takes to complete a service, and how satisfied customers are with their servicing skills.
5. Ideal Supervision
With field service management tools, you can control your personnel and operations more. With GPS tracking capabilities, you'll have an accurate view of where your employees are at all times and know if they are experiencing any delays. On top of that, advanced analytics allow you to plan the most efficient routes for your teams, saving time and money. Automatic notifications keep clients informed throughout the booking process, ensuring transparency in all operations.
6. No Paperwork
Field service management tools make it much easier to deal with paperwork, so you can use your time more efficiently. Instead of spending hours completing forms by hand, the software automates key tasks such as route optimization, billing and invoices, work order creation and execution, and service reports. This helps reduce the time you need to spend on admin tasks, leaving you with more time to focus on delivering superior customer experiences. Storing all data securely in one digital system assures that essential records are never misplaced or lost.
7. Superior Customer Experience
All the factors mentioned above lead to a lower request turnaround time, better service quality, first-time resolution of requests, and therefore greater satisfaction for your customers. And since long-lasting brands are built on the back of top-notch service quality, isn't it the thing that you ultimately strive to achieve in your business? Field service management tools make achieving it a cakewalk.
Top 7 Field Service Management Tools
There are hundreds of tools available in the field service management software category. However, like any other category, only a few stand out from the crowd based on their features, reviews, and integrations. We've prepared a list of the 7 such solutions available in the market nowadays based on their Capterra, G2, and TrustRadius ratings and other information
1. Azuga Works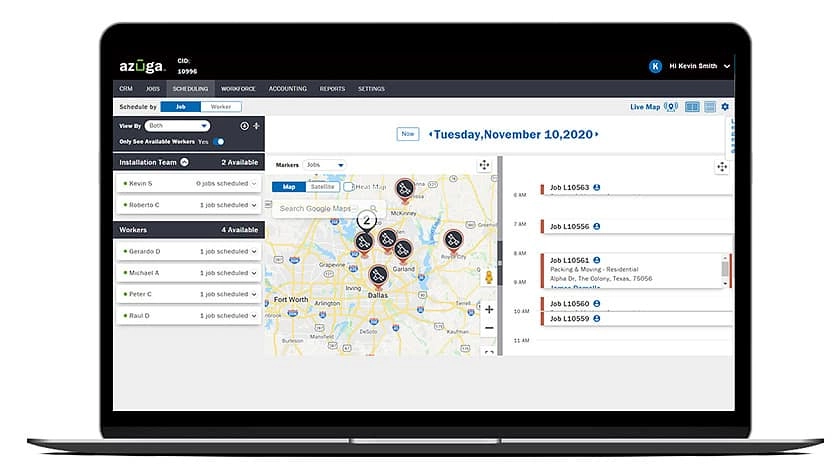 Developed by the team that made Azuga Fleet, the Azuga Works field service management software is one of the best options available in the market. With a 4.8 star rating on G2 and over 100 reviews, its parent company Azuga Fleet is known worldwide for its fleet management software. So when you choose it, you can expect the same level of perfection from the field service management solution Azuga Works too.
Azuga's Field Service software is popular due to its customer base of mainly small businesses, with reviews on G2 showing that nearly half of its customers have less than 50 employees. That speaks something about its ease of use and also about its pricing.
Features of Azuga Works
Integration with Azuga Fleet to manage your fleet in addition to your field service team
In-built CRM software
Real-time technician location tracking and scheduling
Assign field technicians based on whether they already know the client or not
Client order history
In-built reporting tools
In-built payments functionality with multiple payment options to receive payments from your clients
QuickBooks integration for easy accounting.
Pros and Cons of Azuga Works
| | |
| --- | --- |
| Pros | Cons |
| Dedicated relationship managers to resolve your issues quickly | Primarily a fleet management software, so most features are geared towards that only |
| Real-time fleet tracking incorporated with field service | Pricing is mysterious (but most likely affordable) |
| Smart hardware solutions like double-sided dashcam to monitor your fleet, drivers, and field service technicians more accurately | |
Pricing of Azuga Works
Custom pricing available only on request.
2. Microsoft Dynamics 365 Field Service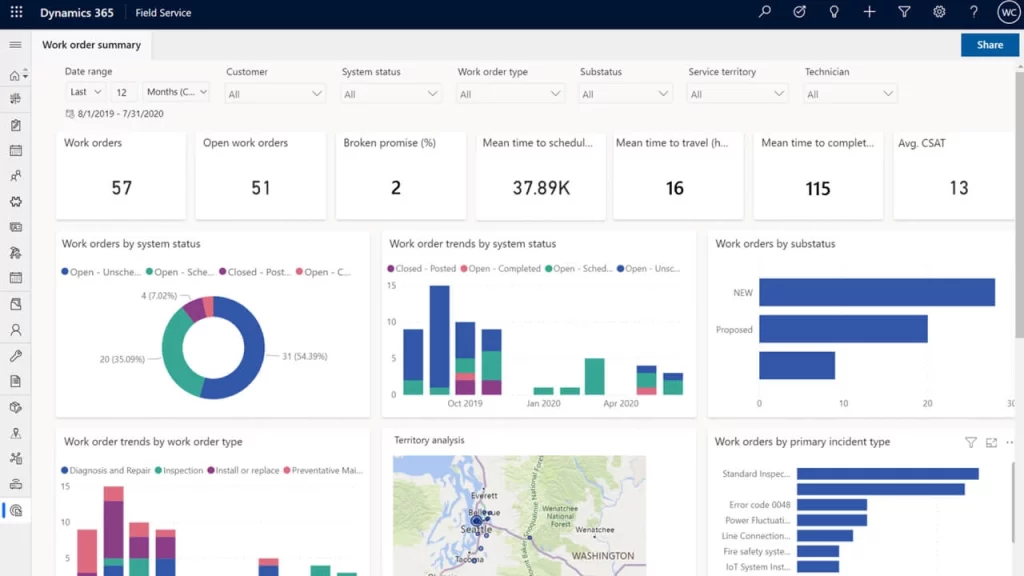 When Microsoft builds software, it's guaranteed to be top-class. Its Dynamics 365 suite of ERP and CRM software includes a field service tool that allows companies to provide superior on-site service to their customers. The best part of choosing it is that it integrates extremely well with Microsoft's other products that we use daily, making several things extremely easy to perform.
And while you may think that being from Microsoft, it's a tool meant for large companies, the fact is that Dynamics 365 has been adopted by businesses of all sizes. According to data analyzed from the reviews website G2, small-scale businesses, midsized businesses, and large enterprises: all have a roughly equal share in the customer base of this field service tool.
But that's not the only advantage – given below are its other major features:
Features of Dynamics 365 Field Service
Real-time technician tracking
Post-engagement surveys for customers to share feedback regarding service quality
Self-service scheduling lets customers schedule the service at a time of their convenience and choice
Mixed reality support (it's the only field service tool with this functionality) to provide your technicians with assistance on demand
Collaboration features for your team members
Knowledgebase builder for your technicians
AI-enabled scheduling recommendations to assign the right technician for every job
Drag-and-drop Schedule board to assign the service requests easily
IoT support to remotely detect issues and resolve them before they arise.
Pros and Cons of Dynamics 365 Field Service
| | |
| --- | --- |
| Pros | Cons |
| Out-of-the-box integration with Microsoft 365 office productivity suite | Expensive (with only a single plan to choose from) |
| Robust inventory management | Steep learning curve for first-time Dynamics 365 user |
| Holiday and work hour management for agents works quite well | |
| Dynamics 365 CRM and Outlook integration keeps all communication in perfect sync | |
Pricing of Dynamics 365 Field Service
$95 per user per month
3. Jobber
Jobber's field service offering is geared primarily toward the needs of small business owners. Unlike some other products on the list that are built for enterprise businesses or businesses of all sizes and scales, Jobber has kept its functionality pretty simple and straightforward so small business owners can learn to navigate it independently. In fact, their pricing plans are also much simpler and more affordable than the plans of other solutions available in the market.
This tryst with simplicity and ease of use is clearly visible in every part of their solution, from back-office software to mobile apps to customer base. According to an analysis of G2 reviews, most of their customers (i.e., more than 62%) are small businesses with less than 50 employees. So if you also are a small business looking for the best field service software, you don't have to think much.
Here are the major features that make it unique:
Features of Jobber
In-built Client manager and CRM
Real-time scheduling and dispatching of team members
Invoicing functionality to bill the customers and follow up with them
Customer portal for allowing clients to communicate with your team from within the CRM
Automated updates for your clients to notify them of progress in service delivery
Form builder to create customized job forms
Mobile apps
QuickBooks integration for accounting
Payment processing functionality.
Integrates with all popular 3rd party services (i.e., QuickBooks, Mailchimp, Stripe, PayPal, Square, etc.)
Pros and Cons of Jobber
| | |
| --- | --- |
| Pros | Cons |
| Extremely easy to get started with – simple UI, simple pricing | Notifications and alerts are available for admins only – not dispatch managers and others |
| More budget friendly than others | No scope to add additional services on client request without raising a separate service request |
| Useful 3rd party integrations | |
Pricing of Jobber
Core plan (single user): $49 per month
Connect plan (5 users): $119 per month
Grow plan (15 users): $245 per month
4. Salesforce Field Service
Needless to say, this is an offering of globally respected Salesforce Inc. The company that pioneered the era of modern customer management with its CRM tool has also developed one of the most sophisticated field service management tools. The Salesforce Field Service Cloud comes with almost everything you may seek from field service software and includes some truly unique features you won't find in other tools.
Now, the thing is that Salesforce and its products come with a premium price tag, which makes them more popular among large businesses but not so much among smaller ones. That reflects in the userbase of Salesforce Field Service as well, because a majority of its customers (i.e. more than 42%) are enterprise customers with more than 1,000 employees. Mid-sized and small businesses make up roughly 35% and 22% of their customer base.
Here are the major features it brings to the table:
Features of Salesforce Field Service
Out-of-the-box integration with Salesforce CRM
Integrated inventory management
Automatic scheduling and job assigning based on time, location, and expertise
AI-based image recognition to ensure proper replacement of parts and equipment
Real-time analytics and data
Real-time collaboration with colleagues and team members
Integration with hundreds of 3rd party services, including accounting tools and payment processors
Predictive analytics to forecast the maintenance and service needs of your customers.
Pros and Cons of Salesforce Field Service
| | |
| --- | --- |
| Pros | Cons |
| Integrated inventory management | Pricing is a bit steep |
| Salesforce CRM integration for end-to-end customer journey management | Steep learning curve – if you don't use Salesforce CRM already, implementation and training can take time |
| Real-time collaboration features are also amazing | |
| Robust customer support | |
Pricing of Salesforce Field Service
Call it discriminatory, but Salesforce has two pricing models for customers based in and out of EU. The difference is not much though in most of the plans, as you can see:
For European Union:
Enterprise plan: € 150 per user per month
Unlimited plan: € 300 per user per month
For the rest of the world:
Dispatcher plan: $150 per user month
Technician plan: $150 per user month
Contractor plan: $50 per user per month
Contractor Plus plan: $75 per user per month
Field Service Plus: $200 per user per month.
5. Oracle Field Service Cloud
Oracle Field Service is an offering from the Oracle service cloud. Just like other Oracle products, it comes with a superior UI, and customer support and emphasizes service lifecycle management. Their offering is also highly rated in the field service industry, as market research firm Gartner has ranked it for 10 years among the top field service management solutions available globally. It also supports multiple languages, so you can use it in your native language, especially if it's popular.
However, the steep pricing of this tool and Oracle's reputation among large businesses have made it mainly the tool of big corporations. Oracle Field Service is especially popular among large enterprises with over 1,000 employees. It's used by small and midsized businesses, but large enterprises make up nearly half of their customer base.
Now if you're wondering what features it offers, here's the answer:
Features of Oracle Field Service
AI-based automated routing and scheduling
Integration with Oracle's ERP software suite
Real-time technician and job status tracking
Collaboration features (i.e., group chats, video calling, etc.) for team members to diagnose complex issues with teamwork
Track service level agreements (SLAs), inventory, safety requirements, compliance requirements, etc.
Real-time access to IoT data for predicting service needs
Broadcast notifications to quickly notify all field agents about an emergency request
Real-time sharing of service progress with customers.
Pros and Cons of Oracle Field Service
| | |
| --- | --- |
| Pros | Cons |
| Extremely customizable – you can develop workflows to automate almost every part of your field service | Steep pricing |
| Useful 3rd party integrations | Can be a bit challenging to use initially (especially for people who have never used any Oracle business software) |
| Superior customer support | |
| Highly accurate forecasting | |
Pricing of Oracle Field Service
Oracle Field Service Contingent Worker plan: $5 per activity
Oracle Field Service Professional: $100 per user per month
Oracle Field Service Enterprise: $225 per user per month.
6. Skedulo
Skedulo calls itself a deskless productivity platform for the modern workforce. And it's indeed one, as it combines some of the best field service management features into its offering. Its offering has been tailored to the needs of various industries such as healthcare, nonprofits, residential services, real estate, energy, and the public sector. And with a highly favorable rating of 4.2 stars on G2, it's also a quite reliable field service management tool we can say.
Unlike other tools (i.e. Oracle Field Service, Jobber, Salesforce Field Service, etc.) mentioned on our list, which are primarily designed either for big corporates or for small-scale businesses, Skedulo is used mostly by mid-sized businesses. Companies with 51 – 1,000 employees make up roughly 60% of their user base, so if your business is also at that stage, you can benefit immensely from its deployment.
Regarding core features, here's what you can expect from this platform:
Features of Skedulo
Automated scheduling and dispatching
Real-time tracking and route optimization based on historical traffic data
Intelligent reporting and analytics
Salesforce, Zendesk, and ServiceNow CRM integration
In-built notes taking and photo-capturing functionality to sync service data directly to your CRM without any paperwork or spreadsheets
Mobile apps for on-the-go operation and optimization
Real-time status updates for customers too.
Pros and Cons of Skedulo
| | |
| --- | --- |
| Pros | Cons |
| Integration with all popular CRM tools | Can't allocate jobs on the app – need a desktop for that |
| Intuitive and easy-to-navigate UI | Mobile app takes time to load and updates are also slower to sync |
| Calendar view and easy to switch between various views | |
| Budget-friendly (based on customer reviews) | |
Pricing of Skedulo
Custom pricing available only on request.
7. Freshdesk Field Service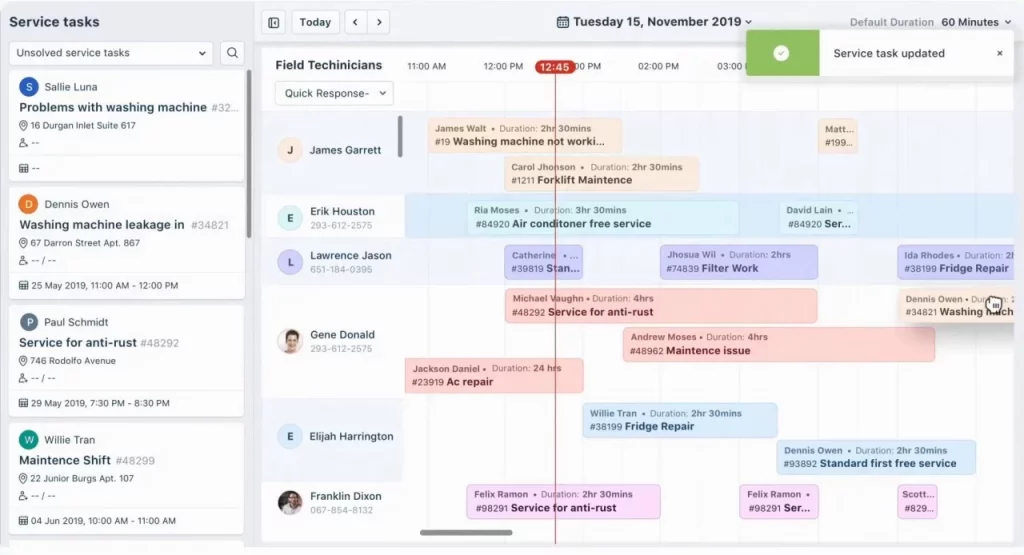 Freshdesk Field Service software is from the house of Freshworks CRM software – one of the most popular Salesforce alternatives. Its software has been used for field service operations by some of the largest companies in the world, including Decthalon, Aramex, Bridgestone, Cinnamon Hotels and Resorts, and BigBus. Overall, more than 50,000 businesses have used it to deliver on-site services, which explains how robust this offering is.
Freshdesk Field Service is also a more reliable choice for small business owners than other options (i.e. Azuga Works, Jobber, etc.) simply because it has built a name for itself. It can provide robust service and customer support in line with its reputation. Perhaps that's why most of its customers (more than 51% according to G2) are small business owners.
Coming to the features, here's what Freshdesk Field Service can bring to your business:
Features of Freshdesk Field Service
Integration with Freshworks CRM
Automated ticket assignment and categorization
Omnichannel functionality to keep customer interactions synchronized across the field service teams and systems
Contextual collaboration features let your team members share information and help each other
Automated priority notifications for service requests that need urgent attention
Mobile apps
Intuitive reporting and analytics
Ability to take notes, photos, and signatures at a service site
650+ 3rd party integrations for endless possibilities.
Pros and Cons of Freshdesk Field Service
| | |
| --- | --- |
| Pros | Cons |
| Easy to integrate for Freshdesk users | Not a dedicated field service software, so some features are missing in comparison to other dedicated tools |
| Budget-friendly | |
| Robust customer support and community to fix the issues quickly | |
| Large library of integrations | |
Pricing of Freshdesk Field Service
Freshdesk's approach to the pricing of its Field Sevice Management solutions is slightly different from its competitors.
Its help desk solution's plans range between Free – $79 per month. Once you've chosen the plan, you can purchase field service management separately as an add-on for $29 per field agent per month.
Also, the pricing is not fixed. It varies depending on the geography.
Final Thoughts
Field service management software has revolutionized on-site service delivery quality. It has allowed corporations to become more efficient and field service technicians to become more productive, which is why so many companies have adopted software of this category. You can easily find the success stories of companies that adopted these tools on the websites of the field service companies mentioned above.

So if you are also considering acquiring a field service software solution for your business, you're on the right track. And if you're not thinking about it, but your business requires providing field service, you should consider acquiring one. It can turn out to be the best investment in your business. We've made your job easier by providing enough information to choose a field service tool; now it's your turn. Try one of the tools mentioned above, and thank us later!